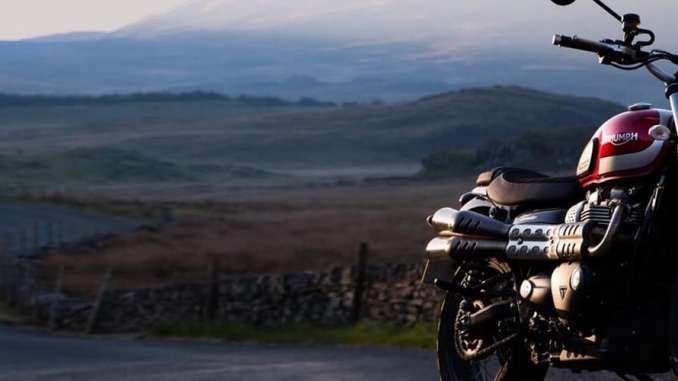 He's photographer to some of the world's best-known brands, working some of the coolest locations on the planet for the likes of Nike, Adidas, Canon and Belstaff, and on the brink of a career as a film producer in Hollywood. But a trip to Wales with no particular destination in mind – this time on the other side of the lens – opened Niall O'Brien's eyes to the joy of riding
The 37-year-old, whose only previous experience of riding was a dabble with motocross in his youth, loved his Triumph Street Scrambler adventure in Snowdonia so much he's buying some land to get off-road in his own backyard!
For three days, Dublin-born Niall joined a friend to discover some of Snowdonia National Park's 1,300 sq km of stunning and diverse landscape, from verdant valleys, mountains and twisties to straights, with picture-postcard viewing areas in-between. "It's a beautiful place with camera opportunities at every bend, so it was strange at first not to be shooting. But within a few hours I was glad I wasn't. I lost myself in the scenery and the moment," he says. "I took my camera and we spent a bit of time trying to get shots of the Scrambler cornering at speed as low down as possible, but motorcycle photography is quite niche, so we got some shots, then after a while we just wanted to ride."
Land-speed love
Niall fell in love with Triumph during an assignment to film last year's land-speed record bid at Bonneville Salt Flats: "In-between shooting, I zipped around on a Bonneville T120 and felt like a film star myself, so it was an experience I was desperate to repeat back in the UK." A three-day 'journey into a green unknown' in Snowdonia scratched the itch as he and his friend tried to keep to the forest trails and tracks, using only paved roads when they had to: "It's a less extreme kind of off-road riding, so it was perfect for me to get a taste for it and I can't think of a better bike for this type of terrain than the one I borrowed. I'd do it again in a heartbeat."
Torquey Triumph
"The Scrambler's torque meant you could take corners at decent speed and come out of them ready to roll again. It was such a mellow ride but also a bike I felt I could have fun on. I've always been a Bonneville man but I'm equally sold on the Scrambler now. It's such a slick bike." The best part for Niall, whose life is planned around strict schedules, was not knowing what the next day, hour or minute would bring: "It was a real journey into a green unknown, which was superb. We didn't have any set plan. We just rode within the Park and discovered things as we went, which was such a liberating experience."
Niall's last and only previous long trip was in 2008, a 6,500km stint through north-west America with a pal on a Triumph Thruxton. It was a journey that made a strong impression on the artist, who was then just five years into his photographic career: "I couldn't get over how everyone stopped us to gather round the Thruxton, like it was some kind of mythical being, but I was also blown away by the potential for taking great pictures."
A place to call his own
Niall, whose company has just been signed up by the LA-based William Morris Production Agency, is set to move to California in October to begin directing, but insists it won't mean the end of his search for green lanes: "We're buying some land on the edge of the desert near Joshua Tree to build a house. I'm definitely looking for somewhere that's got potential for some off-road riding, whether that's on my own land or the thousands of miles of track nearby.
And I'll be buying a Triumph to do it. If you can have all the tech you need, as well as the heritage feel, there can't be anything cooler than that."
Meanwhile, explore some of Niall's work at www.niallobrien.co.uk