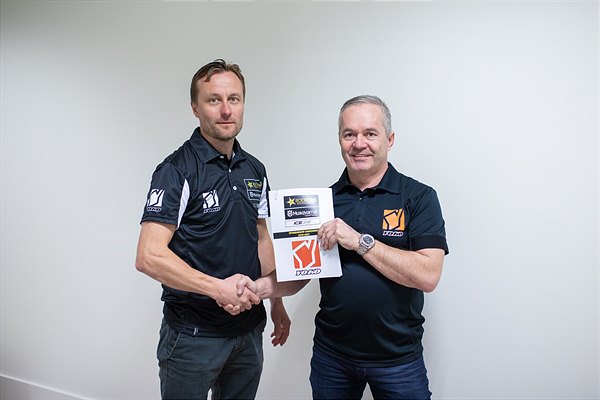 Husqvarna Motorcycles are pleased to announce a new three-year partnership with YOKO – an agreement that will see the well-known textile equipment producer become the Rockstar Energy Husqvarna Factory Racing MXGP team's official riding gear and team wear supplier through to the end of the 2021 season.
Established in 1977, YOKO is one of the original motocross brands. Back in the 80s YOKO was regularly seen on top of the podium on both sides of the Atlantic, used by legendary riders of that era. Selling the licence to produce YOKO motocross gear in the mid 1990s, in 2016 YOKO returned to its original owners. Designed in Finland, all YOKO products are built to endure the most demanding forms of offroad competition.
The agreement will see Rockstar Energy Husqvarna Factory Racing MXGP team riders Arminas Jasikonis, 2017 MX2 World Champion Pauls Jonass and FC 250 mounted team member Mikkel Haarup, make use of YOKO's latest motocross gear as they compete in the FIM Motocross World Championship.
Antti Pyrhönen – Rockstar Energy Husqvarna Factory Racing MXGP team manager: "We are very pleased to welcome YOKO as our official gear and clothing partner for the next three years. YOKO have a rich history in top-level motocross racing and we are really happy to be part of their strong return to the FIM Motocross World Championship. Their goal is to provide the best technical equipment on the market and we are glad to have a partner that sets the bar high. With our riders enjoying the very best equipment from YOKO, we trust this will allow them to continue performing at their best, no matter the conditions."
Jan Berthels – President of Yoko Europe: "For all of us at YOKO, it is a big honour to support the Rockstar Energy Husqvarna Factory Racing MXGP team as we turn a new page in our involvement with top-level international motocross racing. For the last few years we have been heavily committed to the development of our next generation of riding equipment with the main goal of re-establishing ourselves as one of the top motocross brands worldwide. We are confident that our close collaboration with the Rockstar Energy Husqvarna Factory Racing MXGP team will help us further develop our products, so that they continue to meet the highest demands of both motocross enthusiasts and top-level racers across the globe."