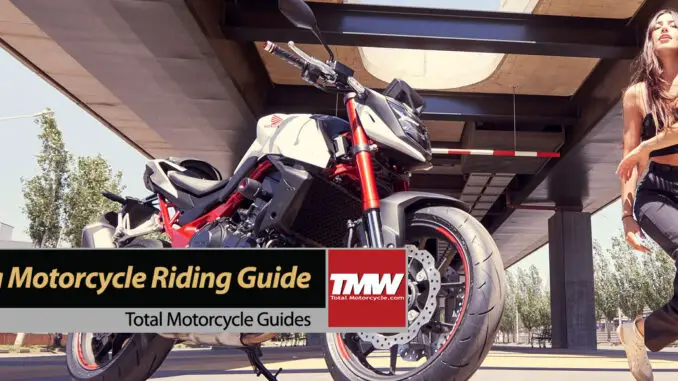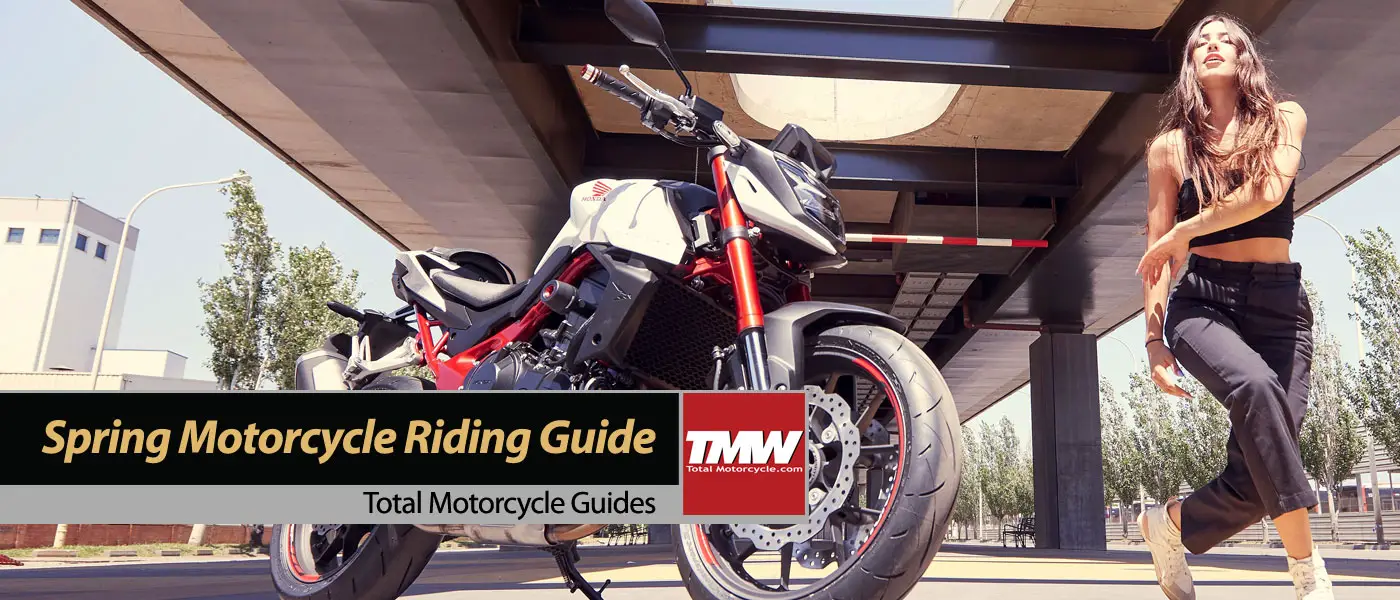 Biker's…Start your Engines! Welcome to our Spring is Here: TMW's Spring Motorcycle Riding Guide back again for another great start to riding season!! Our Inspiration Friday's, 20th Beginner's Guide to Motorcycling Anniversary, Top 10 Tips for Spring Motorcycle Riding, Spring Riding Season Inspiration, plus Motorcycle Spring Riding Tips on Getting You and Your Bike Ready. It's gonna be a great read and a great start to the season. Put that battery back into the bike, say a small prayer to the motorcycle Gods and thumb that starter my friends; it's going to be another epic spring riding season.
Here for you, all in one spot and all in one page is our best Spring Motorcycle Riding Guide articles and don't forget to read our just updated 2023 Total Motorcycle's Beginner's Guide to Motorcycling 20th Anniversary Edition…. enjoy and keep the shiny side up.
Keep up to date with our latest motorcycle models, 2023 Motorcycle Model Guides and our Motorcycling Community Forums! And if you get bored after reading, we have 365 online games for you.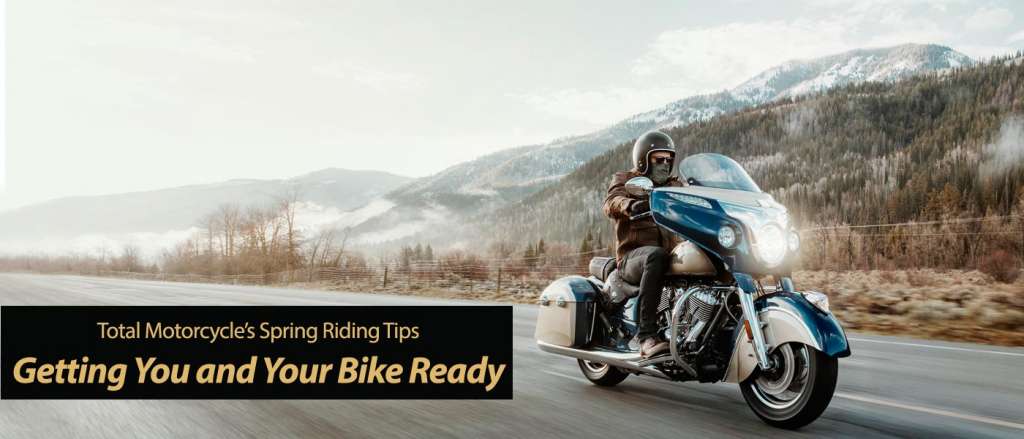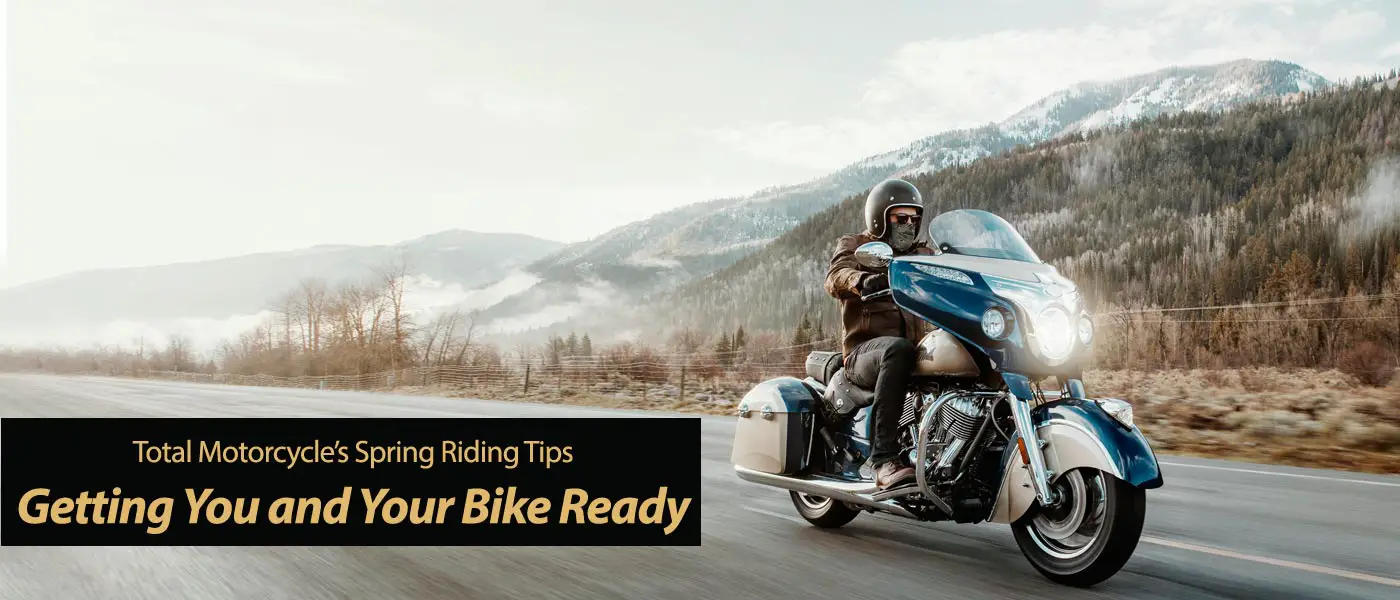 Spring riding. Nothing is more exciting than getting your motorcycle out after winters nap, starting the engine, putting your gear on, shifting it into gear and feeling the wind upon your face. But wait, you forget something! Did you check the condition of your bike? Is your gear still holding up? How about your riding skills after months off the bike? Gravel, salt and/or black ice on the roads? Are cars even looking for bikers right now? All these Motorcycle Spring Riding Tips, questions and more Total Motorcycle looks at, examines and takes a stab at answering for you in our Beginner's Guide to Motorcycling and our Beginning Bikers Forum.  If you are looking at buying a new 2023 motorcycle or a used motorcycle we have you covered. Returning riders and experienced riders are encouraged to help out our new riders and pass along tips, tricks and advice you have learned over the years of riding. In the past 24 years our forums has been around we have answered over 450,000 questions and keep answering them to not only help you out but to support motorcyclists and motorcycling worldwide.
Don't forget Total Motorcycle not only has the biggest and best Motorcycle Model Guides from 1970 to 2024 , we also do gear, motorcycle and product reviews, and has the friendliest motorcycle community on the internet too! Total Motorcycle has helped over 315 million riders around the world get into and get ready to ride. Thank you for supporting us.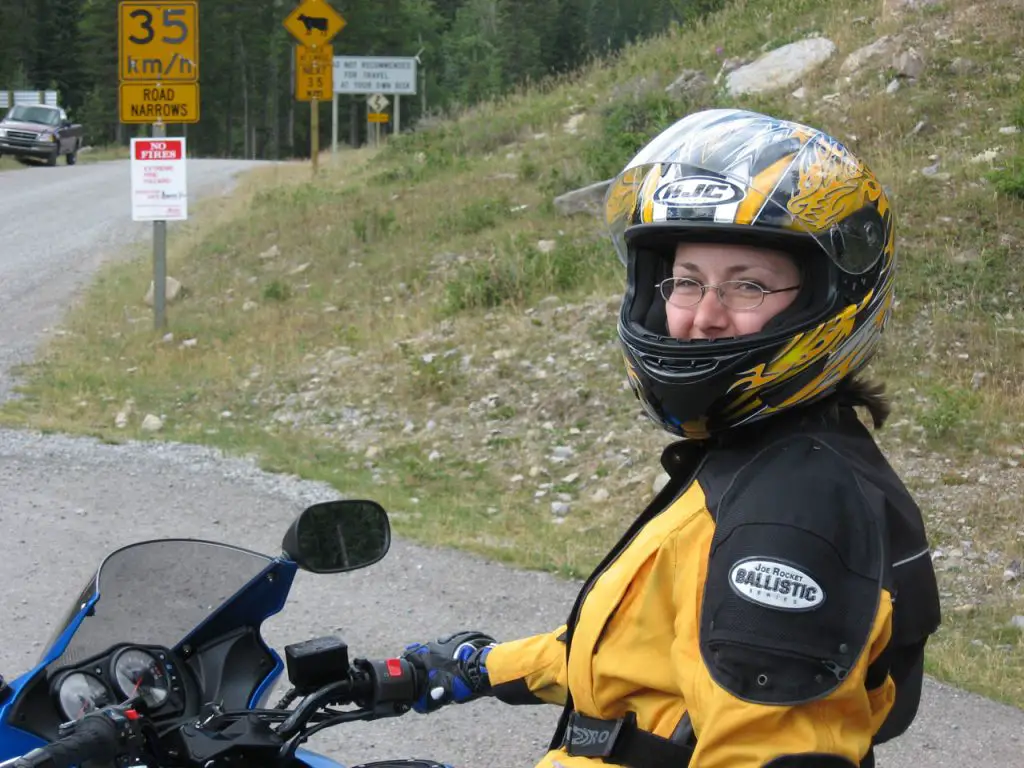 12 Motorcycle Spring Riding Tips
Fill your gas tank with fresh premium fuel that contains no ethanol (Shell premium contains no ethanol … or so says the sign on the pump). I recommend premium because most regular grade fuels contain ethanol and there are a bunch of folks saying it is not the best for power sports applications … especially if you are not using them everyday. More importantly, add the recommended amount of fuel stabilizer. Make sure the tank is completely full for final storage … it will prevent condensation during winter temperature fluctuations.
Either take your bike for a short 5 to 10 minute ride or warm your bike up in the driveway and change your oil and filter (this will also insure that the fuel stabilizer has worked its way through the entire fuel system). Refer to your owner's manual for oil change info. Unless you have recently changed your oil (1,000 miles or less), it is a good idea to store your bike with fresh oil … it will also save you from having to do it next spring when you are itching to go riding. A bike should not be stored with old, well used oil … its acidity levels will be elevated and could harm your engine internals. Start your bike after the oil change for a minute or so to get the fresh oil circulating.
If you have a Carburetor: Once your bike has completely cooled down, if the float bowl drain screws (on non- fuel-injected bikes) can be accessed, drain the float bowls (it is a bit of extra "insurance"). There is no draining required on fuel injected motorcycles, since it is sealed from the outside air.
Wash your motorcycle. A coat of wax on the painted parts is a good idea. Always inspect your bike as you wash it. This is a great time to look for damaged, loose or missing parts.
Lube your chain (if applicable) after you have washed and dried your bike. Once again, it is not a bad idea to adjust your chain at the same time … it will save from you having to do it next spring. Please note, chains are not tightened, they are adjusted to a specific tension spec which will be outlined in your owner's manual.
Check your battery, and if applicable, check the electrolyte level and top it up to the correct level with distilled water. Put the battery on charge and fully charge it.
Make sure your gas tank doesn't have corrosion and the fuel petcock works.
Make sure you have a good cover for your bike. A breathable cover to help protect it and keep it clean. Careful of using a non-breathable cover (plastic tarp etc.) which could cause condensation and corrosion.
Depending on where your bike was being stored, if vermin are a concern, check all wiring as rats, mice squirrels love to crew on it.
Some folks go the extra step and remove spark plugs to check their condition.
Check your air filter, make sure it looks clean.
When is the last time you changed your brake fluid? Most break fluid only lasts 2-3 years.
Finally, remember that thieves don't go away in the spring.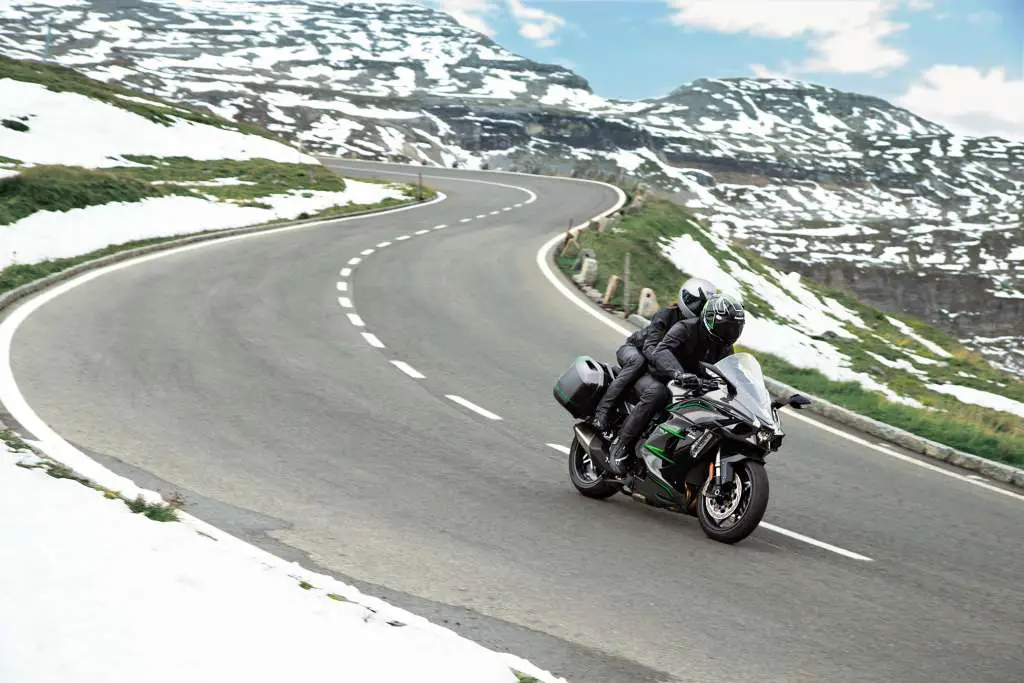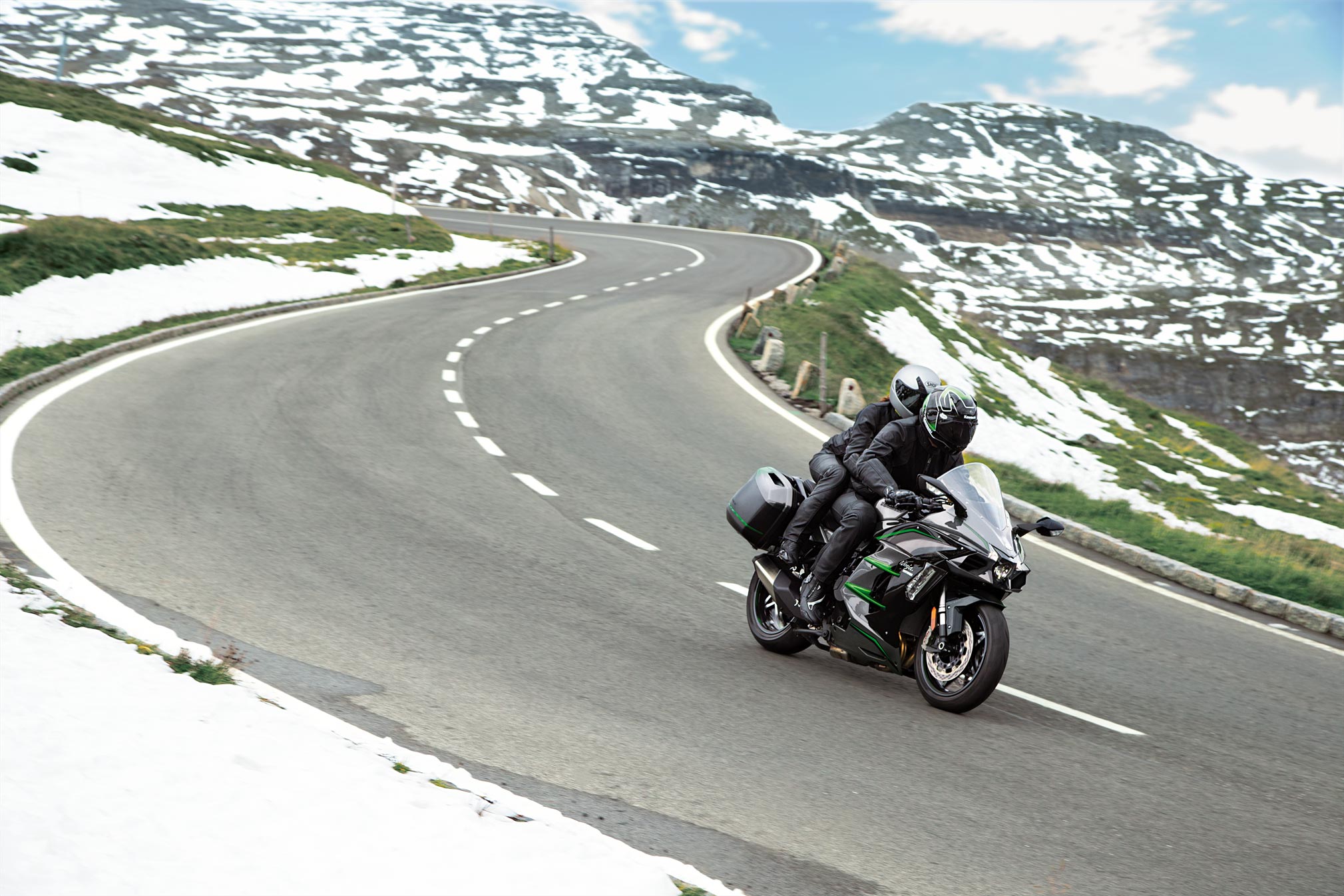 That First Ride
As a motorcyclist myself, trying to come up with a description for what motorcycling means to me and others is difficult to get across in words alone. The best description I can think of is: Motorcycling isn't about transportation alone, more than just a lifestyle, it is a life changing event; period.
If you have never rode a motorcycle before this can be difficult to understand what I'm trying to get across. You may be thinking its all about the clothing, merchandise, music, engine size, bike style, manufacturer or lingo. I won't lie to you, a small part of it is. For me, it is about the feeling you get when you ride. You fill all of your senses with that feeling.
Imagine this: Your riding down a clear road, tank full of gas, no where in particular to go with the whole day ahead of you, you smell the countryside/mountains/fresh rain/forest/ocean/hay as you pass, the sun shining down with the wind at your back. You can choose to go down any road that you want, hit the twisties, cruise the super-slab or explore that small town ahead… That feeling is the of freedom, and it is extremely addictive.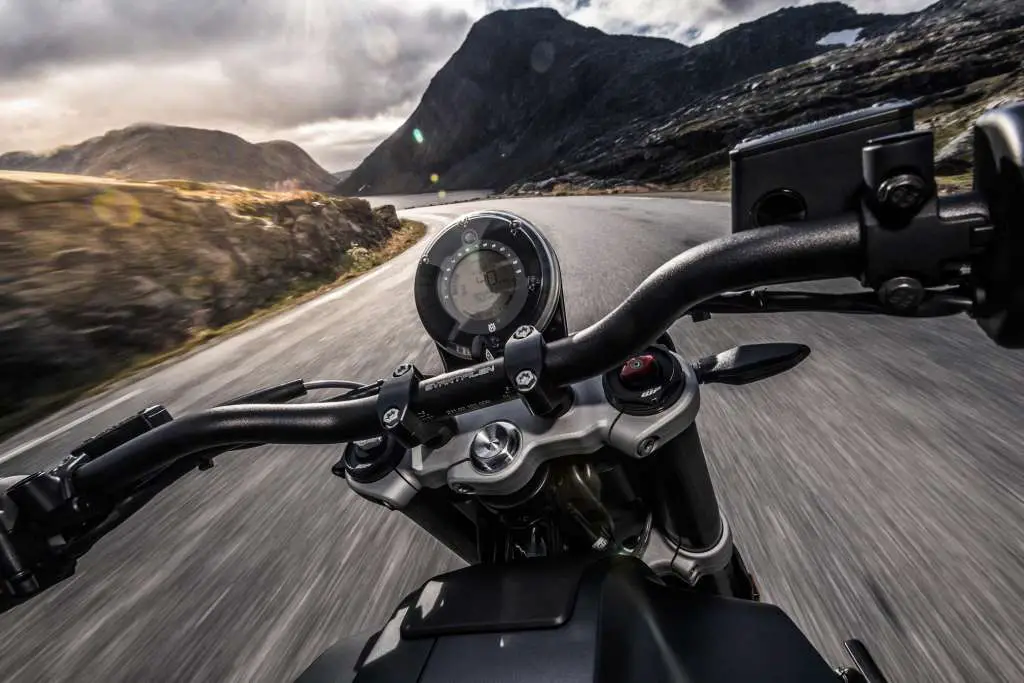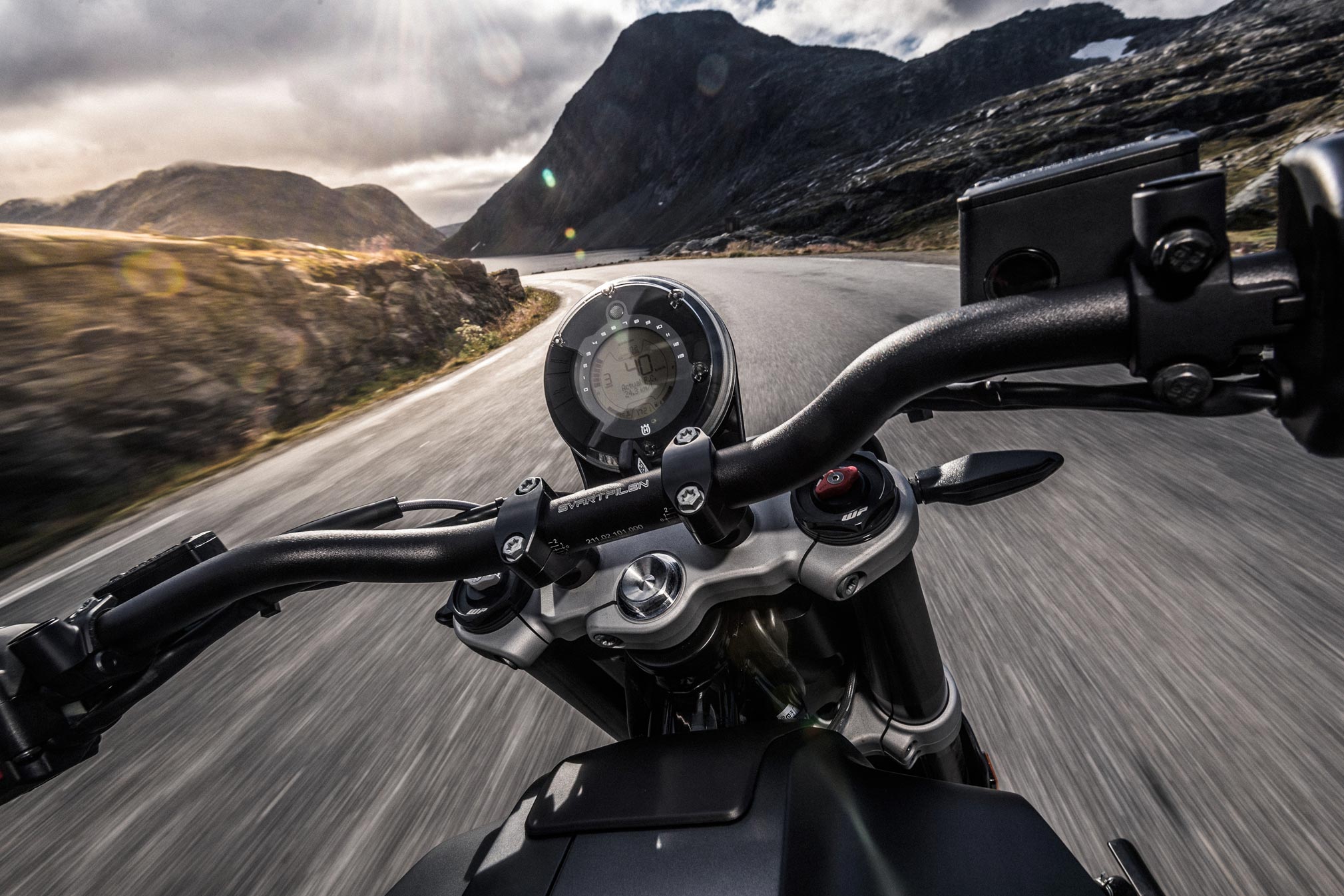 New Rider Suggestions
I just decided to write a blurb of sorts to try to help out the new rider. Try to give some advice, and tips/stories that I have learned.
I think if I were to do things over again, I would go to riding school first. I haven't gone yet, but plan to in spring. BEFORE I RIDE! I'm currently trying to get opinions from local clubs, individuals can give you a great opinion for schools. Got some great ideas from webmaster Mike since he went to the bike show with his wife. The internet is a good place to find things, but I have always found problems with where to look sometimes. Trial and error folks pretty well sums it up.
I have been doing some research into helmets and protective gear. You can spend a bazillion dollars on a helmet and other stuff, and still end up with substandard protection, depending on how you look at it. I was talking to a buddy's dad and he always recommends Snell approved helmets. I guess they answer to more strict testing than just DOT approved stuff. Go into a bike shop and mention Snell helmets, and you can basically stop looking at the helmets on the bottom shelf……look up…….look way up. What I have found though, is that you can get a great deal on one of these helmets if you are willing to sacrifice some style and your first colour choices. I found a place that had full face Snell approved helmets for $99, but only the gaudy ones that they had in stock! I'm gonna go back and get one I think, provided that they have one for my big melon.
I have a buddy who swears by the army surplus boots. Makes sense when I think about it, for the $30 he spent, he got a $200 pair of boots, steel toe and shank, and they are in decent shape, can be polished, and aren't really thick, so they don't impede foot controls on the bike. I think I'm gonna stop by there and get a pair, even if they suck, at least I haven't spent a fortune, right?
Riding in shorts and t-shirts,…………think about it, there are two kinds of people with bikes, those that have dumped there bikes, and those that are going to dump there bikes, need I say more?
As far as beginner bikes go, I think that really lucked out with what I got. It's something that I have a second chance on if I twist the throttle too much by mistake, fairly light, and decent brakes, and very very easy to maintain. A Honda CB400T. Mike had one of these bikes and loved it, and I think that I will be able to say the same. This bike seems to get me around ok for a beginner, and I'm over 200 pounds and 5'9. Got the bike and some extra stuff, cover, lock, and other stuff for a great deal, and the bike has 12,000 km. Which I think is good anyway.
Please don't make the mistake of getting the whizzy 1200cc monster that you really can't handle. I lived in Calgary, Alberta, Canada, and every year there are exponentially more and more bike accidents in the summer. Most start off with the 17, 18 year old kids on the smokin' joe Daddy bought for them. Be smart guys, especially the ones who are a buck 'o' five and on a bigger bike. You can always upgrade, and in this city, you won't lose value on your bike. It is so hard to find a small bike to start off with, that you can bet that if you get a decent deal, you can double your money on resale, I know of many people that have done this. Just remember, buy in the fall, and sell in the spring/summer if you can, makes economic sense.
Remember as a new rider, what do you think will be the bike you dump, (the most)? Your sixth bike, after riding for years, or the first one? Even if you have the dough to spend on a new bike, I recommend that you wait 'til you know what you are doing. New bikes with fiberglass, and really shiny chrome parts that get really expensive when you accidentally "customize" them.
Motorcycle Spring Riding Tips. Questions or suggestions?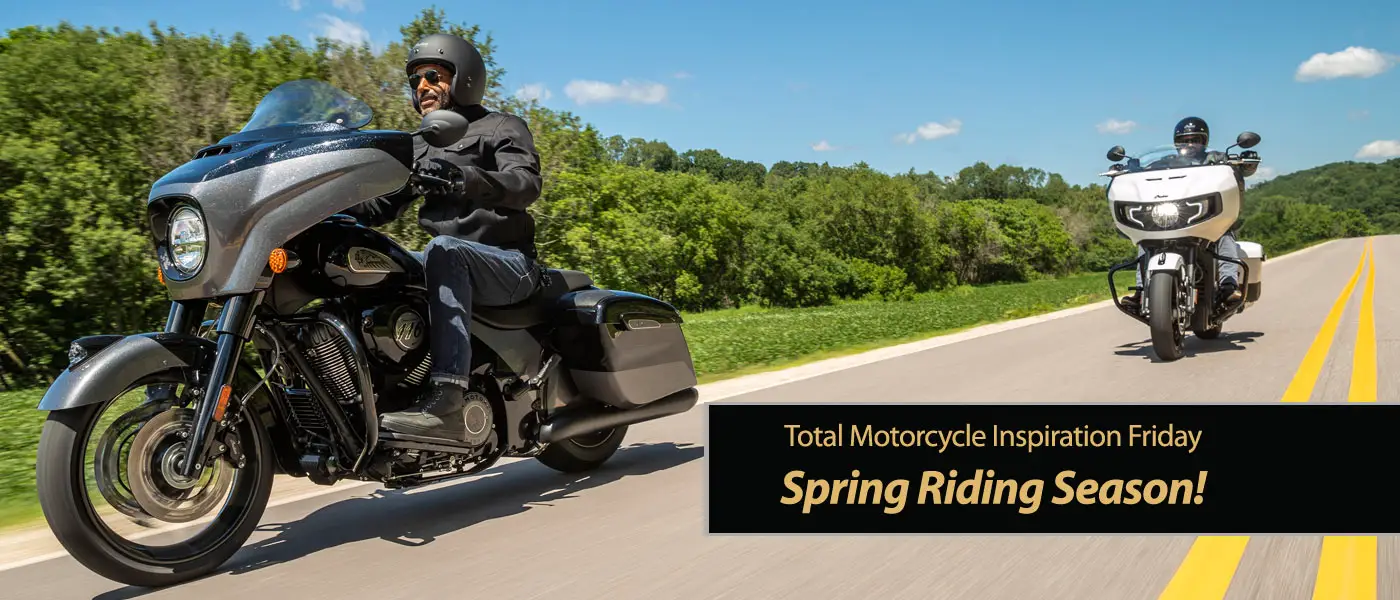 Warmer weather, longer days, cool breezes, more sunshine. What more could you ask for? The feel and sound of a motorcycle rumbling down the road. Your motorcycle. Your ride. Your day is today. Welcome to Inspiration Friday: Spring Riding Season this week in March! Riding season is right around the corner and now is the time to get ready to rumble! While the salt, snow and ice melt away in the North and the rain and cold subsides in the South, get your bike (and you) prepped to thumb that starter. Read on below for the best tips and time saving tricks…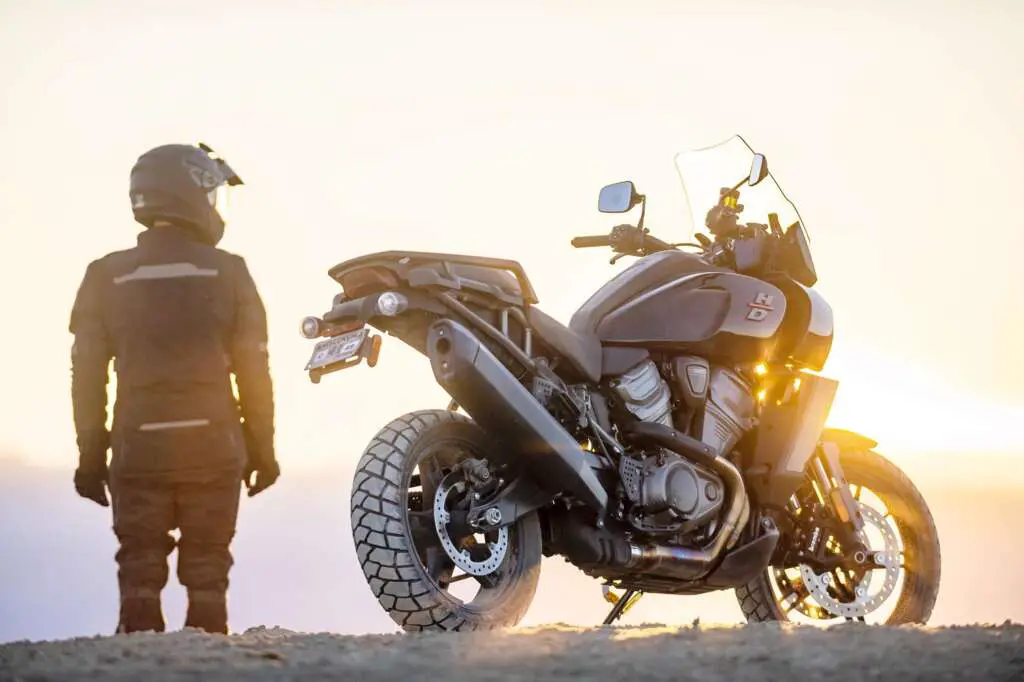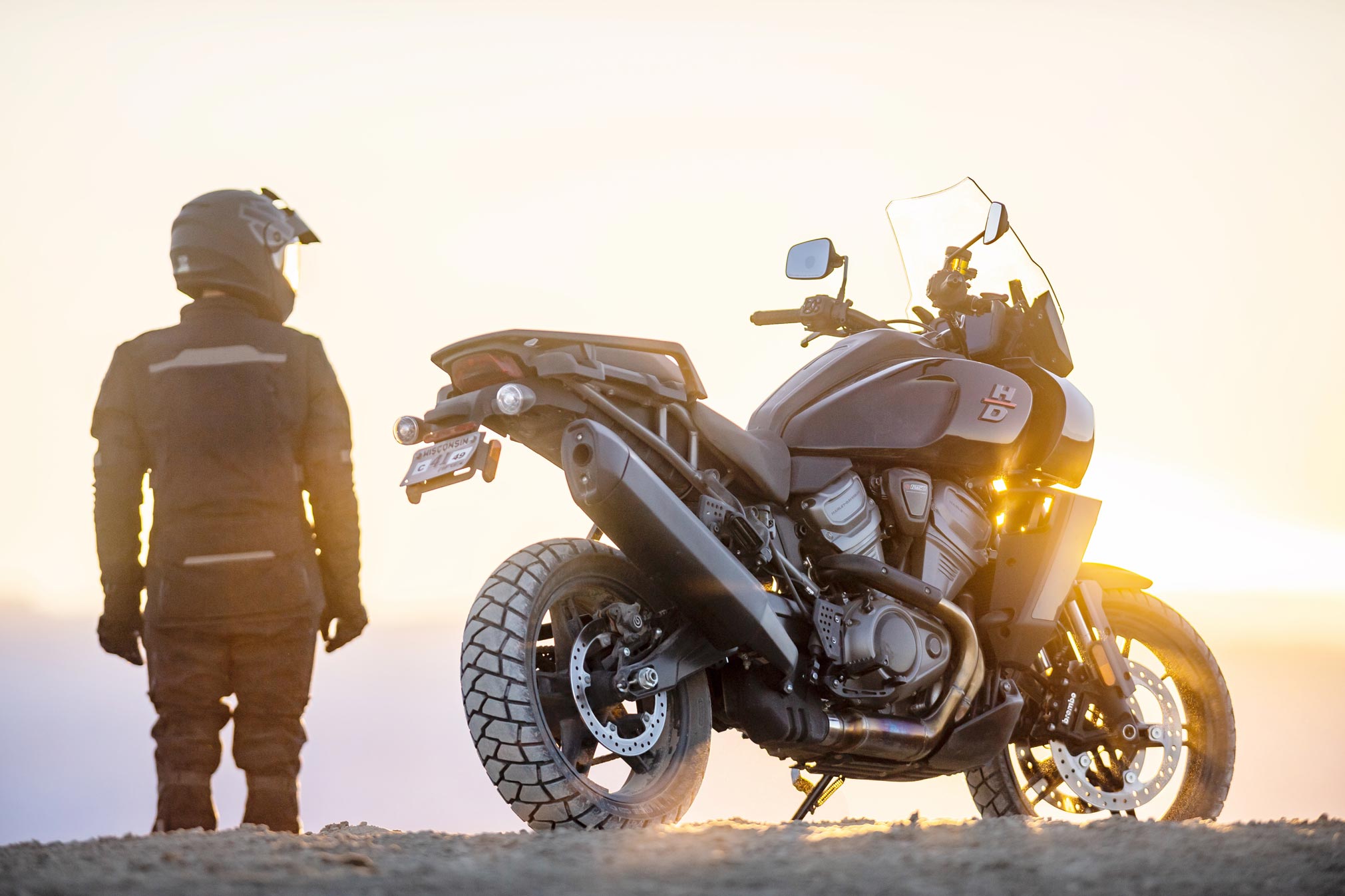 Getting your Bike out
Firstly, did you store your motorcycle properly for the winter? Yes, will then you are well prepared to hit the road. What I like to do is change that oil and filter off the start as acids will accumulate in the oil over the winter if your bike sat for months waiting for nicer temperatures. If you took your battery out, charge it up to full now and go over your bike, check the tire pressures, coolant, oil, cables, bulbs, headlight, horn and most importantly and commonly forgotten, all the bolts are still tight! Did you lube and adjust your chain, belt or re-oil the shaft drive?
If you did not store your bike properly, and yes, we are all guilty of doing that, then not only do the above but not you'll have to check for rust and damage as motorcycles DO NOT like to sit idle for long periods of time. That battery is most likely bad, that gas will have to be drained as it's bad, those carbs (or fuel injectors) will need to be cleaned, check the tires are not sidewall cracked, rotted or have flat spots! Lube the bike all over, check for rust everywhere and address it now before it spreads.
I use the expression, TIME or MONEY, your choice. If you had the time to prep your bike right, less money, otherwise, more money because you didn't take the time. Makes sense right?
Check out our previous winter bike storage articles here, here, here, here, guide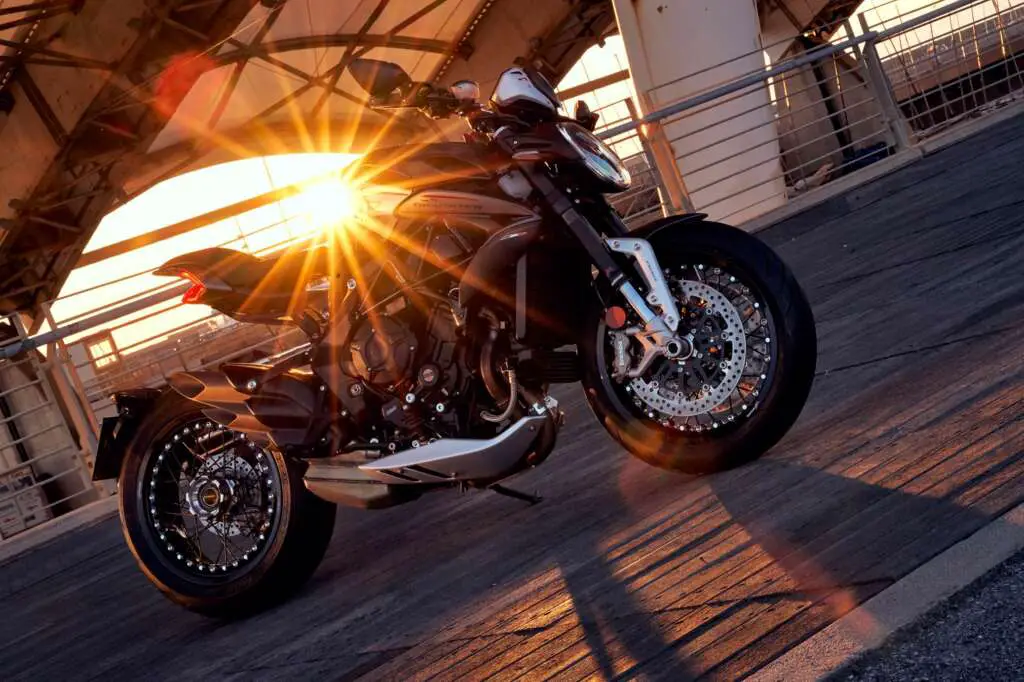 Onto YOU now.
Check your gear, it is older than 5 or 6 years old? Maybe it's time to visit the dealership (please not Amazon) and keep them in business, god knows they need your support now more than ever. Check the helmet, are your gloves faded and worn? Does your boots need walking to the curb? Maybe this is the year for riding jeans vs Levi's? Treat yourself to some new updated gear (see our reviews).
Skills. Our staff members, Eric and Carrie Leaverton are certified motorcycle safety instructors and have some tips for you with their videos and spring advice we will post shortly. Keep those skills up, why not go through our legendary Motorcycle Beginner's Guide and refresh yourself on the basics. Also we will be reviewing even more gear, more bikes and more motorcycle gadgets for you soon!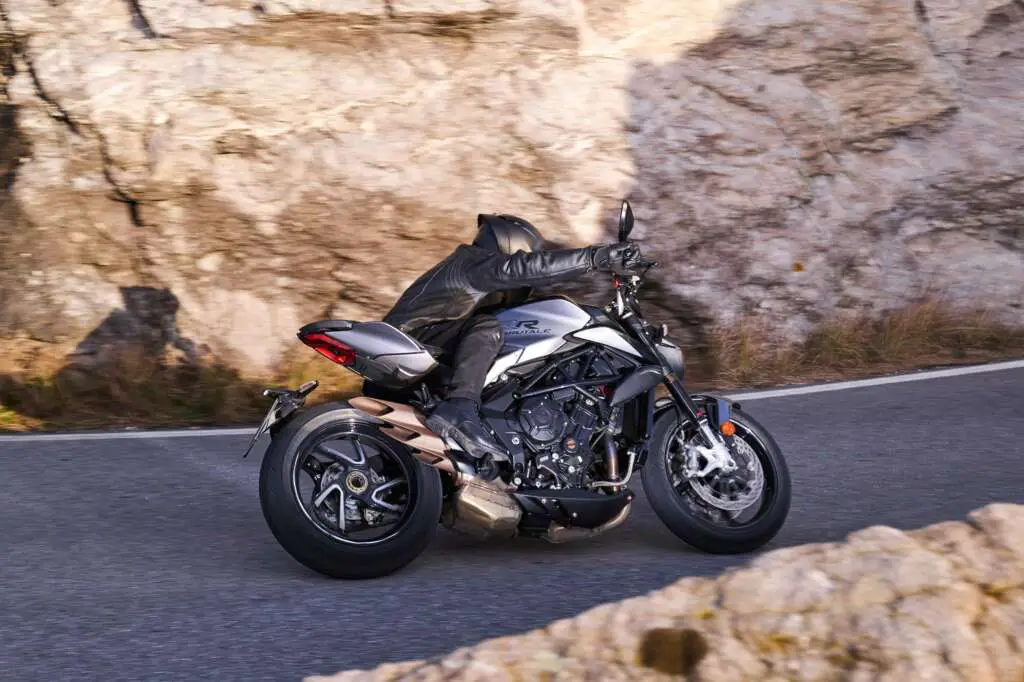 Insurance
Ah, insurance. Check to see if your insurance is valid and up to date. Also check around for better deals as some insurance companies are more FRIENDLY to motorcyclists with their premiums. I've lived in 3 countries and I've paid from $70 bucks in Texas to what I pay now $800 per year (only 1 insurance company in Manitoba where I live!). Insurance goes from under a hundred to several thousand per year depending on where you live, the company and rider experience so it pays to shop around (if you can).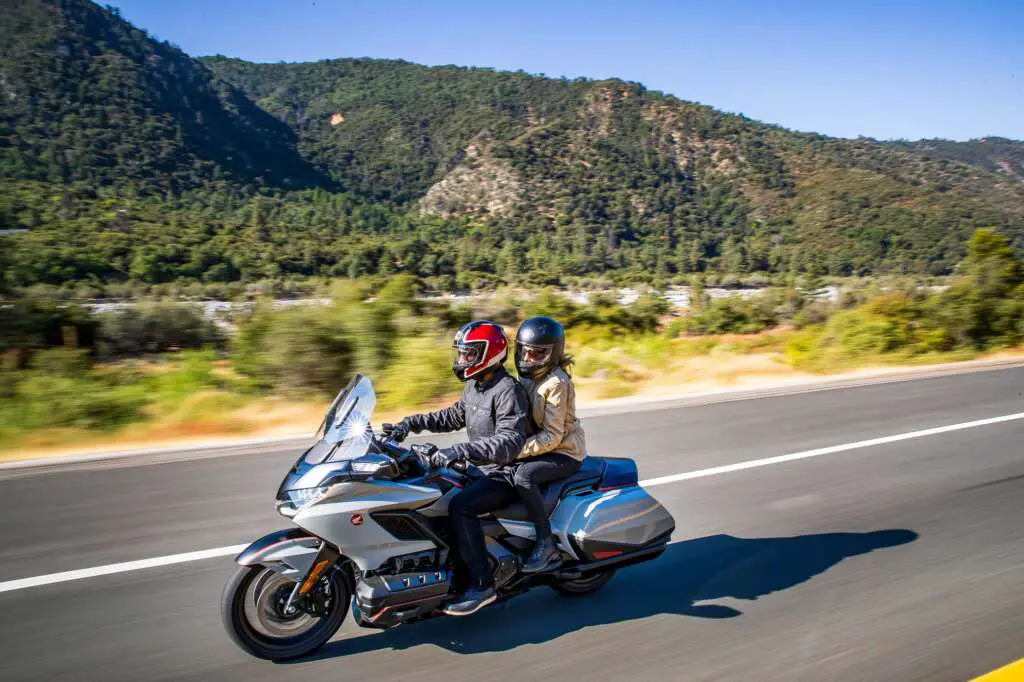 No Motorcycle?
Well, you are in luck! With 2022 being a bad year for dealerships they have a lot of leftover bikes on they want to sell, but not for long! Once the warmer weather hits, they will be gone. Used? Well, you should have bought in the fall or winter as that is traditionally the BEST pricing (Time or Money remember?). Spring is the worst time to buy a used bike unfortunately but early Spring you might just squeak a deal if you are lucky!
Looking to buy new or upgrade? Well sir and madam, step right up, you have come to the right place! Can I interest you in any bike from any manufacturer from 1970 to 2024? Right here, right now on TMW.
Also remember motorcycle racing season starts too! From WorldSSP, MotoGP, Supersport, Flat Track, BSB, Motoamerica, MXGP, Supercross, GNCC, Enduro, WorldSBK and Trial.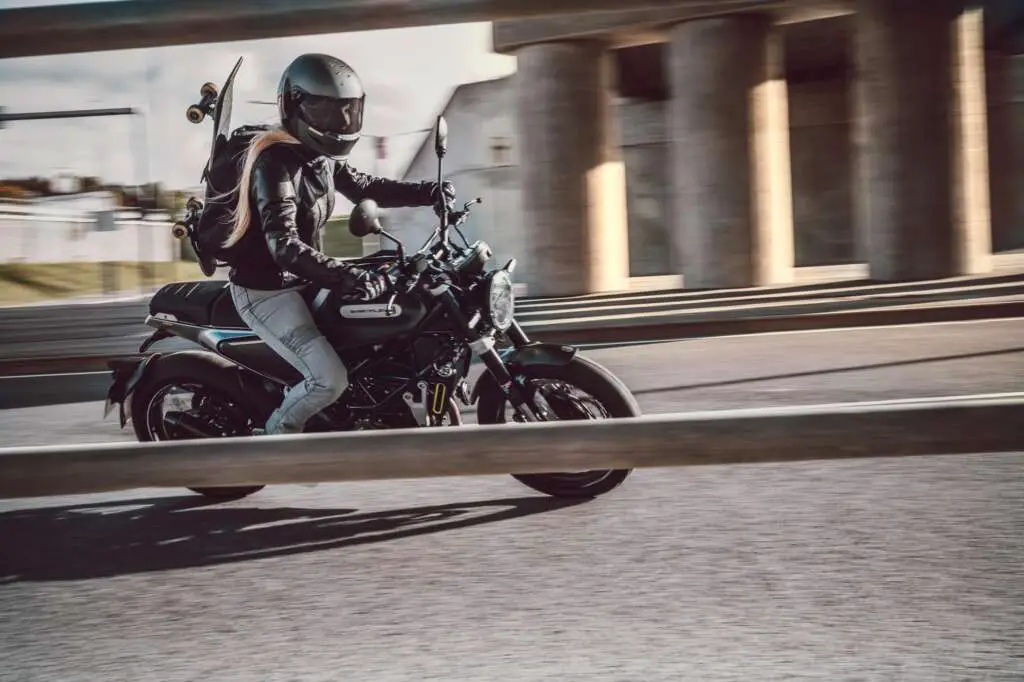 Things you CANNOT control.
The roads. Is there gravel, salt, ice or debris on the roads from winter? Most likely there is! Personally, I won't ride till our "street sweepers" sweep the streets and/or it rains a few times to wash away that salt. Salt is the enemy of motorcycles since their parts are VERY exposed to rusting. Also all that gravel can catch you unawares on that corner so pay extra ATTENTION when you ride. I don't want to start the riding season with my bike in the shop for the next month while my friends are out riding.
Inspiration Friday: Spring Riding: It's the most wonderful time of the year. Let's be SAFE out there and have FUN while reading Total Motorcycle daily! 🙂
Mike
Back On The Road
Before you head out onto the highway, there are a couple of things to do. First, remove the cover and put it where you can find it again. Talking of finding things, locate the (charged) battery and reinstall it connecting the positive (+) cable (red) before the (-) negative and covering the terminals with the plastic covers. Recheck all fluid levels and turn on the fuel. Check for anything wrong on the motorcycle (cracked tires, broken parts/plastic, leaking oil). Set the tire pressures back to riding specs and you are ready to fire up.
As you don your riding gear, remember that your riding skills will be a little rusty and the road surfaces will have changed a bit since the last ride, so go carefully. Sand/salt deposits on the edge of the road and especially at corners may be hazardous.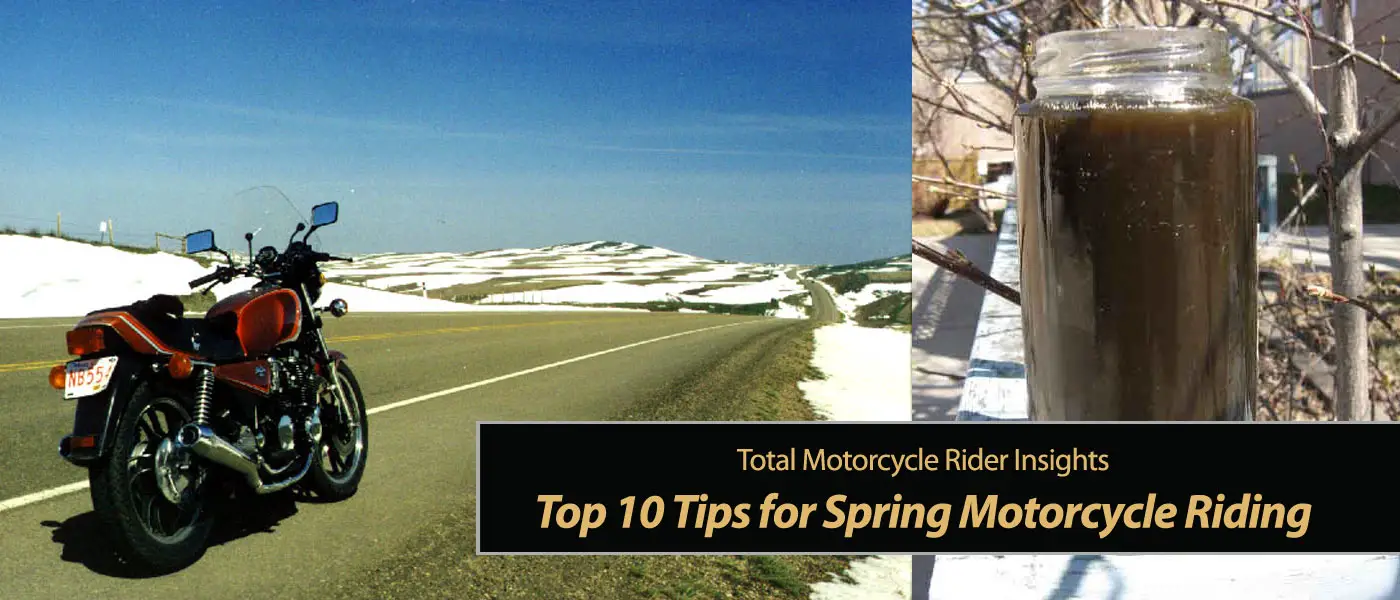 Welcome to TMW's Top 10 Tips for Spring Motorcycle Riding. If you're like us, these recent warm temps and bright sunlight have you ready to get back into the wind! Winter is over and we're all ready to start the riding season, but we might be out of practice and our equipment might need some attention. These ten tips will make sure we get going again safely and smoothly, and avoid any common mistakes. Extra bonus tips on each point offer up some of my own personal insights and even my own embarrassing learning lessons!
If you missed our previous article Inspiration Friday: Spring Riding Season, don't forget to read that one too as it is full of inspiration to get you started and out on the road!
We hope you find our tips helpful and please share this page on Social Media to help your fellow bikers this year get a good safe start.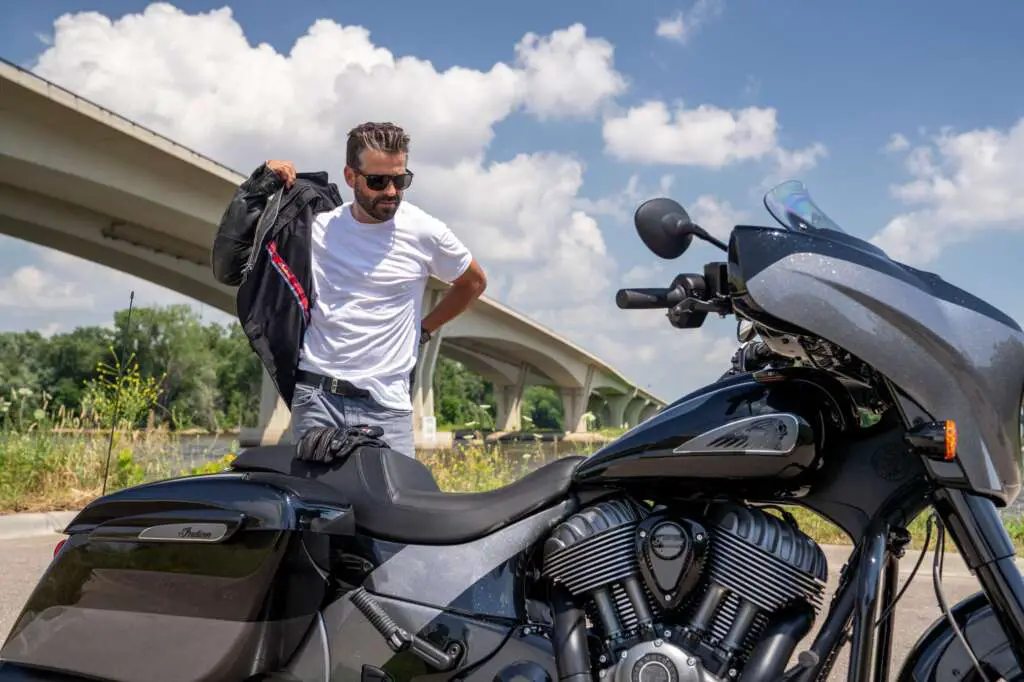 Top 10 Tips to Dust Off for Spring Riding
1. Check Your Paperwork
We all know insurance is a complicated beast, and us motorcyclists learn a whole new level of complexity don't we? You may have downgraded your insurance to a "storage" policy over the winter, or your policy might have lapsed (Check out our previous storage articles here, here, here, here, guide). Also, a lot of us like to bolt on or slap in some accessories over the winter months. If that's you, review your policy and make sure your new farkle is covered by your policy limits. If you added a lowjack or other tracking device, you should let your insurance company know about that too. It could swing you a discount.
Extra Tip: Keep a copy of your insurance in a waterproof folder in your main riding jacket at all times not only so you don't lose it but it won't get damaged either.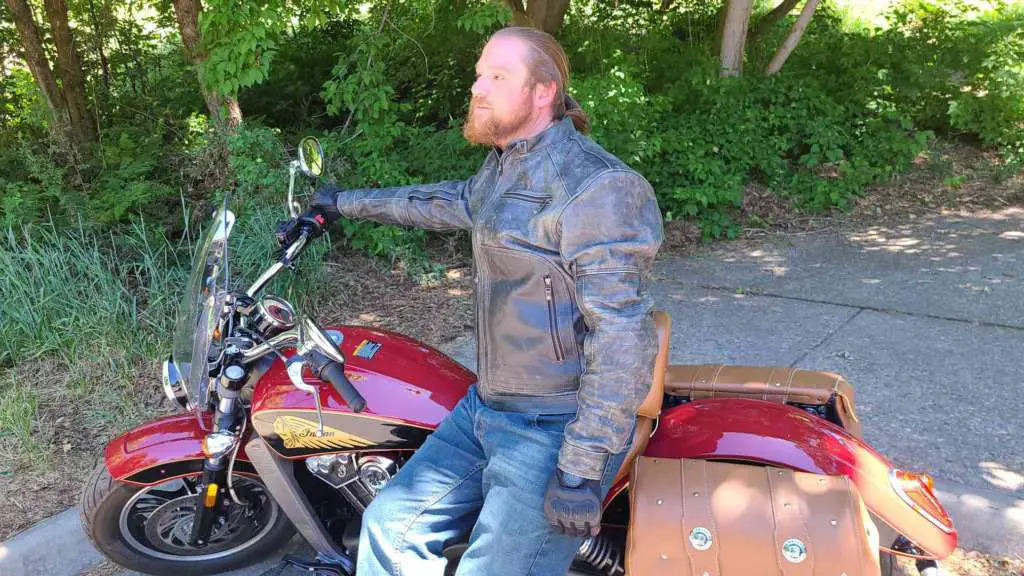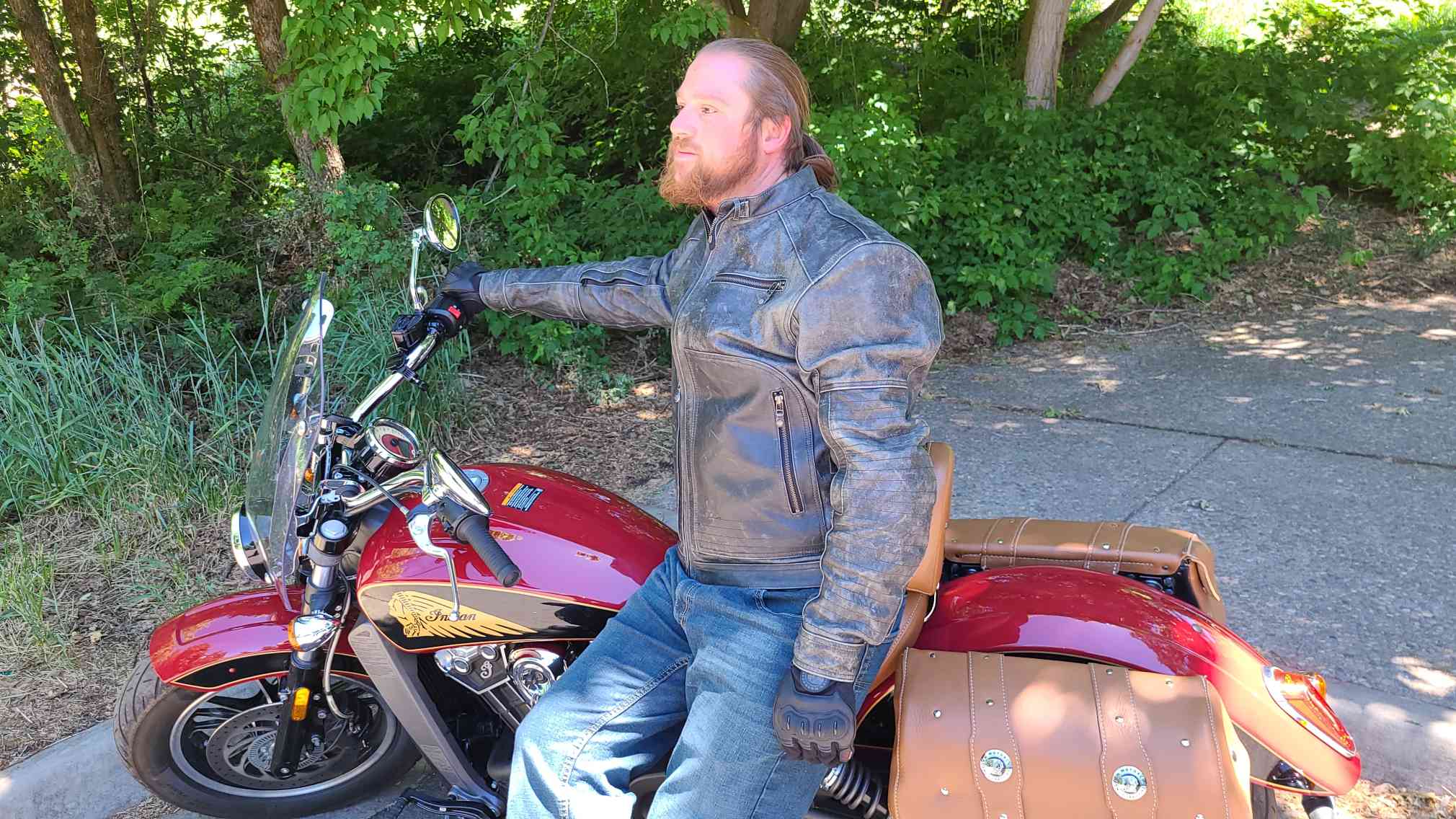 2. Inspect Your Gear
Game
Round up all your riding attire and give it all a good look. Check for worn out or broken fasteners on your jackets and gloves. Pay special attention to cinch clips or snaps. Take a look at your footwear too. Your laces might be fraying, or the soles may be starting to release from the uppers. Cold temperatures can do that, especially if you store your gear in an unheated environment like your garage. Make sure all your Velcro is holding tight, and give it a few strokes with a pet hair brush if it's not. It'll usually perk right up if you straighten the knap.
Your helmet can use some attention too. If you have washable liners, pull them and wash them. You'll thank me later. Clean your visors, and if you have multiple visors make sure you know where they all are. Things like that have a tendency to migrate during the winter months, or at least they do in my household. Check all  your straps and snaps for damage too, and make sure any accessories, like a communicator, are charged, holding tight, and positioned correctly.
Set
Once you've inspected all your gear visually, put it all on! Not to put too fine a point on it, but we all know Thanksgiving, Christmas, New Years and Valentine's Day have a tendency to shrink gear. And that's not even figuring the Quarantine 15 we're all competing with in 2021! Make sure all your gear fits like it's supposed to.
Even if you're pretty sure your gear is all copasetic, you should still run through this step in case our fickle memories have let us down. If some part of my gear fails towards the end of the riding season, I have a tendency to limp it along with thoughts of replacing it over the winter. And I don't think I'm alone in that. So it's possible you've got a couple surprises waiting for you that didn't get rectified on Christmas morning.
Match
The wonderful part about doing all this right now is, your local bike shop is probably running some KILLER deals on gear. If you find something that needs replaced, chances are you can save a bundle this time of year. Also, your loving family and friends might have given you a gift card or something over the holidays! Don't miss this excellent opportunity to use it.
Extra Tip: Cleaning your gear is a great way to keep the reflective bits, well, reflective! Also clean gear looks more stylish and you'll be able to inspect it for any micro damage. At Total Motorcycle we do unbiased long term gear reviews to let you know what is good out there, check them out.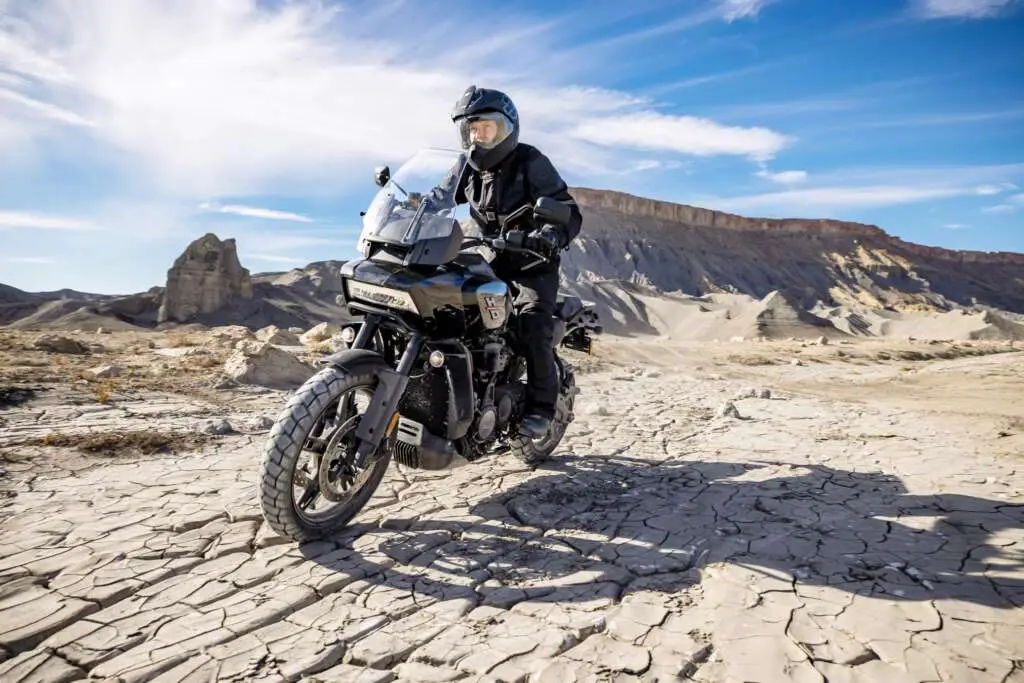 3. Check Your Environment
Wherever you store your bike in the winter, take a good long look around it. We don't all have huge garages with extra space, and like me you might have your bike crammed in somewhere between a lawn mower and a volleyball set. Make sure nothing's going to shift or slip or fall when you start your excavation.
Also, if you're one of us lucky folk who live where it snows in the winter, you've likely tracked in some salt or gravel since the mercury dipped. Take an extra five minutes to sweep up and you'll avoid a costly drop on the garage floor. One little scattering of gravel is all it takes to set you back two weeks and $2,000.
Extra Tip: Clean the bottom of your boots! Yes, you might think last years dried dust is cool, but just wait till you combine that dust on your sole with a clean concrete floor…a seconds wipe can save you from an embarrassing slip.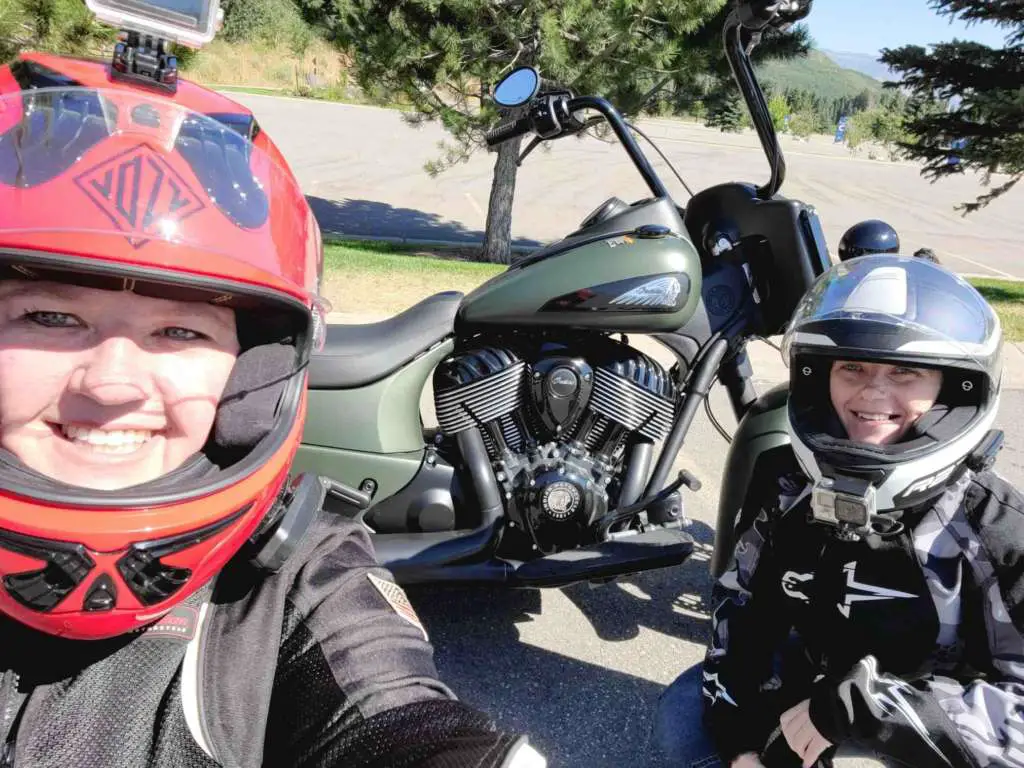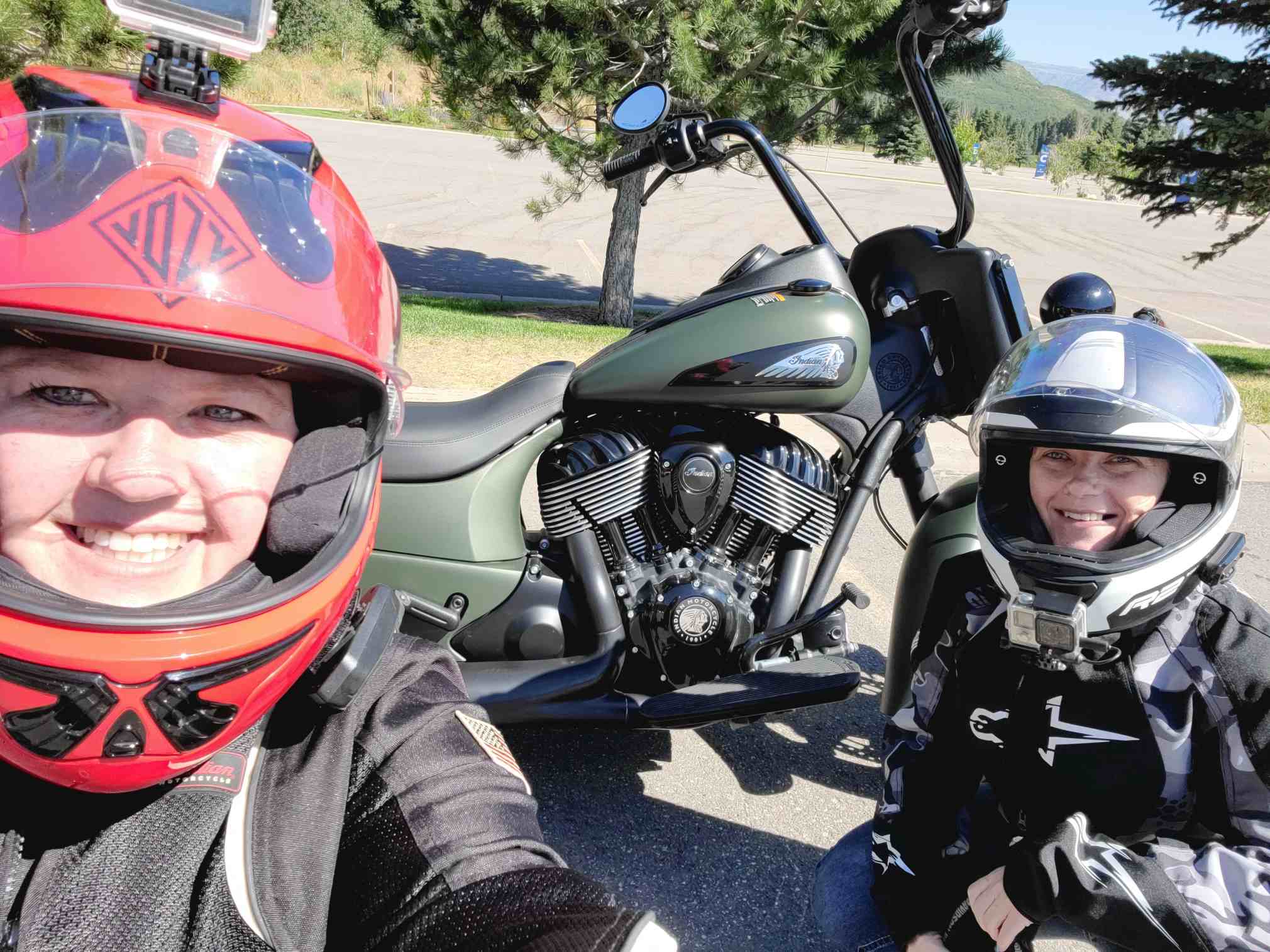 4. Check Your Bike
Start where the rubber meets the road – literally your tires. Are they ready for another season of riding, or will you need new rubber soon? Look for flat spots, and check for fluid spillage. An unnoticed leaky fork from last fall can leave a quarter-inch deep puddle of fluid in your rim. Make sure your axle bolts, castle nuts, and pinch bolts are all tight. Check your air pressures and bring them up to spec. Don't forget your air-adjustable suspension if you're lucky enough to have such a thing!
While you've got your air compressor running, switch out to the air gun and blow as much dust off your bike as you can. This is not just for aesthetic. It's a chance to get up close and personal with your bike and peer into all the nooks and crannies. If you've got warts, chances are you'll find them now. Loose or leaky connections, broken plastics, whatever.
This is also the time to check all your accessories and make sure everything is tight and right. If you store things like detachable cases or windshields in other locations, this is the time to gather them up and get them installed. Roadside emergency kits, rain ponchos, hand warmers and the like should all be put in their respective places too.
If your battery has been on a trickle charger, get all that sorted out. If it was out of the bike for the season, reinstall it now.
Extra Tip: Check the air in your tires! I just pulled my own bike out from storage a few days ago and while moving it around noticed both of my tires (for the first time in decades) were flat. Normally I'll check the pressures anyways but maybe if they were just "low" I could have forgotten. I usually change the oil and filter at the start of the season as well because when you bike sits the oil gets more acidic. Did I mention check your oil filter bolts as well for tightness… there was this time I forgot and turned on engine and drained the oil in a few seconds…DOH!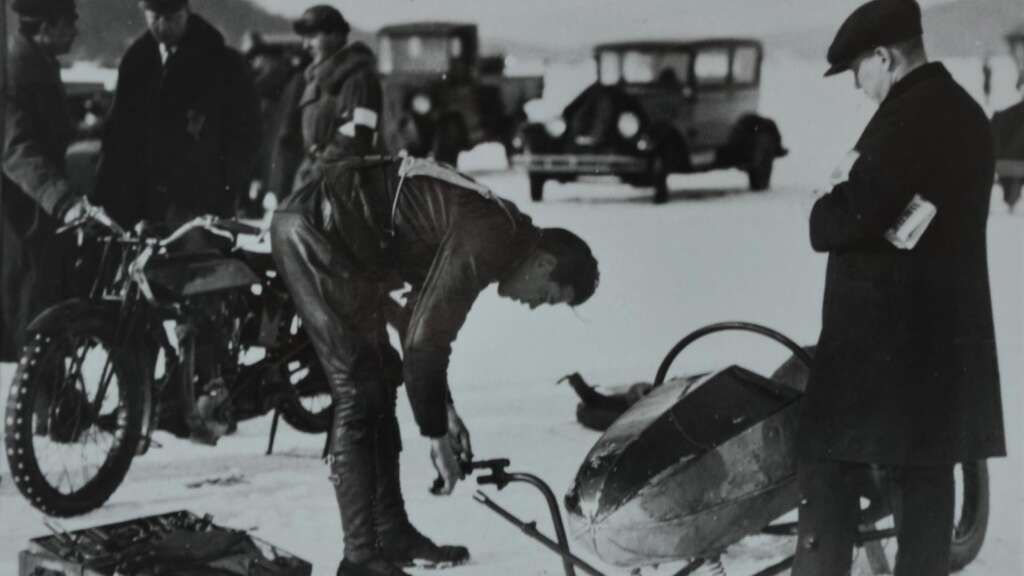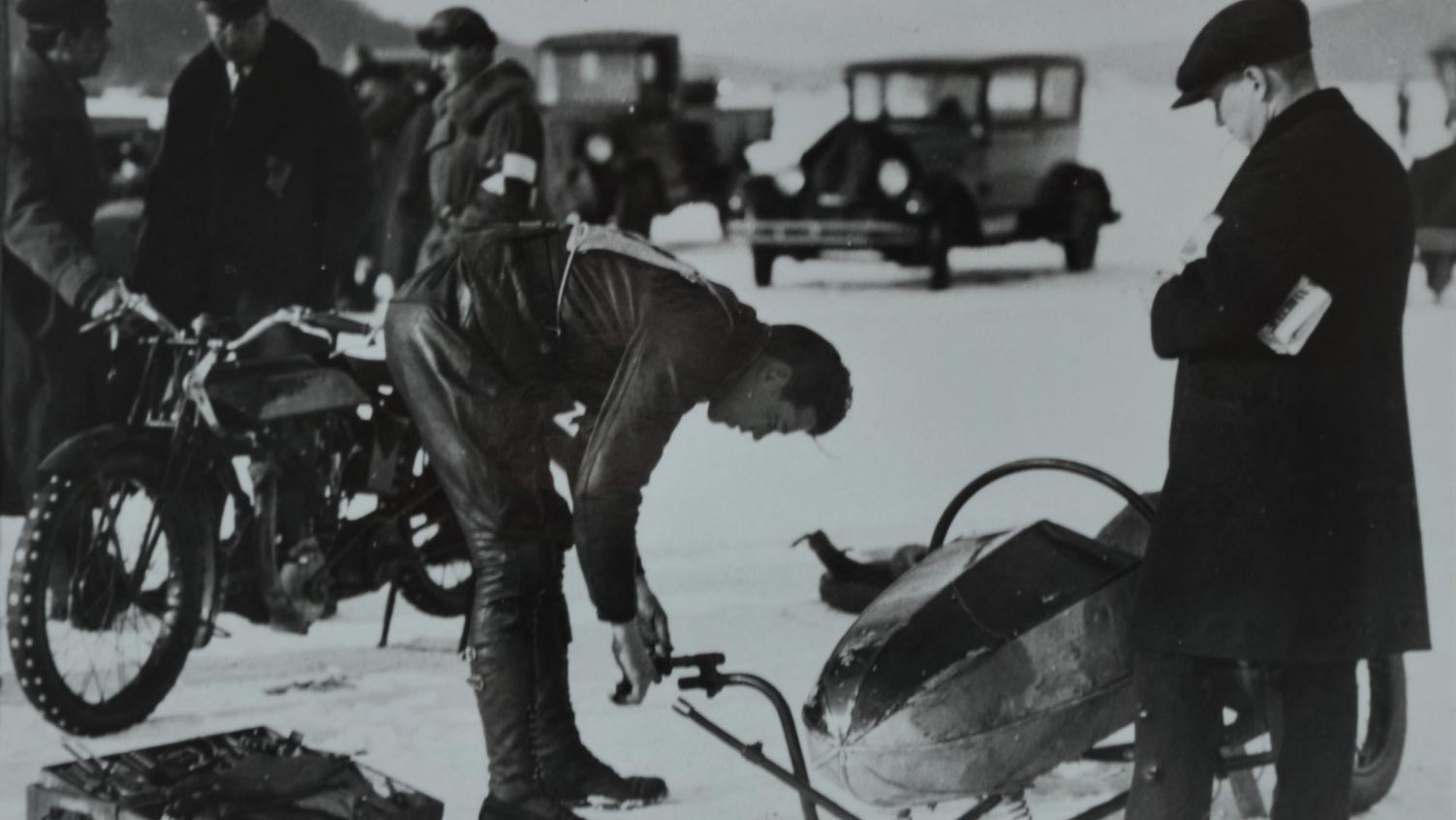 5. Shake It Out
Once your bike is all put together and outfitted for the road, go over your controls. Turn the handlebars from stop to stop a few times and make sure nothing's binding. Squeeze your levers and give your rear brake a few pumps, then open and close your throttle to confirm the spring return is in good working order. Check and adjust the free play on your clutch lever. Push and pull gently on all your plastics, and bounce the bike on the front suspension with the front brake pulled in tight. Listen for any rattles or thumps. Then kick it into Neutral and roll the bike back and forth a few times, at least far enough to get a full rotation on your tires. If you have a chain, roll it far enough to engage every link of your chain on every tooth of both sprockets. Listen closely while you do this step.
Now, turn the key and make sure you've got power. If your bike is fuel injected, listen for the fuel pump to pressurize and cycle off. Then start it up and let it idle. Use your turn signals, brake lights, high and low beams, and horn. Check any other electrical components like heated grips and 12v outlets. Make sure everything is working like it's supposed to.
Gear up, get on, and put the bike in First gear. Check for any clutch drag by gradually pushing up with your feet to unload your weight from the bike. If it starts to pull in First with the clutch in, you may need to do some clutch adjustments. If all that's good, you're ready to ride.
Extra Tip: Always do this off the street if you can for your own safety. After doing a brake job, oil change, suspension work, engine work I'll use my garage, alley or parking lot to test to make sure I got it right before I NEED to get it right and discover if I did or not. Our free Guides offer gets "how-to" articles as well as our garage forums if you get stuck.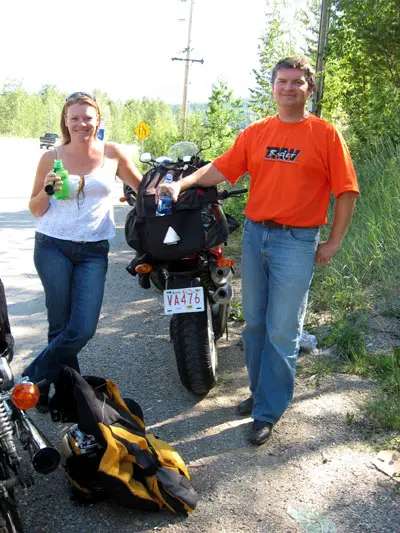 6. Got Everything?
I always make this mistake. I'm excited, the sun is shining, it's been a cold dark winter. I'll head out into the sunshine, and quickly relearn everything I forgot about wind chill. Maybe you've been getting by with a light hoodie or sweatshirt for the last three weeks, but it will be chilly at 60mph. Get out your liners and put on your layers. And remember it will start to cool off early and quickly. Plan to be home before you're a chattering, shivering wreck.
Extra Tip: Wind chill is temperature + wind speed over your body. Even if the wind is calm your bike moving at 60mph is the same as you standing still in a 60mph wind! At the end of a spring ride I parked my bike and put my foot down and my leg didn't hold the bike up thanks to wind chill!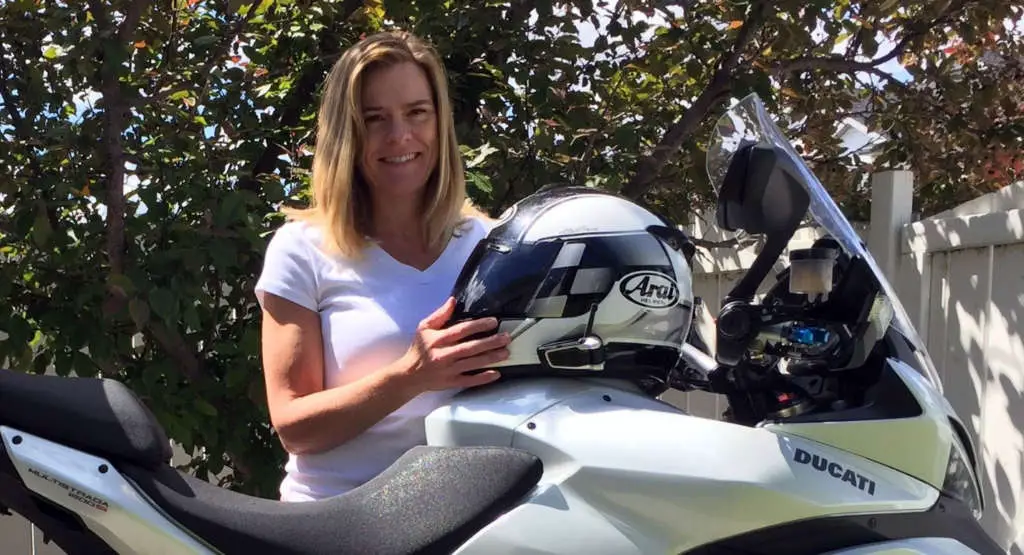 7. Clear Those Cobwebs!
Your very first stop should be a wide-open parking lot, or something like it, for a little brush-up. After all it's been a couple months right? Give yourself some time to get a feel for your friction zone again. Let out your clutch until the bike starts to creep forward, then pull it back in and push backwards with your feet. Do that three or four times until you've got a feel for your clutch again, and then power-walk the bike for fifteen or twenty feet. These steps are especially important if you added any accessories or replaced any components over the winter. Your bike may not behave exactly like you remember.
Once you feel like your wasting your time with that, do some quick stops. Get up to fifteen or twenty miles an hour, stay there for a couple beats, and then bring the bike to an assertive stop. Do that a few times, and work on shortening your stopping distance. Painted rows of parking stalls are a great way to track that!
Now do a few U-turns, or ride around in a progressively tighter circle, until you're comfortable with your balance and counterweighting. This is a chance to reacquaint yourself with your bikes weight and handling. It's also an excellent way to work out any kinks, both in your bike and in you!
Once you're feeling light and limber, head out!
Extra Tip: My wife and I do the wide-open parking lot #7 tip at the start of the riding year. Yes, even as seasoned riders, we still start the season in a parking lot! Sure, we get people asking us if we are new riders or gawkers, but in the end, it's my butt on the road, not theirs.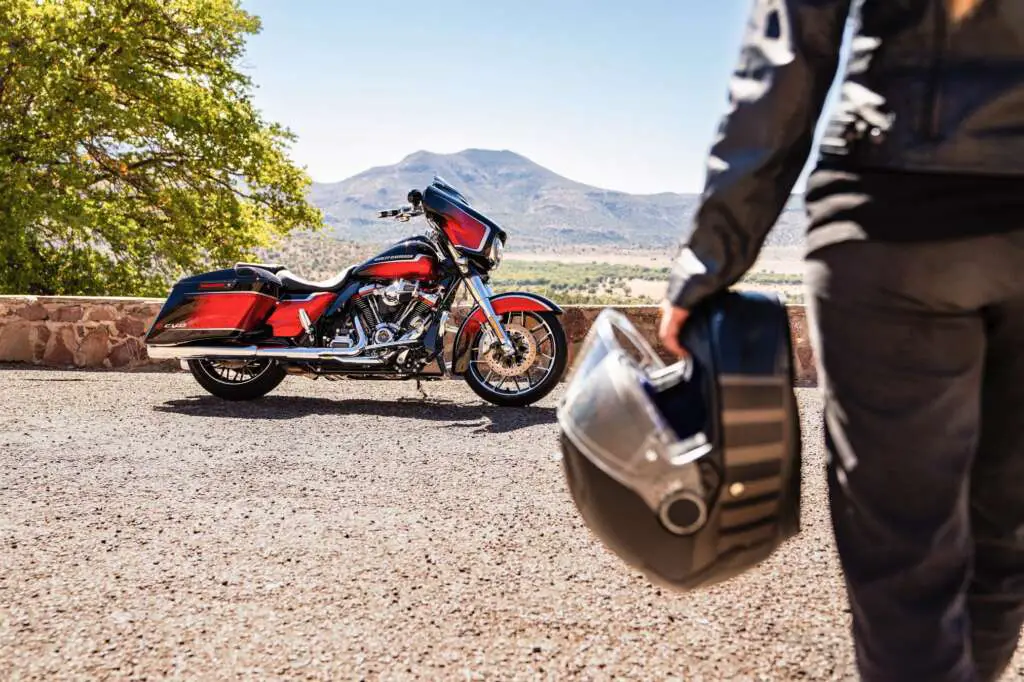 8. Respect the Season
Here's another mistake I make all the time! Your situation might be different, but where I live, all the fun riding is at a higher elevation than my home. It might be 63 degrees and sunny here in the valley, but by the time I've got my bike on a fun road with nice scenery, it's 44 degrees and windy. Spring heat spreads slowly. Plan accordingly.
Also, remember the roads are still going to be a mess. There will be dirt and gravel in the corners or on the center line, and the freeze-thaw cycle may have shredded the asphalt in places it was smooth last fall. What was a minor hole three months ago might be a murderous pothole now. And if you're heading out early in the day, there still might be overnight ice in the shade. Watch for it.
Drivers will still be a mess too. It's been months since car drivers had to watch for motorcycles, so they'll be out of practice. Give yourself lots of space and time to compensate, and stay on high alert while everyone else is working out their cobwebs too.
Extra Tip: In Canada, we use salt and gravel all winter on our roads. As much as it pains me, I won't go out till it rains once to wash away that corrosive salt and the street sweepers at least go around once to clear some of that hazardous gravel. Maybe I'm too cautious about my safety and my bike condition but it is usually just an extra week of wait rather than a rusty bike and a corner spill.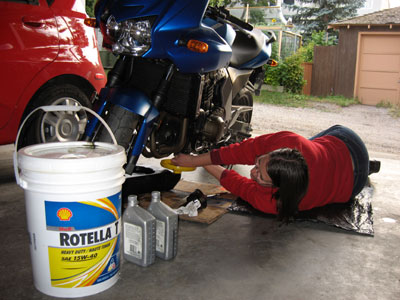 9. Check Your People
Your local motorcycle community will be positively humming this time of year. Keep an eye out for bike night gatherings, fund raisers, "polar bear" rides and whatever else your local people have dreamed up. There will be lots of opportunities to engage with and enrich your local scene, and every bit helps. Get out there if you're the sort of person that enjoys that, be seen and talk to people and share your knowledge and your passion!
There will also be the seasonal bumper-crop of new riders who jumped in over the winter. They'll have gear they got for Christmas that they don't know how to work yet, and they'll be looking for friendly faces and places to get some mentoring. Be there for them, and help the community build strong ties.
Extra Tip: Check out our EVENTS area on the site and in our forums for community happenings, rallies, events, shows and more.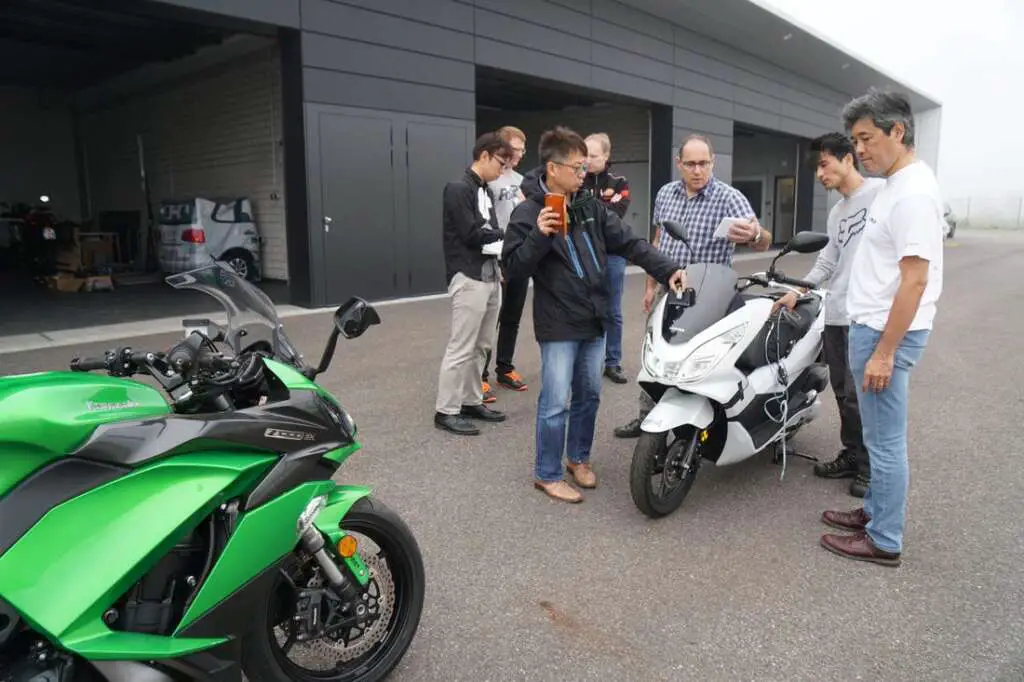 10. Take A Class
Of course, there is no better way to brush up on your skills and knock loose any rust than under professional supervision. Your local MSF affiliate program is probably running some spectacular deals this time of year, and a BRC2 or ARC is less expensive than you might guess. Schedule a class and get some time under the trained eye of an MSF RiderCoach, and you'll be surprised at how much you can learn in a single morning! Also, taking a class like that can usually score you another discount on your insurance! Check with your agent for details.
Extra Tip: Taking a safety class is job #1 before you get your bike, but if there isn't one in your area (or it is just too far), then the next best step is to read our Beginner's Guide to Motorcycling with step-by-step lessons to brush up your skills or learn new ones!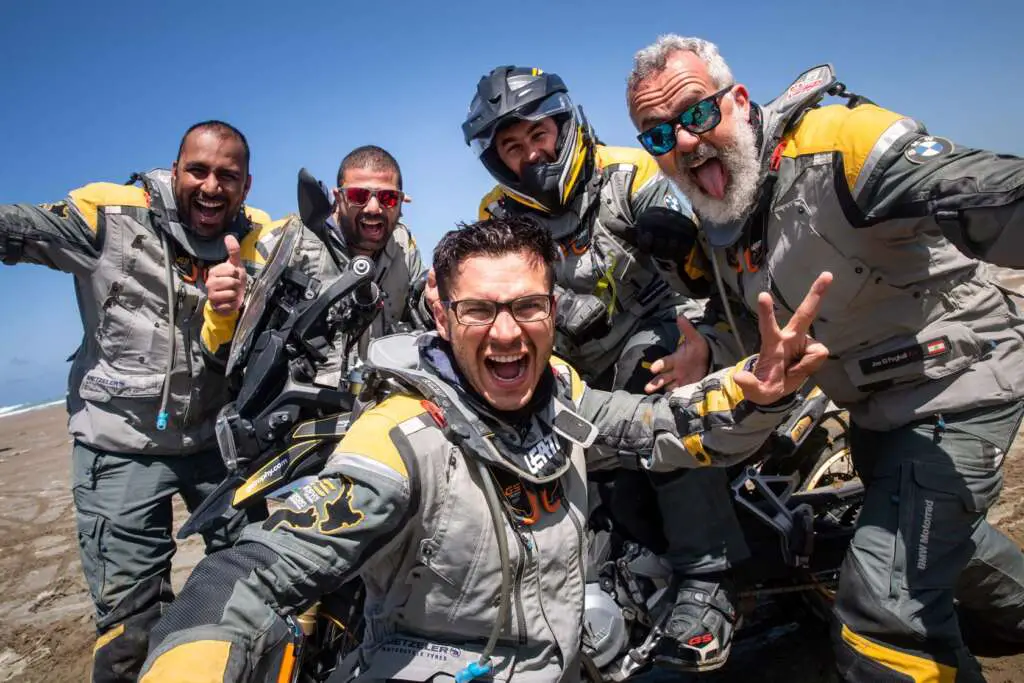 Bonus 11. Buy a Bike!
Looking to buy new or upgrade? Well sir and madam, step right up, you have come to the right place! Can I interest you in any bike from any manufacturer from 1970 to 2023? Right here, right now on TMW. Spring is the perfect time to buy a NEW bike, lots of stock in the dealerships, new models, turn the key and go without worry.
Taking these steps can make sure you have a safe and exciting start to your riding season! If you have any tips you'd like to add, you can sound off in our forums, our Facebook group, or wherever else you like to get your social media! Links below!
Facebook https://www.facebook.com/TotalMotorcycle
Twitter https://twitter.com/TotalMotorcycle
YouTube https://www.youtube.com/user/TotalMotorcycle
Instagram https://www.instagram.com/totalmotorcycle/
Pinterest https://www.pinterest.com/totalmotorcycle/
Tumblr https://totalmotorcycle.tumblr.com/
Linkedin https://www.linkedin.com/company/total-motorcycle
Subscribe to our Daily RSS News Feed https://www.totalmotorcycle.com/feed/
Thanks for supporting Total Motorcycle!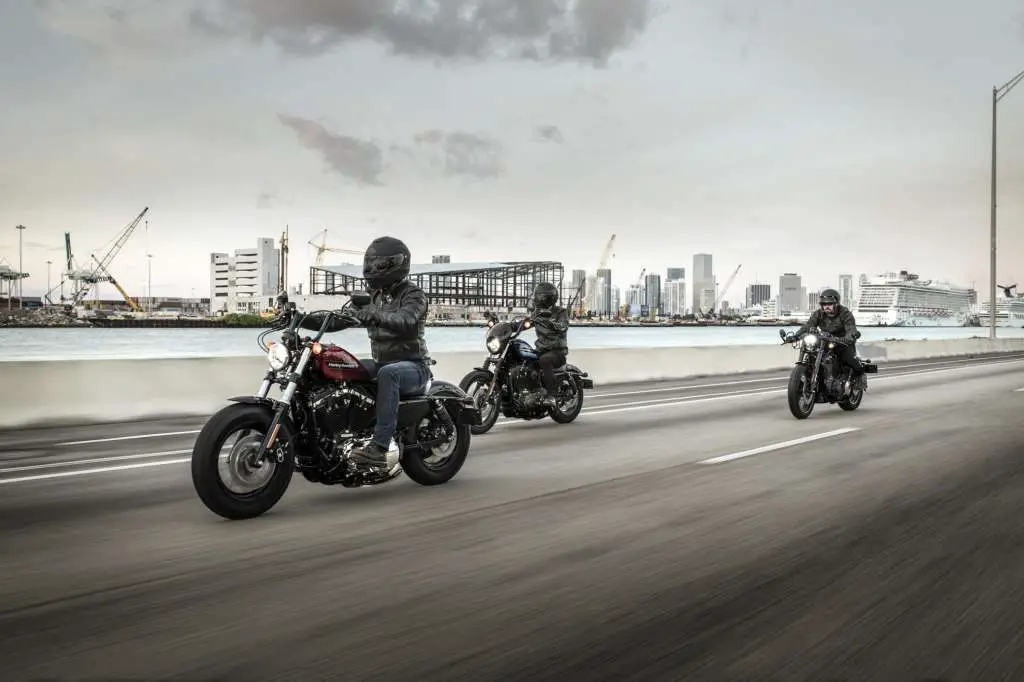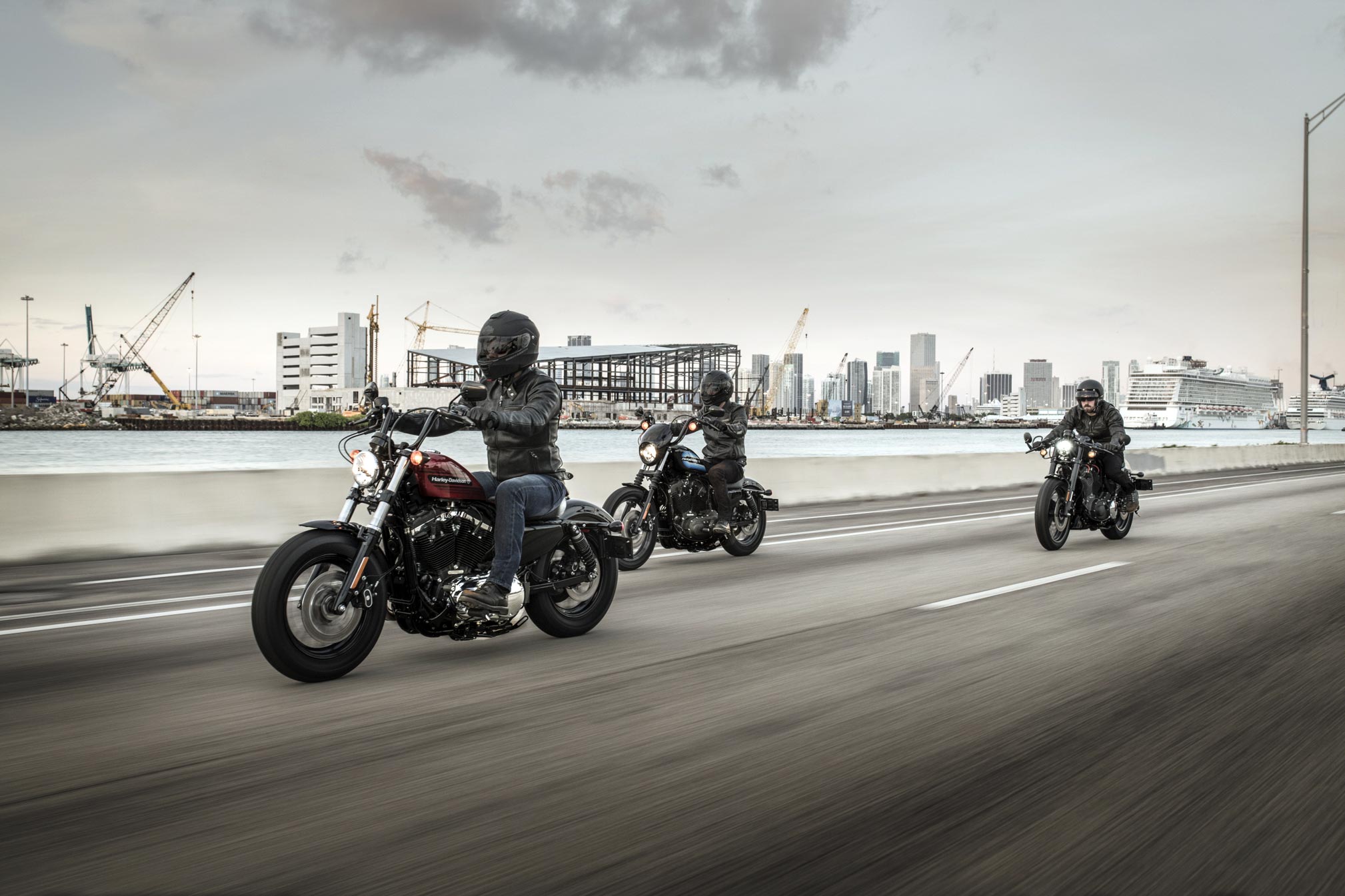 Total Motorcycle's Beginner's Guide to Motorcycling
Be inspired. Make this year THE year to start riding and adventuring. Start off right by reading our Beginner's Guide to Motorcycling. Millions of new riders each year are helped by our guide.
Main Sections:
Appendixes:
Advice: