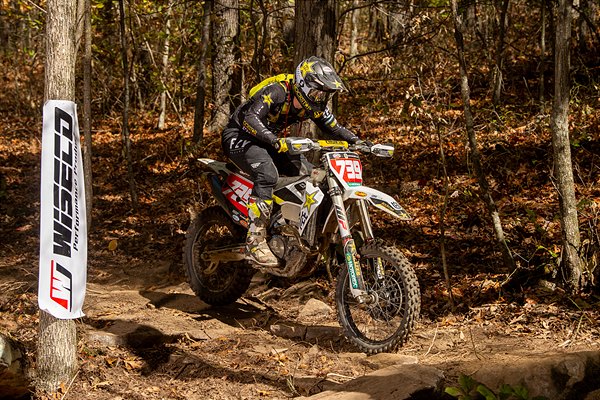 Round 12 of the Grand National Cross Country (GNCC) Series took place on Sunday afternoon at an all-new venue in Beckley, West Virginia where Rockstar Energy Factory Racing Team's Trevor Bollinger captured a top-five finish in the rocky and technical terrain.
Bollinger got off to a fourth-place start and he bounced around just inside the top-five for the first half of the race. A big crash sent Bollinger back a couple positions on lap six and from there he spent the remaining laps trying to play catchup to the front-runners. Bollinger was able to claw his way back up to ultimately finish fifth overall for the day.
Trevor Bollinger: "I just tried to find my groove in the first few laps but it just wasn't flowing. Once I finally got flowing there, I went down pretty hard and lost two positions along the way. From there, I just tried to regroup but it was tough because I feel like I rung my bell pretty good. I did what I could to salvage a good finish and I brought it on in for fifth."
Bollinger's teammate, Thad DuVall, missed Round 12 due to a knee injury sustained last week during practice. DuVall will also miss the GNCC finale on October 27. He currently holds second overall in the XC1 Open Pro Championship with one round remaining in the series.
Husqvarna Motorcycles-supported, Rockstar Energy athlete, Tayla Jones, earned her third-consecutive WXC victory on Sunday with a solid performance in West Virginia.
Mountaineer GNCC Results
XC1 Open Pro Class
1. Ben Kelley (KTM)
2. Grant Baylor (KTM)
3. Josh Toth (KTM)
4. Ricky Russell (YAM)
5. Trevor Bollinger (HQV)
Overall Championship Standings
1. Kailub Russell, 295 points
2. Thad DuVall, 258 points (4 wins)
3. Steward Baylor Jr., 198 points
4. Ben Kelley, 196 points
5. Trevor Bollinger, 178 points