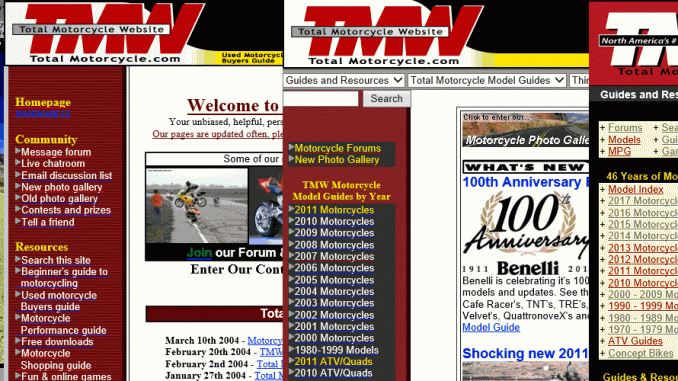 18 Years Ago This Month, Total Motorcycle Was Created.
I set out to create a website that focused on the love of riding and bringing that joy and passion to new and old motorcyclists worldwide. Thanks to your support Total Motorcycle is still here today and independently owned. With a mantra of friendly, useful, helpful and unbiased and an aim to support motorcyclists and motorcycling worldwide no matter what you ride, where you ride or how you ride; Total Motorcycle was forged.
We still follow that exact same principles today and my success with Total Motorcycle has not changed that.
Total Motorcycle started out with very humble beginnings back then. With a dozen pages about the love of riding and a Beginners Guide to Motorcycling that is still used today by millions of new riders worldwide. As the site continued to grow and expand, more and more people found us, the internet grew and evolved and in early 2003, I created the www.totalmotorcycle.com URL you visit today.
From the 1st to the 18th Anniversary of Total Motorcycle. Since 2003, to say Total Motorcycle has grown by leaps and bounds would be an understatement. From just a few hundred visitors to millions per month, I have strived to create the very best unique motorcycle content out there; quite a monumental task for one person! We now have over 280 million readers reading almost 400,000 pages, many of which I have hand typed myself over the decades. For this, I have never asked for a fee, a membership cost or even sell anything (other than a T-Shirt) to keep things going. The only payment I receive is though advertising and I consciously balance ads and revenue as no one really loves ads. So please do not ad block them.
I do not measure my success in life by dollars, I measure it in how many people I have helped and that is 280 million so far.
But it was not just me alone, it was also my staff of volunteer moderators, who tirelessly make our forums so friendly and useful, my wife (Andrea) who has supported me though tough times and you as well. Even if you never posted anything on Total Motorcycle, you came. Maybe you learned something new, maybe through word-of-mouth you told others about Total Motorcycle, maybe you even bought a T-Shirt. You did something, you are all not just a number to me, you are family. And no matter how long you have been away, like family, you are always welcome back.
Total Motorcycle has achieved many milestones in its history so far with many more to come.
The very first Motorcycle Model Fuel Economy Guide dating back to 1934 models.
The first Motorcycle Dictionary of Terms and Terminology.
A very comprehensive Beginner's Guide to Motorcycling, used by millions of new riders.
The weekly Motorcycle Cool Wall, with 348 weeks of motorcycles.
Motorcycle Model Review Guides. Tens of thousands of model reviews back to 1970 from 39 manufacturers.
A unique 20,000 member forum that's clean, friendly, helpful and useful. Riders of all ages, passions, bikes and riding styles get along there.
An oddity is our famous 350 Online Games Arcade, a place readers can go to have fun and relax.
…and I can't think of any other motorcycle website that works so closely with so many motorcycle manufacturers to make sure the information we post is not only the best out there, but the most accurate and comprehensive. Total Motorcycle is accredited media for 39 motorcycle manufacturers a feat in itself.

Total Motorcycle's achievements, while many, pale in comparison to the appreciation I feel to you.
The 18th Anniversary of Total Motorcycle is a big one. This year, (2017), Total Motorcycle has undergone the biggest transformation in its history; we are now not only the leading motorcycle website but also the most technologically advanced one as well! With social media integration (8 networks), responsive layout (desktop/laptop/cell/mobile/tablet), state of the art framework (WordPress) and HTTPS (secure) pages to protect your computer and information, Total Motorcycle's reach and popularity grows strong!
Total Motorcycle started from humble beginnings but thanks for members and visitors like yourself, it has been incredibly successful and because of YOU, you have helped me, though Total Motorcycle, reach hundreds of millions of people to help them get into the sport we all love; motorcycling.
So in closing, I want to thank you, humbly, for making Total Motorcycle what it is today and for achieving my life goals of helping so many people. Thank you for visiting Total Motorcycle, supporting me and clicking on a few ads to put food on my plate, a roof over my head and gas in my motorcycle.
Words can't say enough but again,
Thank you. Thank you for being part of the family on our 18th Anniversary of Total Motorcycle!
Michael Le Pard
Founder, Total Motorcycle.com

Re: 18th Anniversary of Total Motorcycle