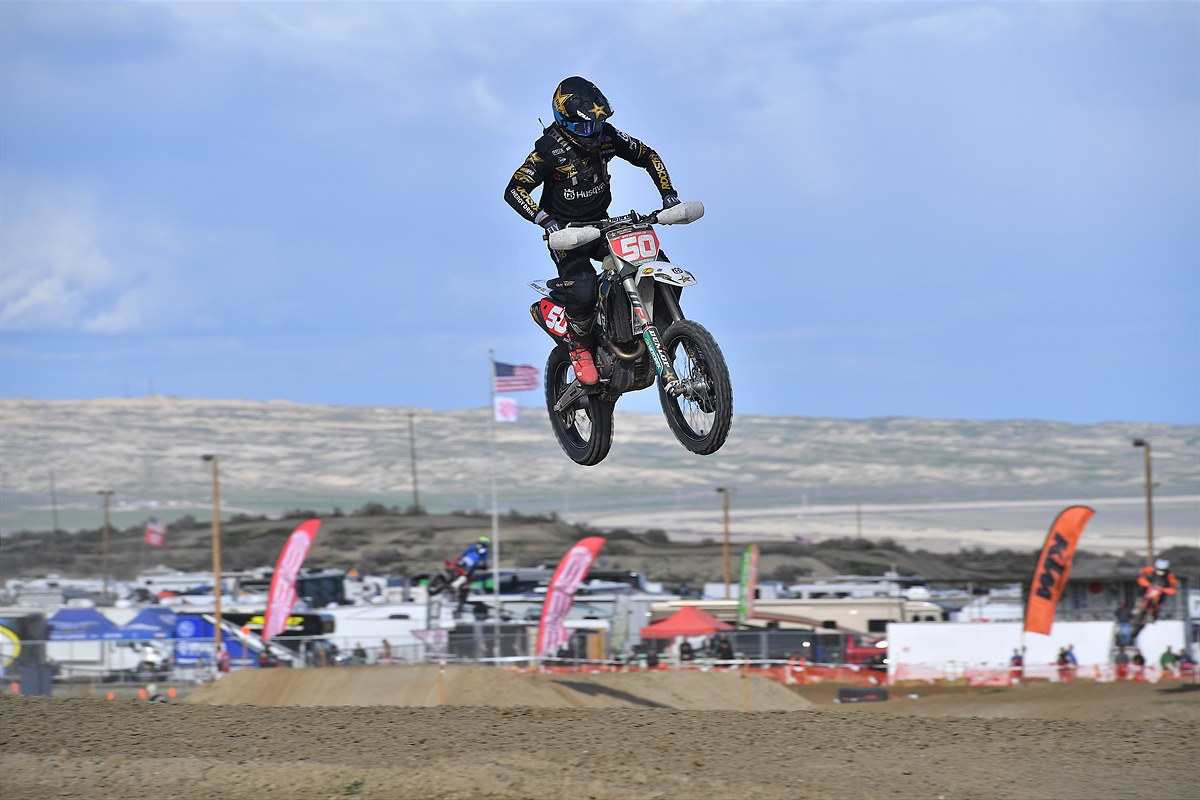 Sunday's second round of the 2023 AMA National Grand Prix Championship (NGPC) saw Rockstar Energy Husqvarna Factory Racing's Austin Walton earn a top-five finish in Taft, California, providing him a platform to further build upon in the early stages of the Pro class season.
Riding the Husqvarna FX 450, Walton was eighth at the conclusion of the opening lap and dropped a place on lap two, however, from that point he was able to surge forward. He first made his way into fifth at halfway and, come the end of the race, that was where he would take the checkered flag in a spirited effort home. Walton now sits P6 in the championship standings.
"I put in a really solid effort today after I got an edged out on the start," recalled Walton. "I spent a lot of time just working my way up and making passes. Towards the end of the race, I put in a hard charge, was able to get into some clean air and made some ground up. All in all, it wasn't my greatest performance, but it was better than round one, so we're making some progress. We have to keep moving forward, stay positive with it and pretty soon we will be knocking on the top step of the podium. We know we've got a little bit more in the tank."
Rockstar Energy Husqvarna Factory Racing teammate Dalton Shirey also delivered a convincing performance at round two in finishing seventh overall. Shirey started strongly inside the top-five and settled into a pace from there, eventually scoring a well-earned P7 result.
"Today was up and down, but I had a great time out there and know where I need to improve," Shirey commented. "I had a pretty good start, but had some trouble early on, which set me back to 10th on lap three. I just focused on making up a few positions from there and charged to the finish. I am looking forward to the rest of the GP season and building on my momentum."
Next Round (3): Blythe, California – February 19, 2023
Pro Results – Round 2
1. Dante Oliveira (KTM)
2. Ryan Surratt (HON)
3. Cole Martinez (HON)
…
5. Austin Walton – Rockstar Energy Husqvarna Factory Racing
7. Dalton Shirey – Rockstar Energy Husqvarna Factory Racing
Pro Championship Standings
1. Ryan Surratt – 55 points
2. Dante Oliveira – 51 points
3. Cole Martinez – 39 points
…
6. Austin Walton – Rockstar Energy Husqvarna Factory Racing – 29 points
12. Dalton Shirey – Rockstar Energy Husqvarna Factory Racing – 14 points