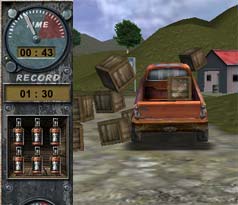 Page 1 – Page 2 – Page 3 – Page 4 – Page 5
Page 6 – Page 7 – Page 8
Risky Whisky

– Action

Quick, the local warehouse needs another load of your fine whisky! Get in your pickup and take 1 of 3 routes to rush it there without breaking all the bottles!

Office War

– Action

Paper Fight and YOU started it! Can you successful nail all your co-workers before they get you?

Gandalf's Quest

– Action/Strategy

Help out Gandalf on his quest in The Lord of The Rings in this platform action game. Collect the coins avoid the monsters!

Agent K

– Action

Do you have what it takes to be a secret agent? Ofcourse you do! Do a little training, then hit the

Airfox

– Action

A little classic airplane overhead shooter action. Good graphics and good fun.

Medieval Attack!

– Action

If extreme army/castle action is what you are looking for, you found it! Defend your castle against the onslaught of the barbarian hordes! Fun and LOTS of clicking… 🙂

Mission Something

– Action

Your on a mission to do something. Infiltrate the enemy base, take the bombs, but don't let them know you were there.

Snowball Bash

– Action

Shoot the penguins with snowballs before they s

Star Wars – Hoth

– Action

The Star Wars universe needs your help young Jedi! Man the Hoth ION cannon and shoot those Imperial Class Star Destroyers down.

The Sega of Sai

– Action

A very fast placed and fun action game. You are a great samuri warrior. You and your sword are the only ones left to stop the oncoming evil hordes.

Cannon Blast!

– Action

.

Arrr, shiver me timbers! Give them a broadside and a what for mate'y! Fire your 3 cannons at the enemy ships to sink them before they sink YOU!

Alien Clones

– Action

Protect the Earth, shoot the invading Alien Clones in this fast paced action game!

Bush Royal Rampage

– Action

Fight your way across the streets of london to get back in time for tea!

Lone Fraction

– Action

You are a robot designed for war, but something went wrong. They tried to kill you, but now you are conscious and looking to escape…

Skidoo TT

– Action

Race your Skidoo around a wintery course complete with ramps, ice, powerups and ofcourse snow!
On-Line Action Games Page 7
Page 1 – Page 2 – Page 3 – Page 4 – Page 5
Page 6 – Page 7 – Page 8