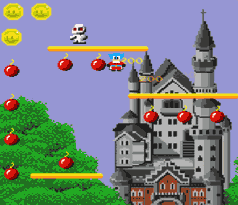 Page 1 – Page 2 – Page 3 – Page 4 – Page 5
– Page 6 – Page 7
Bomb Jack

– Classic

An arcade level classic! Grab the coins, bombs and bonuses to score points! Avoid the baddies.

Alien Invasion

– Classic

Classic retro arcade type action. Defend yourself against the alien invaders!

Arkanoid

– Classic

Arkanoid, the last great arcade version of Breakout! Bounce the ball off your paddle, hit the bricks to gain powerups. Simple and fun.

Sonic the Hedgehog

– Classic

Sonic the Hedgehog needs little introduction. An original and very popular platform action game on Sega, Nintendo and others.

Wasted Sky

– Classic

Remember a game called R-Type? This is just like it. Classic scrolling arcade shooter.

Minesweeper 2

– Classic

Yet another version of the classic (and highly addictive) Minesweeper is back! Try to clear the board by picking all the right squares.

Shell Game

– Classic

A little variation of the classic shell game.. But it is you playing the game or is the dog playing you? Quite entertaining.

Shell Game 2

– Classic

The classic swindlers game is back, this time in the casino! Bet your virtual money and guess what cup the green ball is under…

Boxing – Fisticuffs

– Classic/Sports

Arcade Boxing at it's best in the 80's. Knockout your opponent, jap, hook and if you can, do a super knockout blow to finish him off!

Gyruss

– Classic

Gyruss is the classic 360 arcade game from the 80's. Advance from planet to planet fighting spacefleets along the way. GREAT game.
On-Line Classics 5
Page 1 – Page 2 – Page 3 – Page 4 – Page 5
– Page 6 – Page 7