Galatic Shuffle Puck/Tennis – Sports



Is it Tennis or Shuffle Puck or a combination of both? Whatever it is, it sure is fun to play!

Gandalf's Quest – Action/Strategy



Help out Gandalf on his quest in The Lord of The Rings in this platform action game. Collect the coins avoid the monsters!

George W. Bush Shootout – Action



America in under attack by terrorists! Become George W Bush and defend the White House! Go USA

Get a Grip – Sports

Motorcycle wheelie game at it's best. Try to do a wheelie the furthest distance to score the biggest points!

Gold Miner – Strategy



Try to collect as much gold, diamonds and money bags each level to reach your goals. Buy power ups at the store to help you along. Another one of my personal favorites.

Golden Gate Drop – Action



Bombard vehicles, people, boats, animals and old people with water ballons from the top of the Golden Gate Bridge. Watch out for the police cars!

Golf 2001 – Sports



Choose your club, pick the direction and try to get it on the green for a hole in one! Watch out for the forest, sand traps, and water hazards along the way.

Gone in 60 Seconds – Sports



Gone in 60 Seconds, just like the movie. Race and Win!

Gone in 60 Seconds Drag Street Racer – Sports



Drag race a Mitusbishi Eclipse, Dodge Charger, Toyota Super Turbo or Honda S2000 and win! Acceleration, Top Speed and Handling count.

Grand Prix Challenge 2 – Sports

Race your way to victory on different Grand Prix tracks! Watch out for opponents and careful not to damage your car too much.

Graveyard!– Action



Halloween just got a little closer, a little too close actually for you… Lucky you have that old double barreled 12 gauge shot gun laying around…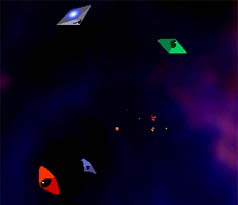 Gyruss– Classic



Gyruss is the classic 360 arcade game from the 80's. Advance from planet to planet fighting spacefleets along the way. GREAT game.

Hangaroo – Strategy



This game kills me. Hangman, but with an Australian twist! Try it, you'll laugh and have fun.

Happy Balls – Sports.



Try to keep as many balls bouncing on your happy head as long as you can to score big! It's fun and challenging at the same time.
Happy Pills – Strategy



Sometimes people just need to take a "Happy Pill" to cheer up! Well now you can give it to them! Warning… Too many happy pills can be dangerous!

Haxxagons
– Strategy
Hexxagon happens to be one of those games that's easier to play than it is to explain. You play as the red diamonds, and your goal is to take over the board by leaping into the spaces adjacent to your opponent's watery globules. See what I mean?
Hexxagon was an adaptation of the board game Othello written in 1992 by the now defunct Argo Games.

Heli Attack 2 – Action



Fight your way across the jungle. Blow stuff up, shoot your guns, get powerups and have fun!

Hook, Line and Sinker – Sports



GREAT fishing game! Your objective is to chatch so many of the same type of fish (your choice) in a row. Upgrade your fishing tackel too.

Homerun Penguin – Sports



Batter UP! How far can you hit the penguin? Don't worry it isn't cruel, the penguin seems to be ok with it! 🙂

Homerun Rally – Sports



You get 50 pitches, how many homeruns can you hit?

Hover Havoc! – Sports



1 or 2 players. 2 different games. Race around as a hover get points by keeping the mine the same colour as you, or by trying to bump the mine into the blue boat to sink it.

Indiana Jones in Lost World – Strategy



As Indiana Jones get points by exploring everything from Ancient Tombs to Star Wars like worlds! Have fun
Ice Hockey – Sports



He shoots he scores!! Test your skill against the goalie in this fun hockey game.

J20 – Strategy (mature)



Mature – Hard to really explain this one, you just have to play it and laugh along with it! Play as a Male or Female.

Jenga – Classic



1 or 2 Players – Take a block from the bottom and put it on it, take a block form the middle and put it on top, once you start you just can't stop till you start all over putting blocks on top.

Jewel Thief – Classic



Inspired by the Classic Arcade game Jewel Thief. Use your mouse to guide the thief around the screen and steal the jewels. Don't touch the bad guys or you will loose!

Joust – Classic



You're a knight, ready to enter deadly combat, on his trusty flying Ostrich! Try to land on the enemies heads, easy to play, very fun. 🙂

Just Click – Strategy



Click on the object with the big numbers starting from the smallest to the the biggest number as fast as you can before times out.

Kaboom! – Classic



They do not come much more classic than this. We are pleased to present this VERY rare game for you to enjoy. Try to catch the falling bombs on your platforms, miss and… Kaboom!

Kangaroo Boxing – Sports



TWO PLAYER ONLY. But wow it is FUN! Try to knock your opponent out of the ring to win the match using a few different moves.

Kickoff Soccer – Sports



Really good Soccer game. Pick your country to play, try to qualify for the World Cup and then beat them at their own game!

Kickups – Sports



How many times can you keep it up? Bounce the soccer ball as many times as you can using your mouse to gain points.

Kill the Popups – Strategy



This is one game you might already be an expert in! The idea is to kill the popups as they try to take over in the game. Good luck, it is almost a loosing battle!

Kingdom Bow – Strategy



1 or 2 Players – INCOMING ARROWS! Defend yourself archer! Solo or Multiplayer

Klax – Classic



It doesn't get much more Classic arcade than KLAX. Collect and match the coloured tiles to advance levels and win!

Kore Karts – Action



Go Carts of the future racing game! Try to best your opponents by racing around different tracks on different worlds!

Labyrinth – Classic/Strategy



Try to get your marble across the labyrinth using counter forces to push the ball the way you want it to go. Watch out for the holes. Just like the real game in the stores.

Lander – Classic



The very original (or as close as it can get) Moon Lander! I remeber playing this version in 1986 on an Acorn 4k computer!

Leo's Great Day – Strategy



Outstanding adventure flash game! Leo's having a bad day, being buried and all, maybe you can come to the rescue and help him out?

Lets Bowl! – Sports



I've been addicted to this game since…ever! Up to 4 players can play! FUN FUN FUN …. definitely one of my personal favourite games in 1 or 2 player. 🙂

Logrunner – Classic



Logrunner. You're a lumberjack and you're ok, you work all night and sleep all day… Just like frogger except with a Canadian theme.

Lone Fraction – Action



You are a robot designed for war, but something went wrong. They tried to kill you, but now you are conscious and looking to escape…