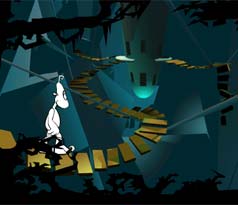 Page 1 – Page 2 – Page 3– Page 4 – Page 5
– Page 6 – Page 7 – Page 8
Leo's Great Day – Strategy

Outstanding adventure flash game! Leo's having a bad day, being buried and all, maybe you can come to the rescue and help him out?
Prince of Persia – Strategy

A fun adventure game. Reminds me a lot of the game "Montezuma's Revenge" for the Apple IIE. Or even Pitfall…
Splash – Strategy

The office will never be the same again, ever. Take out the (other) office slackers using your waterballons! But avoid the boss!
Toon Marooned – Strategy

The TV Show "Survivor" was never like this! Choose your toon, play against the other toons to become the survivor!
Backgammon – Strategy

The players take turns rolling dice and moving their checkers in opposite directions along the track as allowed by the dice roll. The first player to move all his checkers all the way forward and off his end of the board is the winner.
Mah Jongg Solitaire – Strategy

New verion of the classic Mah Jongg game! Play solitaire against the clock, match as many tiles as you can to score BIG!
Sinjin – Strategy

Oriental adventure game. You are a young ninja on a quest to save the world. Will you accept it and enter the Sinjin?
Snake 2 – Strategy

Feed your snake by maneuvering your snake around the map. Becareful as the more you eat, the loooonger your snake will grow!
On-Line Strategy Games
Page 1 – Page 2 – Page 3– Page 4 – Page 5
– Page 6 – Page 7 – Page 8