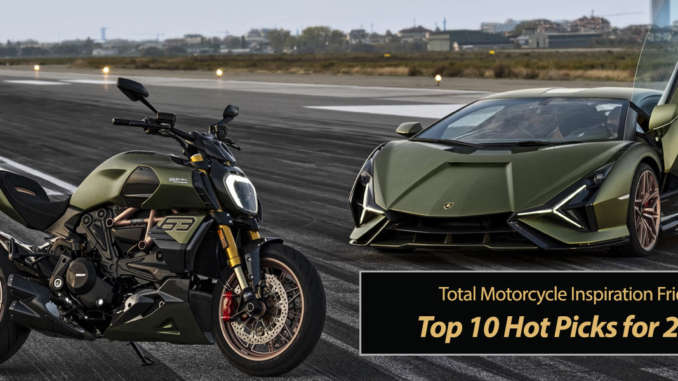 Thanksgiving, Black Friday, Cyber Monday, Christmas, Boxing Day… mix in "the crisis" and your head is spinning! Inspiration Friday: Top 10 Hot Picks for 2021 brings you something more relaxing, enjoyable and darn right fun. Check out TMW's Top 10 Hot Picks for 2021 favorite bikes that have been released so far. Easy on the eyes but maybe not so easy on the wallet though!
Cruisers, standards, retro's, adventure bikes, sport bikes, supersports, limited editions, and one bike you can't buy in the USA, (that you wish you could) plus even a concept motorcycle. What a mix!
The following amazing bikes have been picked by our readers and also by myself and just FYI, picking a Top 10 is not fair when you have hundreds of new 2021 models to choose from! Please Remind me again why I choose the title "Top 10 Hot Picks for 2021!"
Oh yes, I did cheat at the end and added 3 more, hey even I want another piece of pumpkin pie sometimes too. 🙂
Here they are our Top 10 Hot Picks +3 for 2021 in no particular order…
"Harley-Davidson is making an adventure bike?! This I have to see!"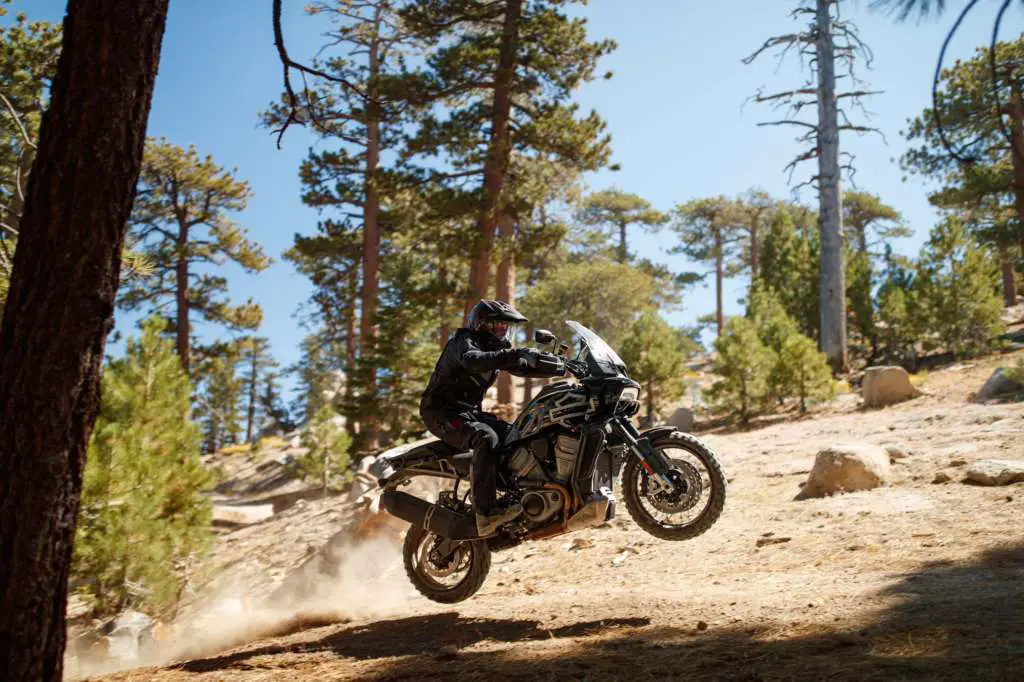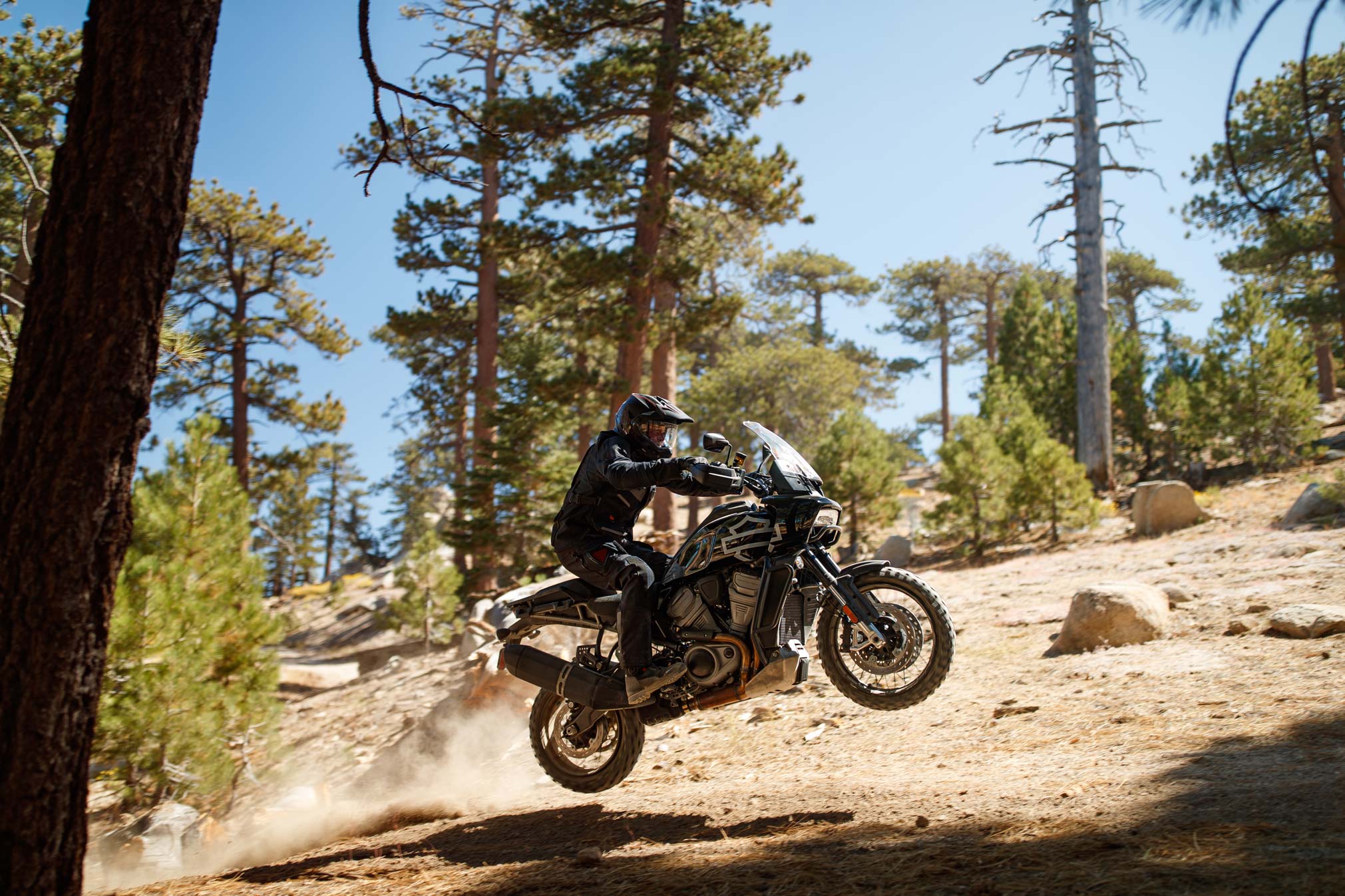 The Harley-Davidson Pan America is an all-new advanced adventure touring multi-purpose motorcycle equal parts campfire, wanderlust, and grit. The Pan America is a two-wheel multi-tool built to endure, designed to explore, and engineered for the unknown.
In 2020, we plan to launch our first all-new Adventure Touring motorcycle. The Harley-Davidson Pan America motorcycle exudes capability, functionality and durability while shattering preconceived brand perceptions.
"I want, I want, I want. What? It's a concept…. NOOOO!"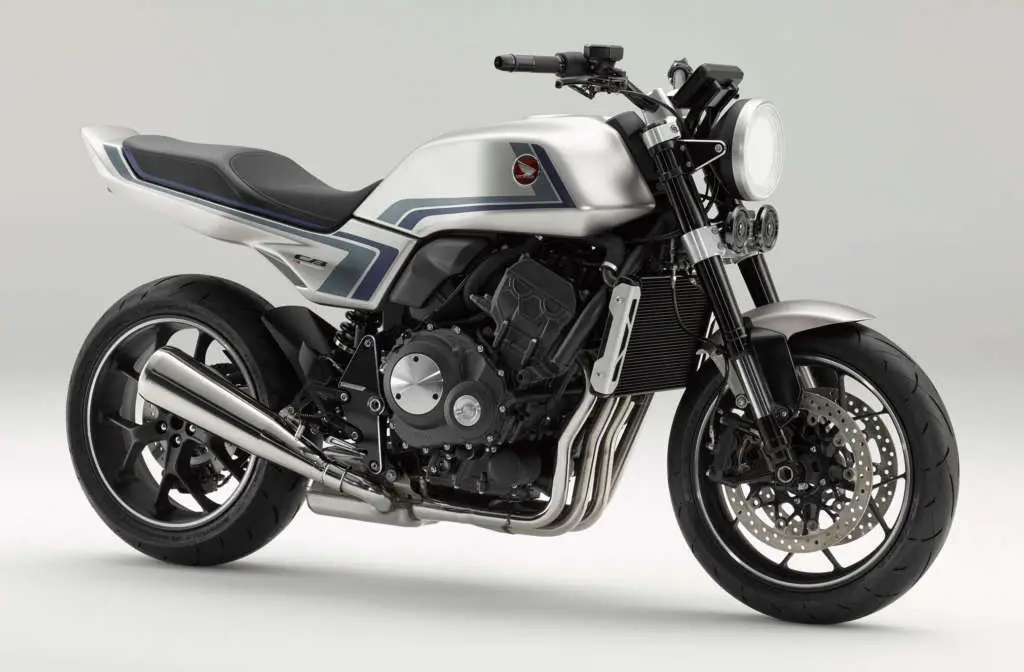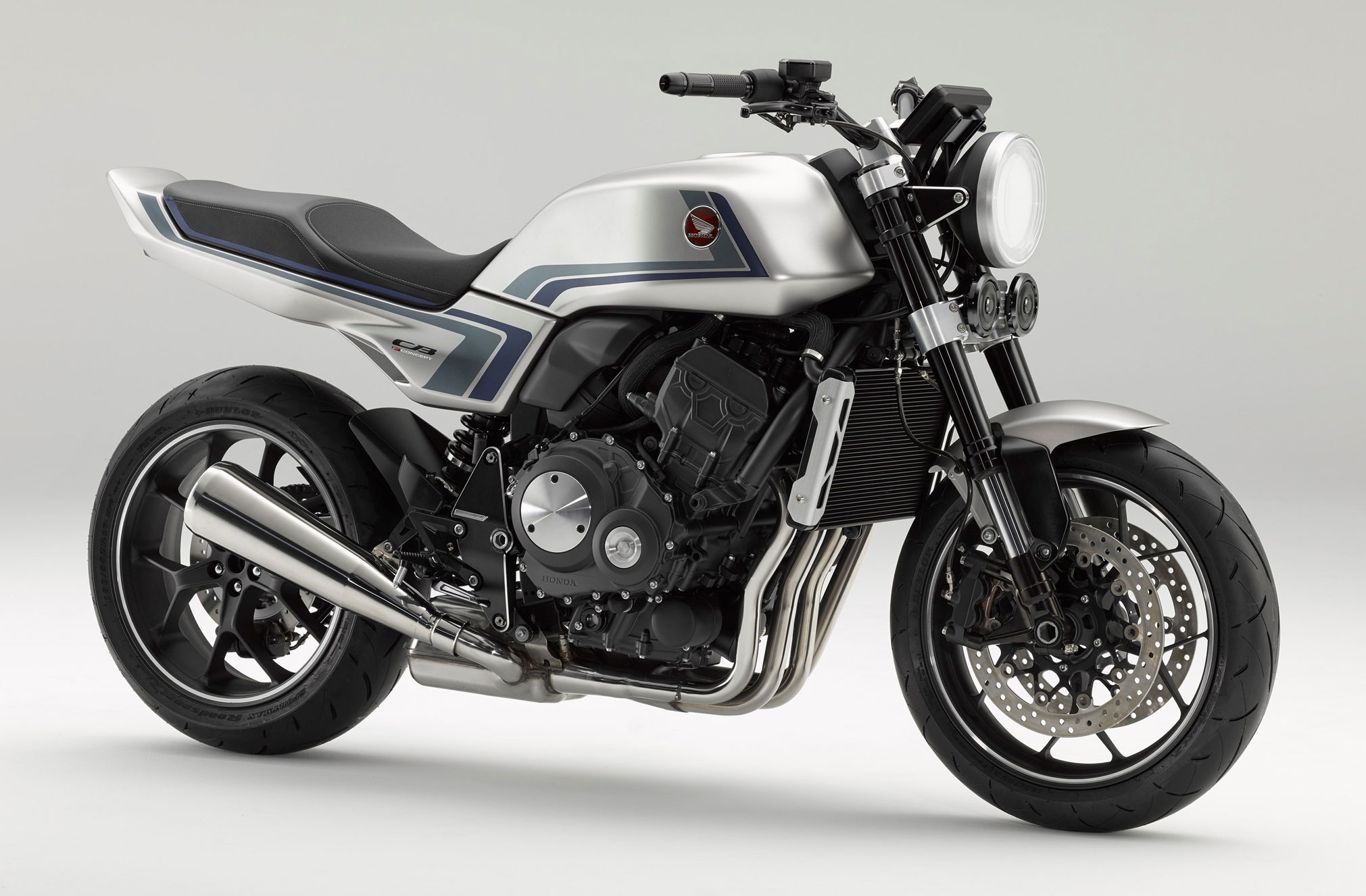 The CB-F Concept is the result of reviewing the history of the CB series, which reached its six decades last year, and thoroughly explored what had to be preserved and also what had to evolve in these iconic brand acronyms.
The CB-F Concept is an ambitious fusion of cutting-edge technology with a design that pays homage to the CB900F (CB750F in Japan), a global Japanese model that has become a true icon over 60 years of CB models.
Its 998cc, 4-stroke DOHC, 4-cylinder in-line, 4-valve, and liquid-cooled engine easily raises revs and delivers great torque. The cycle part of the CB-F Concept is supported by a lightweight high-strength steel central spine structure. The inverted front fork provides excellent grip on the road, both in the city and on twisty roads, and offers a superior ride feel. The rear axle is fitted with an aluminum single-arm Pro-Arm swingarm.
Honda has shown on its website "Honda Virtual Motorcycle Show" the Honda stand and 29 motorcycles that cover various categories, including the CB-F Concept, which was scheduled to appear at the 36th Osaka Motorcycle Show and the 47th Tokyo Motorcycle Show. Show.
"The icon, the image, the speed, the lifestyle… nuff' said. An easy Top 10 Hot Picks for 2021 choice"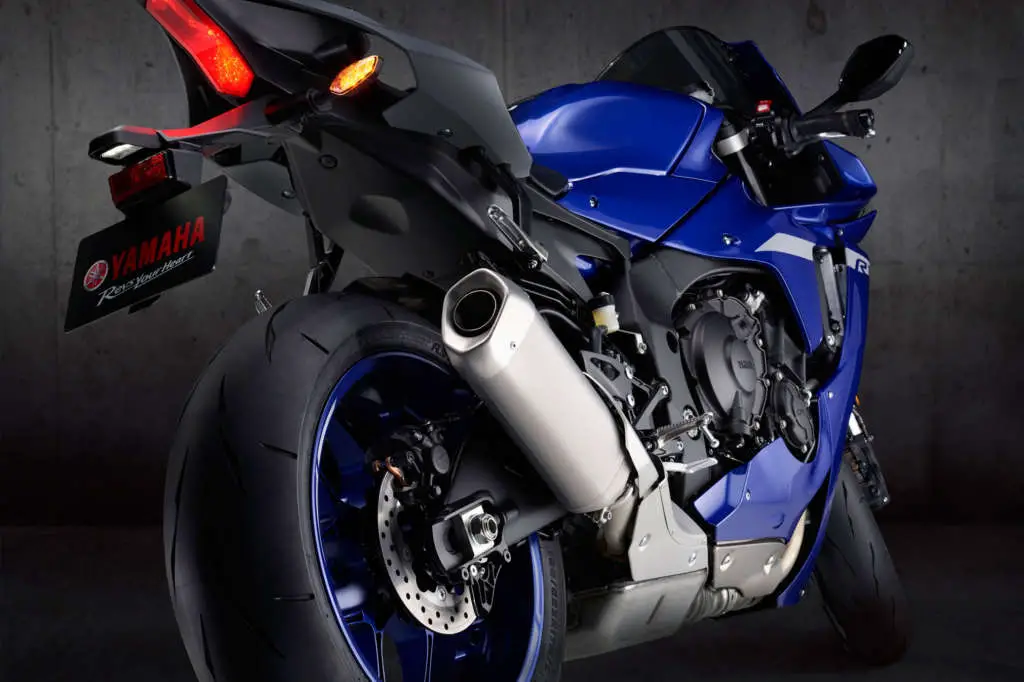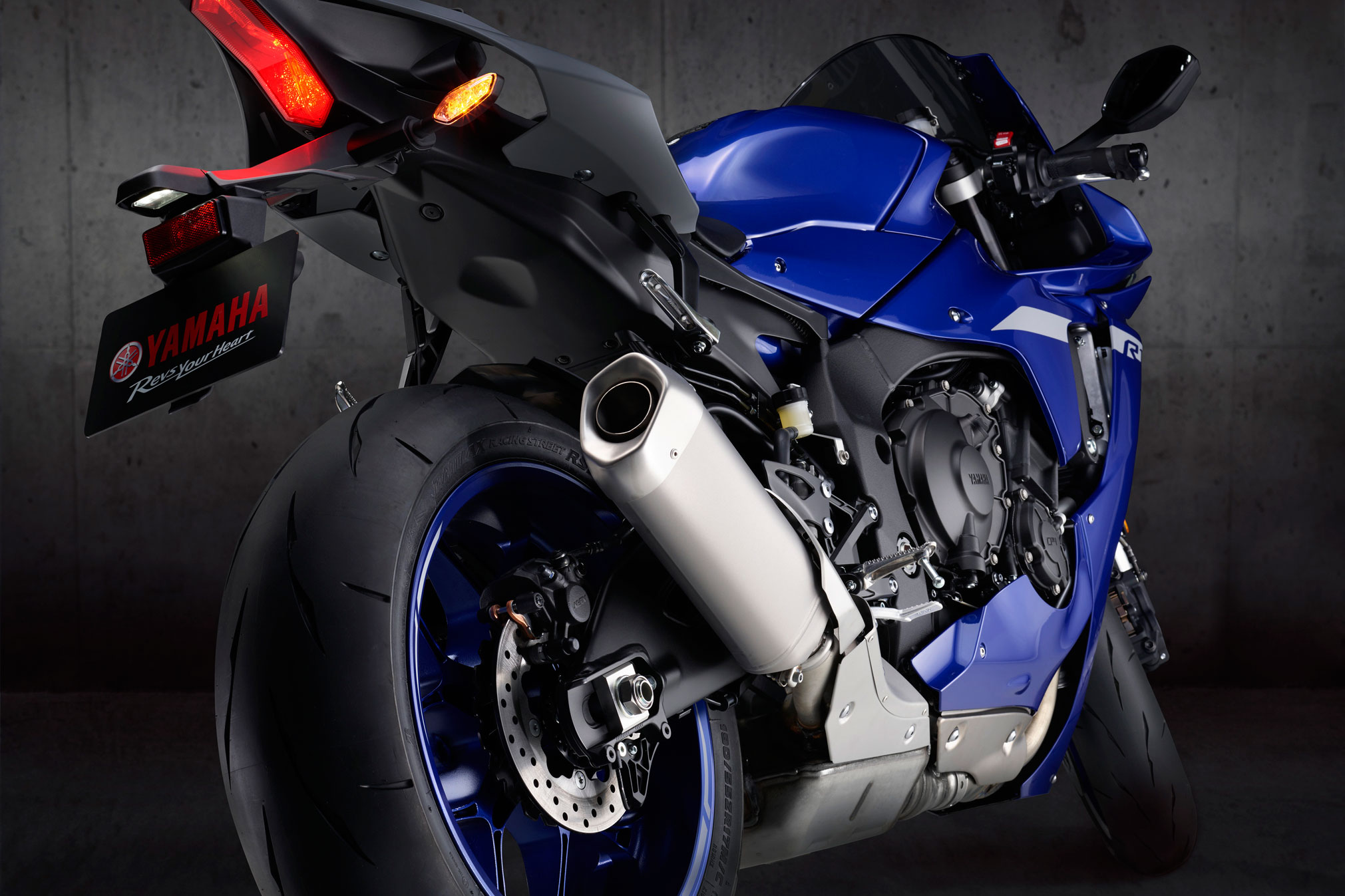 Yamaha has a rich heritage of building supersport motorcycles designed to deliver the pinnacle of performance on and off the track. The YZF-R1 is forged from the technology and development gained from countless racetrack challenges, from MotoGP to the Canadian Superbike Championship. From crossplane crankshaft engines to revolutionary electronics such as the six-axis Inertial Measurement Unit (IMU), Yamaha's historical achievements have become the future of R World.
Developed without compromise and constructed with the most sophisticated engine and chassis technology, the R1 is the ultimate Yamaha supersport.
R HISTORY. YOUR FUTURE. WE R1.
Featuring next‑generation R‑Series styling, sophisticated electronic control, supersport braking and suspension performance and a high‑performance crossplane engine.
"Forget about the YZF-R1, I'm grown up and more mature now as wheelies are honed skill."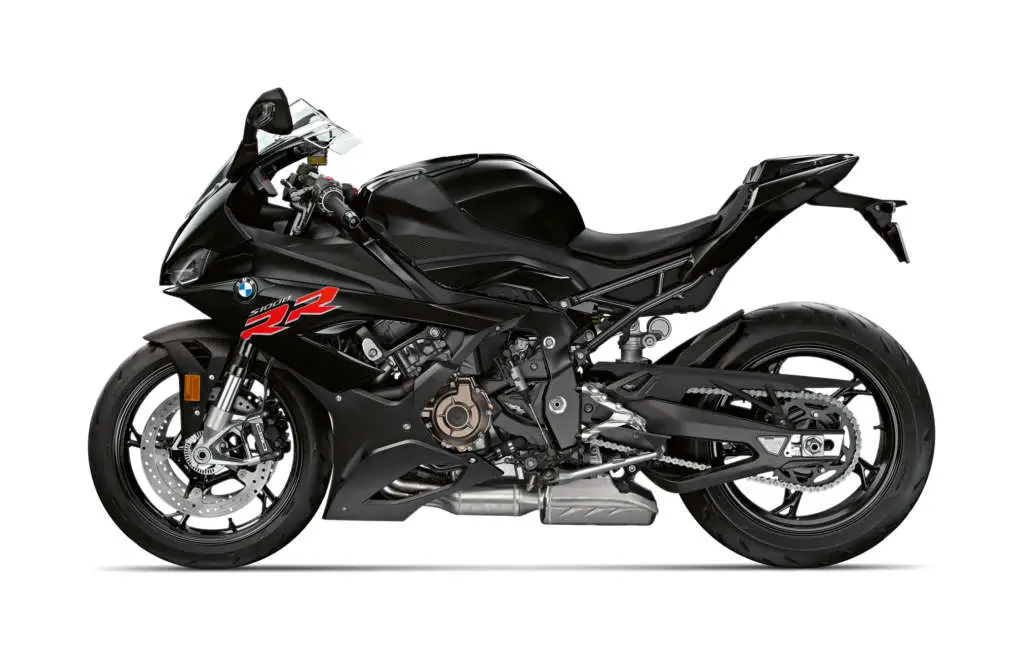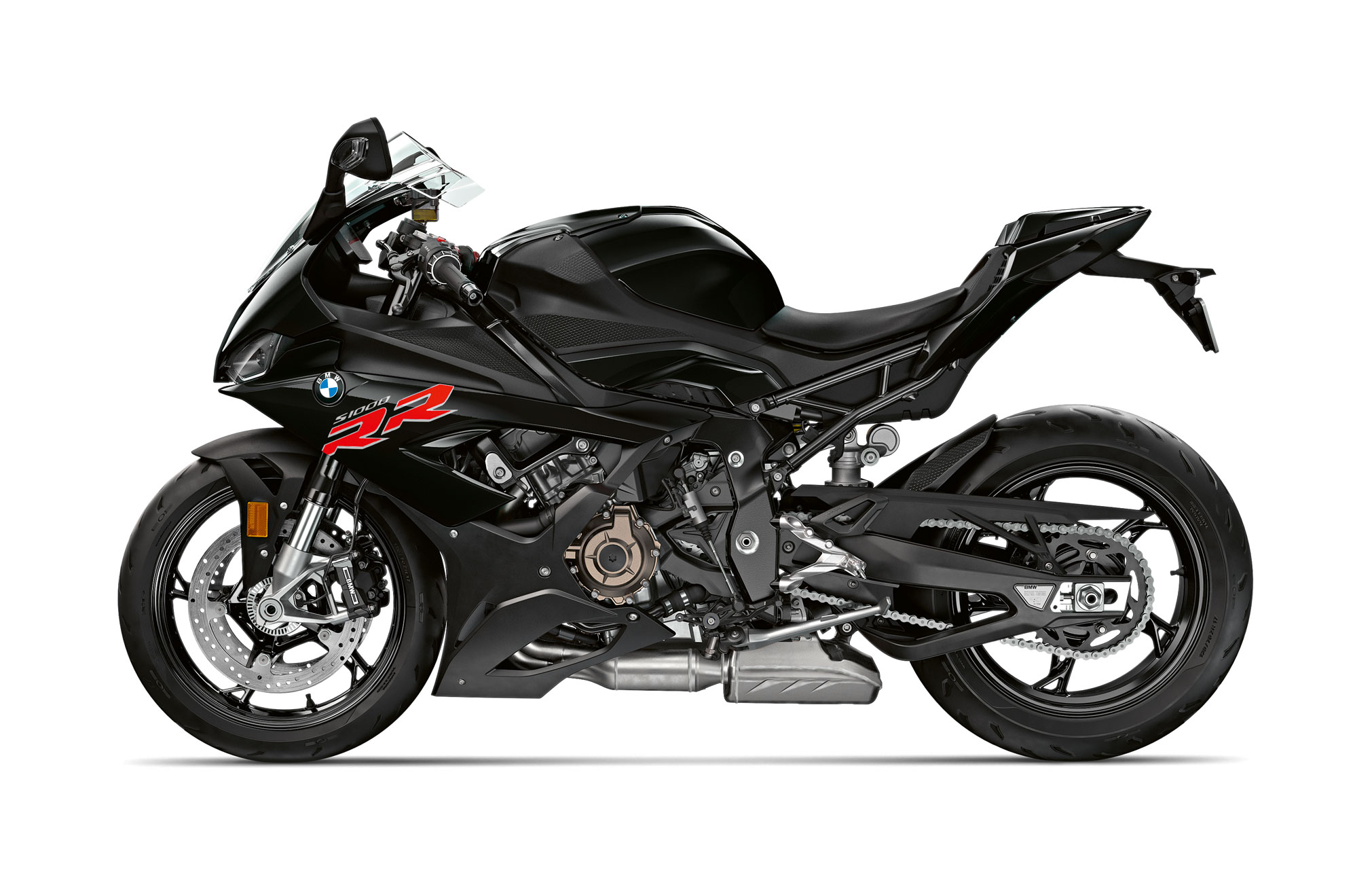 Always pushing to the limit and in search of the ideal line, you've got 205 HP beneath you. Unbridled power pushes your RR to the max – with a maximum torque of 83 lb-ft at 11,000 rpm and a torque curve of at least 74 lb-ft over a range of 5,500 to 14,500 [rpm]. Ten years after the first generation of the RR first mesmerized the world of motorcycles, we're now entering the next level of performance. We have updated almost every component of the RR – from the front to the rear. The result: less weight and noticeably higher performance. Are you ready for the pole position and for victory? The RR awaits you.
The BMW S 1000 RR plays by its own rules: appearance here always means pure performance. Dynamic stands for the purest form of racing sport and riding pleasure. Added to this is the constant balance between reason and unreasonableness. And all of this with unchanged and impressive performance values – despite being adapted to the EU-4 standard. Find out about all the technical data and standard equipment here.
"Wait… hold up… did you say under $8k and 80hp and it's a Trident… you had me at hello"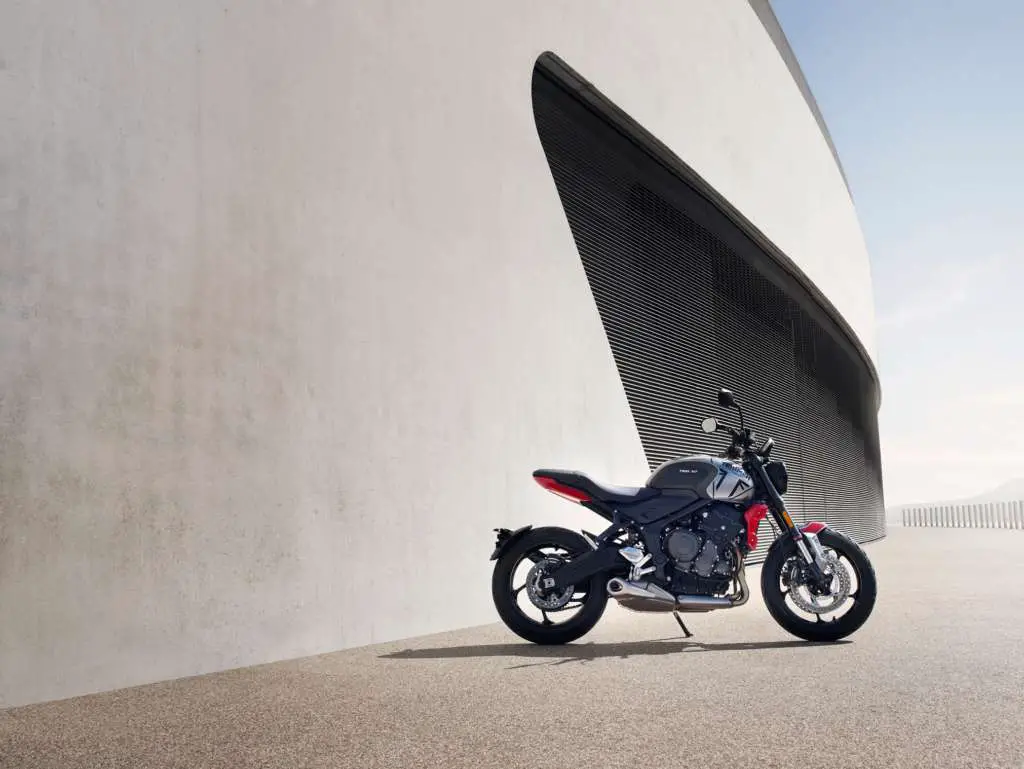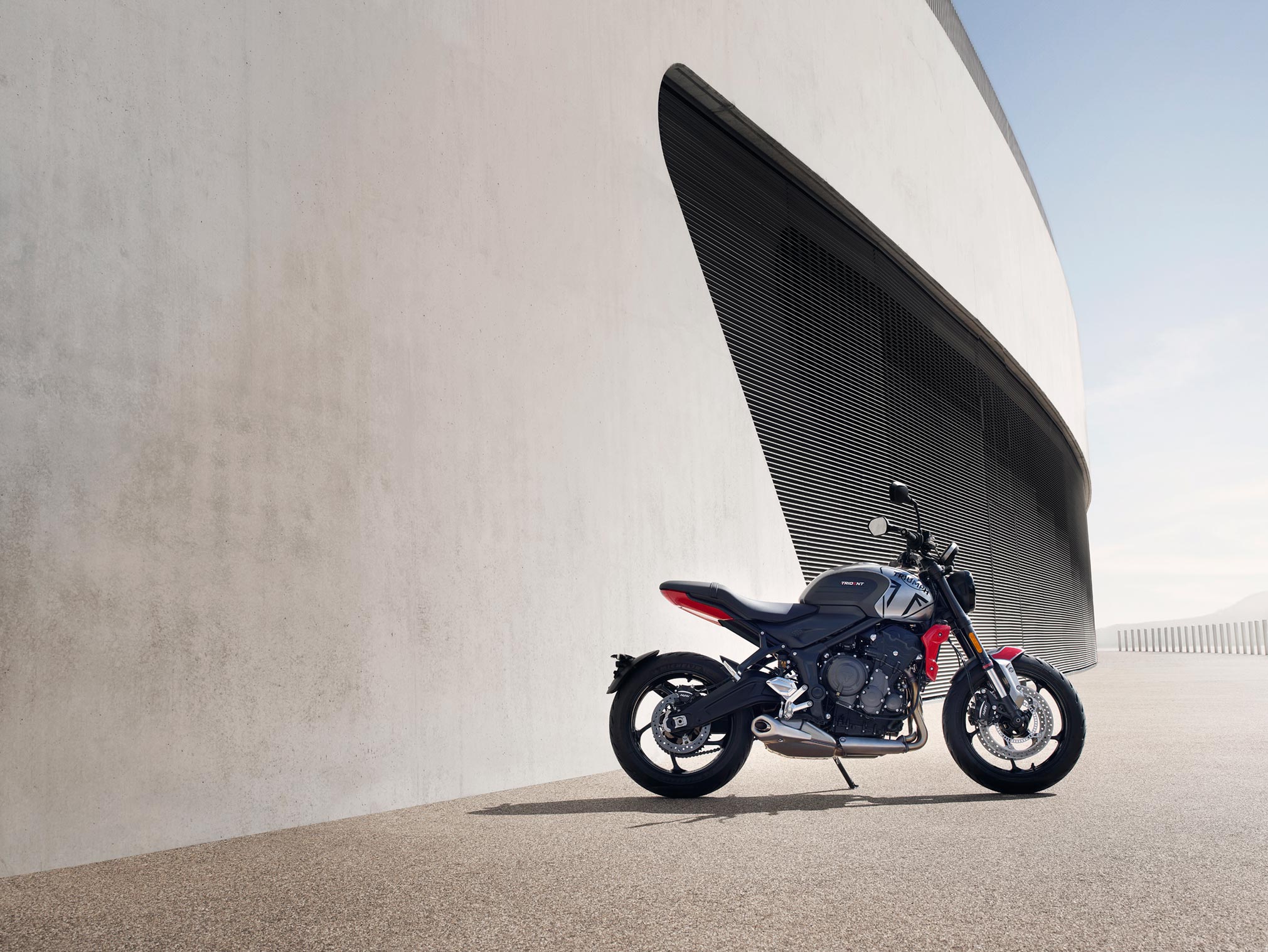 The all-new 2021 Triumph Trident 660 marks the beginning of a new chapter for the Triumph Roadster segment and competes in what is now one of the most dynamic and exciting categories in motorcycling. Its minimal design, combined with class-leading technology and a new 660cc triple powertrain, constitute the perfect combination for a new generation of riders to enter the Triumph world, with a motorcycle that provides class leading riding agility, thrilling performance, enhanced by state-of-the-art safety features, and an iconic and modern British design.
 The Trident 660 enters the middleweight roadster category with an exciting all new motorcycle, designed to deliver three significant advantages. From its unique triple engine performance advantage, to its class-leading technology and handling, and its incredibly competitive price, the Trident 660 introduces a whole new dimension to a new generation of Triumph riders.
Triple-powered performance, class-leading technology and specification, all at an incredibly competitive price.
2021 Triumph Trident 660 '…THRILLING TRIPLE ENGINE, REALLY AGILE AND DYNAMIC HANDLING AND THE TECHNOLOGY THAT REALLY MATTERS.' LEE MORRISON, BOND STUNT COORDINATOR.
Choose everything – Competitively priced, sporty, stylish, thrilling and agile, the new Trident 660 does it all – your Triple-Powered Advantage awaits.
"Funimation in motion! If you didn't get that reference… Ken Watanabe would ride this while eating Sushi in Japan!"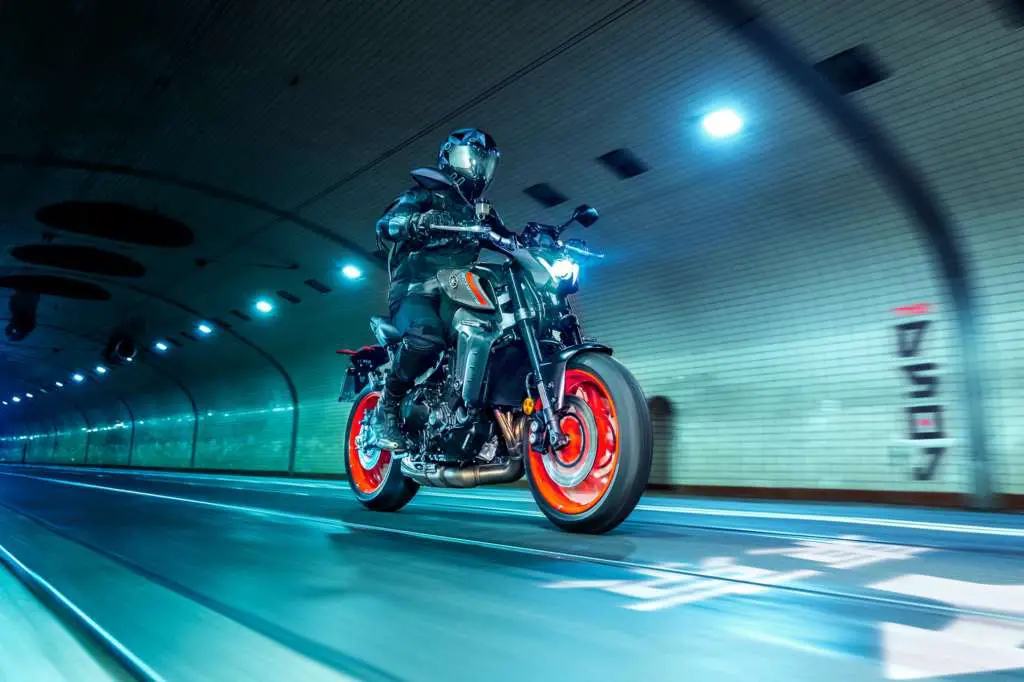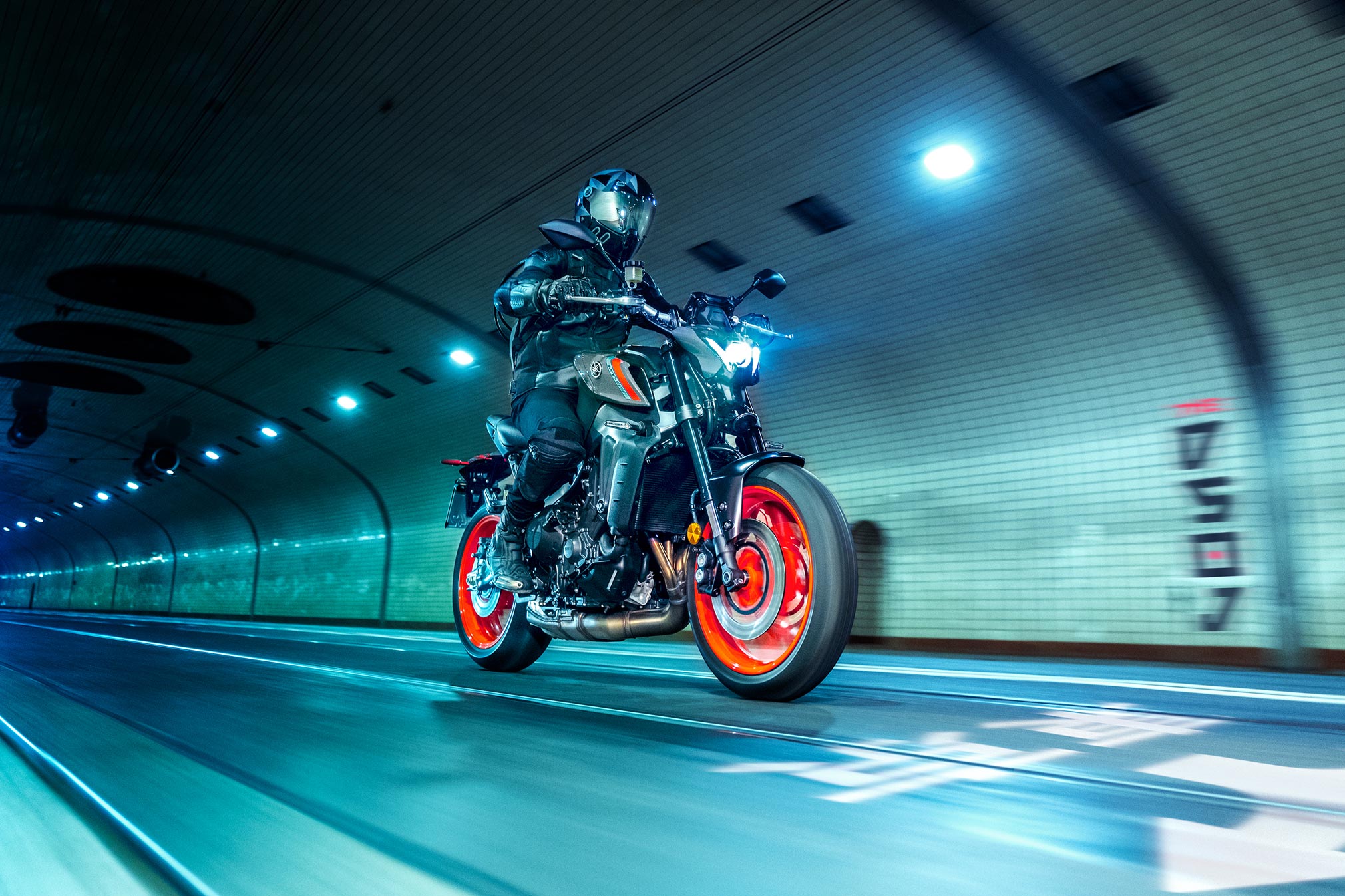 The original MT-09 was a totally new kind of Japanese motorcycle that brought real excitement and pure emotion back to the motorcycle world. Now the all-new MT-09 has arrived, and it's evolved. An all-new 889 cc high-torque engine and lightweight aluminium chassis give even more thrilling performance and razor-sharp handling; best-in-class electronic rider aids give you total control, and radical next-generation design with premium finish say it all. The new MT-09: Always moving forward.
The industry benchmark in hyper naked performance and razor sharp handling with its new 890cc, triple cylinder engine and radical next‑generation design.
The original MT-09 was a totally new kind of Japanese machine that brought real excitement and pure emotion back to the motorcycle world. It inspired over 50,000 European riders to be a part of the growing Hyper Naked movement. Now the all-new MT-09 has arrived, and it's built to join the Dark Side of the Japan!
Revolution of the Icon
Its large-capacity 889cc EU5-compliant CP3 engine pushes out higher levels of torque at lower rpm, giving you even more explosive acceleration and stronger road-focused performance. A high-tech 6-axis IMU governs the best-in-class electronic rider aids to give you ultimate control. And the QSS enables superfast upshifting and more stable downshifting.
"CB is the answer to whatever retro question you might ask me. And you can't buy it in America."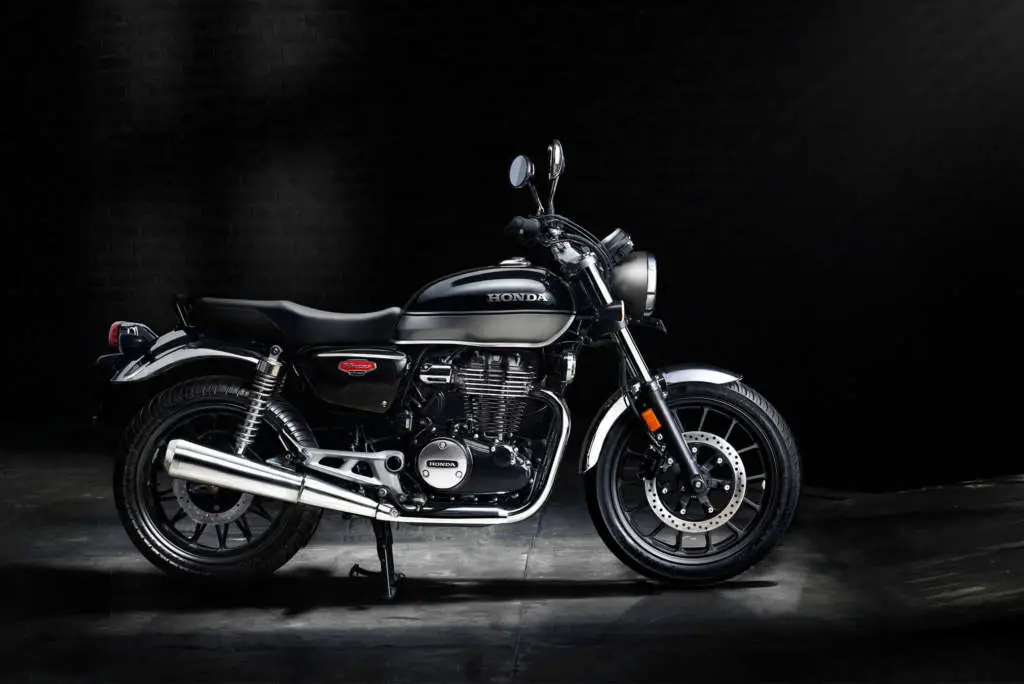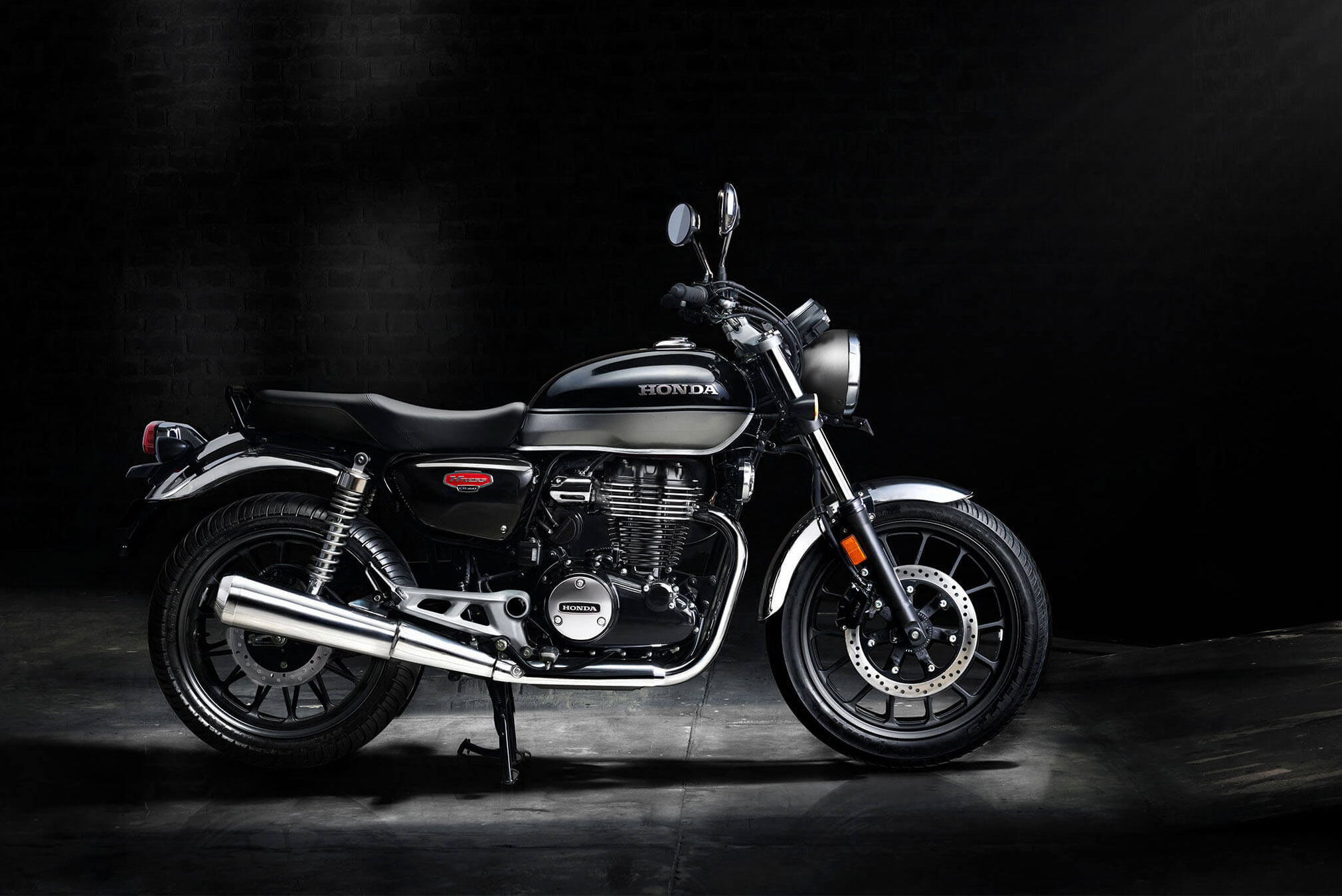 The dreams we all have about motorcycles. That's been our pursuit over the years. And what we have achieved, is the history of the evolution of CB, a motorcycle that has always been alongside our customers. Performance, technology, and unrivalled reliability – this is where we've devoted every bit of passion and wisdom. We think that's why CB evokes emotion and brings so much joy. The ambition and pride to meet the desire of riders are contained in this motorcycle. And we're not going to stop. CB is the answer to your dreams.
A Guide to H'ness CB 350
The whole world knows the might and prowess of the brand CB. To carry forward this legendary legacy in India, the H'ness CB 350 is here, a majestic motorcycle which is a perfect blend of advanced new world features and the classic old-world charm.
"If CB isn't the answer, then Z is the question! To Z or CB… there is no wrong answer."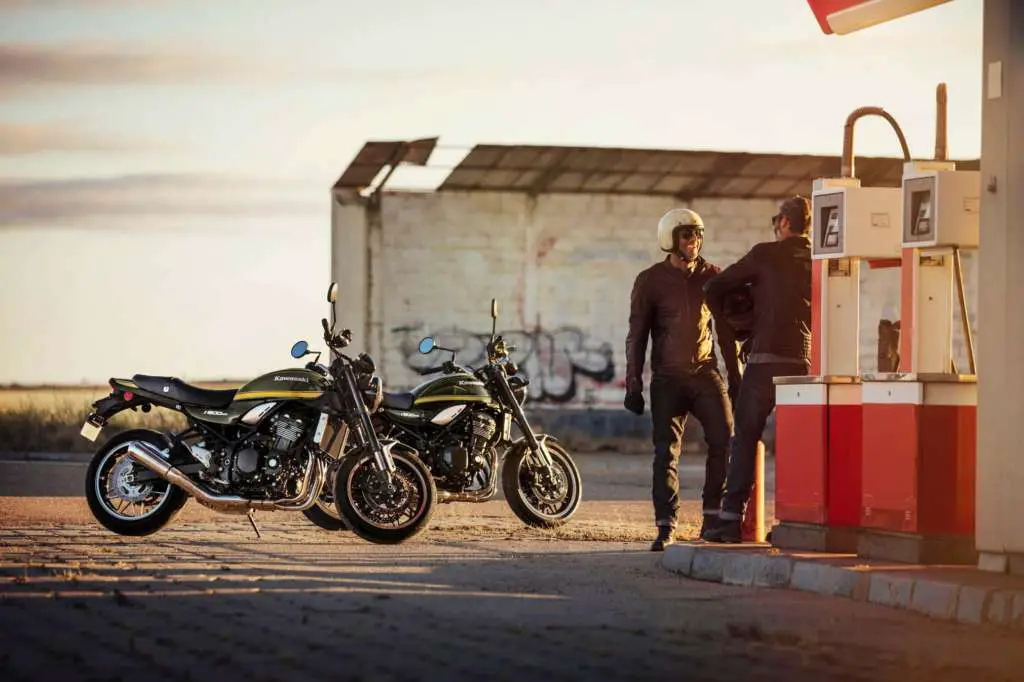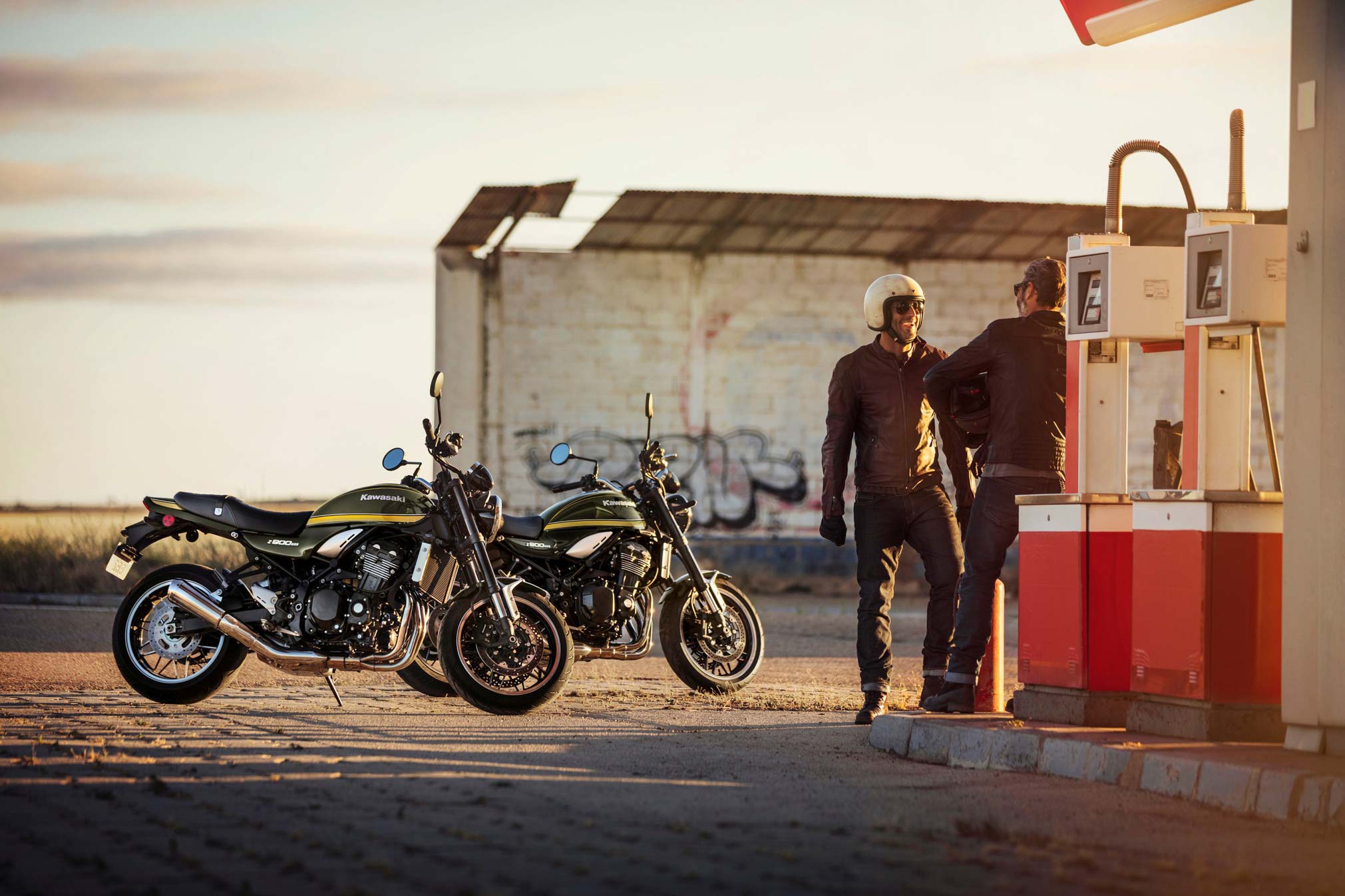 The Kawasaki Z900RS is an homage to the legendary Z1, the original hot-rod inline four cylinder motorcycle. It combines the traditional Z1 styling and engine configuration with modern elements such as Kawasaki's latest electronic rider support technology, suspension, LED lighting and digital instrumentation.
Reigniting the classic style of the original Z1 900 motorcycle, the Kawasaki Z900RS ABS motorcycle calls upon timeless design elements with minimal bodywork and no fairing for a pure retro-style look. The Z900RS ABS line is completed by a 948cc engine and modern technology for a classic yet modern ride. The 2021 Z900RS ABS features a 948cc liquid-cooled, in-line four-cylinder engine, Assist & Slipper Clutch, horizontal back-link rear suspension, authentic retro styling, iconic teardrop fuel tank, tuned stainless steel exhaust system, round LED headlight, and bullet shaped analogue dials. For 2021, the Z900RS ABS comes in a new Candytone Green paint scheme with an MSRP of $11,299.
"How can you not sing Pit Bull's "I'm a Fireball" in your head… I don't care if it has under 30hp, I'm a FIREBALL! "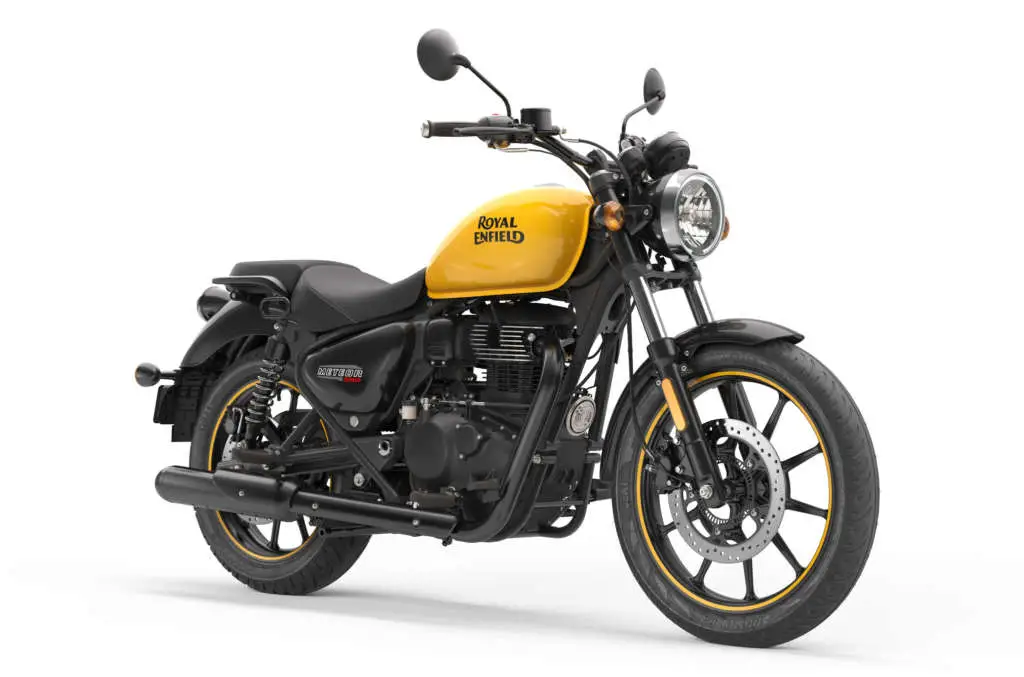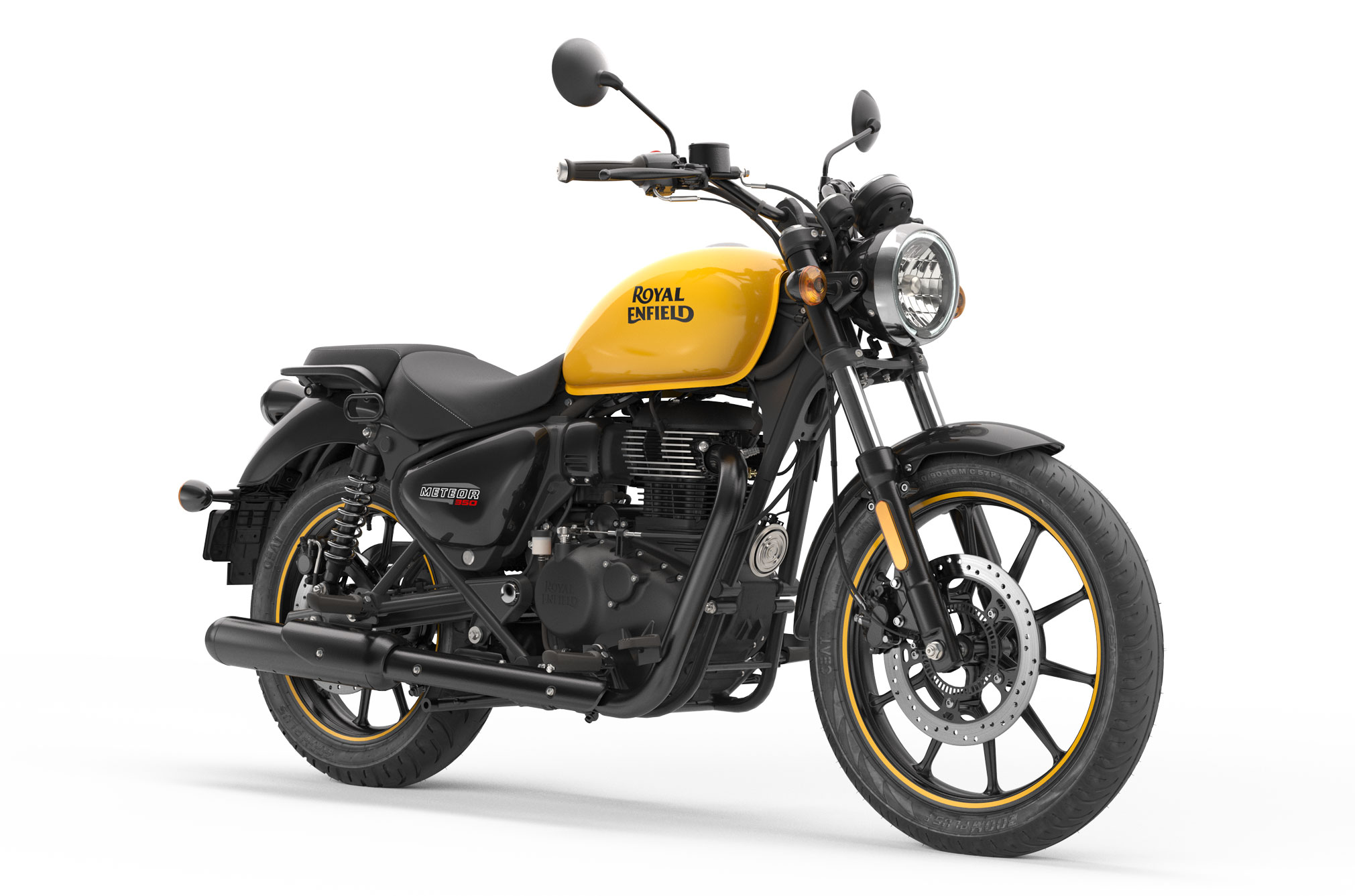 The Meteor 350 inherits its name from the iconic Royal Enfield motorcycle of the 1950's. Launched at the end of 1952, the Meteor was a respected touring motorcycle with a reputation that has stood the test of time. The new Royal Enfield Meteor 350 cruiser, carries Royal Enfield's signature styling but with many modern improvements, and is set to be an equally outstanding machine for our times.
Designed and developed by the talented teams of designers and engineers based at Royal Enfield's two state-of-the-art technical centers, in Chennai, Tamil Nadu, and Bruntingthorpe, UK, the Meteor 350 is an undeniably attractive motorcycle. The development and refinement such as the mechanical components, fittings and finish has yielded a truly top-class, modern motorcycle, while retaining the Meteor 350's Royal Enfield DNA. With a fuel injected, 349cc air-oil cooled single-cylinder engine, the Meteor generates 20.2 bhp and 19 ft-lbs of torque at 4000 rpm. Designed with a balancer shaft, the new platform gives a smooth and well-mannered ride experience, while great care has been taken to retain that essential Royal Enfield 'thump'.
The Meteor 350's twin downtube spline frame has been designed to inspire confidence in any riding condition. Its low seat height and centre of gravity in combination with its inherent strength and rigidity results in the optimal motorcycle for the urban rider. Sure-footed handling and luxurious comfort are aided by 41mm forks with 130mm of travel and twin tube emulsion shock absorbers with 6-step adjustable preload at the rear. The footpegs are forward-mounted, with a heel and toe gearshift.
"A Lambo badge on my bike?! For $32k does it have Lambo doors? Bzzzt; time's up, it is sold out!"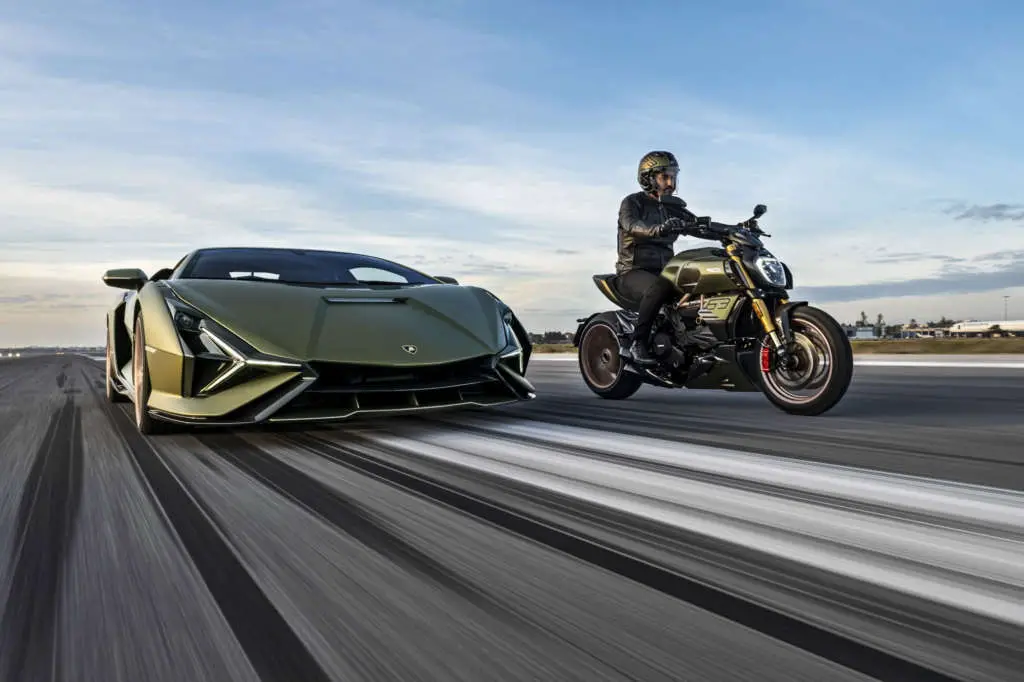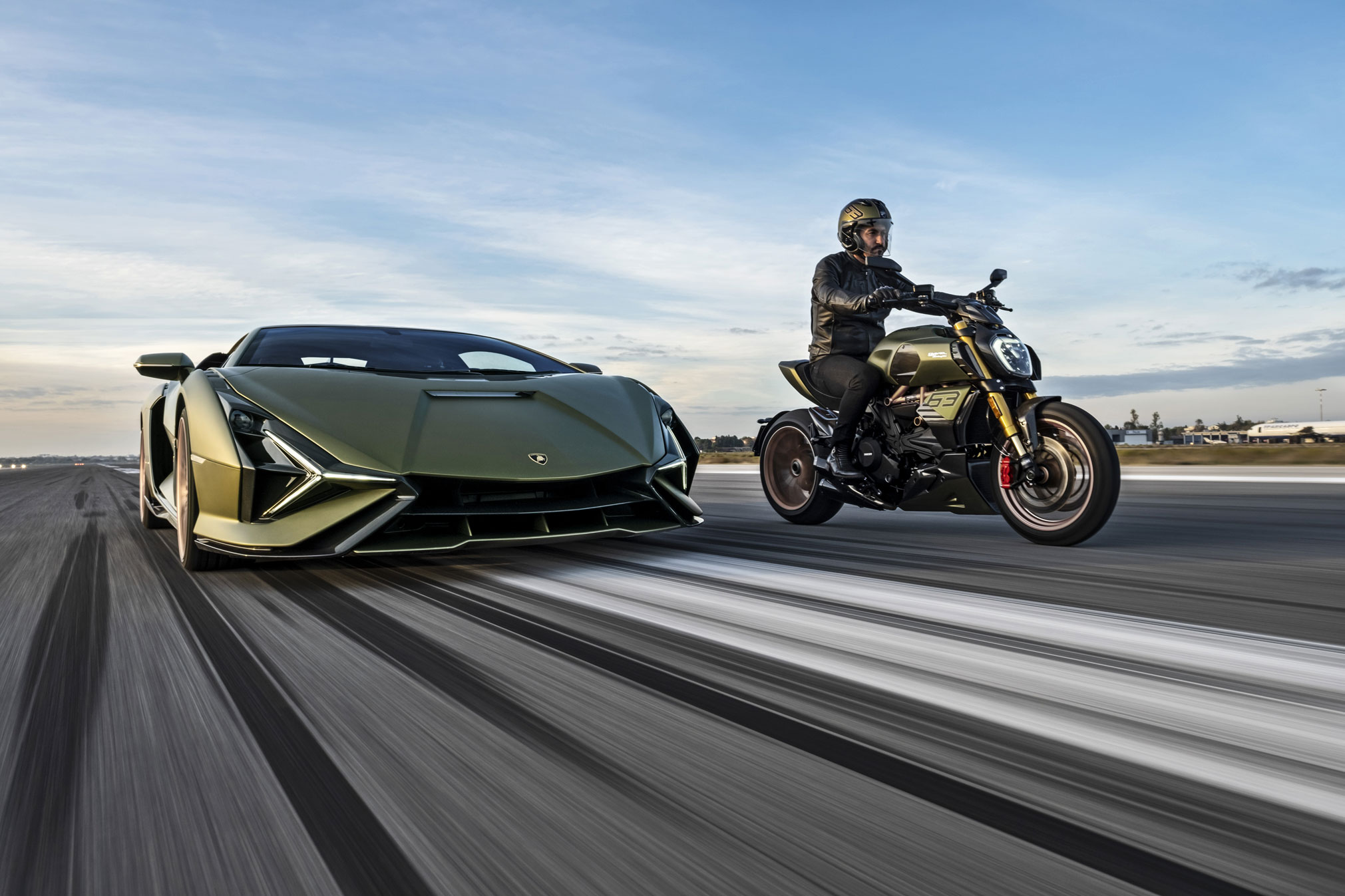 The Ducati Diavel 1260 Lamborghini was born from the collaboration between two prestigious brands that have their roots in Motor Valley, the land in Emilia-Romagna within which can be found many of the world's most significant companies in the automotive sector. A motorcycle made in a limited and numbered edition of 630 units and destined to win the hearts of motorcyclists and collectors from all over the world.
Unconventional, unique, unmistakable. The Diavel is the model of the Ducati range able to amaze enthusiasts with its personality, with the road behaviour of a naked sport thanks to a thoroughbred sports engine and with its design, which has made it an icon of style and 'Made in Italy' and for which it has received prestigious international recognition such as the 'Red Dot Award' and 'Good Design Award'.
Ducati and Lamborghini are Italian excellences that share values ​​such as sportiness, attention to design and a meticulous devotion to detail. Starting from this common basis, the Ducati designers have chosen to be inspired in this special project by one of the most fascinating models of the Sant'Agata Bolognese company, the Lamborghini Siàn FKP 37.
Well, that's the Top 10 Hot Picks for 2021… oh wait, you knew we couldn't stop at 10! Like Christmas Presents, maybe we will open just a few more…
"Under $9k, 80hp V-Twin, artfully styled and sounds great… sign me up!"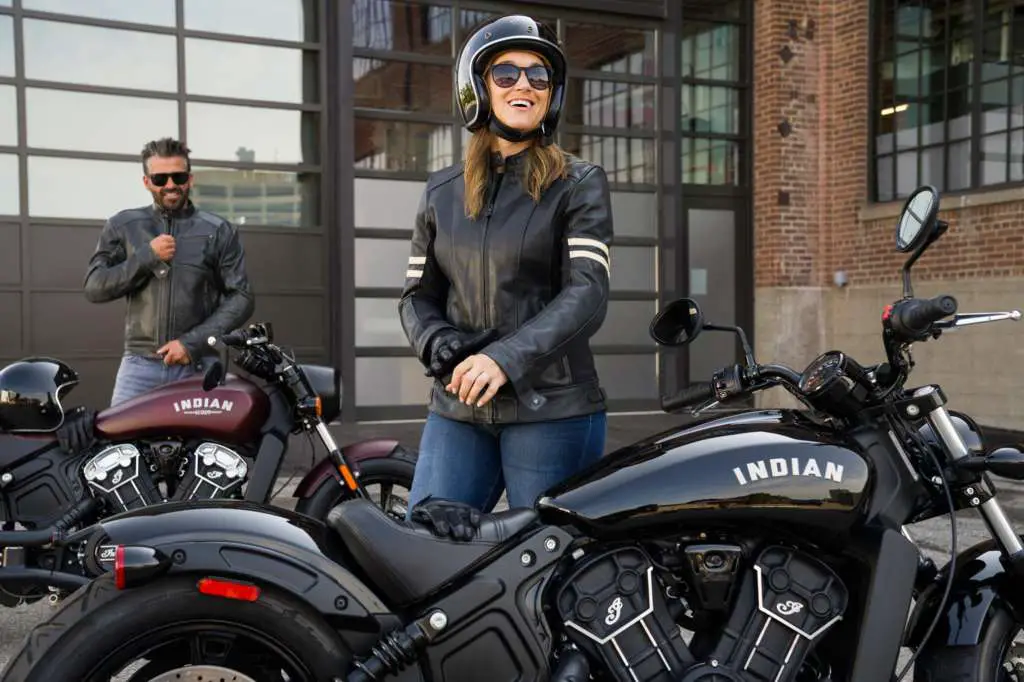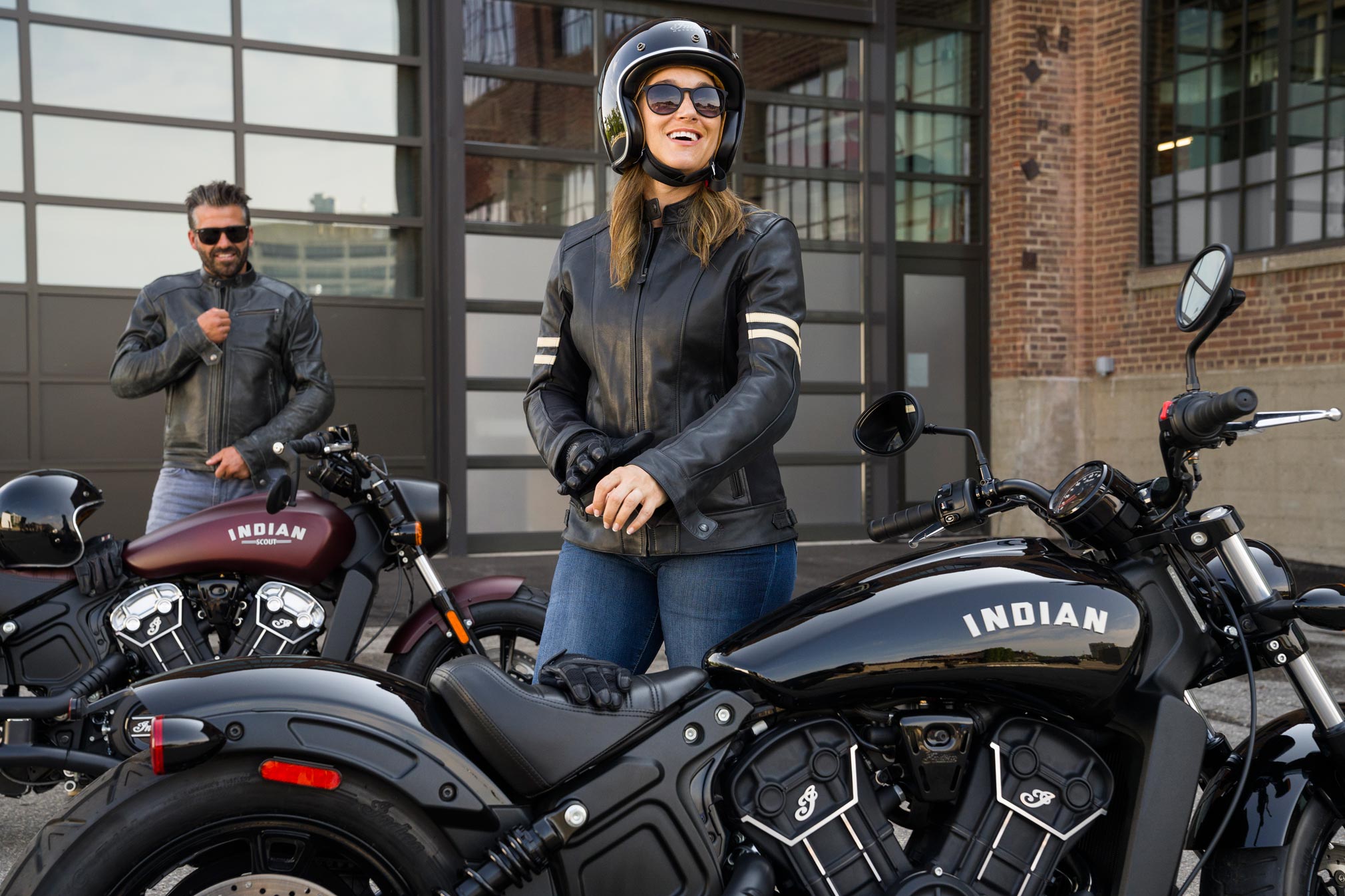 The Scout Bobber Sixty is powered by the same 60-cubic inch, liquid-cooled V-twin as the Scout Sixty. With 78 horsepower and 65ft-lbs of torque, the Scout Bobber Sixty provides enough power to match its aggressive look. A stripped-down headlight, blacked-out engine, modern tank badge, and an updated primary cover give the Scout Bobber Sixty an intimidating silhouette.
Indian Motorcycle's robust Scout lineup offers both classically-styled and modernly-mean designs. With a 61 cubic-inch (1000 cc) motor, delivering 78 horsepower, the Scout Sixty and Scout Bobber Sixty are each approachable and attainable with an MSRP starting at $8,999. Riders looking for more punch can opt for the 69 cubic-inch (1133 cc), 100 horsepower, engine in the Scout and Scout Bobber.
This year's 2021 Scout lineup receives a refresh with new paint colors – further enhancing the iconic style and lines of the bike. Colors like Stealth Gray on the Scout Bobber Twenty and Maroon Metallic Smoke on the Scout Bobber add to the aggressive, low profile look that riders love with Scout
Bobber models.
"Red, White and Green with Gold rims…Santa Claus' kryptonite!"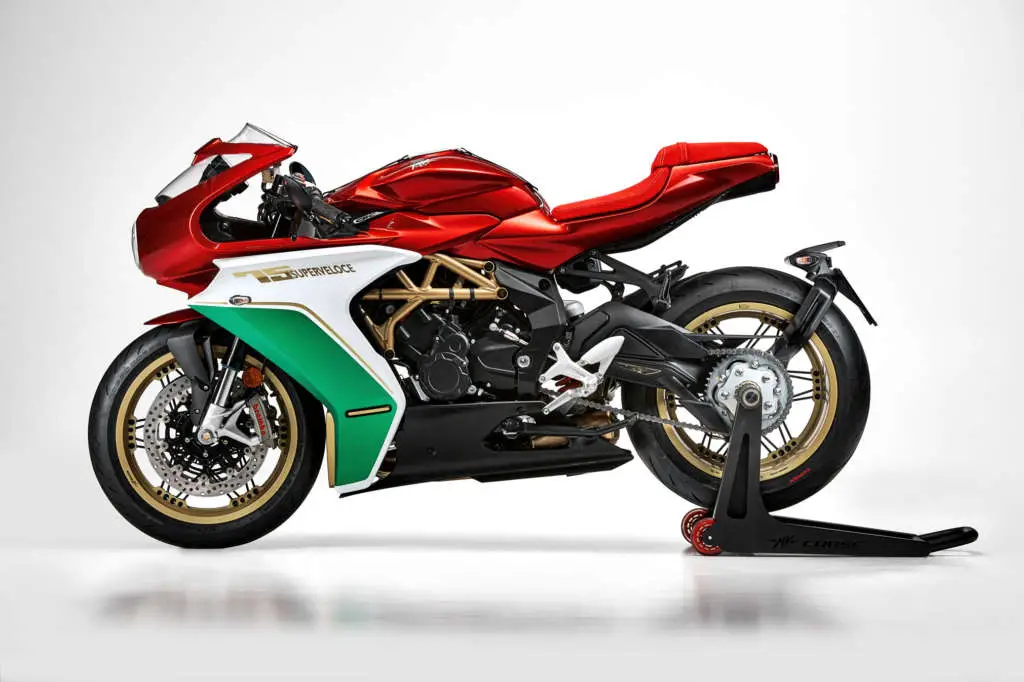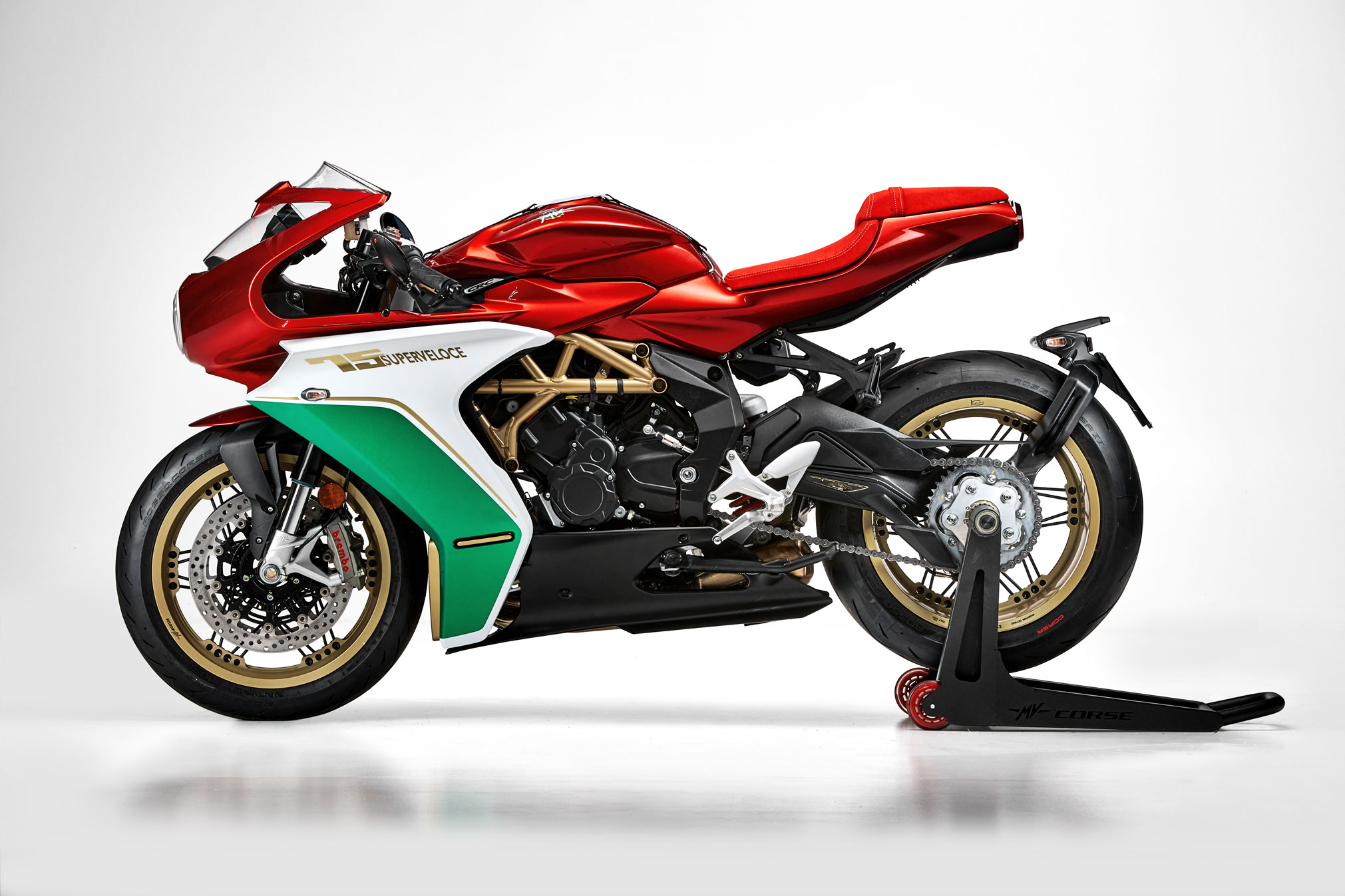 THE SUPERVELOCE 75TH ANNIVERSARY EDITION
Its design was inspired by the brand's glorious racing history, but underneath its neo-retro glamorous outfit, the Superveloce 75 anniversary features the most advanced and refined technology.
In the year of its 75th anniversary, MV Agusta is ready for a new start and is celebrating its legacy of leading-edge technology, passionate craftsmanship and timeless elegance with the launch of its celebrative Superveloce 75 Anniversario limited edition.
A real bonus for all MV Agusta fans and collectors, who will have the opportunity to buy a true piece of motorcycling history, but for a limited time only. In effect, the 75-unit limited series Superveloce 75 Anniversario is so exclusive it will be on sale online for 75 hours only, starting November 15th, 2020 at midnight sharp (Central European Time)! Reservations will be accepted online, with a 100€ deposit towards the securing of a priority production slot, or through MV Agusta's worldwide dealers network.
The Superveloce 75 Anniversario shares the same F3 800 derived inline three-cylinder engine as the Superveloce 800, developing 147 hp at 13.000 rpm for top speeds of over 240 km/h, and comes with many extra features and exclusive details that make it even more precious and a true collector's item.
"For the first time ever, the Rebel is a Rebel with a cause and the cause is justified."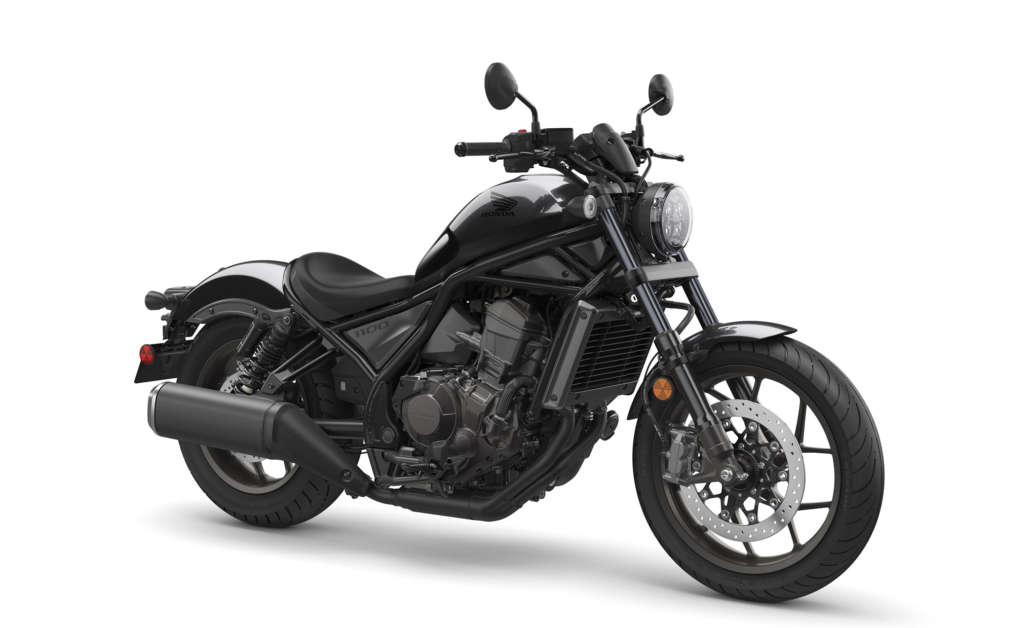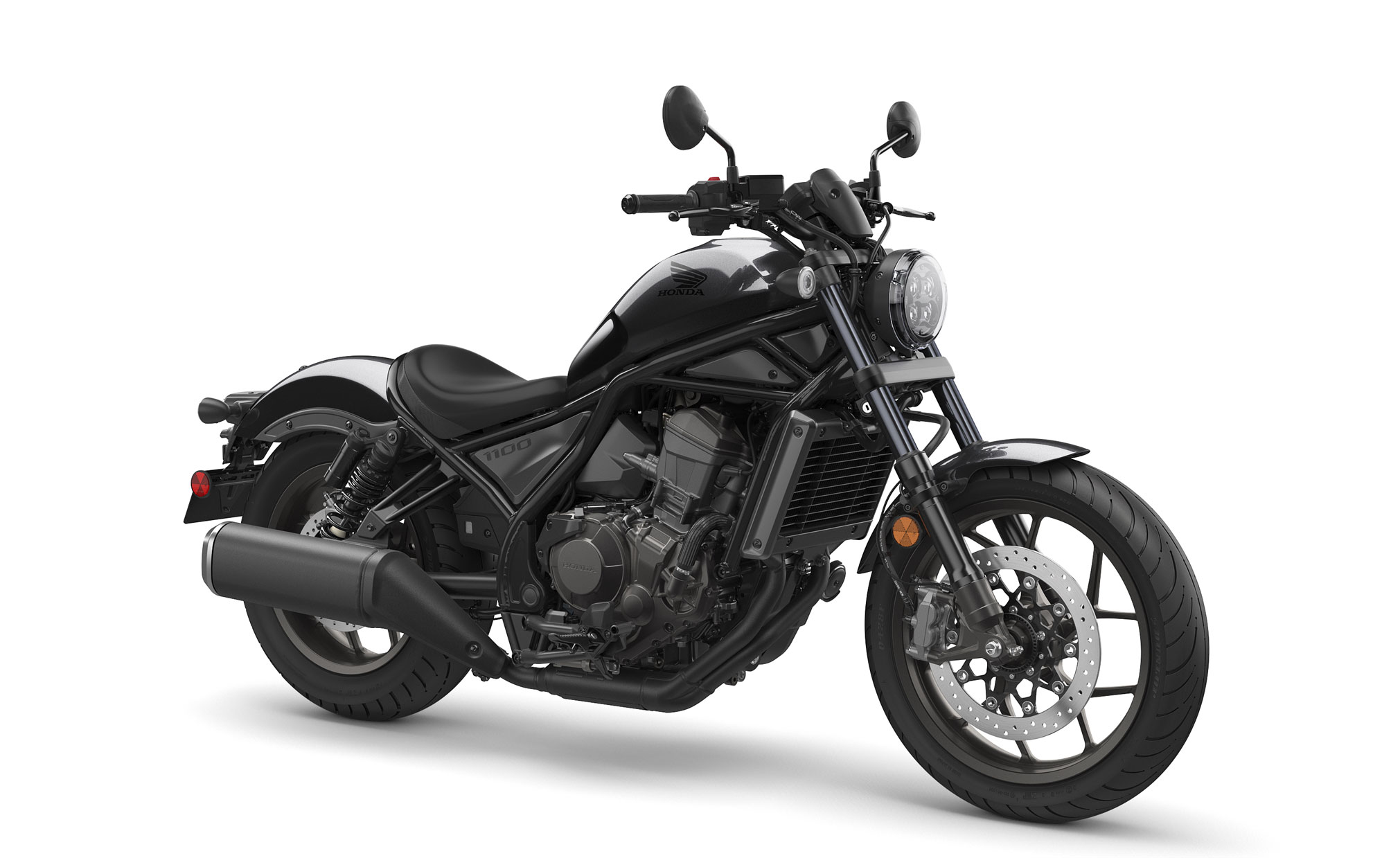 Enter the all-new 2021 Rebel 1100, a forward-looking midsize cruiser made for the modern cruiser rider. With a feel and sound like nothing else on the road, it's a high-function motorcycle that only Honda could design and build, ready to take riders to their activities while delivering memorable experiences along the way.
Developed according to an ambitious "Relax and Excite" design theme, this adaptable machine is raw but purposeful, elemental yet modern, and is equally adept at classic no-rush "cruising" and adrenaline-filled outings marked by brisk acceleration and exhilarating corners. Marked by clean, serious styling and built around a retuned version of the high-performance, water-cooled parallel-twin engine from the Africa Twin, this motorcycle introduces new technology to the cruiser market. Thanks in large part to its carefully developed geometry, sport-worthy components and its best-in-class power-to-weight ratio, this motorcycle has excellent performance, in terms of both acceleration and cornering prowess. It also has a unique, deep, pulsing exhaust note, as well as a high-level finish, Honda's renowned reliability and an extremely competitive price.

IF you have made this this far down the Top 10 Hot Picks for 2021 article, 2 GOLD STARS for you!
Total Motorcycle would like to thank… well, all the motorcycle manufacturers…. for inspiring us to bring you this week's Inspiration Friday: Top 10 Hot Picks for 2021 story to you. Each week we bring you another Inspiring Motorcycle story to inspire you to get out and ride! Thank you for your support for visiting us and supporting us.