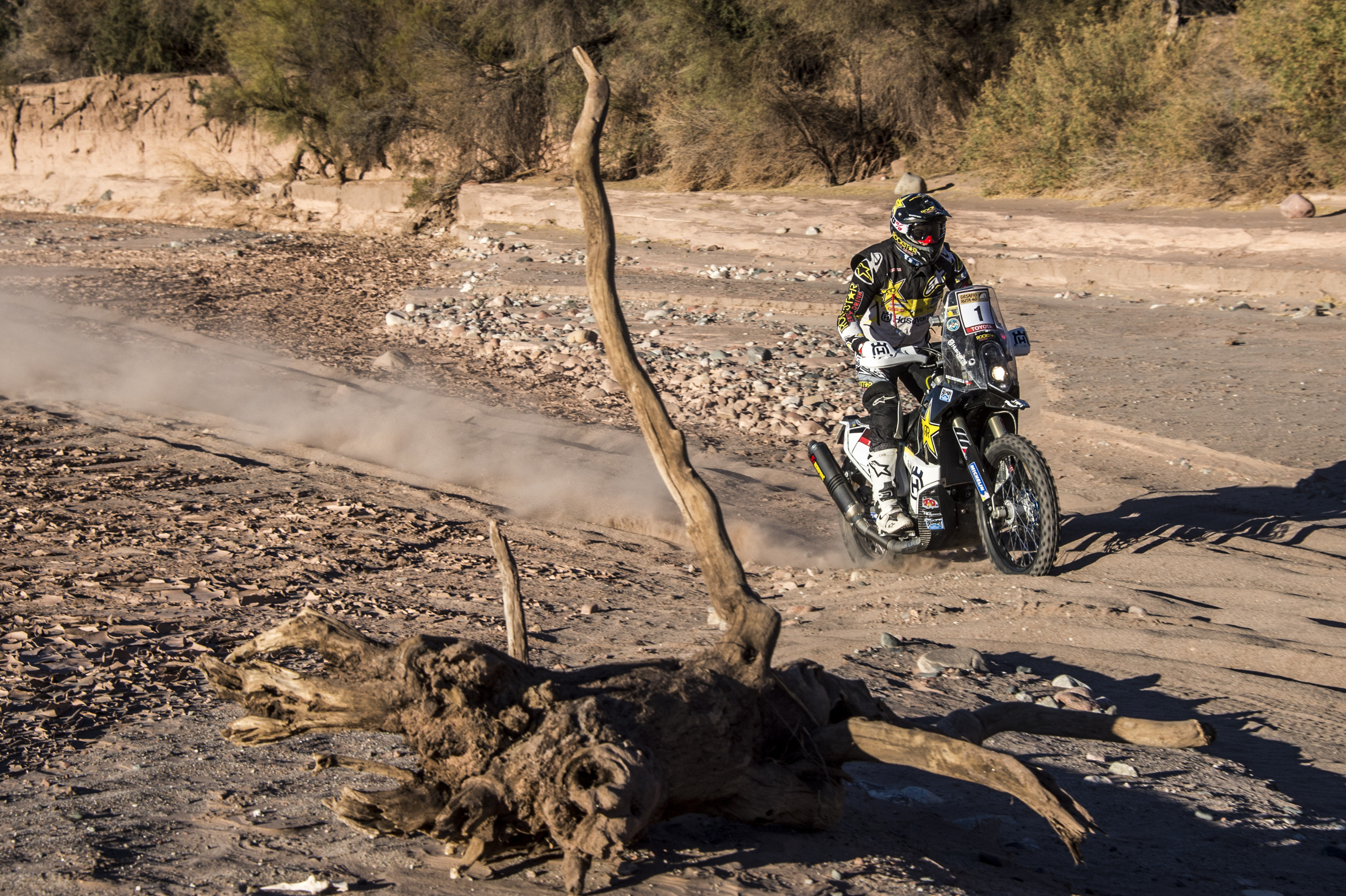 Continuing to battle to defend his FIM Cross-Country Rallies World Championship title, Rockstar Energy Husqvarna Factory Racing rider Pablo Quintanilla has moved up to fourth overall after a challenging stage two at the 2017 Desafio Ruta 40 rally.
Including demanding navigation and some physically exhausting enduro tracks, stage two towards the city of Tinogasta proved to be a challenge for all competitors. Suffering an early mistake, Pablo put his head down and managed to complete the timed special posting the seventh best time for the day.
With many of the rally's top contenders suffering costly mistakes, Quintanilla has climbed to fourth in the event's provisional overall rankings. Tomorrow's stage three of the rally will take competitors to the city of Belén. It includes a timed special of 303km, with the total distance to be covered by all riders being a whooping 498km.
Pablo Quintanilla: "Today we were faced with a very tough stage. In the beginning there were some confusing notes in the road-book. I made a costly mistake there so as soon as I got back on the right tracks I decided to stay focused on my navigation. The stage was also hard in terms of riding. There were stones and dry river beds where it was easy to make a mistake and crash. Overall, we're still in the race to the finish and in the battle for the championship. Tomorrow we reach the halfway mark of this rally. We have three long stages to go and anything can happen."
2017 Desafio Ruta 40 – Stage 2 Provisional Classification
1. Kevin Benavides (Honda) 3:56:14
2. Paulo Goncalves (Honda) 3:59:33
3. Xavier de Soultrait (Yamaha) 4:05:13
4. Jonathan Barragan (KTM) 4:21:38
5. Franco Caimi (Yamaha) 4:22:20
6. Martin Duplessis (KTM) 4:23:42
…
8. Pablo Quintanilla (Husqvarna) 4:35:10
2017 Desafio Ruta 40 – Provisional Overall Classification [After Stage 2]
1. Kevin Benavides (Honda) 7:46:41
2. Paulo Goncalves (Honda) 7:47:29
3. Xavier de Soultrait (Yamaha) 8:06:48
4. Pablo Quintanilla (Husqvarna) 8:31:21
5. Ricky Brabec (Honda) 8:39:49
6. Martin Duplessis (KTM) 8:43:57