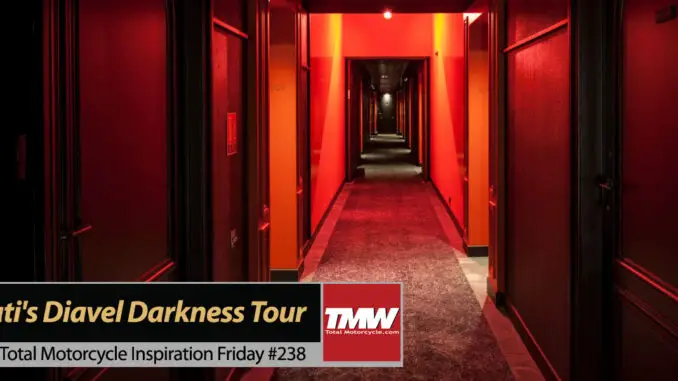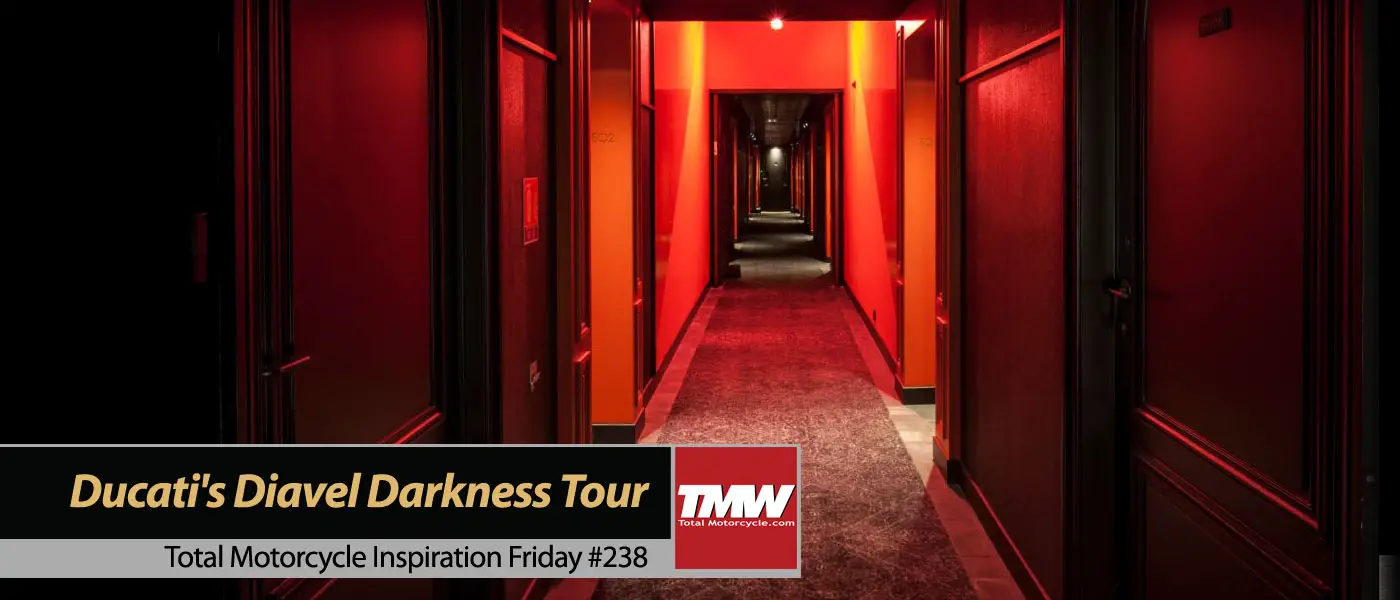 Enrobe yourself into the delicate sensation of the Diavel. Venture into the dark. Alluring refined atmospheres of sophisticated taste will define your pilgrimage through unmistakable metropolises venues of Amsterdam, Paris, Brussels, London and New York City. Bewitched Moonlight Studios (New York City), suggestive Sinner Restaurant (Paris), tantalizing TheMerode Club (Brussels), captivating The Gherkin (London) and ravishing Klibansky Gallery (Amsterdam) await you. Your torch is lit to descend into Ducati's darkness…
Welcome to the inspiring dark side of Inspiration Friday: Allure & temptation of Ducati's Darkness Tour, week #238 on Total Motorcycle.
Before you go into the darkness, make sure you equip yourself with our 2023 Motorcycle Model Guide and 2023 Ducati Motorcycle Model Guides. Both will offer up the tome of knowledge you are seeking.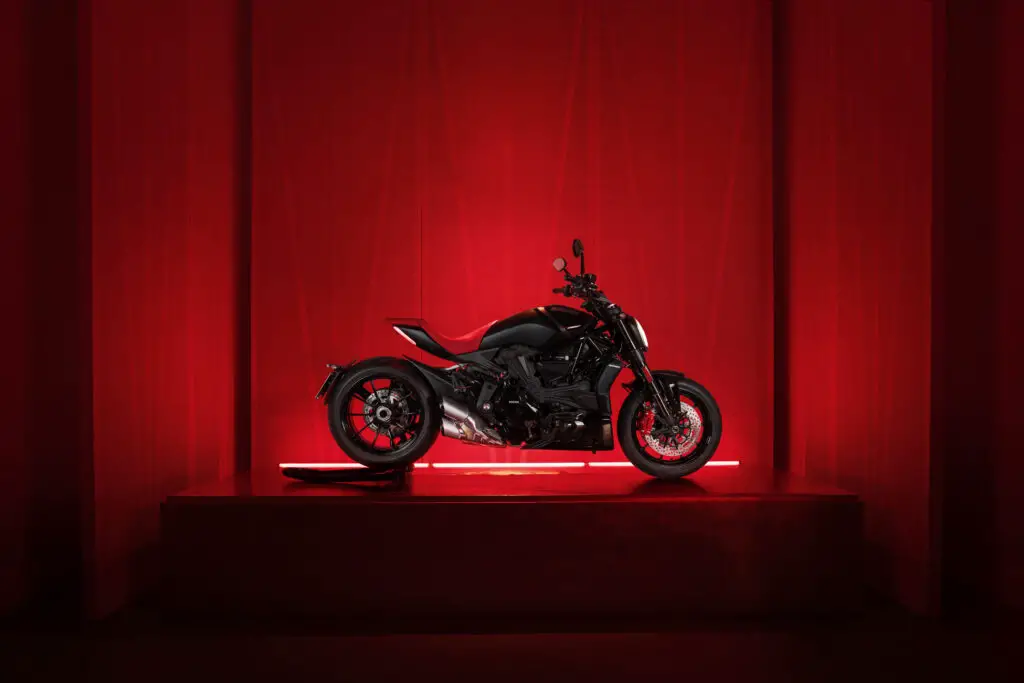 Total Motorcycle would like to thank Ducati, Moonlight Studios, Sinner Restaurant, TheMerode, The Gherkin and Klibansky Gallery as well as our hundreds of millions of motorcycle riders and enthusiasts who visit and support TMW for inspiring us to bring you this week's Inspiration Friday: Allure & temptation of Ducati's Darkness Tour. Each week we bring you another Inspiring Motorcycle story to inspire you to get out and ride.
Join Total Motorcycle here and help us by joining Total Motorcycle's new YouTube Membership and $1/mo Patreon channels. Please help us help riders, support motorcyclists and motorcycling worldwide today.

Ducati Design Stars Around The World With The "Diavel V4 Design Nights"
The new Diavel V4 takes center stage in New York, Paris, Brussels, London and Amsterdam with a series of exclusive events
With its muscular and unmistakable design, spectacular lighting system and the four-outlet silencer, the Diavel V4 is designed to convey boldness and attract attention in any environment
Andrea Ferraresi, Ducati Centro Stile Director: "The Diavel family is the perfect expression of the unique design philosophy Ducati applies to each of its creations"
Diavel V4 is available in Ducati Red or in Thrilling Black
Ducati design is taking center stage around the world with a series of international events dedicated to the new Diavel V4. After winning over the experts thanks to the enjoyability of its performance and the riding dynamics between the curves of Jebel Hafeet at the Riding Première held in the United Arab Emirates, the unmistakable style of the Diavel V4 has been the protagonist in metropolises such as Amsterdam, Paris, Brussels, London and New York City with the "Diavel V4 Design Nights".
During these five exclusive evenings, Ducati presented one of this season's most eagerly awaited new models to an audience of invited guests, keeping a special focus on the design of a family of motorcycles which over the years has become a true style icon. The locations of all the events were selected with an emphasis on a refined atmosphere and sophisticated taste. The Moonlight Studios (New York City), the Sinner Restaurant (Paris), The Merode Club (Brussels), The Gherkin (London) and Klibansky Gallery (Amsterdam) were ideal venues to enhance the unique personality of the Diavel V4.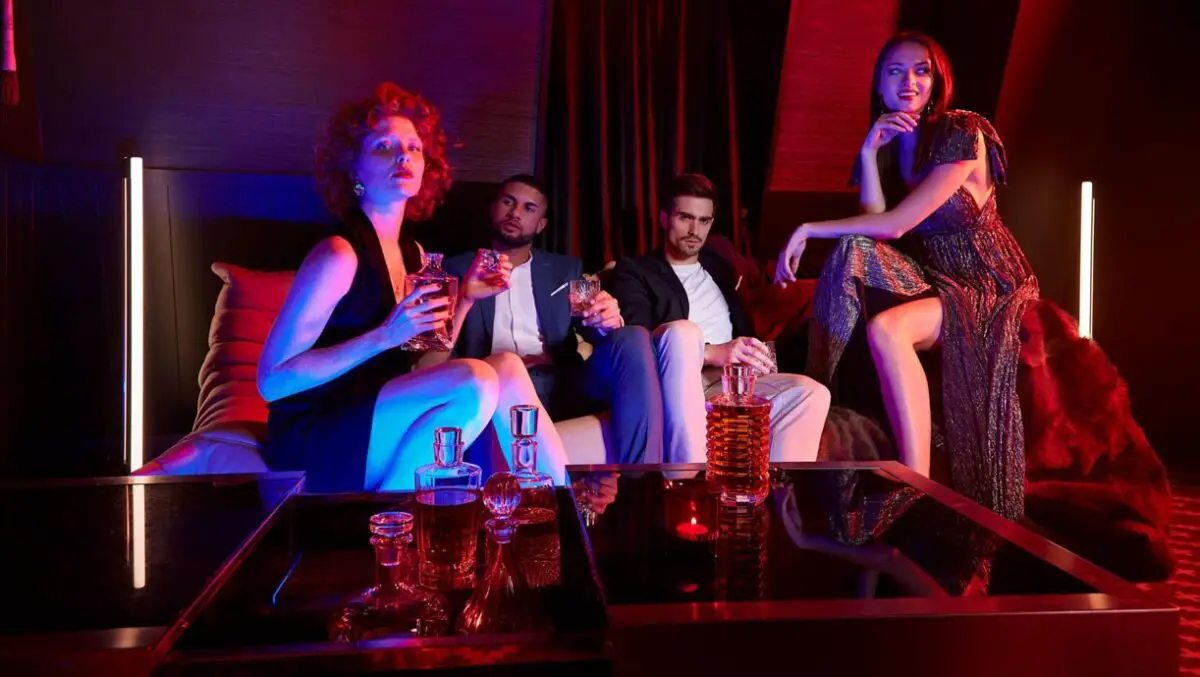 "Ducati has a unique design philosophy which derives from an extraordinary attention to detail and places style as a central and distinctive element in each of our creations" declared the Ducati Centro Stile Director Andrea Ferraresi, presenting the "Diavel V4 Design Night" in New York." The Diavel family is truly special for the Centro Stile because it took shape from an impactful and innovative proposal in which the Company strongly believed. With the new Diavel V4 we have confirmed a bold and muscular design, capable of attracting attention in any context. We are very proud of the final result , particularly the detail work, which makes this bike's style absolutely unmistakable".
The main new feature of the Diavel V4 is the introduction of the V4 Granturismo. In the Diavel philosophy the engine is the fulcrum around which everything revolves: performance, character and style. Ducati designers have therefore started from the V4 Granturismo, enhancing it and making it the protagonist, developing all the other elements that contribute to the style of the Diavel to keep its uniqueness and recognisability intact and to amaze once again.
The motorcycle's lighting system is extremely spectacular and helps to unequivocally define its aesthetics, particularly from the rear with an unprecedented matrix of punctiform LEDs. Two other characterizing elements of the Diavel V4 are the imposing 240 mm wide rear tire with five-spoke alloy rims and the silencer with four outlets. The complete press kit of the bike with all the technical details is available at this link.
The "Diavel V4 Design Nights" will continue with other upcoming events. The bike is available in Ducati dealerships in Ducati Red or in the Thrilling Black color versions.
#Ducati #Design #DiavelV4 #DareToBeBold
The Venues of Amsterdam, Paris, Brussels, London and New York City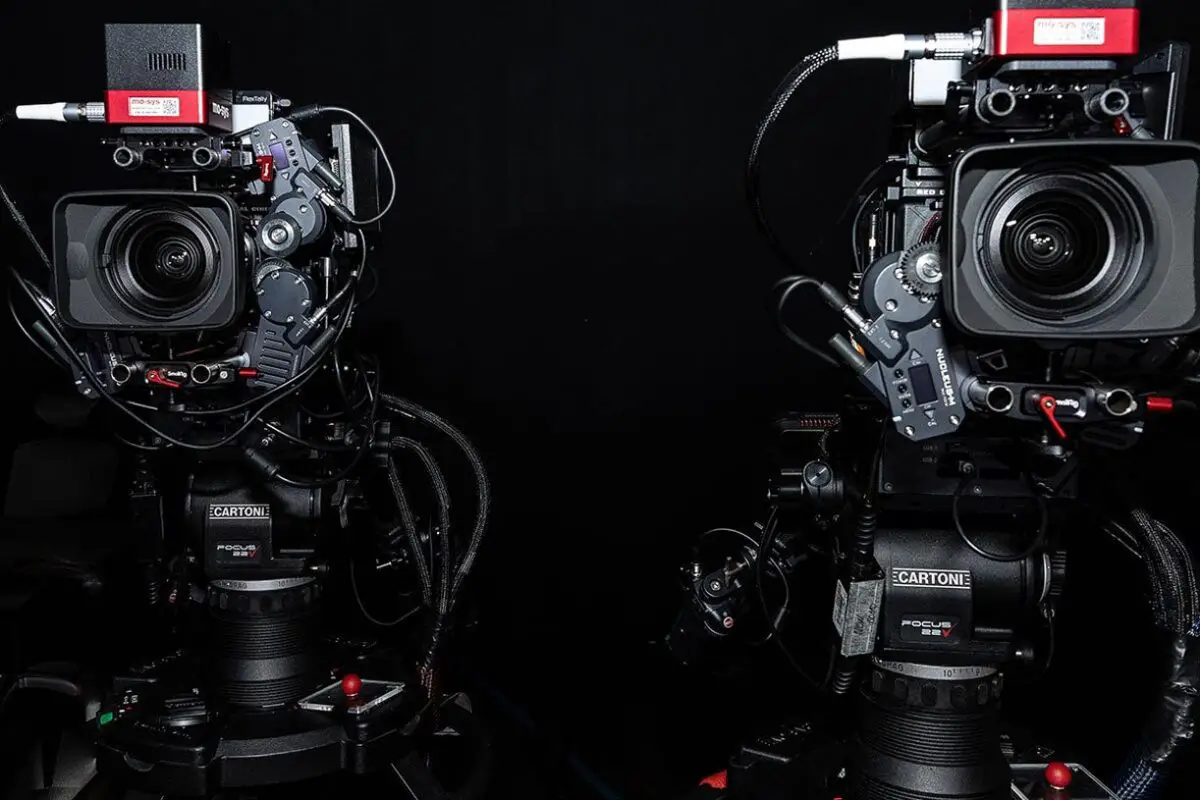 EVENT VENUE & XR STUDIO
Breaking the mold of traditional venues and studios, Moonlight Studios NYC is designed specifically for in-person, hybrid and studio experiences.
Located in Manhattan's vibrant SoHo neighborhood, our NYC event venue is a turnkey Experience Center that features luxurious indoor/outdoor event spaces, a fully appointed XR Studio and broadcast suite.
A dramatic interior and versatile open air spaces are the perfect setting for elegant, in-person events. Going hybrid? Our facility has all of the resources you need to bring your in-person and virtual audiences together.
Our NYC event venue provides a unique and memorable way to showcase your brand or message during an event. One of the standout features of Moonlight Studios NYC is the multitude of branding opportunities inside and outside of the venue, including street-level windows, outdoor signage, an interior digital colonnade and video walls.
Need to host a flexible event where people can attend in-person and online? We specialize in broadcasting and professional recording and editing in our production studio, helping clients reach audiences all over the world. At Moonlight Studios NYC, we're committed to bringing our clients' vision into reality with unparalleled service, production expertise and event tech.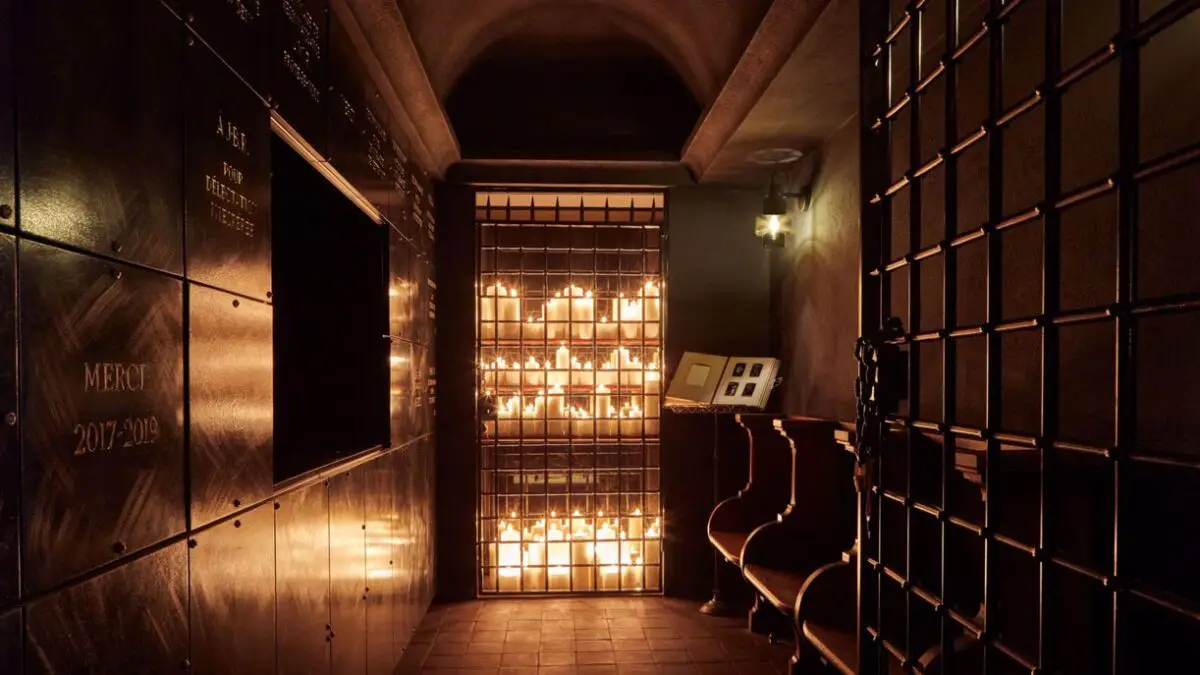 DESIGN
Sinner is unique. A blend of religious heritage, opulent rooms and spectacular spaces. Contrasting radical lines with suggestive curves, and a feeling of unpolished luxury with the most enticing atmospheres. Remaining true to his signature, interior designer Tristan Auer leaves trends behind and surprises even in the tiniest details. From the electric relaxation of the restaurant to rooms inspired by ecclesiastical quarters, and from dark hallways illuminated by lanterns to the concept store in the crypt. The attention to detail continues in the mysterious spa, inspired by Roman baths. Like a well-kept secret, hidden behind a heavy door, it invites you to step into a private, secret half-light, and only borrows the aromas of a forbidden scent from the monastic atmosphere. And, throughout the hotel, stained-glass windows and a mystical soundtrack stand out against the opulent texture of velvet, drapery, and mirrors. Sinner marks a new chapter in the life of Paris, liberated from all the old standards.
TRISTAN AUER
He is one of the most iconic interior designers of his generation. Regarded as a daring interior designer, he does not fit into any school or category. He eschews the latest trends in preference for expressive clashes of artistic styles, and combinations of eras which make sense and offer a unique interpretation. To define Sinner's DNA, Tristan Auer first rooted his work in the memory of this neighbourhood, which was once home to religious orders, then the aristocracy, and has now become one of the hotspots for Creation. He was also inspired by memories of childhood, from which he selected the decade-long optimism and carefree attitude of the 70s.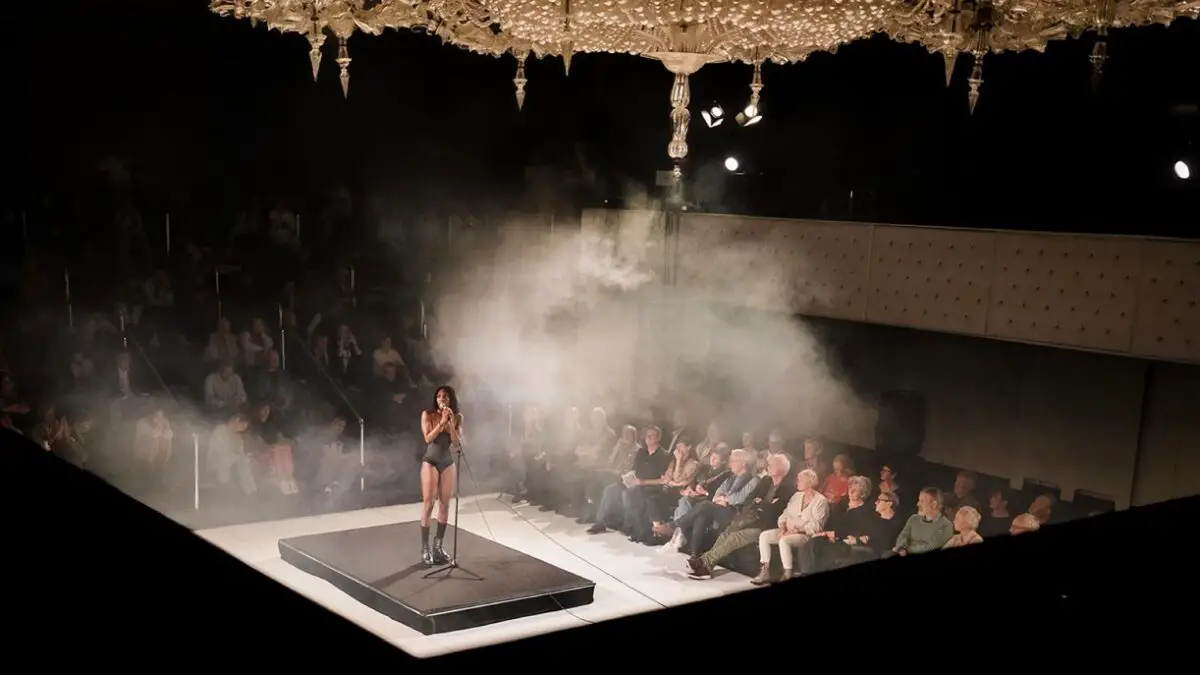 The most open private club.
TheMerodeis a place designed with people first because positive change is always collective.
A club that expands consciousness through powerful conversations about our collective future. A club where members come to find insightful and creative thinking. A space to support entrepreneurs and high-growth businesses at the forefront of innovation and change.
The success of TheMerode relies on diverse backgrounds, experiences, and opinions, and our members are vibrant and diverse. Our community extends far beyond our members and we regularly open our doors to non members.
Our goal is to fuel your imagination. Our holistic programme is created to nourish your soul, creativity and intellect to further you on your journey as a changemaker.
THE POWER OF COLLABORATION TO CREATE A BETTER FUTURE
TheMerode is a collective space for igniting joy, bringing people together and discovering new experiences.
A think tank nurturing brilliant minds, our mission is to bring our members happiness and drive positive social and environmental change.
TheMerode is more than a private club, it's a hub of inspiration where visions for the future turn into real actions.
An open mind helps us grow. At TheMerode, we believe in:
Collective intelligence
By breaking siloed thinking, learning from others, cooperating instead of competing, and connecting the unconnected, we create opportunities for new ideas to be exchanged.
Curiosity & Intuition
We believe that an open mind comes from a creative and curious personality, eager to teach and learn, ready to change in new conversations and to understand different perspectives. Intuition is one of the many keys to success. We're convinced that intuition needs space, time and fun to be deployed. TheMerode is that place.
Enjoyment
Being rational and functional is not enough, we also take pride in bringing pleasure, excitement and beauty to our community.
Contribution
We get out what we put in. Being engaged, committed, and standing up as a contributor to society, is essential to our philosophy.
Our project is collaborative as we believe that being awake to the world and learning together helps us face today's greatest challenges.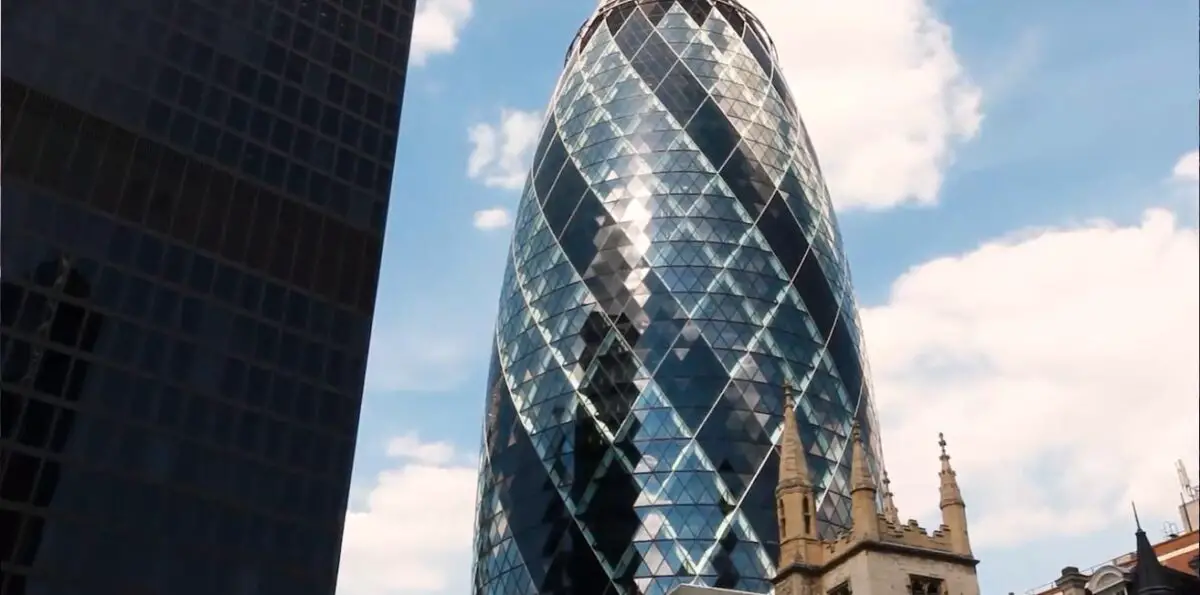 Timeless shape of the modern City
The most recognised silhouette in 21st-Century architecture. And a great place to work.
An unmistakable icon known to everyone, everywhere.
And the City of London's prestige address for high-growth businesses seeking a global profile and a step ahead in today's competitive talent market.
Designed by Foster + Partners as London's first ecological tall building, it remains an exemplar of sustainability, wellbeing and innovation. Located in a vibrant, established commercial core with excellent transport connections — and the Capital's best in food and entertainment. A workplace that's connected, inspiring, healthy and truly unique.
Unwrapping an Icon. A revolution in building innovation. Still the City's breath of fresh air.
Natural light. Natural ventilation. Natural systems that mean The Gherkin is capable of using less energy than most of its newer neighbours.
Dynamic, naturally lit atrium
Design that makes spaces healthier — and people more productive. Bright, open spaces that bring daylight deep into column-free floor plates. Ventilation that spirals up through the building, acting as 'lungs' to draw in fresh air. A WiredScore Platinum rating, assuring the very best in digital infrastructure.
Selected by Architectural Digest as one of the World's Most Iconic Buildings. Who hasn't heard of The Gherkin? The first and still most recognisable of this century's 'nicknamed towers'. A true landmark that Londoners and visitors alike use to orient themselves. And a place of pride for everyone who works here.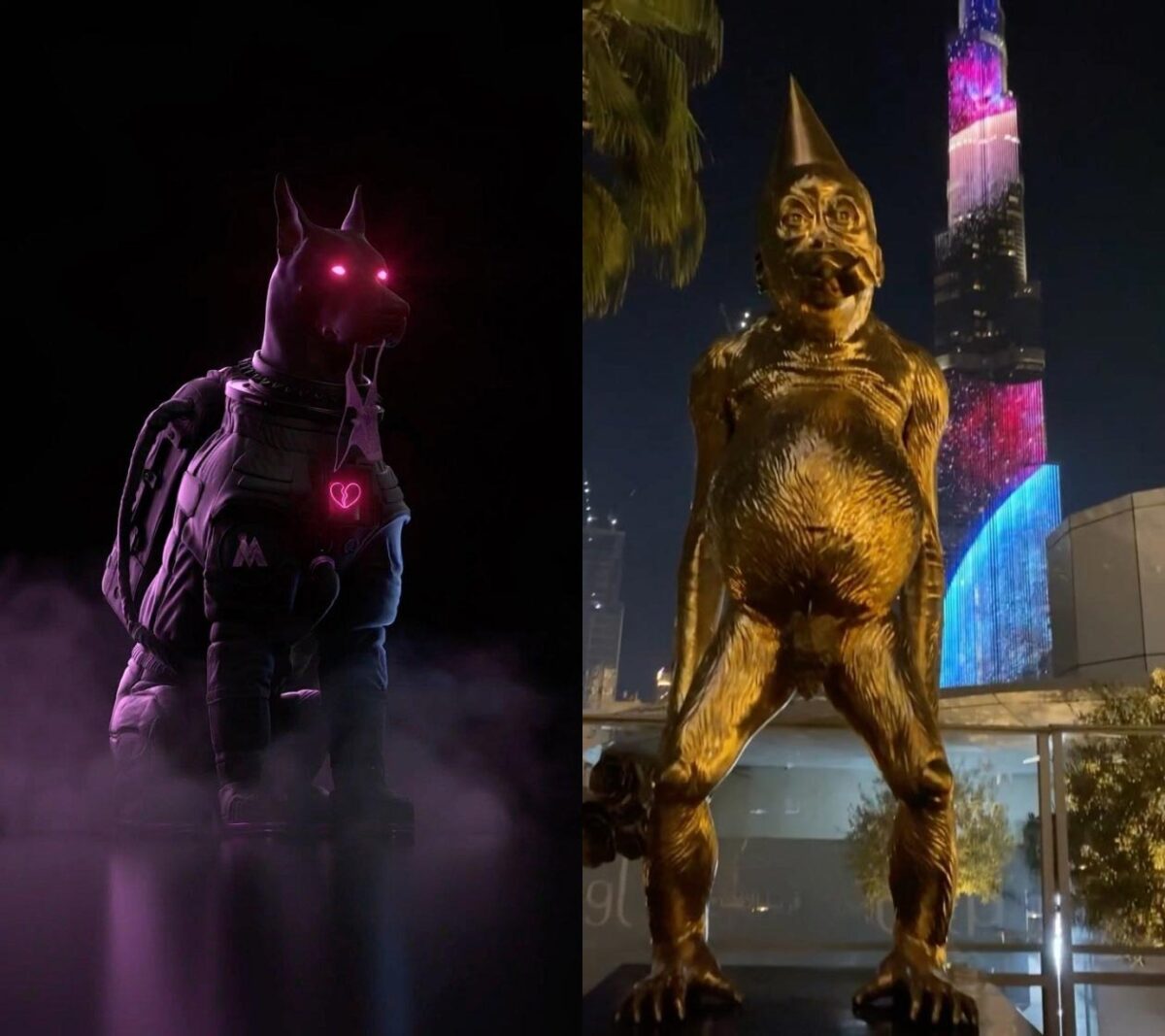 Joseph Klibansky ventures into the territory of phenomenology and revisits matters related to perception that have fascinated philosophers and art historians, and have equally captured the attention of artists. What interests him is the correlation between appearance and that which appears, and the way in which this correlation allows us to understand the relationship between the self and the world. His landscapes annul the concept of a border through which one defines one's belonging to a place, they end up representing a world-nation in which different identities annul one another by overlapping. Born in 1984 in South Africa, he currently lives and works in Amsterdam.