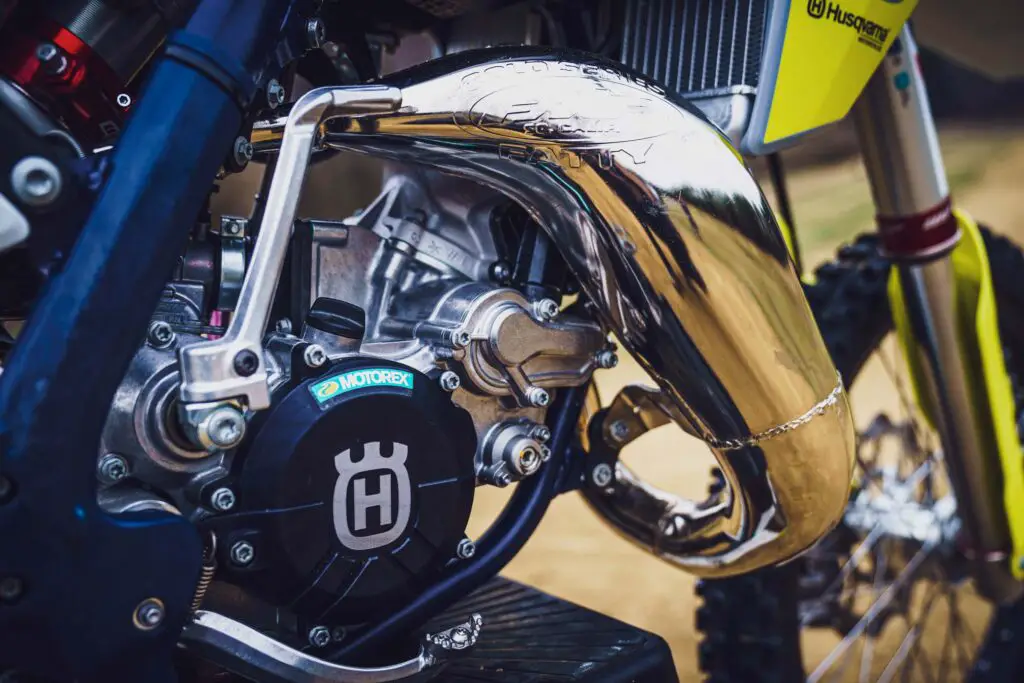 BRAVE AND STRONG
Late in his splendid career Sylvain Geboers switched to Husqvarna, hoping for success. The Belgian had never made it to the top of the podium, forced to be content with runner-up positions as country-man Joel Robert beat him to the finish line. After two second places and three third spots in the 250cc world championship, Geboers set out to try his luck with Husqvarna in 1975. Here's how it happened.
Sylvain Geboers was born on the 28th of March in 1945. He lives in Mol, which is the Flemish part of Belgium where the sand tracks are plentiful. He soon became interested in motocross. He started racing by the time he was 16, straddling a big-bore, heavy 4-stroke machine. At the age of 17, Sylvain won his first title and became the national junior champion in the 500cc class. Geboers rode a sturdy BSA Goldstar, which he managed with impressive strength. A year later he was representing Belgium at the team world championship that were run at Hawkstone Park. They finished second at this Moto Cross des Nations, which was Geboers first big breakthrough. With this impressive ride Matchless offered the young Belgian support for the 1965 season when Sylvain yet again was a member of the Belgian 500-team coming home as silver men at the MCdN.
For 1966 Sylvain Geboers had ties with the Swedish performance tuner Lindström, who contracted the Belgian to race in the half-litre championship. Lindström had close ties with Husqvarna and it was these 2-stroke machines that were turned around according to Lindström's technical knowhow. Sylvain returned the favours by clinching his first WC points when he finished third in the Danish Grand Prix. This rendered him his initial four career points. But the season was a big disappointment and did not result in any further points. He came 16th in the final standings, which tempted the Belgian to switch brands for 1967.
In the following eight seasons Sylvain Geboers was at the height of his successful career. Being runner-up in the 250cc championship twice and third three times, the Belgian was well-known all over the globe as he also raced in the American Trans-AMA championships. In 1971 Geboers won this series outright in the 500cc class.
Sylvain Geboers was not only famous for his good stamina and his fantastic rides on sandy tracks, he was also a popular rider because of his nice manners. Always a happy and positive man, Sylvain thrilled his fans – and competitors – with enthusiasm and good pride.
"I considered the mental and physical health as being just as important as my riding ability," said the sympathetic man from Mol, who still travels a lot in the MX business.
After 14 Grand Prix victories Sylvain Geboers switched to Husqvarna for the 1975 season. At that time he not only cherished the Swedish brand, but also had good experiences from his days riding for the Lindström company. "I was always impressed by the results from the Swedish factory," said Geboers, "and I wanted to have a go at it in 1975."
The year started very well on his new mount. In the opening round at Sabadell in Spain, Sylvain finished fourth on his Husqvarna in the first heat. "It seemed the machine and I were a good couple," he laughed after his impressive ride.
After the first round, the Belgian lay 5th in the title chase. But Sylvain Geboers had seen his best days in motocross. When half the season was over, he came 7th in one leg of the Polish GP in Szcecin. In the following round Sylvain hit 10th position after a decent ride. But that was it during his short Husqvarna career, which only lasted for one-year. His final position in the 250cc championship table this year was a meagre 21st place with 13 scored points.
Sylvain then raced motocross for another two seasons before he definitely quit. "The last two years were more for fun than anything else," he said after his Husqvarna season. "I knew that my successful years were over."
On the 15th of August in 1978 Sylvain Geboers rode his last active race on home turf for KMC Mol at the Keiheuvel-Balen track outside of his native town. He still lives on Smallestraat 10 in Mol.
Special Thanks to Kenneth Olausson and Husqvarna for our Rider Inspiration Story this week!