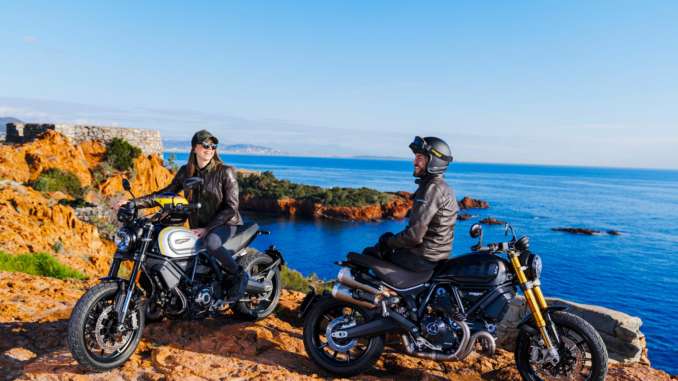 Introducing the new 2020 Ducati Motorcycle Guide.
New Bike Reviews, Huge Photos, Full Specifications. Get it all at Total Motorcycle with the 2020 Ducati Motorcycle Guide.
SuperSport
Streetfighter
– 2020 Ducati Streetfighter V4 – New model
– 2020 Ducati Streetfighter V4S – New model
– 2020 Ducati Streetfighter V4 Prototype – New model Preview
Superbike
– 2020 Ducati Panigale V2 – New model
– 2020 Ducati Superleggera V4 – New model
– 2020 Ducati Panigale V4 Speciale
– 2020 Ducati Panigale V4 – New model
– 2020 Ducati Panigale V4S Corse
– 2020 Ducati Panigale V4S – New model
– 2020 Ducati Panigale V4R – New model
– 2020 Ducati 1299 Panigale R Final Edition
– 2020 Ducati Panigale V4 25° Anniversario 916 – New model
Monster
– 2020 Ducati Monster 821 Stealth
Scrambler
– 2020 Ducati Scrambler 1100 Sport PRO – New model
– 2020 Ducati Scrambler 1100 PRO – New model
– 2020 Ducati Scrambler 1100 Sport
– 2020 Ducati Scrambler 1100 Special
– 2020 Ducati Scrambler Full Throttle – Revised
– 2020 Ducati Scrambler Cafe Racer – Revised
– 2020 Ducati Scrambler Desert Sled – Revised
– 2020 Ducati Scrambler Icon Dark – Revised
– 2020 Ducati Scrambler Icon – Revised
– 2020 Ducati E-Scrambler – New model
– 2020 Ducati Scrambler Motard Concept – New model
– 2020 Ducati Scrambler DesertX Concept – New model
Diavel
EBikes
– 2020 Ducati MIG-RR Limited Edition – New model
– 2020 Ducati MIG-S – New model
– 2020 Ducati E-Scrambler – New model
Hypermotard
– 2020 Ducati Hypermotard 950SP
Multistrada
– 2020 Ducati Multistrada 950S
– 2020 Ducati Multistrada 1260
– 2020 Ducati Multistrada 1260S
– 2020 Ducati Multistrada 1260S DAir
– 2020 Ducati Multistrada 1260S Grand Tour – New model
– 2020 Ducati Multistrada 1260 Pikes Peak
– 2020 Ducati Multistrada 1260 Enduro
From the Manufacturer – 2020 Ducati Motorcycle Guide:
Ducati presents a series of exciting new bikes for 2020
Ducati has unveiled the greatest and latest bikes and Ebikes for 2020. A complete, updated range, ready to set new standards in style, performance and technology.
The Ducati World Première 2020 was the final act of the Global Dealer Conference, an event bringing together key Ducati dealers – more than a thousand people – representing 71 countries. Streamed worldwide on the internet, the event was held on Wednesday 23 October, on the stage of the Palacongressi di Rimini, and it was Claudio Domenicali, CEO of Ducati Motor Holding, who personally unveiled the new 2020 range.
"For the Ducati World Première 2020 we have chosen to remain in the Motor Valley, a territory that unites a series of extraordinary brands – unparalleled in the world – of which we are proud to be a part", stated Claudio Domenicali as he opened the Ducati World Première 2020. "Today we are unveiling a number of dream bikes, but also three new Ebikes that will complement the Ducati
MIG-RR, presented last year. The MIG-RR Limited Edition represents the top of the range and has truly excellent components, such as carbon rims and electronic gearshift, and it can also be customized with the customer's name and a dedicated suspension setting. The MIG-S has premium equipment but a more affordable price and, finally, there is also a City Bike for the Ducati Scrambler world.
Moving on to motorcycles, there are new colours for the Diavel and Ducati Scrambler, the special Grand Tour version for the Multistrada 1260 S and three absolute novelties. First among these is the Panigale V2, our super-sporty twin powered by the 955 cc Superquadro engine, the middle-weight superbike new both in its aesthetics and its performance.
We also present the new version of the Panigale V4, which for the second year in a row was the most sold sports bike in the world. We have collected and analysed the feedback and data from our passionate customers and the specialized press, and for 2020 we have made the Panigale V4 easier, less tiring to ride and more repeatable in performance even on uneven surfaces. It is faster on the stopwatch, and this improvement is greater the smaller the potential of the rider, therefore higher for an amateur than for a professional rider. The Panigale V4 is a bike that, when ridden by Michele Pirro in fully standard configuration, including the homologated exhaust and apart from the slick tyres, is capable of obtaining a chronometric response of just 3 seconds higher than its own record made on the Vallelunga circuit with the Superbike version of the bike.
Last to take the stage is the long-awaited Streetfighter V4, an extraordinary bike for which we have applied what, at Borgo Panigale, we like to call "The Fight Formula": we took the Desmosedici Stradale 1,103 cc engine, added the latest-generation electronic package of the Panigale V4, lightened it to obtain a dry weight of 178 kg, added a tall and wide handlebar, removed the fairings and obtained 208 hp of power @ 12,750 rpm.
A high-performance motorcycle with great attention to comfort, thanks to relaxed ergonomics, a well-padded seat and suspension set for road use. A safe bike, like all new-generation Ducatis, thanks to a very complete electronic package that has the first objective of increasing riding ease and safety."
Following the success of the Ducati MIG-RR, presented at last year's EICMA, for 2020 Ducati is offering nothing less than a range of Ebikes. The first major development takes the shape of the Ducati MIG-RR Limited Edition, of which just 50 will be made; assembled in Italy, these feature Ohlins suspension, carbon rims, electronic gearbox and are enriched by special Ducati Corse graphics, designed by Aldo Drudi's D-Perf. Then there's the Ducati MIG-S, a decidedly sporty All Mountain bike designed for those who want all-terrain agility, performance and fun. Completing the range is a third variant, the E-Scrambler, a 'Trekking' version with high-end components; equally at home on city streets or country roads, the E-Scrambler is for those with a taste for freedom – all in inimitable Ducati Scrambler style.
The first motorcycle to take centre-stage was the new Icon Dark, the 800 cc "Land of Joy" entry-level model from the Ducati Scrambler range, together with two concept bike sketches created by the Centro Stile Ducati for EICMA 2019. Next up was the new Multistrada 1260 S Grand Tour, a special version of the 1260 S designed for those who want to eat up the miles without giving up on comfort. Following the Multistrada were two Diavel 1260 bikes, sporting new 2020 colour schemes, namely Dark Stealth (available for the standard version) and an all-new Ducati Red with white trims (for the S version), both of which enhance the sportiness and the power-cruiser spirit of this unique bike even further.
The first of the all-new Ducati bikes for 2020 was the Panigale V2. The twin-cylinder Panigale has a completely new look, as well as sophisticated Inertial Platform-based electronics and, thanks also to a comfortable seat and its suspension set-up, it offers better yet safer sports performance while making road riding more enjoyable and user-friendly than ever. It is powered by a 995 cm³ Superquadro engine with a maximum power of 155 hp at 10,750 rpm and a maximum torque of 104 Nm at 9,000 rpm (Euro 5 compliant).
Built around the monocoque frame, the chassis set-up is embraced by a new, sports-style design.
The extensive fairing hugs the mechanics, highlighting the compactness of the Superquadro twin-cylinder engine to create a bike that is visually compact.
Other key Panigale V2 features include the single-sided swingarm and an exhaust with extremely compact under-engine silencer and single-side tail pipe. The clean lines typical of Ducati superbikes are enhanced by the traditional Ducati Red livery and black wheels.
Another major EICMA 2019 preview that you can also see on the 2020 Ducati Motorcycle Guide took the form of the Panigale V4. A series of refinements for 2020 make for a more user-friendly, less fatiguing ride while simultaneously making the bike faster not just on individual laps but over entire timed sessions.
Ducati and Ducati Corse engineers have crunched the feedback/data numbers from customers all over the world and Superbike World Championship events. Their analysis has led to a series of aerodynamic, chassis, electronic control and Ride by Wire mapping changes: designed to increase stability and turn-in speed, these changes make it easier to close corners and ensure riders enjoy more confident throttle control.
The Panigale V4 is now equipped with content taken from the V4 R, starting with the aero pack (aerofoils, Plexiglas screen, nose fairing and larger lateral fairings, more efficient side vents for radiator through-air). This provides better airflow protection and improves overall vehicle stability, enhancing confidence. Completing the update is the Front Frame, with modified stiffness to give better front-end 'feel' at extreme lean angles. Thanks to a new 'predictive' control strategy, Ducati Traction Control (DTC) EVO 2 significantly improves out-of-the-corner power control; Ducati Quick Shift up/down (DQS) EVO 2, instead, shortens up-shift times, allowing sportier high-rev gear shifts (over 10,000 rpm) and boosting shift stability during aggressive acceleration and cornering. The bike also features specially-developed Ride by Wire system mappings with several different torque delivery control logics. Powering the Panigale V4 is the 1,103 cm3 Desmosedici Stradale: a MotoGP-derived 90° V4 with Desmodromic timing, a one-of-a-kind engine with a counter-rotating crankshaft and Twin Pulse firing order. The engine can deliver 214 hp at 13,000 rpm and a torque of 12.6 Kgm at 10,000 rpm, making for extremely satisfying road riding.
Another 'star' of the Ducati World Première 2020 was the new Streetfighter V4, the super-naked long awaited by enthusiasts worldwide and a prime candidate for the title of "best looking bike of EICMA 2019".
The foundation of the Steetfighter V4 is a Panigale V4 stripped of its fairings and equipped with high, wide handlebars. Weighing 178 kg, it is powered by a 1103 cc Desmosedici Stradale engine, its 208 hp kept under control by biplane aerofoils and a latest-generation electronics package: a combination of factors and modifications that Ducati calls the "Fight Formula". The result is an over-the-top naked Ducati, modern and technological, with an assertively eye-catching design. A
bike that does nothing to hide its segment-leading performance, but which also ensures practicality and full-on fun during everyday rides.
The minimalist full-LED headlight with its V-shaped DRL captures the spirit of the Streetfighter V4 perfectly. On the one hand, it recalls the front of the Panigale V4 and, on the other, evokes the crazy grin of the Joker (the comic strip character from which the Ducati Style Center drew inspiration for this new Bologna-built naked).
On the Streetfighter V4, the Front Frame and Desmosedici Stradale engine take centre-stage. Only partially screened by superstructures that have been cut to a bare minimum, their sharp lines create a clean, essential whole.
Such powerful design demands a powerful engine, and the 1103 cc 208 hp Desmosedici Stradale fits the bill: for a naked, it packs an impressive punch, yet dedicated engine mapping lets the rider control the power with confidence. The engine – combined with a kerb weight of 178 kg ("S" version) – boosts the power/weight ratio to an impressive 1.17. Performance can be further improved by mounting the full-racing Ducati Performance exhaust by Akrapovič, which raises power to 220 hp and reduces weight by 6 kg.
The feisty performance of this bike is stabilised by sophisticated electronics lifted directly from the Panigale V4 and the 'biplane' aerofoils developed by Ducati Corse aerodynamicists. Brought forward to maximise their effect, the aerofoils generate 28 kg of downforce at 270 kph, attenuating front wheel 'floating' at high speed and the tendency to wheel-up. They also boost stability during braking at the turn-in point and through the corner. On the road, this dynamic behaviour instils confidence. On the track, instead, it boosts performance by limiting electronic control intervention and allowing delayed braking.
The latest-generation electronics package on the Streetfighter V4 is based on a 6-axis inertial measurement platform which instantly detects the bike's roll, yaw and pitch angles. The electronics oversee every part of the ride: some controls manage start, acceleration and braking, others handle traction, while some lend a helping hand on corners and out-of-the-corner stretches. Safety, performance, and bags of personality: the new Ducati Streetfighter V4 has arrived!
Manufacturer Websites – 2020 Ducati Motorcycle Guide

Ducati