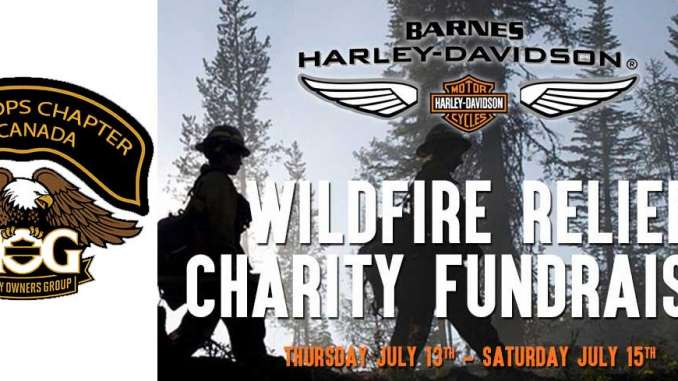 Regretfully, due to the tragic fires currently blazing in British Columbia, Harley-Davidson Canada is cancelling the H.O.G. Western Regional Rally scheduled to take place in Kamloops, B.C. this weekend from July 13th to July 15th.
We have organized a fundraiser to replace all previously planned Rally activities. This fundraiser will be taking place from Thursday, July 13th to Saturday, July 15th …at the Barnes Harley-Davidson Kamloops dealership. All funds raised during this effort will be matched by Harley-Davidson Canada.
Food and water will be available for free to all displaced families and emergency responders who are in need of a good meal. We understand that tragedies such as this place a lot of financial strain on families and we want to ensure that some basic needs can be provided.
If you were displaced by the fires and have a motorcycle with you that needs to be stored, we welcome you to store your bike at our Kamloops store at no charge for as long as necessary.
Food and water will be available by donation to the Red Cross and the Kamloops Food Bank to the community of Kamloops.
There will be live music, great food, and plentiful fundraising opportunities throughout the weekend.
For more information regarding our fundraising event and how to receive a refund of your H.O.G. Rally registration fee, please visit our website here: http://www.barneshd.com/–hogrally
Canada NewsWire
KAMLOOPS, BC, July 12, 2017
Citing safety concerns from B.C.'s wildfires, Harley-Davidson Canada and Barnes Harley-Davidson shift focus to raising funds
KAMLOOPS, BC, July 12, 2017 /CNW/ – Some 500 members of the Harley Owners' Group (H.O.G.) were planning to meet for the H.O.G.® Western Regional Rally from July 13th to 15th in Kamloops, B.C. With significant risk posed to those traveling from outside of the region, due to the volatility of the wildfires and poor air quality throughout the greater region, Harley-Davidson Canada and Rally host dealer Barnes Harley-Davidson made the difficult decision to postpone the event.
"Harley-Davidson has a responsibility to protect our customers and we take the safety and security of each and every one very seriously," says Inaki Isusi, managing director, Harley-Davidson Canada. "I would like to thank the entire Rally Committee for the extensive time and effort they contributed to the Rally planning and promotion."
Fundraising plans are currently in development and all funds raised will be directed to the Red Cross fire relief efforts as well as to the Kamloops Food Bank. Local H.O.G. members, those already en route to the Rally, and members of the Kamloops community will be welcomed at the dealership located at 1465 Iron Mask Road, Kamloops, B.C. V1S 1C8.
Once the fires have passed and the roads are safe again, Harley-Davidson and Barnes Harley-Davidson will look for an opportunity to reschedule the Rally.
"Although it is unfortunate that the Rally will be postponed, we hope that this will serve to keep our H.O.G. members as safe as possible," says Brian Barnes, Barnes Harley-Davidson. "For those who do make the choice to travel to Kamloops, we are ready to welcome them as we work together to support communities of B.C. affected by the wildfires."
About Harley-Davidson Canada In August 2015, Harley-Davidson Inc. took over distribution in Canada as part of a global strategy to establish subsidiary units in its most important markets. The new entity, Harley-Davidson Canada, has focused on bringing the full Harley-Davidson ownership experience to Canada. Harley-Davidson® motorcycle parts, accessories, general merchandise, riding gear and apparel are available in 67 independent dealerships across Canada.