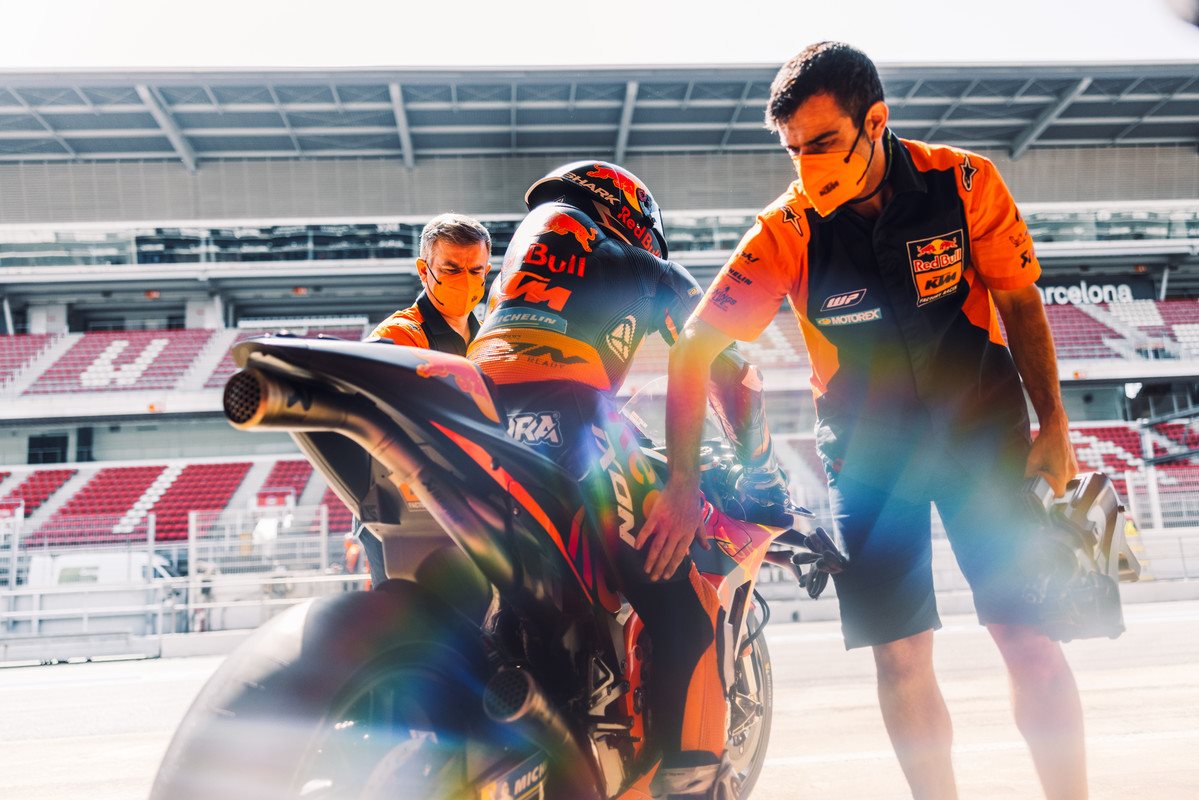 The second one-day IRTA test of 2021 meant that KTM got back to work at the Circuit de Barcelona-Catalunya only a few hours after celebrating their first MotoGP race win of the season.
After a small delay to clean the asphalt at the Catalan venue, Red Bull KTM Factory Racing and Tech3 KTM Factory Racing launched their testing program in more sunny and warm conditions. The Tech3 duo of Danilo Petrucci (the Italian with a best lap-time of 18th) and Iker Lecuona (22nd) continued to assess chassis modifications for the KTM RC16.
Race winner Miguel Oliveira (9th fastest) and Brad Binder (12th) explored set-up options based around the softer compound of the Michelin tires as well as assessing some prototypes parts previously used by test riders DanI Pedrosa and Mika Kallio; who were not in action around the Spanish circuit.
After back-to-back Grands Prix in Italy and Spain the KTM MotoGP effort will enjoy a free weekend before another race 'double' this month in Germany and then the Netherlands.
Miguel Oliveira: "A positive day. After a very good weekend we had a decent base for comparison. We did good evaluation on a couple of parts and the focus wasn't on a time attack or really fast laps but we were still quite quick. In the afternoon we focused more on what we can achieve with this package but it is always hard on a Monday because the grip conditions are quite different. It was such a great weekend that the base and the standard was already quite high. It was tricky to step it up. We were able to give our opinion on some prototype items and there has been some good work. We tried a couple of things but I liked yesterday's race bike!"
Brad Binder: "I really enjoyed riding the bike after yesterday.We managed to get quite a few laps in. We really just focussed on trying a couple of small different things. Little bits, to try and stabilise the bike on corner entry. We had some prototype parts to try and as always some negatives and some positives, so we need to really look through everything and figure out what's the next step."
Danilo Petrucci: "Quite a long day but I'm satisfied. The most important thing was to get used to the bike, and I feel well for the next two races because Sachsenring and Assen don't have long straight sections where we are currently losing time. Braking is the only part where I can make some gains. Anyway, today we had the chance to try some different set-ups and mainly with hard tires to explore the worst cases scenarios for set-ups."
Iker Lecuona: "Today we tried the new chassis. Finally, it was not about a fast lap time, so we finished quite far back but I feel very good with the bike and I'm confident for the next races. I think the bike has a lot potential to continue to improve and to fight close to the top, so I'm quite happy about today overall."
Mike Leitner, Red Bull KTM Race Manager: "This racetrack is always demanding and after we were able to catch a victory we thought today would be hard work and the lap-times showed that. But the guys worked solidly. On the Tech3 side especially, Danilo and Iker tried many ideas, so it was a productive day. We looked further at the race bike chassis and also had one extra machine that was more of a prototype for the future. We are more than happy with the outcome of what we could do here."
Sebastian Risse, Technical Coordinator MotoGP: "It was an intense day for us. The benchmark was already set high from Sunday! So it was difficult to improve from that but I think we still found some areas both in the short term and the long term where we can be better. We also collected a lot of data in pretty much all areas and some of this we might use in the next round, it largely depends on the tracks coming up and the conditions. I think we will see some things popping up and a lot of information will be going back to the factory as we have to start looking at next year's bike."
Results MotoGP Catalunya IRTA test 2021
1. Maverick Viñales (ESP), Yamaha 1:39.400
2. Fabio Quartararo (FRA), Yamaha +0.137
3. Takaaki Nakagami (JPN) Honda +0.302
4. Joan Mir (ESP) Suzuki +0.416
5. Francesco Bagnaia (ITA) Ducati +0.466
9. Miguel Oliveira (POR), Red Bull KTM Factory Racing +0.636
12. Brad Binder (RSA), Red Bull KTM Factory Racing +0.741
18. Danilo Petrucci (ITA), Tech3 KTM Factory Racing +1.537
22. Iker Lecuona (ESP), Tech3 KTM Factory Racing +1.805