Mah-Jongg – Strategy



Another super version of the age old strategy game Mahjong. Try to clear the board and be a Mahjong master.

Mah Jongg Solitaire – Strategy



New verion of the classic Mah Jongg game! Play solitaire against the clock, match as many tiles as you can to score BIG!

Marble Madness – Classic



Just like Marble Madness in the Arcade. Try to get your marble from start to end without going off the sides.

Mario Brothers – Classic



2 Players – Mario and Luigi need your help again in this classic 1983 game! Help them to investigate the sewers and don't forget to use the POW when you need it.

Mars Massacre – Action



Quick! Run to your gun! Mars is under attack and you are their only hope Luke…
Master Mind – Strategy



Try to choose the correct 4 colour combination and win!

Matrix Fighting – Sports



A very cool Matrix fighting game that is as fun to play at it is to watch. Become NEO and fight off as many agents (Mr Smith's) as you can using moves from the Matrix.

Maximum Torque – Racing



You have heard of the movie, now play the game! Choose your motorcycle, paint job and charater. Race against your opponent. Collect Nitro along the way. Do wheelies, power slides and jumps. Really fun!

Medieval Attack! – Action



If extreme army/castle action is what you are looking for, you found it! Defend your castle against the onslaught of the barbarian hordes! Fun and LOTS of clicking… 🙂

Memory Madness – Strategy



Do you find the game Simon a little too easy? Then get ready to try Memory Madness, it just like Simon but even more crazy!

(Who wants to be a) Millionaire – Strategy

Same as the popular TV show, but you don't win any actual money. But you do have a lot of fun playing it.

Mine Sweeper – Classic



Classic strategy game. Try to clear the board without hitting the mines. No worries as it gives you hits on how close the mines are. 3 difficulity levels to try.

Minesweeper 2 – Classic/Strategy



Yet another version of the classic (and highly addictive) Minesweeper is back! Try to clear the board by picking all the right squares.

Mini Putt 3 – Sports



Putt your ball around the 18 challenging courses, try to get par or better!

Mini Putt – Sports



Try to get your ball in the hole over 18 challenging courses. Have fun

Mission Something – Action



Your on a mission to do something. Infiltrate the enemy base, take the bombs, but don't let them know you were there.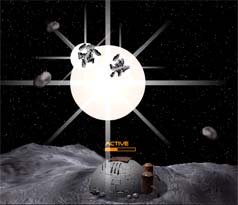 Missle Strike – Classic Arcade



Remeber Missle Command? Same thing. Defend your cities from the incomming missles… Fun and Addictive!

Monster Sumo – Sports



It is the ultimate summer poolside fight! Choose a monster and sumo your way to a win

Moon Lander – Classic



Moon Lander, another super classic and fun game! Manuever your ship to land on the landing pads for points… but watch the fuel and terrain.

Moon Patrol – Classic



Moon patrol, the arcade classic is back again! Defend the moon by going out on your very well equiped lunar rover. You will need both skill and luck to survive.

Moth – Strategy



See what all the attraction is to lightbulbs! Be a moth and just give er! Fun.

Motorcycle Turbo Sprint – Sports



Very very very fun motorcycle racing game!! Race your motorcycle on the track, past the checkpoints, avoid crashing and you might just win!!

Naval Battle – Strategy



A simple but very fun game of Naval strategy. Judge shot power and distance to hit the enemy ship as he tries to hit you! NOTE: To play, just click on button in bottom right corner. To shoot click on button on lower left corner on game screen.

NC Racer – Sports



Go speed go! Give it all you got and race around the track at break neck speeds!

Net Blazer Basket Ball
– Sports
Adjust your aim to hit the net in different positions to score big time.

Neil Hodgens Super Jump – Sports.

Ages 18+. Try to jump as far as you can, the further you jump, the more you see… Woohoo.

Office Mini Golf – Sports



1, 2, 3 or 4 players – Putt around at work on your office desks, watch out for those keyboards, envelops, post-it-notes, mice, cords, phones, pen hazzards and more!

Office War – Action



Paper Fight and YOU started it! Can you successful nail all your co-workers before they get you?

On the Edge – Strategy



Wickedly fun strategy game where you must plan your next moves carefully to comeplete the level and move on.

One-on-One-Football Soccer – Sports



1 or 2 players – Classic back and forth 1-on-1 soccer (or football). Challenge the computer or your friend to a match today!

Onslaught! – Action



Crazy, crazy, shooting, shoot up, massive action…did I say shooting type of game. Your mission shoot everything that moves…

Outerspace Escape – Strategy



Manuver your way back to the Space Shuttle and gain points along the way. Watch out for bombs, asteriods and more!

Pac Man – Classic



Firstly, there's this yellow blob (with a mouth) which has to roam round a maze swallowing little pills. Meanwhile, four ghosts (named Blinky, Pinky, Inkey, and Clyde) are chasing you as you listen to a high-pitched wailing noise.

Panik – Action



Your Panik the action rabbit in this platform level game.

Pang 2001 – Classic



Classic arcade game Pang returns! Destroy the balloons before they destroy you!

Pearls Before Swine 2 – Strategy



6 rows of pearls, you choose who goes first. Object of the game is to leave the last (1) pearl for the opponent. Tricky but fun.

Pencak Silat 2 – Sports



Good martial arts fighting game. Advance in levels, buy power ups with your points. This one has a complete story line.

Pencak Silat 1 – Sports



Good martial arts fighting game. Advance in levels, buy power ups with your points. A little different than #2.

Pharaoh – Strategy



Laura Croft of Tomb Raider would be jealous of your treasure hunting skills in Pharaoh! Invade the egyptian tomb, grab the treasures and try to get out… alive.

Pillars – Strategy



1 or 2 Players – Advance from planet to planet, weave around the obsticles and race to the goal for maximum points!

Pinball Extreme – Classic



Flashing lights, bumpers, extra balls, gates, targets and the horrible tilt. Hit the ball and try to score as many points as you can before you loose the ball…

Ping Pong – Sports



Ping pong, the classic game of knocking a little white ball over a little white net to land within a little zone on the opponents side and if they miss, you get a point! Don't worry it is easier to play.

Ping Pong 3D – Sports



Anyone for a really good game of Ping Pong?

Ping Pong Ball – Sports



1 or 2 players – Bounce, dodge and bump your way to score agaist your opponent! It's fun, it's crazy…it's just a little wacky.

Pipes – Strategy



Pipes sounds easy enough to play… connect the pipes, and the water will run through them to the destination… But it does get challenging and harder as you go…

Plinko – Strategy



Plinko is by far the most celebrated and enjoyed pricing game ever played on The Price is Right. Drop the disc and get it into the slots to win cash.

Plumber 2 – Strategy



Puzzle your way through 35 levels of fun as you try to get the water from point A to B.

Polar Rescue – Action



Artic platform game. Jump, collect and shoot your way to freedom!

Pong 2 – Classic



The original classic arcade game! Easy and simple to play, yet oh so addictive…

Power Play Hockey – Sports



He Shoot! He Scores! Slap shot your way to victory in 3 periods against a great goalie. Watch out of the defencemen as they are eagar to drop the gloves and fight it out with you!

PMG Racing – Sports



Choose one of 4 different vehicles, each with its very own attributes and race!

Prince of Persia – Strategy



A fun adventure game. Reminds me a lot of the game "Montezuma's Revenge" for the Apple IIE.

Qix – Classic Arcade



Try to trap the Qix by cutting up the game board, but watch out for sparkies! Really fun classic game.

Quick Brick – Strategy



Very fun but takes a minute to get the hang of. Complete "lines" of 3 or more same coloured blocks touching each other to get points.

Quick Draw Shooter – Action



Quick, draw yer gun and protect the west from the Bad Guys!

Reaction! – Classic



How FAST are your reactions? I bet you think your fast, maybe you would like to put that to the test?! Rates your reaction times at the end and gives you a good idea of how fast you are.

Red Beard – Action



Help Red Beard gather up the pirate gold and jewels on this fun platform type game. Arrrr, good fun there Billy!

Relax Darts – Sports



1 or 2 players – Relax, sit back, have a proper pint, order some wings or bangers and mash and let the darts fly! Tea not included.

Reversi / Othello – Classic



Easy to play! Such a classic game, win by changing his pieces to your colour!

Guys!

Risky Whisky – Action



Quick, the local warehouse needs another load of your fine whisky! Get in your pickup and take 1 of 3 routes to rush it there without breaking all the bottles!

Robin Hood Adventures Bow Shot – Strategy



Can you beat Robin Hood at his own game? Are you good enough of a shot to win?

Rocket Bike 2 – Action



Fun motorcycle game! Race, upgrade your bike and take out your opponents to score points and prizes!

Rural Racer – Action Racing



1 or 2 players, use your turbo to win! Multiply levels including snow and ice racing! Quite fun.