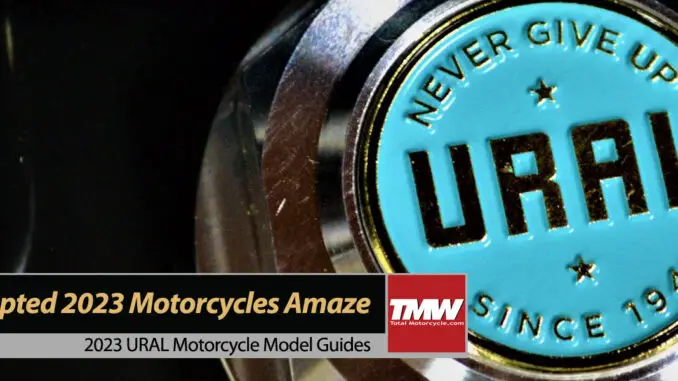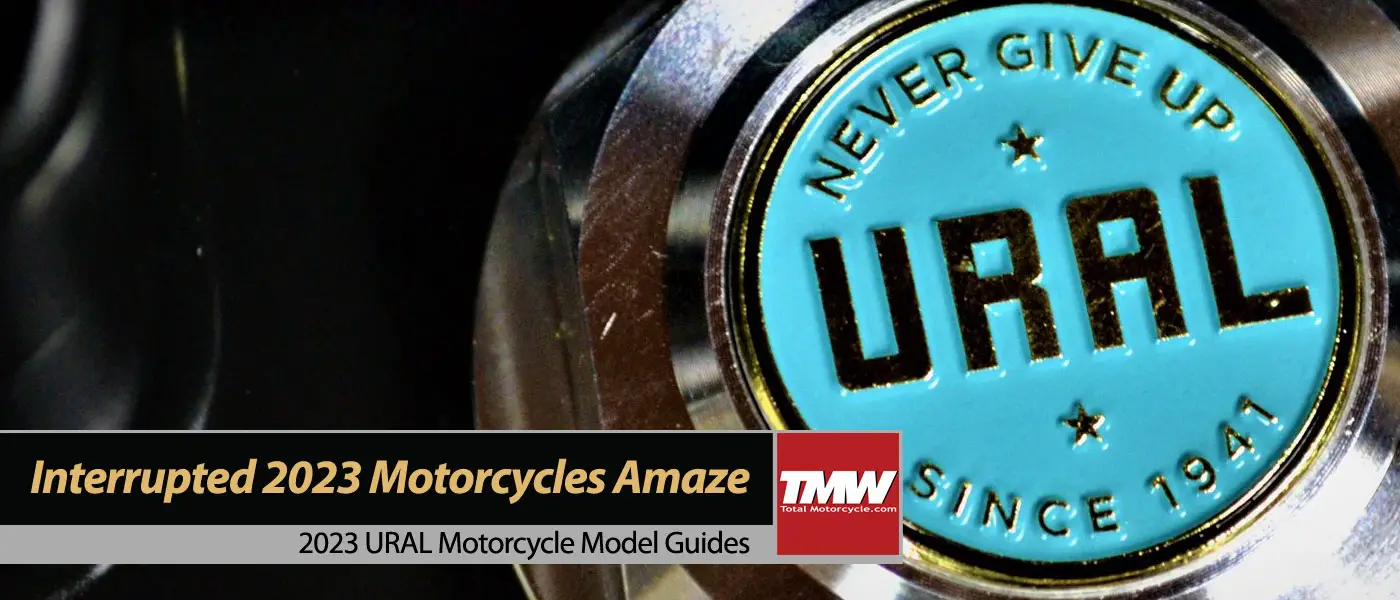 In today's uncertain world of business closures, bankruptcy's and sanctions sometimes, the most incredible, unbelievable and inspirational stories of resilience, determination and bravery emerge. Enter Ural. The company that defied all odds after Western sanctions caused their factories to close down from lack of parts and supply line disruptions and the entire factory had to move to another country; Kazakhstan. How employees moved,  entire assembly line equipment has to be repurchased and new supply lines established.
Somehow the company did it, held together and refused to quit. It's simply a miracle that we have 2 new URAL motorcycles for 2023. Interrupted 2023 Ural Motorcycles amaze riders including the first ever 2023 Ural Gear Up Right Side Drive model for England and Australia plus the revised 2023 Ural Gear Up for the USA and Canada.
Enjoy our 2023 Ural Motorcycle Model Guide right here in Total Motorcycle as well as the background stories on the Ural 2022 saga below. Only at Total Motorcycle.com; the world's most visited motorcycle website with over 400 Million Readers.
This week we will have the new 2023 Harley-Davidson Motorcycle Models launch up as well! Get excited for that.
2023 Urals Are Here!
January 11, 2023
Dear Friends,
Any other year, for any other motorcycle company, this would be great news, but not as much of a big deal as it is for us. For Ural, 2023 might've not have happened at all. It is only because of the unwavering spirit and the will to move forward of the people behind Ural, this past year we pulled off the biggest feat in the brand's 80 year old history – we managed to move and restart production in Kazakhstan!
To honor this remarkable undertaking, we decided to make every 2023 Ural with a special badge. The colors of the badge represent the colors of the flag of the country that welcomed us. We thank everyone who believed in us, supported and encouraged us along the way. This badge, and every Ural we make, comes with one promise that stands: to Never Give Up.
May 2023 bring Peace, first and foremost. The rest, we can overcome.
Safe travels and happy adventuring!
The Team at Ural

2023 Upcoming Product Changes
December 20, 2022
Dear Friends,
2023 model updates are now posted on our Yearly Model Changes page in Support section.
Watch the detailed overview with thoughtful and informative insights that you have come to expect from David's videos on our YouTube channel. Please remember to subscribe! 🙂
Stay tuned for more updates on 2023's availability and customization options coming soon.
The Team at IMWA
July 23, 2022: First Ural Assembled In Kazakhstan
We did it again! First Ural was assembled at the new location in Petropavlovsk, Kazakhstan on July 23, 2022.
It's a true milestone. We are humbled and grateful to the Ural community around the world for believing in us. Every word of support counts and fuels our team to keep on going. We are excited and determined to move forward, more than ever.
Thank you!
The Team at Ural
July 22, 2022: Setting Up Assembly Stations, Parts Shelves, More Components Arrivals
It's been a busy week in Petropavlovsk with set up, more deliveries of parts and components, couple hiccups at the customs but overall good round the clock work week. Our guys are putting in the sweat, the hours and a little bit of crazy – crazy dedication.
Assembly of the first bikes is about to start. Stand by for updates!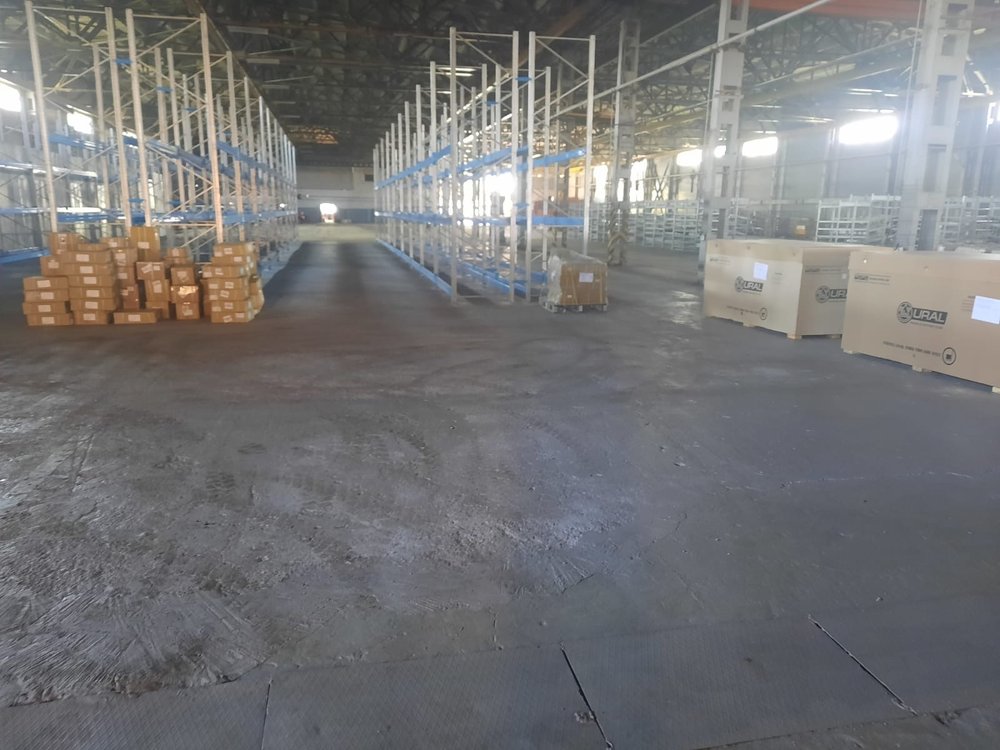 July 16, 2022: New Set Up in Kazakhstan – Almost Ready To Go
Latest Operations Update here:
The process of setting up our new assembly facility is very near completion (!) We are now in the last phase of the set up: bringing in the necessary pieces of assembly equipment and filling warehouse shelves with parts and components.
We're moving some old (refurbished) assembly fixtures from Irbit, however most of the equipment, hand tools, work benches, test stands, compressors, quality control "tunnel" and other pieces are brand new.
The trial shipment of spare parts has successfully made its way from Kazakhstan to IMWA in Redmond. Factory is now putting together two large air shipments to fulfill backorders and warranties, and also gearing up to restore "normal" way of supplying parts to our distributors with the shipments of bikes.
We received the first two shipments of production parts from our Asian suppliers in Petropavlovsk last week. There are more production parts on their way to Kazakhstan from other Asian suppliers, as well as from Europe. We're very close to completely restoring all incoming logistics.
Most importantly: the first truck with motorcycle assembly sets has arrived at IMZ-Kazakhstan from Irbit. We're expecting the second shipment from Irbit to arrive in Kazakhstan next week. The team of workers from Irbit is going to Petropavlovsk to assist with the assembly of the first shipments of bikes in the next few days.
If everything goes well, we expect the first shipment of bikes from our new assembly shop to depart around July 25th. It will be heading to the US with ETA sometime early to mid-September. Following production orders are booked for Japan, Australia and Europe.
Wish us luck and follow us on social media channels for updates.
We thank you for being there for us, stay tuned for more developments!
Ride safe and be well!
The Team at Ural