Back to Motorcycle Review Page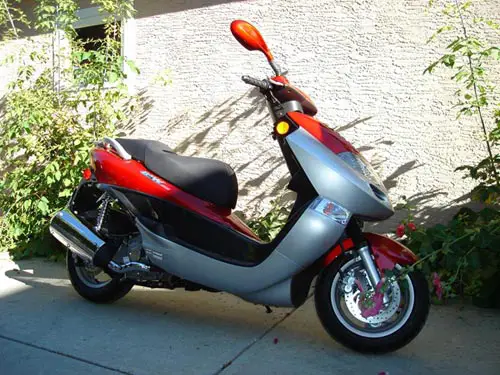 ---

Bet and Win 250 Scooter Review
Introduction
Page 1 of 4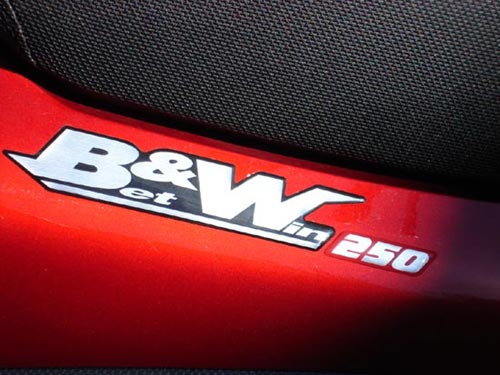 KYMCO Bet and Win 250 Scooter
A beautiful fall day awaits us as we jump onboard to test ride and review KYMCO's largest Canadian scooter offering, the KYMCO Bet & Win 250cc Scooter. How will the Bet & Win 250cc stack up? Read on…
Faced with the dilemmas of greenhouse gas emissions, urban congestion, rising fuel costs, and high insurance premiums, scooters are an environmentally friendly and socially responsible way to improve the quality of life for many Canadians. Scooters are particularly practical for commuting, and they are extremely fun to ride. They require very little fuel, low maintenance, and insurance rates are affordable for most users. Many Canadian municipalities also offer free parking for scooterists to encourage alternative modes of transportation.
KYMCO offers a complete line of scooters for the Canadian urbanite! Check out the newest trends in scooter design and technology ranging from 50cc to 250cc models. These modern rides are loaded with special features and guaranteed for fun and excitement. KYMCO offers a modern styled line of scooters, both air- and liquid-cooled, large diameter disk brakes, tons of storage space, digital instrumentation, and a great price to boot!
Kymco isn't a new manufacturer in the world, they are just new in Canada. In fact, Kymco's roots in the motor sports industry go back to its founding in 1963 in Taiwan. An ever-expanding dealer network in the USA currently serves over 600 U.S. locations, and now they are looking at the next logical step: Canada. In their first year in Canada, Kymco can boast 31 dealers across Canada. Offering a very rare industry two-year factory warranty on motorcycles and scooters, new Kymco owners are in good hands indeed.
With thanks to Sabina Heilman and Carol Anne Mandekic from KYMCO Canada*, and Jose Sousa of Motor City Fun of Calgary, Alberta*.
From city traffic to highway cruising, smooth roads, construction zones, curvy roads and even rush hour traffic, this scooter was tested in order to get a well-rounded review.
Without further ado, onto the review!

*See below for contact and website information
KYMCO in Canada

In 2005, BECO Motor International Inc. became the sole importer of KYMCO scooters, motorcycles and ATVs to Canada and is ready to let consumers know that KYMCO is here: "Our products are up to the challenge. KYMCO products are modern, durable, cost effective and user friendly" notes Walter Heilman, President of BECO Motors. KYMCO models come in a variety of colours and sizes ranging from 50cc to 250cc scooters, the Venox 250cc motorcycle and a full line of Mongoose sport ATVs. KYMCO scooters have a two-year, 20000 kilometre limited warranty. Although KYMCO is new to the Canadian market, it exceeded its sales projections for 2005 and plans to double sales for 2006. All of the models currently available for import to Canada have been approved by the Ministry of Transportation and conform to all required Canadian safety regulations. KYMCO is proud to offer the Canadian consumer an affordable, reliable and enjoyable line of products.
---

KYMCO Websites and Contact Information
KYMCO Canada, KYMCO USA (Site #2), KYMCO UK, KYMCO Germany, KYMCO Italy, KYMCO Taiwan, KYMCO Australia, KYMCO International
Dealer Websites and Contact Information
Motor City Fun Inc.
Jose Sousa
#1, 3650, 19th Street NE
Calgary, Alberta, Canada
T2E 6V2
Phone: (403) 219-8838
Fax: (403) 219-8825
If you would like Total Motorcycle, North America's leading motorcycle information website to do a test ride and ride review of your motorcycle or scooter models just contact us for information or to book a date, location and time. It is a great way to promote your model and your company to over half a million visitors worldwide each month for no cost! Contact us today to inquire.
---