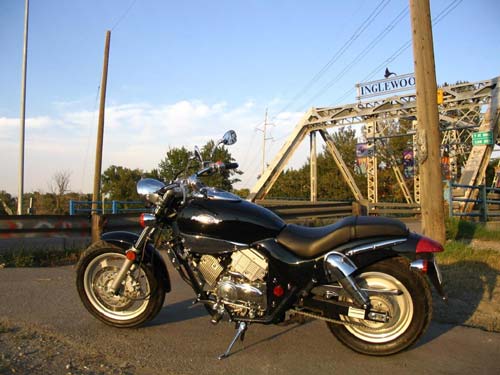 Back to Motorcycle Review Page
---

KYMCO Venox 250 Cruiser Review
Rider Test & Review 2 – Rider: Bruce
Page 3 of 8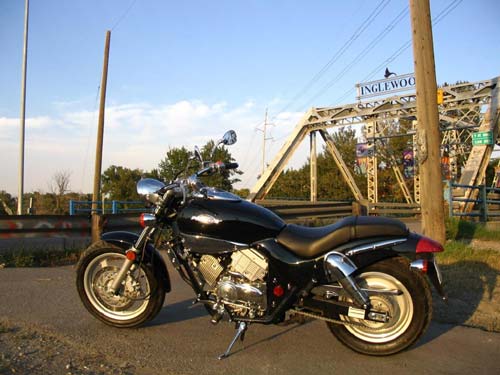 "We've got an 800 Ducati with stock pipes sitting outside the garage that doesn't sound this good" – Bruce
Being a bike fiend I am usually aware of any new bikes to come along. I know who makes crap, who makes bikes with soul, which bikes are all about the bling… But when TotalMike asked me to take a Kymco Venox 250 for a test ride I really wasn't sure what the heck it was. I assumed Korean (wrong) and I assumed it would be crap (way wrong).

When we arrived at TotalMotorcycle World Central we were greeted by an unusually smirky TotalMike, excited about catching our response when he opened the garage…. And for good reason! This thing looks much better in the flesh than in pictures. They seemed to have taken a long hard look at the ahead-of-it's-time '87 Magna, modernized it and made it their own. And this thing is BIG for a 250. It has big bike frame, wheel, tire and brake size. You really do believe that you are looking at a much larger bike. The components look well finished as well, from the chrome accents that abound to the oversized handgrips, and plush seat. The mufflers are splayed at a cool angle but suspiciously have rust forming on the cores, which ooze down the rear of the mufflers. It's a disappointing mark on an otherwise impressive looking bike. Luckily it turns out to be an abnormality, completely out of character with the rest of the bike.

As I sit on the Venox I can't help but notice how unbelievably comfortable this thing is, from the wide seat to the oversized handlebars and slightly feet forward footpegs, it works well for my 5″11″ frame. The last 250 we had in the garage (a '90 Honda VTR) felt like a 250, with a narrow seat and slightly shrunken ergonomics and THAT was what I was expecting. The seat height is low enough for someone with stubby legs but it fits the rest of us with comfort, which is cool. I fire up the engine and it sounds like a much bigger bike, which is also new for a 250.
..

..

We've got an 800 Ducati with stock pipes sitting outside the garage that doesn't sound this good.
We've got an 800 Ducati with stock pipes sitting outside the garage that doesn't sound this good (but admittedly it sounds pathetic for a Duck….come on Zard high-pipe system!). This is the kind of sound that makes you want to blip the throttle and it further paints the picture that you are not sitting on an econo-bike… nice.
On the road the bike gets under way with minimal clutch slipping (the usual norm for a big guy on a 250cc street bike), due to decent (for a 250) torque and decent gearing. The engine continues to rumble sounding like a bigger twin, but that is where the similarity ends: to move quickly you need revs, and this bike likes to rev. How high? I have no idea 'cause a tach ain't in the plan', but for merging in with traffic while on an on-ramp you need to be committed to getting on the throttle. It will get the job done, but only if it is REALLY sure you want to be there. Once you are on the freeway the super tall fifth gear keeps you cruising comfortably as long as there are no hills, wind or bursts of acceleration needed. I reached just north of 120 kph on a slight downhill, only to see it all slowly erode when the road turned upward. It's all kind of fun if you don't need a burst of speed because the bike never ever really feels stressed.

The suspension is surprisingly good for an econo-cruiser. Things work well up to a point where a large pothole will bottom the rear fairly hard. The rear suspension is pre-load adjustable, but I am likely a larger rider than what Kymco had in mind for this model. The BIG-BIKE chassis comes with the slightly ponderous "falling into the corner" attribute common with larger cruisers. This is not an issue once you adapt. The complete chassis, however, keeps itself feeling very planted by maintaining that big-bike solid feel once lined up into a corner.

..

..

It has all the right sounds, looks and feel, and the quality feels on par with, and in some cases better than, the Japanese models.
The Venox feels large for a 250 (which it is) and this is a good thing, especially once a new rider moves past parking lot training sessions and onto the road. I am not usually a fan of recommending a 250 cc bike if there is any highway riding in the picture due to instability when dealing with cross-winds and passing large trucks on the road. The chassis of the Venox is up to the task however, and a new rider should easily adapt to the little extra weight it carries.

Overall I was really impressed with this bike. It has all the right sounds, looks and feel, and the quality feels on par with, and in some cases better than, the Japanese models. The price is great as well, listing at roughly the same as what our old VTR 250 had listed for in 1990! I can't help but feel though, if this thing were 400cc, it would own the starter bike market (in North America at least). That little bit of extra power would make all the difference to the buyer, and since the chassis, suspension and brakes are already up to the task I would like to see them make a 400 cc version of the Venox. I am sure that Kymco is working on it already, and if the whole package works as well as this bike, I can't wait to ride one.

Cheers,
High_Side

Page 1 • Page 2 – Page 3 – Page 4 – Page 5 – Page 6 – Page 7 – Page 8
If you would like Total Motorcycle, North America's leading motorcycle information website to do a test ride and ride review of your motorcycle or scooter models just contact us for information or to book a date, location and time. It is a great way to promote your model and your company to over half a million visitors worldwide each month for no cost! Contact us today to inquire.
---