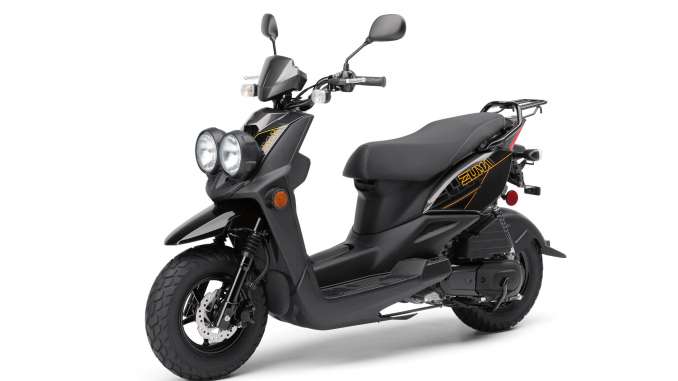 LOVE. FUN. FREEDOM.
Big on fun and easy on the wallet, the gas sipping 4-stroke BW's 50 is your ticket to an independent city lifestyle. It's designed to take the urban mobility concept to an exciting new level. Love the ride, enjoy the freedom and fun.
The BWs50 in Canada is called the Zuma 50F in the USA.
///Engine
49cc, liquid-cooled, SOHC, 3-valve, fuel injected, 4-stroke engine produces peppy, easy to use power with incredible fuel economy. The concept of this environmentally friendly engine is solid performance with low emissions and excellent fuel economy.
///Storage
Spacious 23 litre, lockable under seat storage can hold selected full-face helmets or other items like a backpack, lap top computer, rain suit etc.
///Fuel Economy
Fuel consumption of approximately 55 kilometres per litre or 158 miles per gallon (imp.). Your actual consumption may vary.
Handy front mounted storage pocket for small items like cell phone or wallet.
• Rugged rear cargo rack. Rack can be used as mount for accessory top box
• Front mounted folding hook for additional carrying convenience, perfect for bags & handbags
• Stylish clear turn signal lenses
• Rear fender extension reduces road splash
• Easy-to-use centre stand
• Easy access oil level dip stick
• Side reflectors enhance visibility
• Low maintenance, sealed battery (battery should be charged during winter storage)
2018 Yamaha BWS 50 Totalmotorcycle.com Features and Benefits
///ENGINE
•49cc, liquid-cooled, SOHC, 3-valve, fuel injected, 4-stroke engine produces peppy, easy to use power with incredible fuel economy.
•Fuel consumption rating of approximately 55 kilometers per litre or 155 miles per gallon (imp.). Your actual consumption may vary.
•Fast, dependable electric starting.
•Maintenance-free transistor controlled ignition (TCI).
•produces a strong spark for fast starts
•provides precise ignition timing / mapping for optimum engine performance at all rpms
•Fan-assisted, liquid-cooling.
•maintains consistent engine temperatures even in stop & go traffic
•liquid-cooling allows for a higher state of tune / performance
•reduces mechanical engine noise
•3- valve cylinder head.
•utilizes two intake valves & one exhaust valve
•excellent breathing efficiency & excellent fuel economy
•Roller rocker arm valve actuation.
•specially designed roller rocker arms reduce friction for increased power
•reduce mechanical engine noise for a quiet, enjoyable ride
•Intake & exhaust valves feature a special "carbon cutter" valve stem design.
• automatically removes carbon build up from the valve stems
•maintains maximum engine efficiency & power, even during extended slow speed use
• (carbon build up on valve stems can lead to sticky valves & poor performance)
•Lightweight, aluminum cylinder features ceramic composite plating on the cylinder bore.
•insures uniform heat dissipation
•reduces internal friction & weight
•Lightweight crankshaft with carburized connecting rod & lightweight forged aluminum piston.
•optimizes engine performance & provides fast throttle response
•excellent durability (carburization is a heat treating process that increases the strength of steel)
•reduces mechanical vibration
•19 mm, "closed loop" throttle body fuel injection system.
•excellent fuel economy & good throttle response
• "closed loop system" uses an oxygen sensor to "sniff" spent exhaust & automatically adjust the fuel / air ratio for reduced emissions
•fuel injection benefits include choke-free starting, steady idling during warm up, excellent fuel economy & reduced emissions
•BWs 50 uses regular 87 octane gasoline.
•Easy access, paper-type air filter is used. Air box design reduces intake noise.
•Centrifugal oil filtering system.
•automatically removes any particles found in the oil
•never requires cleaning or maintenance
•Fully automatic CVT transmission (CVT = constantly variable transmission).
•"twist-the-throttle-and-go" operation
• no clutch lever or gear shifting involved – the transmission is fully automatic.
•Environmentally responsible exhaust system produces a very quiet exhaust note.
• muffler contains dual honeycomb-style catalytic converters to reduce emissions
•Air induction System (AIS) further reduces harmful exhaust emissions.
•AIS system injects fresh air into the exhaust to ensure complete fuel combustion
•also helps to maximize the function of the catalytic converters
///CHASSIS/SUSPENSION
•Rugged "underbone-style" steel frame.
•makes getting on & off the BW's easy
•Wheelbase, centre of gravity, weight distribution & tire design, have all been engineered to provide light, agile handling & great manoeuvrability.
•26 mm hydraulic front fork.
•58mm (2.3″) of wheel travel
•rubber fork gaiters / boots extend service life of fork seals & protect inner tubes from chips
•Single shock unit swingarm rear suspension.
• 56mm (2.2″) of wheel travel
•good ride quality
•Lightweight, rugged 5-spoke aluminum "mag" wheels with wide, tubeless tires.
•wide, aggressive, tubeless 120/90-10 tires front & rear
•tires well suited for rough, "pot holed" urban roadways
•tires provide lots of grip & help create BW's unmistakably fun look.
•180 mm front disc brake with single piston caliper.
•"wave style" rotor adds style
•excellent stopping power
•Rear drum brake.
•good stopping power
•fast & easy wear compensating adjustments via wing nut adjuster
•Both front & rear brakes are hand-operated like on a bicycle… making riding simple and fun.
•Instrumentation includes: speedometer, odometer & fuel gauge.
•also warning lights for coolant temperature, high beam, turn signals & engine warning light
•Spacious, 23 litre, lockable under seat storage.
•can hold selected full-face helmets
•or everyday commuter items like rain suit, laptop, briefcase, etc.
•Plush seat provides excellent comfort & plenty of room.
•4.5 litre fuel tank with locking gas cap and in tank electric fuel pump.
•accessed via a panel on the "foot tunnel"
•filling location keeps the centre of gravity low for easy handling
•location minimizes mess if some fuel gets accidentally spilled
•excellent fuel economy means an extended riding range & fewer fill ups
•Multifunction, 3 in 1 main key switch operates ignition, fork lock & under seat storage lock.
•special anti-theft "shutter" blocks key hole access to prevent tampering
•Dual 35 watt halogen headlights.
•excellent illumination & rider visibility
•design enhances BW's tough yet sporty rally styling
2018 Yamaha BWS 50 – Totalmotorcycle.com USA Specifications/Technical Details
US MSRP Price: $ USD
NA
2018 Yamaha BWS 50 – Totalmotorcycle.com Canadian Specifications/Technical Details
Canada MSRP Price: $2999 CDN
///Engine
Engine
4-stroke, liquid-cooled, SOHC, 3-valve, single
Displacement
49cc
Bore and Stroke
38 x 43.6 mm
Compression Ratio
12 : 1
Maximum Torque
0.4 kg-m (3 ft-lbs.) @ 6,500 rpm
Fuel Delivery
Mikuni 19mm throttle body F.I.
Estimated Fuel Consumption±
55 kpl / 155 mpg (imp.)
Lubrication
Wet sump
Ignition / Starting
TCI / Electric
Transmission
Fully automatic CVT
Final Drive
Enclosed V-belt / Spur gear
///Chassis
Suspension (Front)
26mm fork / 58mm (2.3″) wheel travel
Suspension (Rear)
Single shock unit swingarm / 56mm (2.2″) wheel travel
Brakes (Front)
180mm disc / single piston caliper
Brakes (Rear)
Drum
Tires (Front)
120/90-10
Tires (Rear)
120/90-10
///Critical Data
Length
1,855mm (73 ")
Width
730mm (28.7 ")
Height
1,095mm (43.1 ")
Wheelbase
1,280mm (50.2 ")
Ground Clearance
115mm (4.5″)
Seat Height
770mm (30.3 ")
Fuel Capacity
4.5 litres (1.0 Imp. gal.)
Wet Weight
93kg (205 lbs)
Maximum Load
85kg (187 lb)
Colour(s)
Midnight Silver
Metallic Red
2018 Yamaha BWS 50 – Totalmotorcycle.com European Specifications/Technical Details
Europe/UK MSRP Price: £ GBP (On The Road inc 20% Vat)
NA
Manufacturer Specifications and appearance are subject to change without prior notice on Total Motorcycle (TMW).