You are here: Index — '80 CMB400T
1980 CBM400T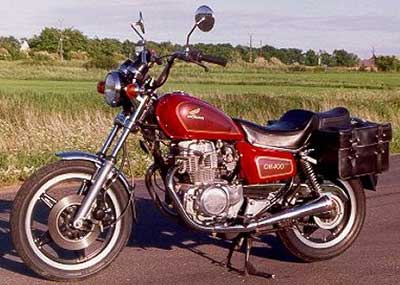 "Project"
The project bike that never did happen but gave it a good go.
I had great intentions, to rebuild my crashed CB400T into a CM400T frame I purchased, take the best of both worlds and make a new bike combo; the CBM400T. Would have looked like the above photo except with the CB400T engine. (in other words, pretty much identical appearance wise).

Sold the CM400T and CB400T bikes after I bought the Suzuki GS550.

What I did do for this project was to completely strip the CM400T down to the frame, repaint the frame and start to put it all together, then winter hit with -40oC temperatures and snow! Brrr…

 

Suggestions:

As I said, it was a great idea, but here are some tips for making a project like this successful:

– Don't do it by yourself it is easier to have a friend there with you help you out rather than sit and fix something for hours alone in a garage.

– Make sure you use your own garage and not someone elses.

– Put small things (bolts, screws, etc) in zip lock bags and label them. So you know where they go and you don't end up with a big bag full of parts at the end and are not sure where they went (but the bike works!).

– Keep going at it and don't take a long time off (month) so your memory of how things should be is fresh.

– Get a heat source (or heated garage) if you are going to do it in the winter.

– Do one major section of the bike at a time rather than the whole thing at once.