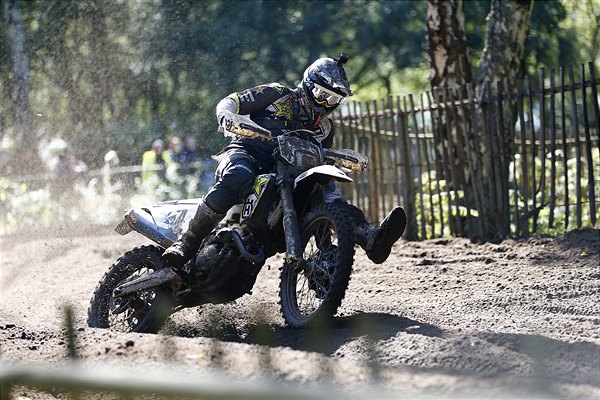 ROCKSTAR ENERGY HUSQVARNA FACTORY RACING'S BILLY BOLT FINISHES THIRD AT HAWKSTONE PARK CROSS-COUNTRY IN GREAT BRITAIN
Continuing his recent run of good form, Rockstar Energy Husqvarna Factory Racing's Billy Bolt once again showed his class in this year's World Enduro Super Series to claim another podium finish with third at his home round of the championship. In doing so the young Brit moves to the top of the WESS standings with two rounds remaining. Further success for the Rockstar Energy Husqvarna team came from Bolt's teammates Graham Jarvis and Alfredo Gomez who placed ninth and 10th respectively.
Staged at the iconic Hawkstone Park venue the two-day event saw the 650 competitors entered kick things off with a Sprint Enduro qualification on Saturday. Utilising the legendary Motocross circuit and surrounding woodland, riders battled against the clock for position on the Motocross and Enduro special tests. Showing strong pace in the woods, Bolt put in impressive times to qualify an eventual third for Sunday's two-and-a-half-hour Cross-Country race.
Knowing the pace would be hot from the off, Bolt was quick to establish himself inside the top five of the 250 qualifiers. Using his ability to make light work of the technical climbs to his advantage, he moved himself up the leader board to place second at the mid-way point of the race. However, a couple of mistakes saw him lose some time, slipping back one position, but nevertheless he claimed a well-deserved third place result.
For Graham Jarvis the Cross-Country nature of the race did not weigh in the Husqvarna rider's favour. Determined to put on a good show for his home fans, the Erzbergrodeo winner pushed hard and despite suffering a bad start he steadily worked his way forward, gaining positions as the physical nature of the race took its toll on riders. He eventually finished in a hard-fought ninth.
Also more accustomed to Hard Enduro terrain, Spaniard Alfredo Gomez had his sights set on a top-10 finish at Hawkstone. Although crashing off the start, he knew the sandy, woodland whoops would slow the field of riders as the race wore on. Feeling strong towards the end, he maintained a fast pace throughout to fight his way home for 10th.
The World Enduro Super Series continues with round six at Sweden's Gotland Grand National on October 26/27.
Billy Bolt: "I knew my pace was good today but my plan was to just ride my own race and see where I finished. I knew Josep and Nathan would be fast so I wanted to stick to a steady rhythm and hopefully be not too far behind. I caught up to Nathan at one point and was a little stronger in some of the sections. I started to crash a little bit so just eased off a little and focused on claiming a safe third for the championship. The track was great, there was one rock-step that I was hitting quite hard and jumping – the crowd really loved it but then it started to get a bit gnarly, so I had to take it a little easier. The support from the fans was incredible – all the way around the track they were cheering and spurring me on. Finally, to be back on the podium and also leading the championship has capped off a great weekend's racing."
Graham Jarvis: "I got a bit of a bad start and had to fight my way through the pack for most of the race. I'm happy with a top-10 and was getting faster towards the end of the race too – so that's positive. I really enjoyed riding the 250 four-stroke – it's probably the best bike around here and handles the ruts well when you get off-line. It's always cool to ride a home race. Having the crowd cheering all the way around was a nice boost. Overall, I'm happy with how things have gone this weekend because my speed on both days was good, so that's encouraging for the next one."
Alfredo Gomez: "That was a really tough race for me. I started well but came together with Lars Enockl in the first corner and went down. I was running close to last place and so I had to spend the race passing people right up to the end, where I fought through to 10th position. It was very physically tiring, but I am happy to get to the finish."
Results – Hawkstone Park Cross-Country, WESS Round 6
1. Josep Garcia (KTM) 15 laps, 2:30:03.444; 2. Nathan Watson (KTM) 2:31:34.016; 3. Billy Bolt (Husqvarna) 2:32:52.010; 4. Taddy Blazusiak (KTM) 2:34:39.777; 5. Jaume Betriu (KTM) 2:35:58.297; 6. Alex Snow (Honda) 2:37:39.788; 7. Manuel Lettenbichler (KTM) 2:40:29.096; 8. Paul Bolton (KTM) 14 laps 2:31:09.353; 9. Graham Jarvis (Husqvarna) 2:31:50.623; 10. Alfredo Gomez (Husqvarna) 2:33:26.699…
World Enduro Super Series Standings (After round 6 of 8)
1. Billy Bolt (Husqvarna) 4060pts; 2. Manuel Lettenbichler (KTM) 3935pts; 3. Josep Garcia (KTM) 3320pts; 4. Wade Young (Sherco) 3220pts; 5. Taddy Blazusiak (KTM) 2985pts; 6. Jonny Walker (KTM) 2900pts; 7. Nathan Watson (KTM) 2778pts; 8. Graham Jarvis (Husqvarna) 2768pts; 9. Paul Bolton (KTM) 2752pts; 10. Lars Enockl (Gas Gas) 2076pts…