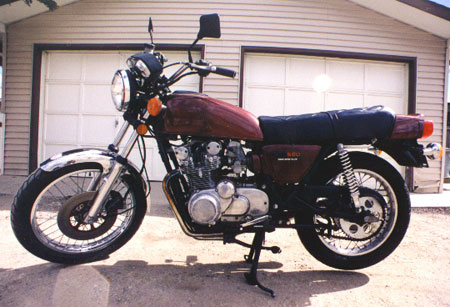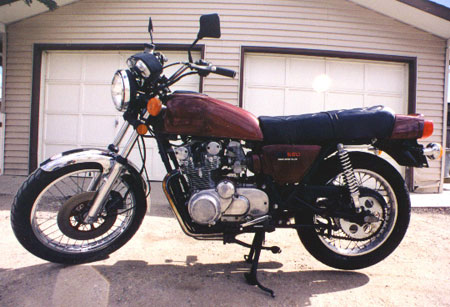 UJM – Universal Japanese Motorcycle (my old 1978 Suzuki GS550)

UJM – Universal Japanese Motorcycle – 1. Term given to Japanese motorcycles of the 80's, because visually they all looked alike; an air cooled 550-750 inline-4 with straight tank and seat, until you were close enough to read the tank emblems they looked identical. 2. During the 1970 and early 1980's, the Japanese became so indentified with the four cylinder, standard style motorcycle that this term was coined to describe those bikes.
Ultracapacitor – A very high capacity energy storage system consisting of two parallel conductive plates separated by an insulating material.


Under Brake – Failure to apply the brakes to their full capability, resulting in a longer than needed stopping distance. This is usually caused by fear of the results of over braking.


Undersquare – Stroke greater than "bore". Usually produces more horsepower but less torque than an oversquare engine design.
Unitized Transmission – A transmission (often referred to as a "unit transmission") that is an integral part of the engines bottom end.
Universal joint – A method of transferring power from the transmission to the rear wheel (ie. Chain drive, Drive shaft, Belt).
Unsprung Weight – Parts of the motorcycle below or not supported by the suspension such as the rims and tires.


Upside-down forks – Telescopic forks in which the lower section telescopes into the fixed upper tube. They are sometimes referred to as inverted telescopic forks on older bikes.
Up-Sweeps – This referred to the style of exhaust that would run up along the side of the bike at an angle often up to the sissy bar or as far as the owner wanted.
Urban MPG – The miles per gallon achieved on urban routes, as tested by the manufacturer from a cold start.
Urban Tumbleweed – Plastic grocery bags/sacks that either fly up onto a hot exhaust or into your face.
---