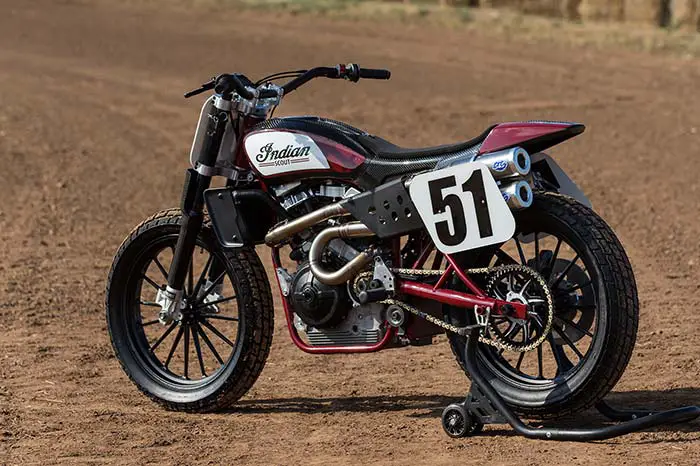 Indian Motorcycle Privateer Jeffrey Carver Jr. Secures First Win Aboard Scout FTR750, Reigning Champion & Points Leader Jared Mees and Privateer Kenny Coolbeth Jr. Complete the Scout FTR750 Podium Sweep
SPRINGFIELD, IL (May 29, 2018) – Indian Motorcycle Racing's Scout FTR750 continued its dominance at the legendary Springfield Mile, sweeping the top seven positions for the second consecutive race. Indian Motorcycle privateer and Illinois native, Jeffery Carver Jr. (Roof-Systems, Indian of Metro Milwaukee) captured his first win aboard the Scout FTR750. Reigning Grand National Champion and current points leader Jared Mees continued his impressive season with a second-place finish. Indian Motorcycle privateer Kenny Coolbeth Jr. (Nila Racing/Columbia Avionics) found the podium for his fourth time this season as he finished third. The podium sweep marks the fourth consecutive race of an all-Scout FTR750 podium.
In a thrilling start, Carver, Mees, and Coolbeth battled for the top position along with Indian Motorcycle privateer Davis Fisher (RMR/Double D Performance). Carver fought his way to first and created a gap between him and the rest of the pack in the second half of the race. Mees secured second place by overtaking Fisher in the 20th lap, who ended up in the fourth spot after Coolbeth worked his way to third place.
"To get my first win of the season at the legendary Springfield Mile is truly special. The history here is incredible and it's always been a race I have wanted to win," said Carver. "My team had the Scout FTR750 dialed in. We're putting it all together and it's giving me the confidence to race hard."
Of the 12 Scout FTR750's competing in the Main, 11 finished inside the top 12 positions. Wrecking Crew rider Bryan Smith finished fifth, while Indian Motorcycle privateers Chad Chose (Indian Motorcycle of Oklahoma City) and Henry Wiles (Wilco Racing/Willy Built/Bandit Industries) placed sixth and seventh, respectively. AFT Singles rider Kevin Stollings, who won the Arizona Mile for Singles, jumped over to the Twins Class and finished 11th in his first race aboard the Scout FTR750.
"It's awesome to see Jeffrey get his first win on the Scout FTR750. He's been a fierce competitor this season so to see him and his team put it all together and get the win is fantastic," said Gary Gray, Vice President – Racing, Technology & Service for Indian Motorcycle. "With back-to-back races of taking first through seventh, it's clear many riders are feeling comfortable and confident on the Scout FTR750.  With the Red Mile and OKC Mile approaching, it's likely a few of these guys who have been close will break through and compete for that top podium position – just as Jeffrey did at the Springfield Mile."
Through seven races this season, Mees remains at the top of the leaderboard with 145 points, while Wiles holds second-place with 101 points and Coolbeth in third with 90 points. Carver, Brad Baker, Fisher and Chad Cose currently sit fourth, sixth, seventh and eighth place, respectively.
The Indian Wrecking Crew and stable of privateers aboard the Scout FTR750 will continue its season on June 2 at the Red Mile.