Total Motorcycle
More than a name, it is a brand of quality.
"Professional. Unbiased. Quality second to none. With 300 Million Readers and 19 years online we have built a solid, trustworthy and dependable reputation; these are some of the reasons we are the leading motorcycle website in North America. Total Motorcycle; your destination for everything motorcycle related from guides, community forums, bike, gear, products and accessory reviews, views and opinions and an additional 400,000 pages of you just need more.
Total Motorcycle – Built by Riders for Riders."
– Introduction
– Total Motorcycle website featured in magazines
– Miscellaneous Awards 
– Countries we are visited from
– Terms of Use & Privacy

Did you know that Google.com is just 1 year older than Total Motorcycle.com? That's how long Total Motorcycle has been on the internet helping support motorcyclists and motorcycling worldwide! In fact, Total Motorcycle is 4 years older than Facebook! And can you imagine a time when Google and Facebook wasn't around?
Introduction:
Well, this has got to be one of the least frequently updated sections of the website. It is not because we don't get accolades, awards, letters of appreciation or offers to visit fans around the world, we do! Let's face it, I am just modest!

Here are some of the things we are very proud of we would like to share with you, visiting our website and reading this right now.

Thanks to our Sponsors, members and visitors for making Total Motorcycle so
successful in supporting motorcyclists and motorcycling worldwide for over 12 years.

Total Motorcycle has been featured in/on:

– Los Angeles Times
– The Bikers Atlas
– Practical Living Magazine
– How to Ride a Motorcycle,
– Cycle Torque Magazine,
– AME Magazine
– Cycle Canada,
– BBC4
– CISL 650 Vancouver
– Bike Trader
– Plus many more
Visitor Comments:
I want to take a minute to thank you for all the information on your web site. I recently purchased a new Harley-Davidson but only after 3 months of research into all the brands on the market today. Your site was one I relied upon heavily for information relating to individual bikes and reviews, accessories, riding gear. Your site was a big help to me and made my shopping much easier. When I finally settled on a bike to buy I was comfortable with the knowledge I had gained and was able to walk into the dealer more confident of my decision. Thanks again

A very satisfied new motorcycle owner

Larry
NE Missouri

================================================

Just some words of whit !
I found your web page yesterday via Yahoo.com on a general search. I just wanted you to know that so far it is the BEST motorcycle web page I have come across. It is just packed full of good information.

I was looking at the Suzuki DR 650SE. I got the brochure from the dealer and it does not have the horse power of the bike listed at all. You web page does, and so much more. If I had four hands I'd give you people four thumbs up!

Great job and keep up the great job.

Barry G. Kery
Bethlehem, PA

================================================

THANK YOU SO MUCH FOR PROVIDING THIS RESOURCE! I just really wanted to let you know how much I appreciate that this is here – the new rider stories and everything is so helpful! Beginning in motorcycling is like joining a secret society and trying to figure out the password by yourself it seems but your site really clarifies a lot of things for me. So thank you very much for providing such a great resource!

– Jonah Lather

================================================

I love the site and will continue to send new riders there.

Best wishes!

S'miles and hugz,
Sasha

================================================

I just wanted to take a second to thank you for sharing your beginning
riding experiences as well as your guide for beginners. It really helps to
know as a beginner I'm not a complete flunky if I stall the bike once in a
while (for some reason I had this idea that everyone but me gets this right
almost right away).

Anyway, your openess about the learning process as well as the route guide
are just great. Thanks again!

-Bryce Mohan

================================================

Hey! Just found your site and spent all morning crusin here, great place!
SMS

================================================

Hi, first of all, great website! Loads of information!

Thanks for your
help! John.

================================================

Howdy! I just discovered your website and am loving it. Great work!

Thanks and safe riding!

Les "Weatherman" Jones

================================================

Just wanted to let you know I really enjoy reading the forums on your website.
– Tony Degnan

================================================

Thankyou for providing the "Reliable Used Motorcycle Buyers Guide" section of your site. I found it very informative; thanks again for your insight. – Josh

================================================

What a great website you guy have, just phenomenal. – Glenn Castiglione

================================================

You have a great site with a lot of good information, and I plan to use it to help me make a decision as to what bike to get. – Paul Croteau

================================================

THANK YOU! The exploded view drawings of my bike (XJ650RJ) are big help. You have a great page! – Edward Eckbreth

================================================

This is awesome. I have just found your web site and could not be happier.
– Dave Gagne

================================================

I really have found your website so helpful that i think it's the most thorough and thoughtful I've read. The cc versus horsepower and moving parts, etc. helped more than any other website has. – Kim Murray

I've been on the TMW forums for about 2 months now, and I love the site! When I initially decided to get back into riding, I signed into four different motorcycle forums, including yours. I have since eliminated all but yours.

I feel TMW meets all of my needs as a motorcycle enthusiast. – Matt

================================================

great site and getting better all the time. – Tony Marchitto

================================================

I am getting back into motorcycles after being out for about ten years. I found your website and must say it is one of the best anywhere on the net. I'm doing a lot of research and your sight is a great help when considering different vintage bikes. I am very impressed. – Greg White

================================================

Hello there,

Have recently discovered your superb motorbiking web site at http://totalmotorcycle.web1000.com/index.html.

What an excellent website with lots of excellent articles, links & things to think about!!!!!

Many thx for making this so freely available on the web!

🙂 Andreas in Oz

================================================

Last Sunday, I got my 1975 Honda CB-750 as a "parting gift" from my boyfriend… I know virtually nothing about motorcycles, but I knew I wanted this bike. He showed me how to start it, get it into first gear and cruise in a straight line, then he left.

So here I am with a big, cool motorcycle and not really a clue of what to do… then I just managed to surf onto your site tonight and have spent the past couple hours diligently reading all you've written for beginner bikers. THANK YOU! It has been the most comprehensive site I've found yet for information for a beginner like me. I plan on taking the MSF course as soon as I can carve away three days in my schedule and plan on following your guide to learning how to ride on the road. I just wanted to say how much I appreciate the information and again thank you for posting it.

Lily J.

================================================
Thanks to your advice, I ordered some tubes of Autosol from mscdirect.com and also bought some Mother's pre-wax cleaner and Meguiar's gold wax. I haven't got around to using the wax yet…these past few nights have been spent working with the Autosol on the exhaust, engine covers, forks, etc. It took some work using sponges but the chrome and aluminum looks almost brand new. Engine covers that I thought needed replaced look practically brand-new and shiny now. I have to admit I am absolutely amazed. Even the exhaust which had rust and discoloration is back to a nice shiny chrome. I plan to send a couple before and after pics to you when I'm done.

Anyway, I am a true believer of Autosol…the stuff works wonders.

Thanks again for your website which gave me the advice…

Scott
83 Nighthawk 650
================================================

I think the beginning bikers section is just fine the way it is. Your suggestion on taking the safety courses offered was the best thing you could say. It teaches you so many things you never think about. I already had my license, but decided to take it anyway. What an eye-opener. I never realized how many things I did or could do differently.

Well thanks again for such a great site. I'll be sure to check back often.

Teresa

================================================

Thanks for a great website. – Adrian

================================================

Great little web page you put together!

Found it from doing a Sherlock II search from the old Macintosh,
and your page made first hit! Thank god it did!

Thanks for spending the time and letting others know about these
bikes, recommending parts, and providing the links!

Take care, and ride safe!

Kevin Elsdon

================================================

…and last but not least the tonnes of thank you's I get from those who submit their motorcycle photos in our Galleries.

Thank you all for making this huge effort all worth it.

Michael & Andrea Le Pard
Total Motorcycle Website Featured in magazines and radio:
CISL 650 Vancouver
Los Angeles Times Newspaper
BBC Radio 4
Practical Living / Fine Living Magazine
Cycle Torque Magazine
2004 Bikers Atlas
Bike Trader

================================================

Practical Living / Fine Living Magazine features our website in their selects section as one they best liked as a resource of information!

Fine Living Editorial Policy: Fine Living Selects

1. Fine Living Selects are an editorial feature of Fine Living Network and FineLiving.com and adhere to strict journalistic standards. They feature products and services in the Fine Living categories that would be of interest to viewers and website visitors.

2. Fine Living editors choose Fine Living Selects by speaking to experts and searching the Web, catalogs and magazines without regard to any commercial interaction or affiliation agreement between the manufacturer or service provider and Fine Living or other Scripps Network or business unit.

3. Selections are made based on form, function, value, quality of experience and interest to viewers and/or website visitors.

Total Motorcycle featured in the Cycle Torque Magazine

December 28th, 2003: Thanks to the Australian motorcycle magazine Cycle Torque for featuring us in their magazine. Unfortunately we don't have a copy of it. Richard Sanford referred to us as "Total Motorcycle, A beginners guide, a huge gallery, Everything is right here…"

Total Motorcycle featured in the 2004 Bikers Atlas




December 28th, 2003: On page 27 you will find Total Motorcycle featured under the Wicked Websites section. Thanks to the Bikers Atlas for featuring us.

Total Motorcycle featured in Bike Trader

February 20h, 2004: Thanks to the United Kingdom's Bike Trader for featuring us in their magazine. We thank them very much for taking notice of our (Total Motorcycle) growing website and for the line "It has more or less anything that any biker – from novice to life-ling rider – could wish for"… Many thanks from all of us at TMW!

Total Motorcycle featured on BBC Radio 4 (Radio)

November 25th, 2006 on Radio 4 at 1545: Program name Engines on Song; BBC 4.

Engines On Song
Friday 25 November 2005 15:45 (Radio 4 FM)

When a car engine is in tune, it is said to be 'On Song'. What a good excuse to immerse ourselves in the songs and stories that have been inspired by car engines over the years!

Singer/songwriter Chris Rea and experimental guitarist Jeff Beck join Alun Lewis for 15 minutes of gratuitous engine revs, and with the help of James May from Top Gear, find out how and why different cylinder engines can produce such evocative sounds.

It will air at 15:45. Thanks to the BBC Radio 4 for featuring us on BBC Radio Four.

Total Motorcycle featured in Rocky Mountain News

Rocky Mountain News – June 12, 2006

Total Motorcycle featured in the Los Angeles Times Newspaper

December 6th, 2006: A special thank you to Susan Carpenter, Times Staff Writer for the Los Angeles Times for involving Total Motorcycle with her Believable MPG Figures column in the L.A. Wheels section. We are more than happy to help her out and gratefully thank Susan and the Los Angeles Times Newspaper for mentioning Total Motorcycle in the column. Many thanks from all of us at TMW!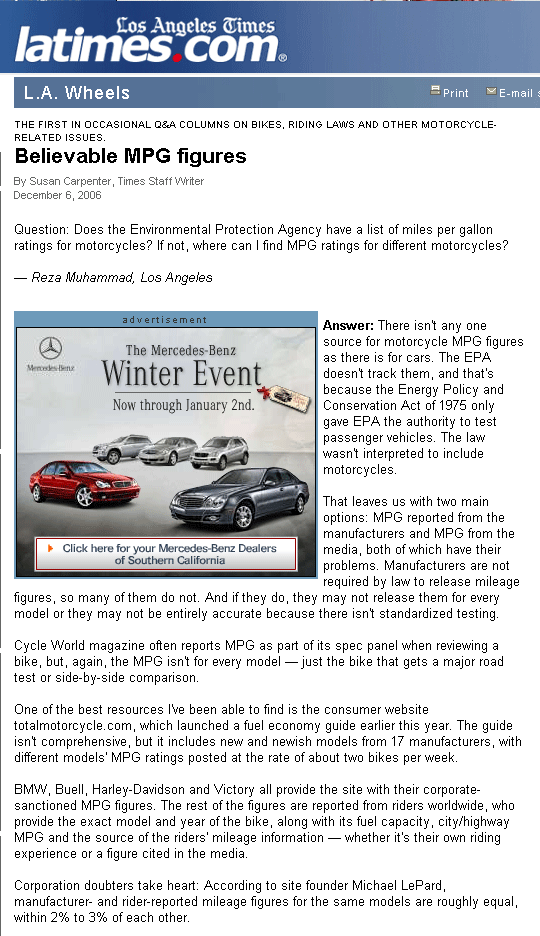 You can also see this column in the L.A. Wheels section online here at The Los Angeles Times

Total Motorcycle featured on CISL 650 Vancouver Radio



Rolling Thunder Radio
Monday 21 May 2007 8:25pm-8:45pm

On May 21st, 2007, Total Motorcycle founder Mike Le Pard has been invited to talk about the world of motorcycles and motorcycling on CISL Radio 650 Vancouver. Be sure to check it out and listen live on your radio or via the Internet!

Listen Live: http://www.650cisl.com/player/player
Visit the Rolling Thunder Radio Show section
Visit 650 CISL Radio: http://www.650cisl.com

About the show
Join Brodie Giles and Roberta Horwood as they hit the airwaves at 650 CISL to talk about riding. They will look at the entire spectrum of transportation from Show 'n Shine Classics to 4×4's; trail bikes to Hot Rods; Vespas to Harleys. They will look for the best places to ride, on or off road and discuss the best places to stay when you're on a long ride. They will also look for the best places to get rides serviced, repaired, or rebuilt. If it moves on wheels, Brodie and Roberta will be covering the latest insight and information.

Schedule
Monday- 8:00 pm 8:59 pm (Pacific Time)
Countries the Total Motorcycle Website is Visited From:
Motorcycling has a massive worldwide appeal, and so does Total Motorcycle.com; take a quick look at where our visitors are coming from in our list below:
Total Motorcycle extends a warm friendly welcome to all our international visitors regardless where they are from.

199 Countries around the world and counting…

Albania, Algeria, Andorra, Angola, Anguilla, Antigua and Barbuda, Argentina, Armenia, Aruba, Australia, Austria, Azerbaidjan, Bahamas, Bahrain, Bangladesh, Barbados, Belarus, Belgium, Belize, Bermuda, Bhutan, Bolivia, Bosnia-Herzegovina, Brazil, British Indian Ocean Territory, Brunei Darussalam, Bulgaria, Burkina Faso, Cambodia, Cameroon, Canada, Cape Verde, Cayman Islands, Central African Republic, Chile, China, Colombia, Congo, Cook Islands, Costa Rica, Croatia, Cuba, Cyprus, Czech Republic, Denmark, Djibouti, Dominica, Dominican Republic, Ecuador, Egypt, El Salvador, Equatorial Guinea, Estonia, Ethiopia, European Union, Falkland Islands, Faroe Islands, Fiji, Finland, France, Gabon, Gambia, Georgia, Germany, Ghana, Gibraltar, Great Britain, Greece, Greenland, Grenada, Guadeloupe (French), Guam (USA), Guatemala, Guinea, Guyana, Haiti, Honduras, Hong Kong, Hungary, Iceland, India, Indonesia, Iran, Ireland, Israel, Italy, Ivory Coast (Cote D'Ivoire), Jamaica, Japan, Jordan, Kazakhstan, Kenya, Kuwait, Kyrgyzstan, Laos, Latvia, Lebanon, Lesotho, Liberia, Libya, Liechtenstein, Lithuania, Luxembourg, Macau, Macedonia, Madagascar, Malawi, Malaysia, Maldives, Mali, Malta, Martinique (French), Mauritius, Mexico, Micronesia, Moldova, Monaco, Mongolia, Morocco, Mozambique, Myanmar, Namibia, Nauru, Nepal, Netherlands, Netherlands Antilles, New Caledonia (French), New Zealand, Nicaragua, Niger,  Nigeria, North Korea, Norway, Oman, Pakistan, Palestinian Territories, Panama, Papua New Guinea, Paraguay, Peru, Philippines, Poland, Polynesia (French), Portugal, Puerto Rico, Qatar, Reunion (French), Romania, Russian Federation, Rwanda, Saint Kitts & Nevis Anguilla, Saint Lucia, Saint Vincent & Grenadines, Samoa Islands, San Marino, Sao Tome and Principe, Saudi Arabia, Senegal, Singapore, Slovak Republic, Slovenia, Solomon Islands, South Africa, South Korea, Spain, Sri Lanka, Sudan, Sweden, Switzerland, Syria, Tadjikistan, Taiwan, Tanzania, Thailand, Togo, Tonga, Trinidad and Tobago, Tunisia, Turkey, Turkmenistan, Turks and Caicos Islands, Tuvalu, Uganda, Ukraine, United Arab Emirates, United States of America, Uruguay, Uzbekistan, Vanuatu, Vatican City State, Venezuela, Vietnam, Virgin Islands (British), Virgin Islands (USA), Yemen, Yugoslavia, Zambia, Zimbabwe.