The 2018 campaign started in earnest this week for the Honda Racing roads team as they embarked on their first pre-season test at Monteblanco in Spain, with its new rider line-up of Ian Hutchinson and Lee Johnston. Although not riding at the test, as he still continues his recovery, 'Hutchy' was present for all three days and worked with the team as Johnston got to grips with the Fireblade SP2.

Plagued with intermittent weather over the three days, track time was limited and it wasn't until the final day (Wednesday 7 March) that the team and Johnston were able to get their teeth stuck into the testing programme. With Hutchy not able to ride his machine, it was over to 'The General' who tested both his and Hutchy's Honda CBR1000RR Fireblade SP2s back-to-back, as well as Johnston aboard the Honda Superstock machine. Although not riding, Hutchy was able to work with the team with feedback from Johnston on the set-up of his right-hand gear shifter.

Johnston has history already with the SP2, as in 2017 he was a reserve 24 Heures Motos rider for the Honda Endurance Racing team, but with three riders to cater for the machine set up is very different to his Fireblade for the road racing season. Working on the set-up of the bike and making it feel like his own, the team and Johnston finished the test positive with over 100 laps of the 2.76-mile circuit completed. With lap times a second quicker than previous tests at the circuit, the team are ready to continue its testing programme later this month back on UK soil at Castle Combe.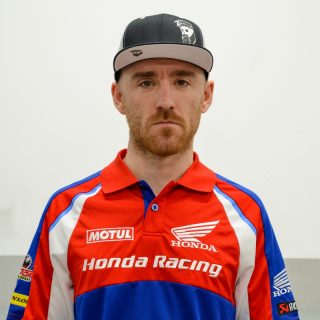 Lee Johnston 13
The test at Monteblanco has been really positive; it was our first official test as a team and although a little unlucky with the weather we're coming away in a really good place. The first two days we didn't really get through much, but the last day was really productive and we managed to cram everything in. It's been a little busy riding my Fireblade and Hutchy's, as well as the Superstock bike, but I'm feeling really good. Of course with any new bike and team it takes a while to get settled and get your own feeling, but I think we're pretty much there and once we get to our next test at Castle Combe, I think we'll be ready to hit the ground running and really get stuck in from the direction of this week. The team are all working together really well and it was great to have Ian there this week and I can't wait to see him aboard the machine when he's ready, and we can work together more with the set-up and feeling. We have a few weeks now before our next test and I already can't wait to get there and get going again.