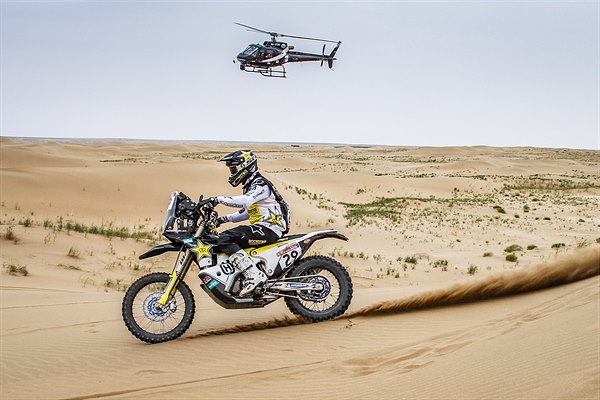 ROCKSTAR ENERGY HUSQVARNA FACTORY RACING RIDER LIES FIFTH OVERALL AFTER FIRST CHINESE STAGE OF THE EVENT
Adapting well to the change of conditions and terrain, Rockstar Energy Husqvarna Factory Racing's Andrew Short has completed the tough 785.11-kilometre stage eight in ninth place.
Following the rest day of stage seven, where the event travelled from Mongolia into China, stage eight was the longest of the rally. The 326.6-kilometre timed special consisted of far different terrain and riding conditions from those experienced by the riders so far this event. Starting with a mixture of fast, rocky tracks and river beds, the stage culminated in the tall dunes of the Gobi Desert as the route made its way to Alashan.
Setting off fifth, Andrew Short took time to adapt to the unfamiliar conditions but maintained a good pace as he navigated well through the various obstacles and challenges. In finishing ninth, just over seven minutes down on the eventual winner, the former motocross rider successfully defended his fifth place overall in the provisional standings, less than one-minute down on the fourth-placed rider.
Stage nine of the Silk Way Rally will cover a total distance of 501.2 kilometres and include a timed special of 290.3. Riders will once again face the fast tracks, dry river beds and large sand dunes of the Gobi Desert.
Andrew Short:
"Things are completely different here in China – the terrain, the road book, the whole style of the race. It was much more physical, much more challenging – I never found the piste in a lot of places. I smashed a fence at kilometre 70, which was a surprise. There was a lot of camel grass too, which makes it tricky to find the best route – you just have to ride through the middle and that makes it really physical. For me, it was so different to the others days and very tough. Hopefully I'll find a better rhythm over the next two days and finish with a good result."
2019 Silk Way Rally – Stage Eight Provisional Classification
1. Kevin Benavides (Honda) 4:20:37
2. Adrien Van Beveren (Yamaha) 4:21:19
3. Paulo Goncalves (Hero) 4:23:42
4. Jose Cornejo (Honda) 4:25:21
5. Luciano Benavides (KTM) 4:25:52
6. Andrew Short (Husqvarna) 4:28:01 
2019 Silk Way Rally – Provisional Standings After Stage Eight
1. Sam Sunderland (KTM) 19:30:40
2. Kevin Benavides (Honda) 19:55:58
3. Adrien Van Beveren (Yamaha) 19:56:56
4. Luciano Benavides (KTM) 19:56:59
5. Andrew Short (Husqvarna) 19:57:50