Back to the Model History Timeline Review Page
---

1975 to 1979 Gold Wing GL1000 model timeline
Page 3 of 7
<< Page Back – Page Forward >>
1975 to 1979 Gold Wing GL1000 model timeline
1975 – GL1000 GOLD WING

The original Gold Wing was much, much more than just a new motorcycle. Powered by a revolutionary 999cc liquid-cooled horizontally opposed four-cylinder engine, the Gold Wing opened new possibilities never before considered by the experts in the enthusiast press, much less the consumer public in general. What to make of this open-class machine with world-class power and cross-country capabilities? Gold Wing customers took to the open road in droves, and helped inspire an industry-wide paradigm shift toward long-distance motorcycling.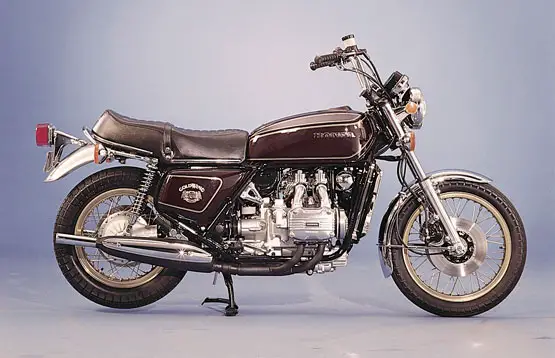 1976 Honda GL1000 Gold Wing LTD
1976 – GL1000 GOLD WING LTD

A new model marks the Gold Wing's second year as Honda graces the GL1000 Limited Edition with an assortment of special features, including gold striping, special LTD sidecover badges, chromed radiator shroud and screen, quilt-patterned seat, plus gold wheels and spokes.


1979 Honda GL1000 Gold Wing

With more than 80 percent of Gold Wing production being exported to North America, a vital need arose to build a production plant in the U.S. Although Honda had been building overseas plants for more than 25 years, the move to America in the 1970s was risky. To most consumers, Honda's quality was its strongest selling point, and building in America could jeopardize this hard-earned reputation-not just for the Gold Wing, but for all Honda products for decades to come. Nevertheless, Honda forged ahead, and on September 10, 1979, the first Honda of America Manufacturing (HAM) plant begins production as a group of 64 associates completes the first 10 Honda motorcycles built in Marysville, Ohio. Within three months, Honda's top managers had sufficient confidence in HAM's capabilities to proceed with building an automobile plant in 1979-the first Japanese car builder to do so in the U.S.
---
---