---

Yamaha R6/YZF-R6 Model History Guide – Development
Page 1 of 8
<< Page Back – Page Forward >>
"The engineers started with a blank sheet of paper and made no compromise…" – Yamaha
Yamaha R6/YZF-R6 series model history timelines
R1 and R6: The top class supersport machines R1 and R6 are Yamaha top class supersport machines. One could think, the 600 cc is just a smaller version of the 1000 cc version. That's wrong! Both bikes are entirely different!
Engine, chassis and riding style of both R1 and R6 are targeted for different use. Kunihiko Miwa, the man behind R1 and R6 explains the differences.
Without taking a closer look to Yamaha's 600 and 1000 supersports bikes, you may think they are pretty much the same. One is just a smaller version of the other one.
WRONG! Completely wrong….
Now you would straight away ask the question: Why does Yamaha not use common parts on both machines? It would certainly be cheaper and cost less development time. Kunihiko Miwa, who was responsible for both the R1 and the R6 as project leader, always shakes his head, when people bring up such subjects.
Says Miwa: "If you want to build a perfect supersport machine, you can not make faulty compromises. A 600 cc machine has to have a different character than a 1000cc bike. Naturally, weight, physical size and engine character will be different. If you try to use a 1000 chassis for example, you would automatically weaken certain advantages of a 600 cc."
Miwa goes on in his explanation:

"When we developed both bikes, our target was 'EXCITEMENT'.
Of course there are many variations of excitement for motorcycle riders. For supersport this certainly means hard riding and exploration of the bike's potential. The rider should be able to feel: When I do this or that, I can take the corner in the best possible way. I mean, it is not about absolute speed, but more about the feeling for this interactive response between the bike and the rider. It should be like a good conversation from man to machine and vice versa. This gives excitement and satisfaction. So both R1 and R6 are targeted towards rider control on every type of twisty road, and not to just ride with high speed."To achieve this target, the engineers had to make the bike as light as possible and at the same time take care of the best balance between powerful engine and controllability. Both bikes were never aimed at just high speed or high engine performance alone. In order to give both machine a pure supersports character some practical items had to be sacrificed. For example tandem riding, storage space or wind protection etc.
Now let's talk about the differences of R1 and R6.

Miwa: "R1 is all about 'How to control the brutal power'. When you ride the bike with 70-80% of it's performance potential, you feel a lot of fun. In a way it is quite suitable also for twisty public roads due to a good handling character. However, if you try to exploit the bikes full potential, you have to be more than 100% alert to control it."
This demonstration shows the different "ideal" lines of both bikes. Just click on 'Demonstration R1&R6' to run the animation.
R6: control of performance & chassis
The R6 is all about: 'Control of performance and chassis'.
A 600 cc Supersport is a perfect balance between engine performance and riding character. It is more relaxing to enjoy the full potential of the R6, since the bike's behavior is different to R1. One of the most attractive features obviously is the engine character: There is no sudden slip of the rear wheel, because the high rpm level gives a smooth power delivery. This has advantages, when cornering and realizing that you need to change your line. You can stabilize the R6 even during banking with the throttle open and you do not risk a sudden tail slide.R1: control the raw power
If you turn the throttle too sudden on an R1 you create an instant enormous power delivery to the rear wheel. That is different from the R6. And indeed, not may parts are in common between R6 and R1. Let's take the chassis: Both have a Deltabox aluminum structure, but both with different layout. The R1 uses the engine block as a stressed member, but still part of the strength of its chassis is given by the lateral box type structure. The R6 however uses the engine as major element to connect the head stock with the swing arm pivot. It is a matter of weight versus speed and performance, which requires a stiffer chassis connection for R1.
Chassis
The advantage of R6 chassis layout however: lighter weight and slim shape around the tank area.
Even with the weight difference of "only" 6 kg (175 versus 169 kg dry weight) the R1 needs comparatively more force from its rider to direct it around corners. This is a result of total chassis layout including rider position and weight distribution. Together with a caster angle of both 24°, the R6 has only 81 mm trail & 1380 mm wheel base and R1 92 mm trail & 1395 mm wheel base. These figures are expressing the technical background for the different handling character also.
Miwa:
"So it becomes obvious when taking a closer look, that the R6 and the R1 are bikes for different riding style and the enthusiast should make up his mind depending on what he prefers. The R1 needs certainly more alertness and careful operation than the R6 on twisty roads or circuits."
Hennes Fischer, Yamaha product planning consultant, openly says: "I had tracks, where I was faster and felt safer with the R6. The R1 requires lots of constant attention. If you ride on very twisty circuits, I need too much attention to control the power of the R1. The R6 simply gives me more room to concentrate on my line. Of course still the R1 is 100% adrenaline, when opening the throttle. In the end you have to decide your personal priorities."
Engine
When taking a closer look to both engines, you realize what Mr. Miwa means with different character. It is not only the top performance of 120 HP versus 150 HP. The torque curve is entirely different, as you can see in the illustration of cornering method. The R6 needs much higher rpm, where the R1 delivers already enormous power from 2000 rpm onwards. Of course this "power from below" makes riding very relaxed in a way, that you don't need to shift a lot and in almost every situation there is enough forward thrust.
Miwa:
"R1 and R6 of course have a similar image, but in fact they have quite a different character. Both development teams worked independent and tried to make the best supersport machine in the category!"
The first generation R6 was built with the same development target of today's R-series:
– Highest power
– Lowest weight
– Unrivalled agility
The engineers started with a blank sheet of paper and made no compromise. A very compact aluminium chassis and an ultra compact high performance 4 cyclinder are the ingredients of this radical machine. The engine was the first production four stroke with a performance of more than 200 HP per litre (120 HP @ 13000rpm). Wheelbase was reduced to 1380 mm and dry weight to 169 kg. The machine super-ceded its predecessors in all aspects and set the standards for supersport machines to come.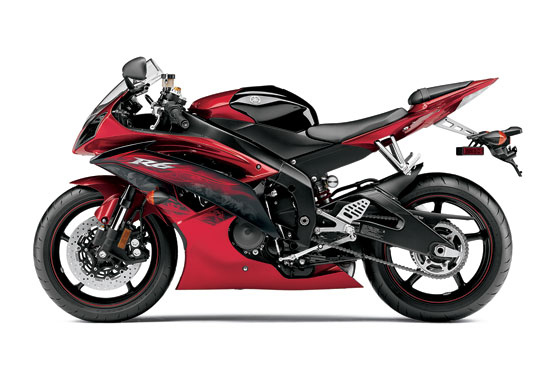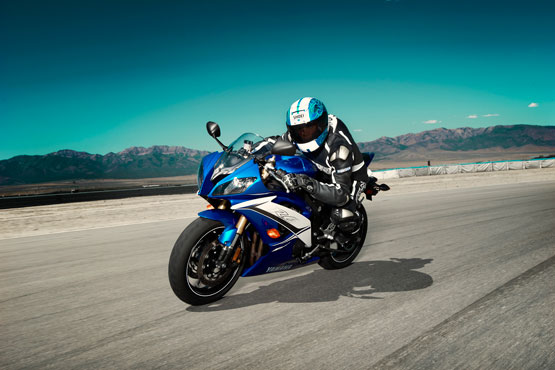 1999 Yamaha R6/YZF-R6 Specifications

Engine
Engine type Type Liquid-cooled, forward inclined parallel 4-cylinder, DOHC 4 valve per cylinder
Displacement 599 cc
Bore x stroke 65.5 x 44.5 mm
Compression ratio 12.4 : 1
Maximum power 88.2 kW (119.9 HP) @ 13,000 rpm
Maximum torque 68.1 Nm (6.94 kg.m) @ 11,500 rpm
Lubrication system Wet sump
Fuel System Keihin CVRD37 with TPS system
Clutch type Wet, multiple disc
Ignition system TCI (digital)
Starter system Electric
Transmission system Constant mesh, 6 speed
Primary reduction ratio 1.955
Secundary reduction ratio 3
Final transmission Chain
Ratios gearbox 1st 2.846
Ratios gearbox 2nd 1.947
Ratios gearbox 3rd 1.56
Ratios gearbox 4th 1.333
Ratios gearbox 5th 1.19
Ratios gearbox 6th 1.083
Chassis
Front suspension system Telescopic fork, Ø 43 mm
Front wheel travel 130 mm
Rear suspension system Truss-type aluminium swinging arm Monocross system
Rear wheel travel 120 mm
Caster angle 24°
Trail 81 mm
Front brake Dual discs, Ø 298 mm
Rear brake Single disc, Ø 220 mm
Front tyre 120/60 ZR17 55W
Rear tyre 180/55 ZR17 73W
Dimensions
Overall length 2,025 mm
Overall width 690 mm
Overall height 1,105 mm
Seat height 820 mm
Wheelbase 1,380 mm
Minimum ground clearance 135 mm
Dry weight 169 kg
Fuel tank capacity (reserve) 17 L
Engine oil tank capacity 3.5 L
Specifications and appearance of Yamaha products shown here are subject to change without notice and may vary according to requirements and conditions. For further details please consult your Yamaha dealer.
---
---