You are here: Home — Tire/Tyre Guide — Michelin — Michelin Pilot City
Michelin Pilot City
Back to Total Motorcycle Michelin Tire/Tyre Guide
Click photos to enlarge.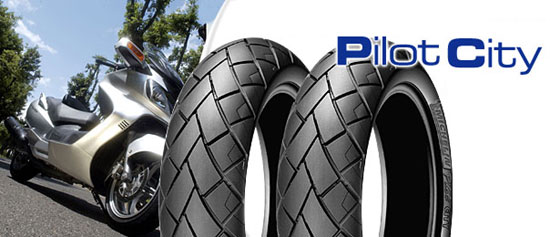 Michelin Pilot City
– Michelin Pilot City
FEATURES
La Dolce Vita

– A tyre for all seasons
– Confidence and comfort
Intended for everyday scooter users, the Michelin Pilot City is both practical and reassuring. It's readily adaptable to virtually all road surfaces and conditions. Whether you're riding on wet cobblestones or dry asphalt, the Pilot City's level of grip remains constant. Add to that a remarkably comfortable ride with excellent tread life, and you'll enjoy the best of all possible worlds.
Sizes // Load Index & Speed Rating

120/70 – 12 M/C // 51P
130/70 – 12 M/C // 56P
130/70 – 12 M/C // 62P
130/60 – 13 M/C // 53L
140/70 – 12 M/C // 60P
120/70 – 13 M/C // 53P
120/80 – 14 M/C // 58P
150/70 – 14 M/C // 66P