You are here: Home — Tire/Tyre Guide — Pirelli — Pirelli ST66
Pirelli ST66
Back to Total Motorcycle Pirelli Tire/Tyre Guide
Click photos to enlarge.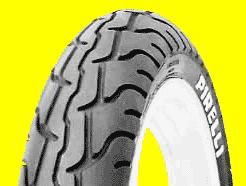 Pirelli ST66 Front
– Pirelli ST66
FEATURES

SPECIAL TOURING TYRES for new scooter and motoscooter generations from 10″ up to 16″.


– BIG CENTRAL GROOVES ON FRONT WHEEL for easy handling when entering curves and excellent wet performances.
– Big blocks in the central part of the rear tread pattern with INCREASED TREAD DEPTH (up to 6.5 mm) to assure riding comfort, high mileage and even wear.
– PERFECT WET PERFORMANCE due to continuous grooves from the tyre crown to the shoulder of the rear tyres.

Alternative tyres
– DIABLO SCOOTER
– EVO 22
– GTS24
Sizes
Front: ST66 FRONT
120/70-12TL 51LFRONT ST66F *
110/80-16M/CTL 55P ST66F
110/80-16M/CTL 55SFRONT ST66F

Rear: ST66
120/70-14M/CTL 55P ST66
140/70-16M/CTL 65S ST66

( * ) Close out