You are here: Home — Tire/Tyre Guide — Pirelli — Pirelli Sport Demon
Pirelli Sport Demon
Back to Total Motorcycle Pirelli Tire/Tyre Guide
Click photos to enlarge.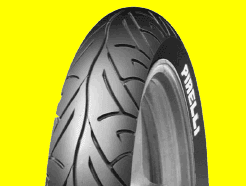 Pirelli Sport Demon Front
– Pirelli Sport Demon
FEATURES

New SPORTY AND FASHIONABLE TREAD PATTERN with speed index from H to V (210 km/h up to 270 km/h).

– SPECIAL FRONT TYRE design and contour for improved handling and good wet performance.
– MULTIPLE RADIUS REAR TYRE CONTOUR for lighter and precise handling and stable behaviour in all driving conditions.
– PERFECT REAR TYRE BLOCK DISTRIBUTION for excellent water drainage, even wear and optimized contact area from tyre to ground.
– UP-TO-DATE SPORT COMPOUND for best mechanic dry and wet grip without compromising mileage.




Sizes
Front: SPORT DEMON FRONT
110/70-17M/CTL 54H(K) SPORDF *
110/70-17M/CTL 54H(M) SPORDF
110/70-17M/CTL 54H SPORDF
120/70-17M/CTL 58H SPORDF
120/70-17M/CTL 58V SPORDF
100/80-17M/CTL 52H SPORDF
110/80-17M/CTL 57H SPORDF
110/80-17M/CTL 57V SPORDF
110/80-18M/CTL 58H SPORDF
110/80-18M/CTL 58V SPORDF
120/80V16M/CTL (60V) SPORDF
100/90-16M/CTL 54H SPORDF
100/90-18M/CTL 56H SPORDF
100/90-18M/CTL 56V SPORDF
100/90-19M/CTL 57H SPORDF
100/90-19M/CTL 57V SPORDF
110/90-16M/CTL 59V SPORDF
110/90-18M/CTL 61V SPORDF

Rear: SPORT DEMON
130/70-17M/CTL 62H(K) SPORTD
130/70-17M/CTL 62H SPORTD
130/70-18M/CTL 63H SPORTD
140/70-17M/CTL 66H SPORTD
140/70-18M/CTL 67H SPORTD
140/70-18M/CTL 67V SPORTD
150/70-17M/CTL 69H SPORTD
150/70-17M/CTL 69V SPORTD
110/80-18M/CTL 58H SPORTD
120/80-18M/CTL 62H SPORTD
130/80-17M/CTL 65H(M) SPORTD
130/80-17M/CTL 65H SPORTD
130/80-18M/CTL 66V SPORTD
140/80VB17M/CTL (69V) SPORTD
150/80V16M/CTL (71V) SPORTD
110/90-18M/CTL 61H SPORTD
120/90-17M/CTL 64H SPORTD
120/90-18M/CTL 65V SPORTD
130/90-16M/CTL 67V SPORTD
130/90-17M/CTL 68V SPORTD

( * ) Close out