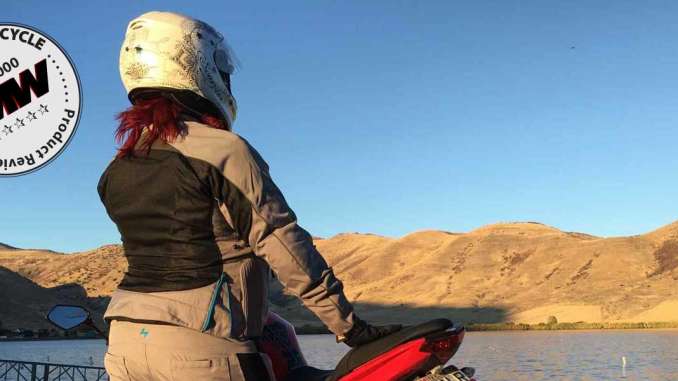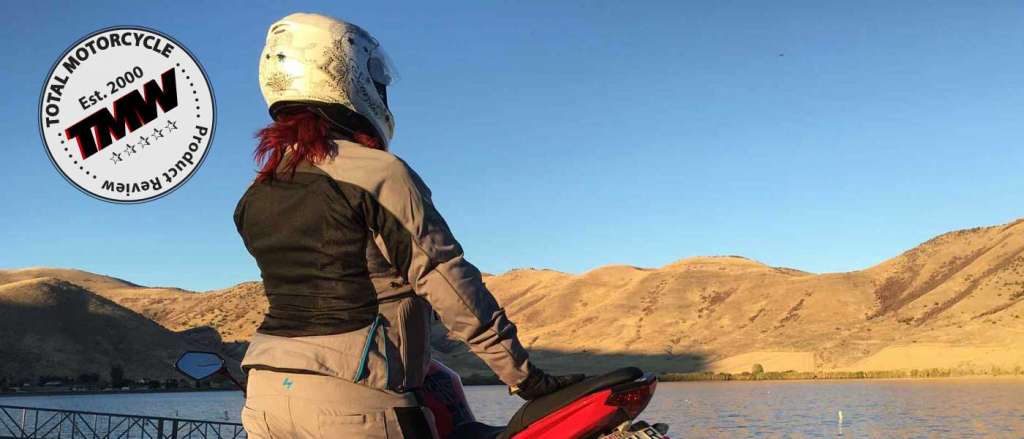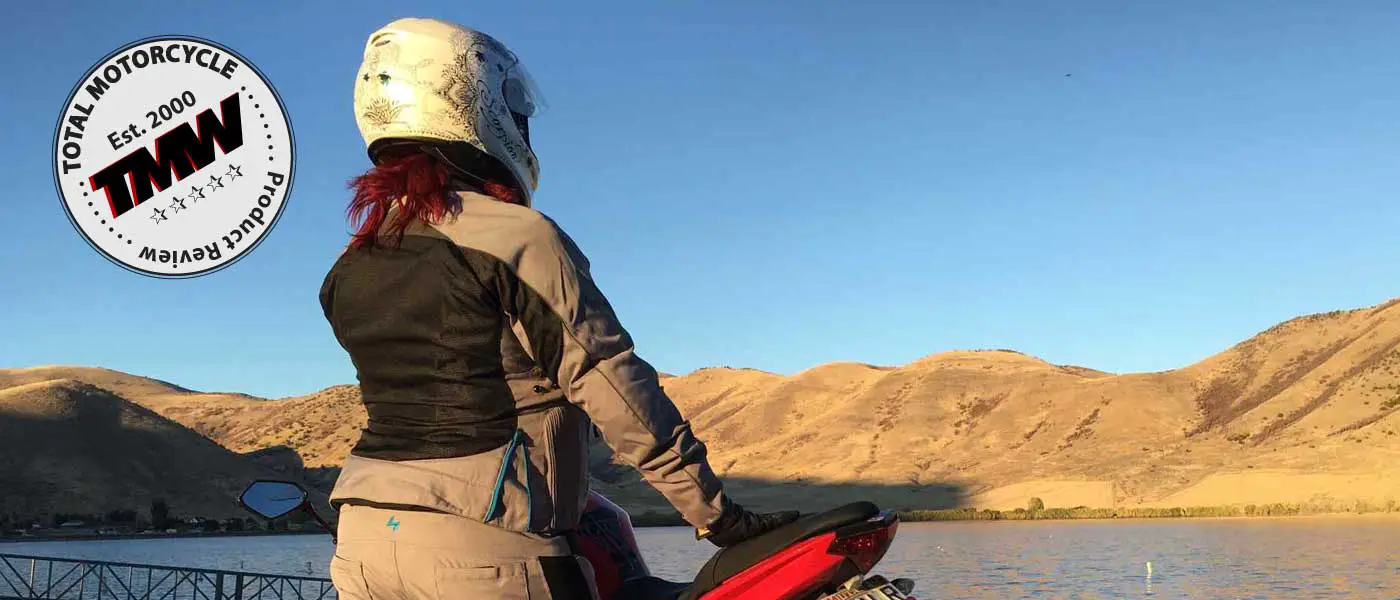 'Get Stung!'
Total Motorcycle received the opportunity to test a set of Scorpion ladies riding gear designed for spring and fall riding temperatures. Scorpion EXO calls it Maia, as tribute to the Roman Goddess of spring.  After all, what lady rider doesn't want to both look and feel like a goddess when astride her shiny steed?  The Scorpion Maia Jacket and Pant combo is exclusively designed to provide a custom fit for any sport bike riding goddess, regardless of her shape.
The Scorpion Maia design is lightweight yet durable while offering ventilation and protection right where we need it.  Both the jacket and the pants include removable liners so the idea is to layer up on cold mornings with the option of easily removing that layer later when the day heats up.  If you're one of those that can't wait to get a jump on the start of the riding season, or you can't resist riding until the snow plows come out, the Maia was created for you. Utah received some cold weather and several rain storms from the distant Hurricane Rosa so I had plenty of opportunities to put my Scorpion Maia set to the test. I'm impressed with the results.
'Scorpion EXO calls it Maia, as tribute to the Roman Goddess of spring.  After all, what lady rider doesn't want to both look and feel like a goddess when astride her shiny steed?'
Scorpion Maia Ladies Jacket & Pants
| | |
| --- | --- |
| Reviewer | Carrie Leaverton |
| Bike Tested On | 2012 Kawasaki Ninja 650 |
| Price as Tested | Scorpion Maia Jacket Grey $189.95 – $199.95 |
| | Scorpion Maia Pants Grey $179.95 – $189.95 |
| Dates Tested | September 14, 2018 – October 26,2018 |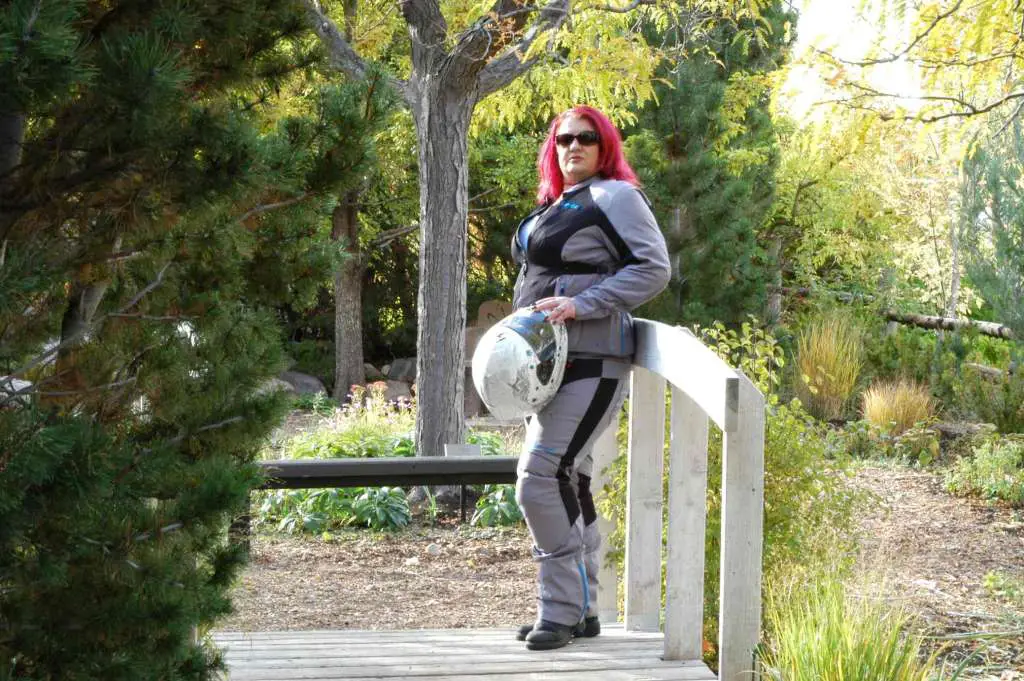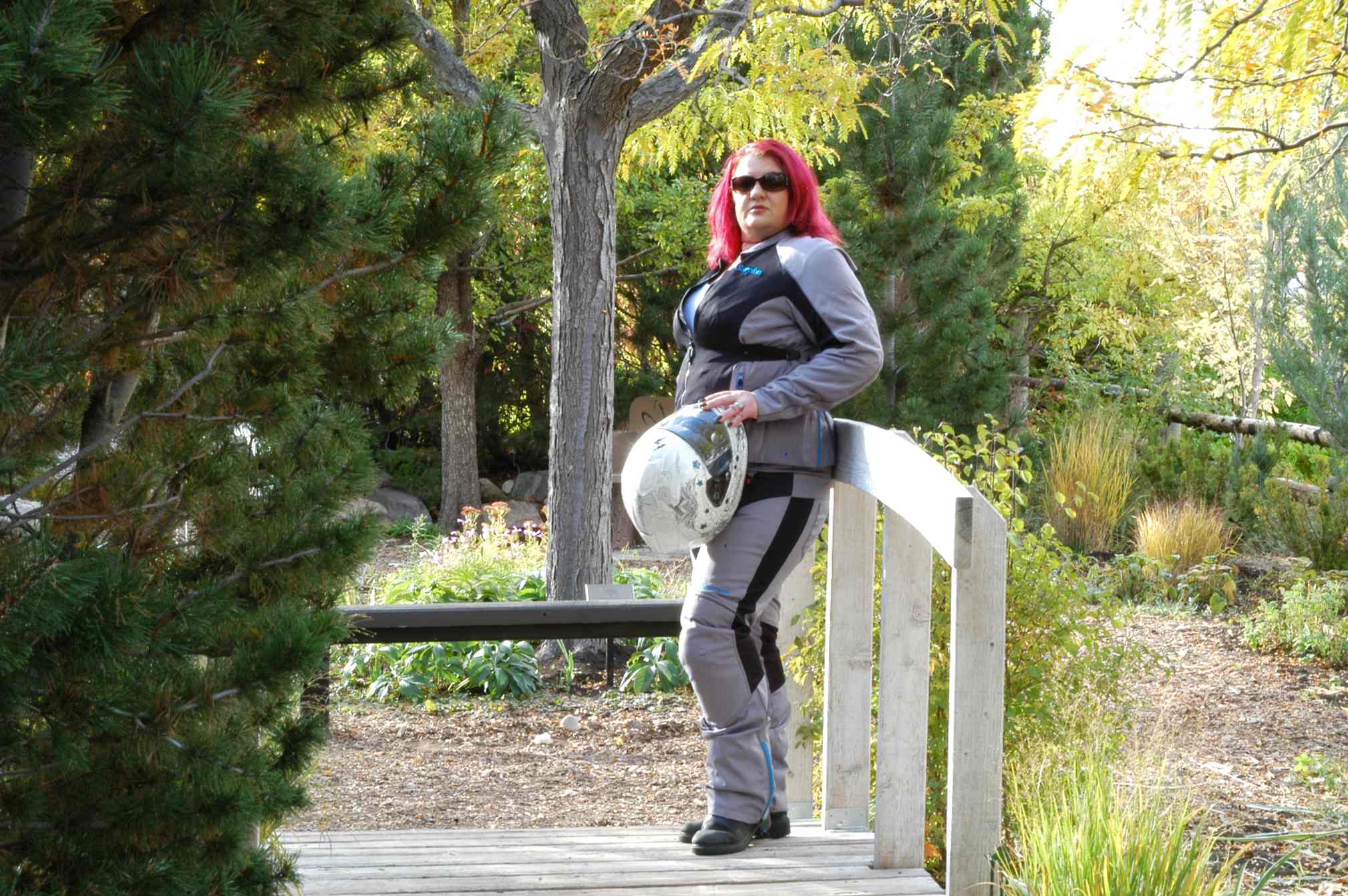 Performance
Scorpion's website states 'Sometimes simple solutions are the best, and that's what the Women's Scorpion Maia jacket delivers'. They boast that the jacket delivers on fundamental sport performance without the frills.
The first thing I noticed about the Maia gear is that it's glove friendly which is a HUGE deal.  All the zippers have reinforced pull tabs so it's easy to zip up and down, get into pockets or open up air vents on the go.  The jacket doesn't have laces or pull cords that flap in the wind or get tangled up with my backpack or other gear. It has a simple collar that fits nicely with my helmet strap and the wrist cuffs are easily adjustable via both Velcro tabs zipper pulls. The jacket has 2  good sized pockets, 2 on the outside and 2 on the inside.  The inside pockets don't come into contact with the liner. The pants have rear pockets as well.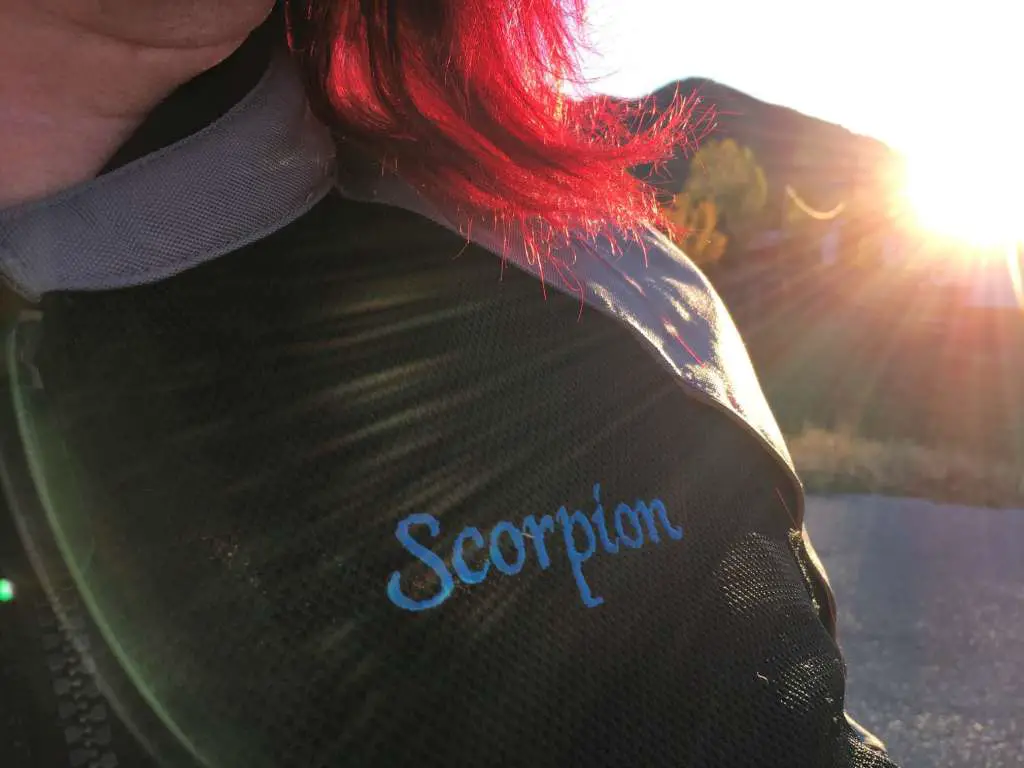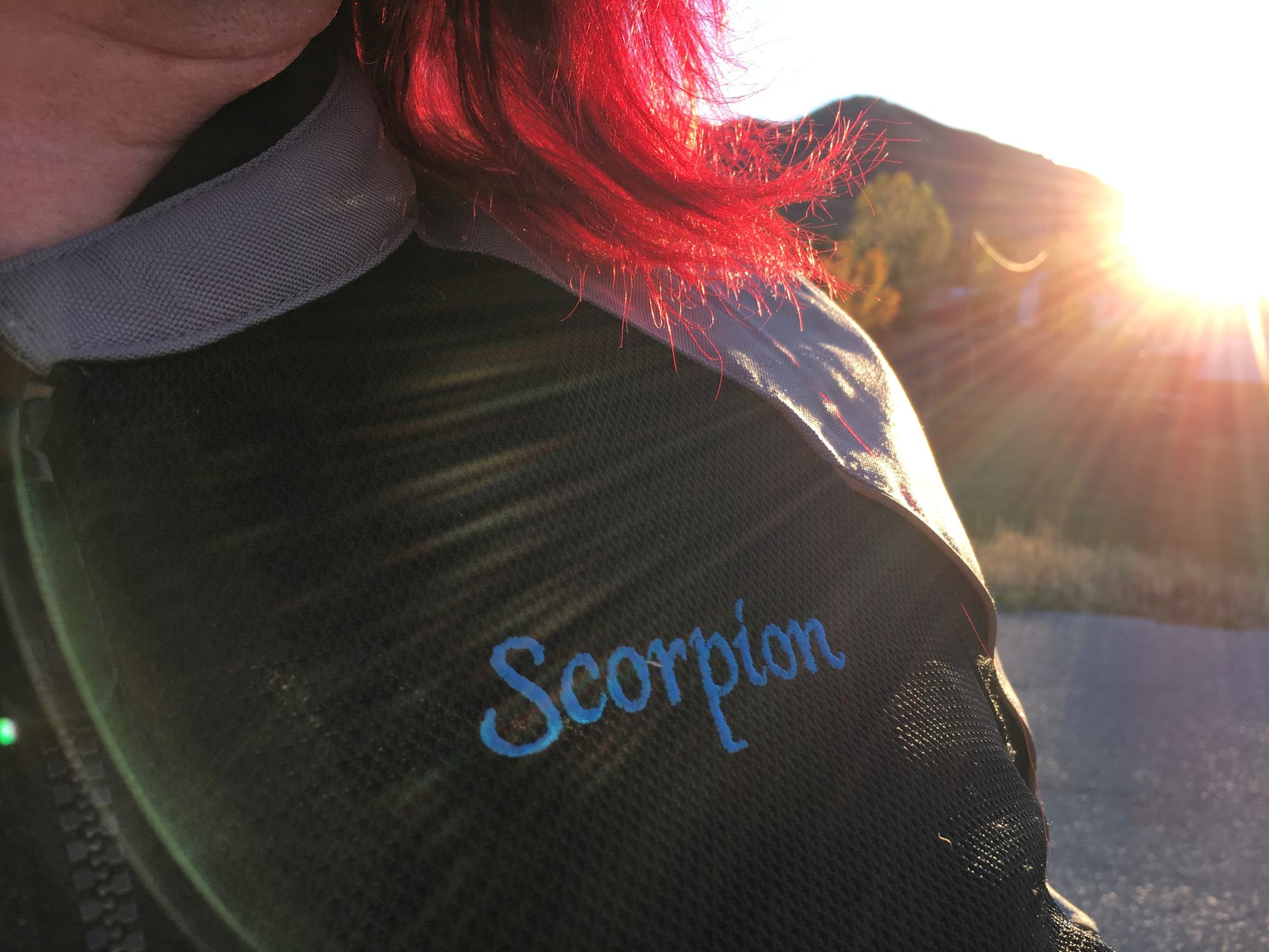 Inclement Weather Happens
While it's best to plan for fair weather road trips, inclement weather happens to all of us.  We'll eventually have to ride in a storm and sometimes the rain lasts for a duration. You'll have to ride home in it or at least ride to the safety of a freeway overpass or a hotel for the night.  Being prepared for inclement weather can mean all the difference between conserving your energy and enjoying your adventure or chattering your teeth away counting the miles until you can dismount.
Picture this, the weather was beautiful on your ride to work then the weather turns.  You look out the window to see a downpour and just know you butt's gonna get soaked the second you straddle your saddle for a rainy ride home.
I rain tested this gear with liners in place and the results are impressive.  Maia kept me completely dry save the hem of my tank top on either side of my lower back that got wet from between where my Scorpion Maia jacket and pants meet. What I was most impressed with was that my butt stayed completely dry.  I did get a little chilly with just a pair of leggings and a tank underneath my gear.  In colder temperatures I would recommend layers or a sweatshirt and thermals or cold weather leggings underneath.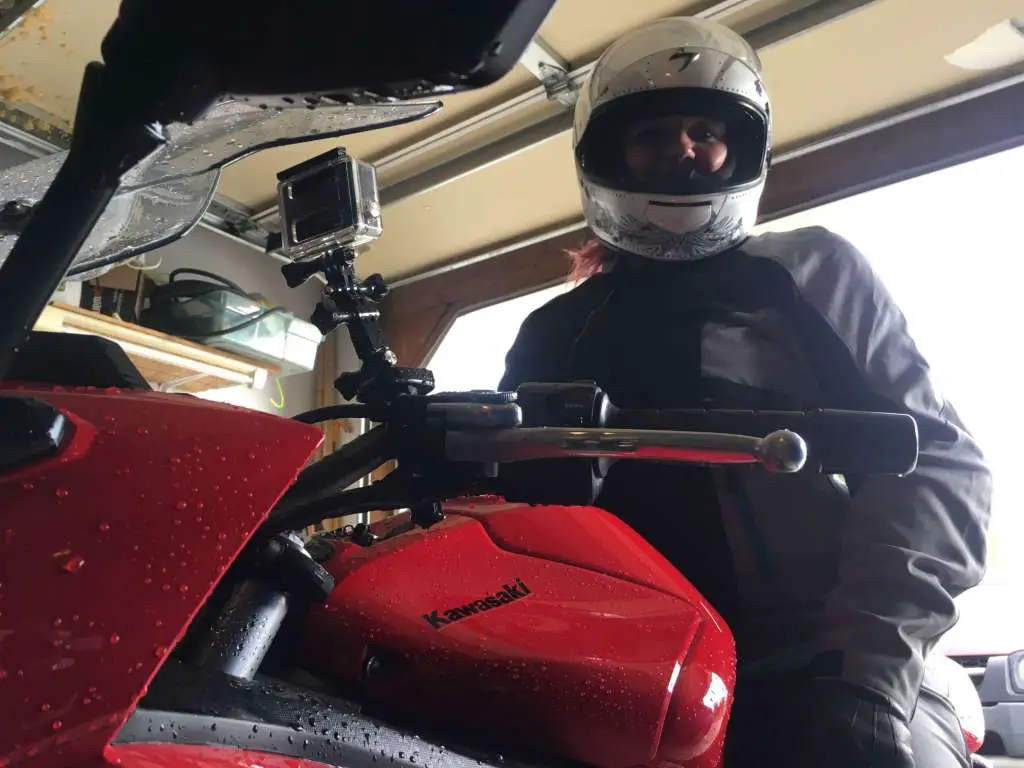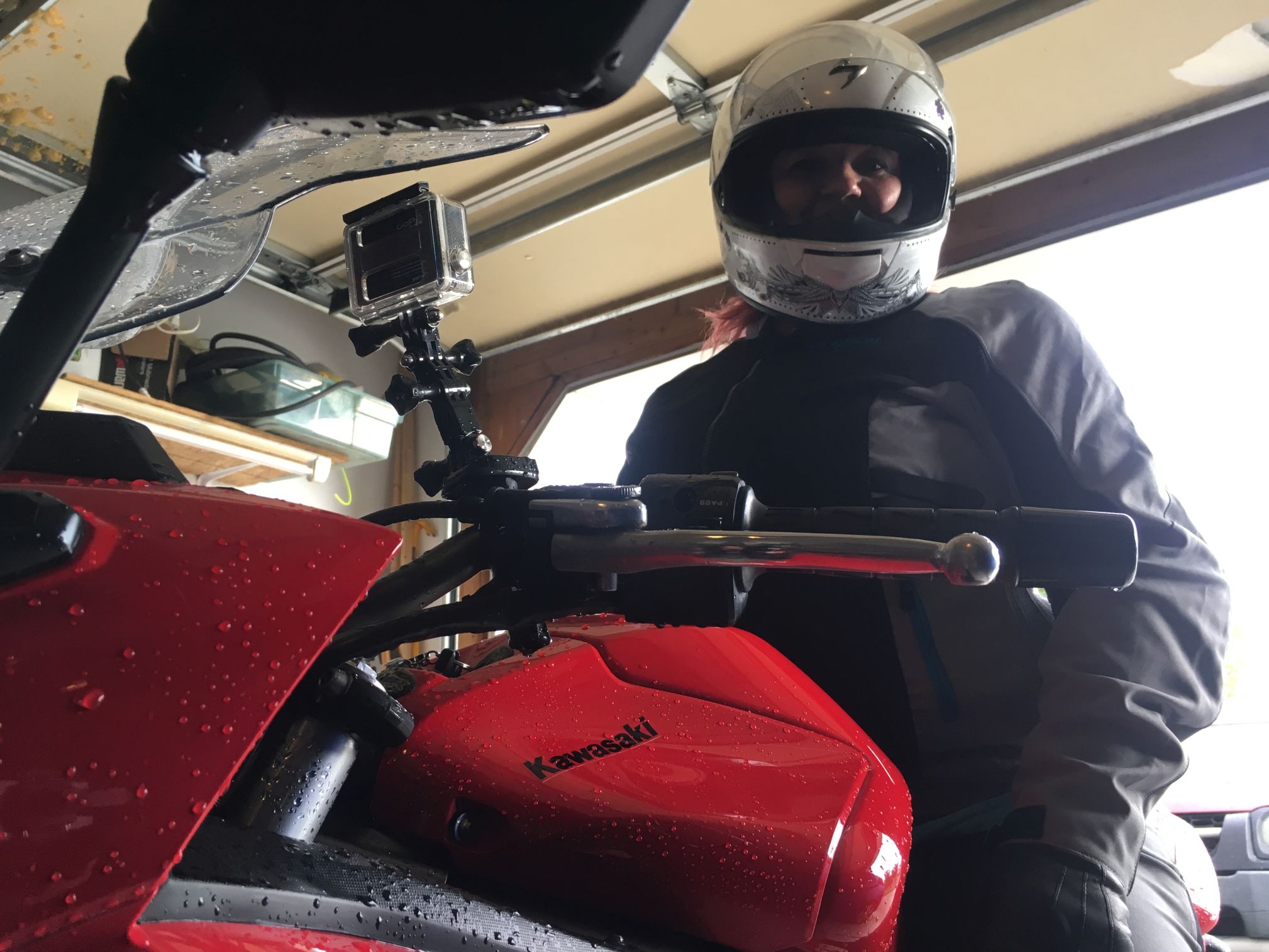 Scorpion Maia pants and jacket both have an AirGuard® windproof liner. They're really easy to quickly remove and put back into place on the go.  I like to put the liners in before work on cold mornings then take them out and throw them in my backpack before the ride home in the afternoon sunshine.  I included a quick tutorial in my video link above.
Protection
I've worn a lot of different brands of armored gear. I have to tell you the Scorpion Maia body armor is the most comfortable. I feel like it helps me maintain proper sport riding posture while supporting my back and offering protection in case I come in contact with the road.  Both of the elbow and knee pads stay in place and allow my arms and legs the ability to bend and move as much as I require to expertly pilot my machine. The hip armor really feels like substantial protection from not just a fall but from road debris and they don't make me look like I'm carrying any extra bulk around my midsection.
'Both of the elbow and knee pads stay in place and allow my arms and legs the ability to bend and move as much as I require to expertly pilot my machine.'
The elbow, knee and hip armor are all made by SAS-TEC ® CE body protection systems.  It's made of cutting edge armor constructed from Visco elastic soft foam smart molecules.  The back piece is only foam armor but you can upgrade to a SAS-TEC® CE Back Protector. This is a separate purchase ranging from $44.99 – $49.99.
Statistics say sixty percent of all motorcycle fatalities occur at night.  Motorists have a hard time seeing motorcyclists in the day time and sometimes not at all at night.  Thus reflective riding gear is a must for the safety of a rider who happens to be on the road in the dark.  The Scorpion Maia gear includes NightViz® reflecting piping for added nighttime visibility.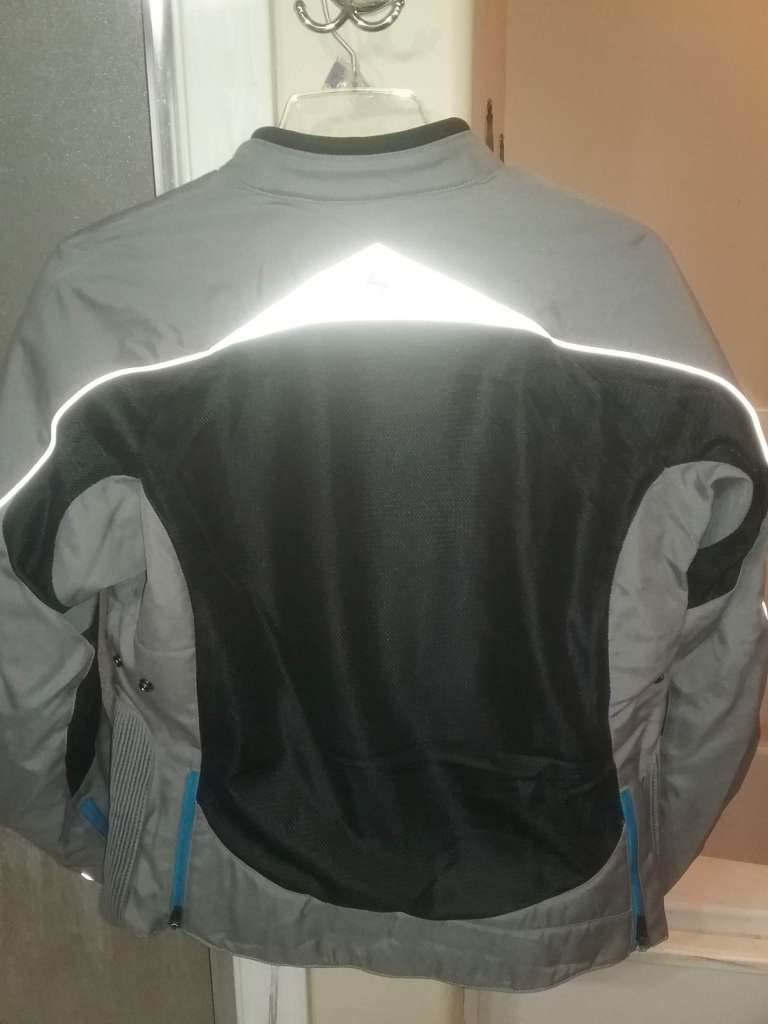 Fit
I've said it before and I'll say it again.  Fit is the most difficult aspect of ladies riding gear because we are all shaped so differently.  The Scorpion Maia has adjustable straps, panels that stretch and zippered expansions in key areas on both the jacket and pants so we can customize our fit.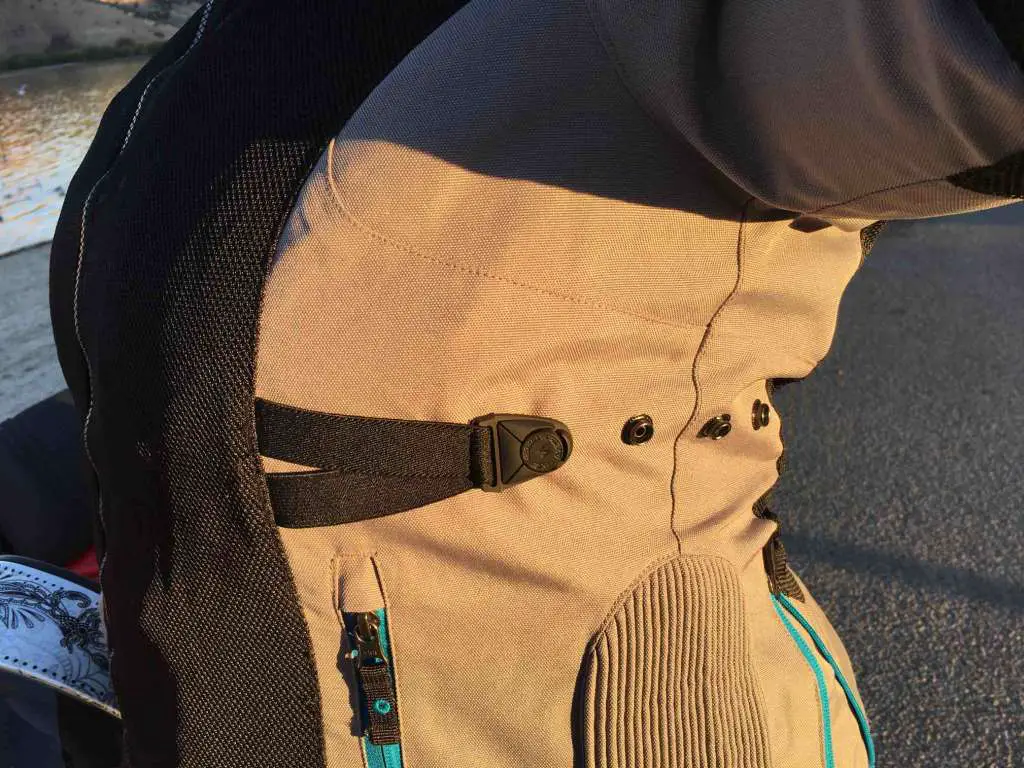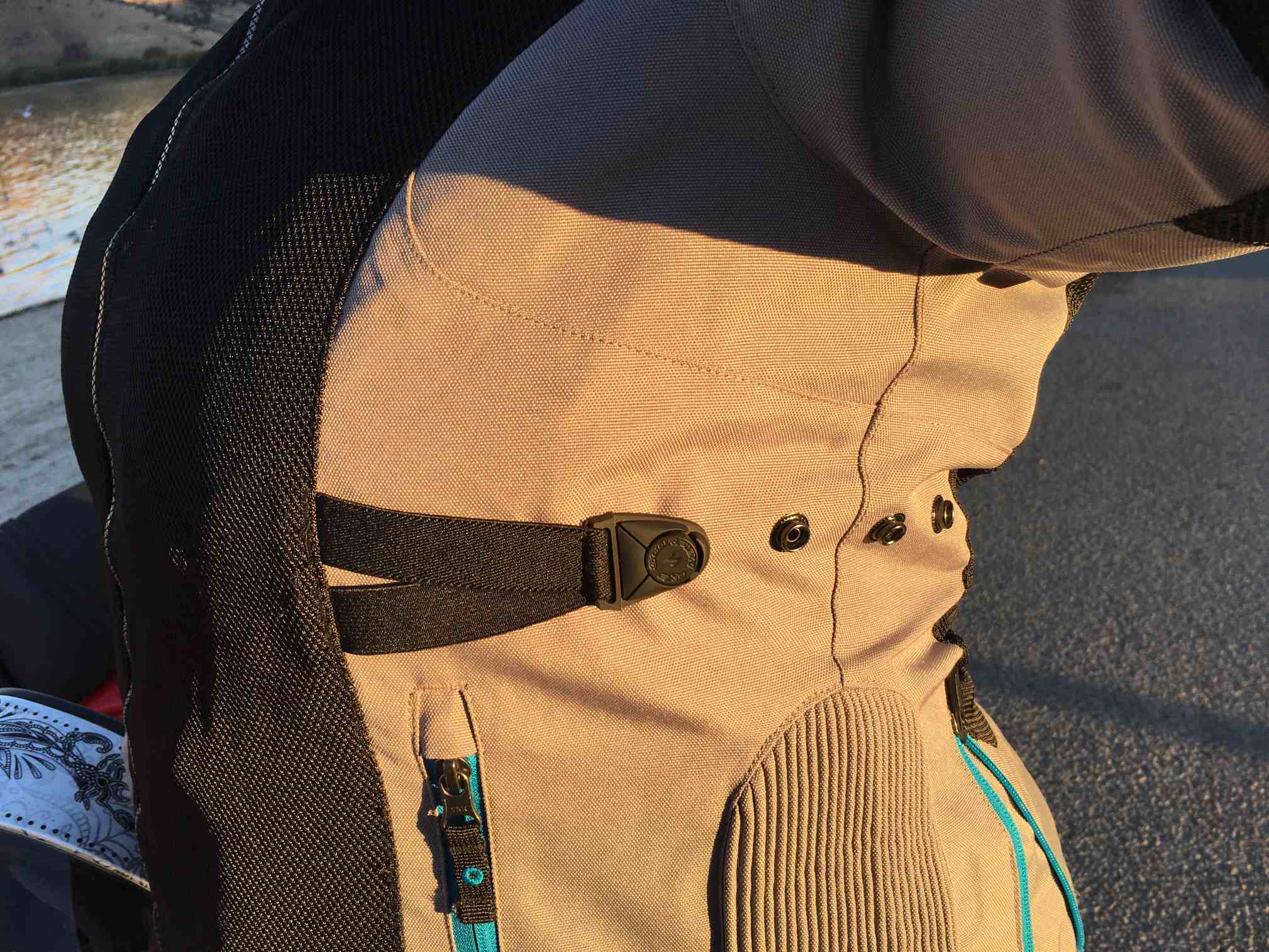 'The Scorpion Maia Jacket and Pant combo is exclusively designed to provide a custom fit for any sport bike riding goddess, regardless of her shape.'
Riding gear for women often runs small so I ordered a size larger that what size corresponds with my dress size on Scorpion's website and I was glad I did. My gear fits very snug even with some of the adjustable tabs extended as far as they will go.  It's not so snug that I can't put my arms down though.  I can throw my leg over my Ninja seat with ease and my body has enough movement to ride safely. I'm very pleased with the way I look in the Scorpion set. It keeps me layered and warm without feeling like I'm wearing a bulky snowsuit.
I'm pleased that Scorpion offers Women's plus sizes as it's my experience that there are just as many plus size girls that wanna ride in style as there are gals that can wear the smaller sizes.
Style
Scorpion Maia gear is offered in 2 color choices: Grey with Blue & Black accents, and Black with Grey accents.   I've always been a fan of black so left to my own devices I would have purchased the black set for myself.  However, I was 'SO IN LOVE' with the gorgeous Scorpion EXO Azalea helmet in pearlescent white with black feminine tribal designs and hologram type blueish flowers (you'll hear more from me about this beauty next week!) I couldn't help but want the grey and blue set to match. The shape of the black over grey panel in the back makes the jacket look edgy, feminine and flattering.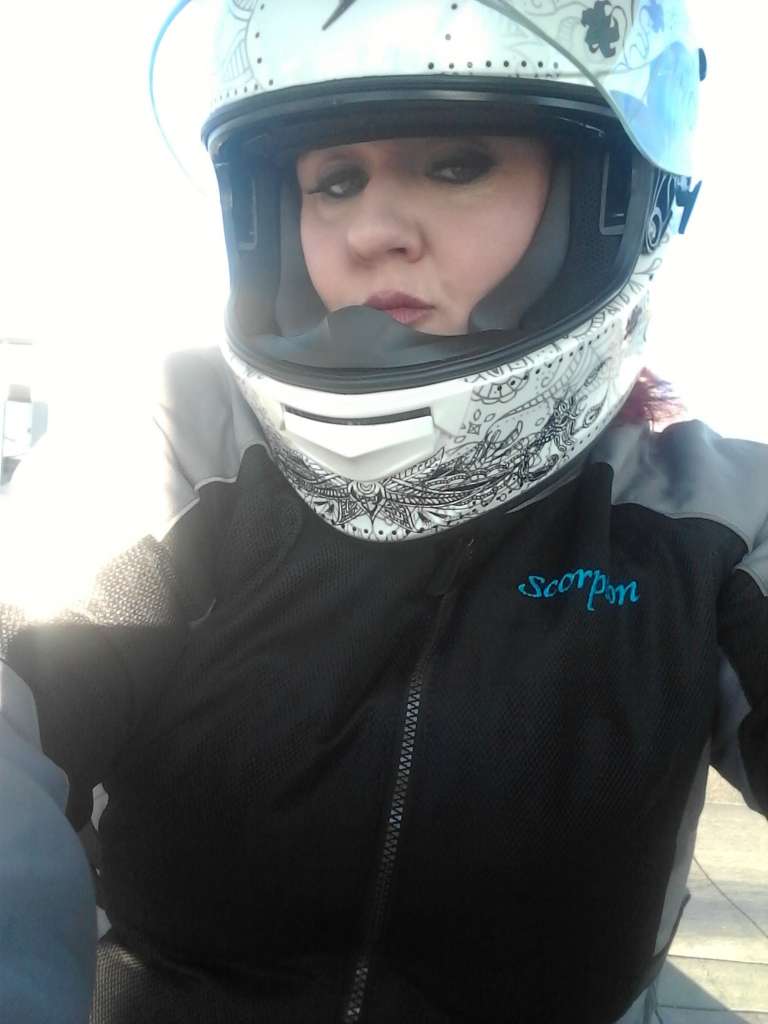 I ride to work every day rain or shine and I took my Maia set with me for the 4 weeks I had to review it. I wore the set on really cold or rainy days and on warmer days I just wore the jacket. My pants (worn over leggings) get folded and placed on a cabinet next to my beauty of a helmet in my office. My Scorpion Maia jacket hangs on the back of my office chair.  I left for break and when I returned to my office I had a head on view of the back of my jacket hanging on the chair.  You're gonna laugh at me but the design on the jacket even made my clunky ergonomic office chair look curvy.  True story.
Full Body Coverage
My jackets always ride up in the back while I'm astride my sport bike. I don't know how many times I've thought about getting a lower back tattoo just to give people behind me something  to look at besides my exposed skin. I've seen other sport bike riders wear industrial style touring union suits that just look bulky and uncomfortable.
One of the features I really love about the Scorpion Maia set is that the jacket and pants zip together via a hidden zipper in the back. I'd like to note.  The tag states that the pant to jacket zipper is 8".  I measured mine and it measures exactly 7".  I would prefer it be a couple inches longer to provide a little more coverage.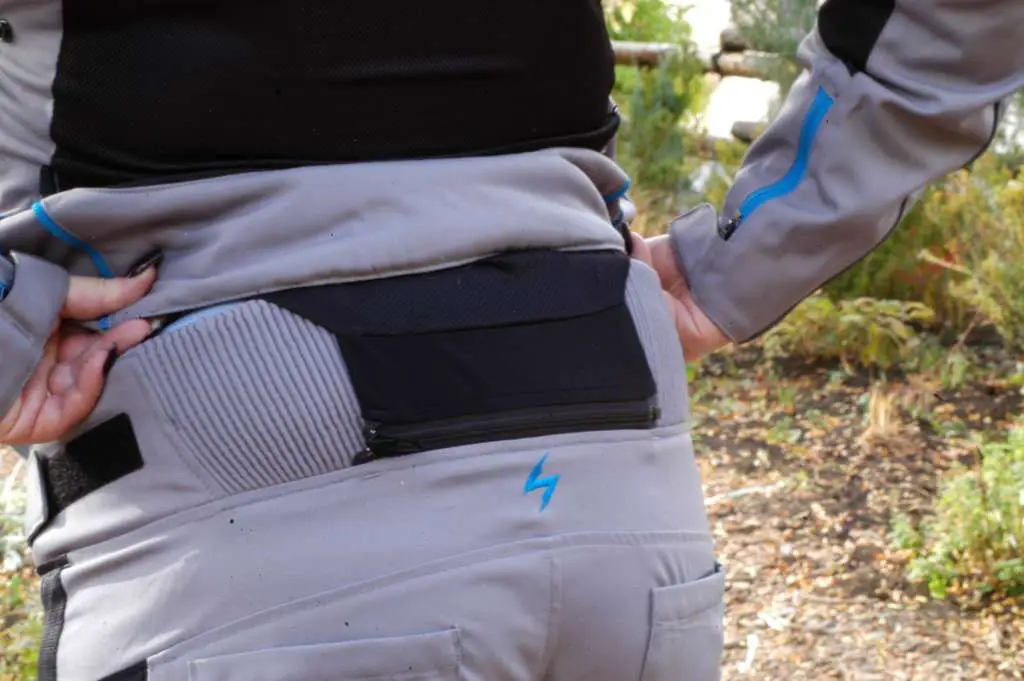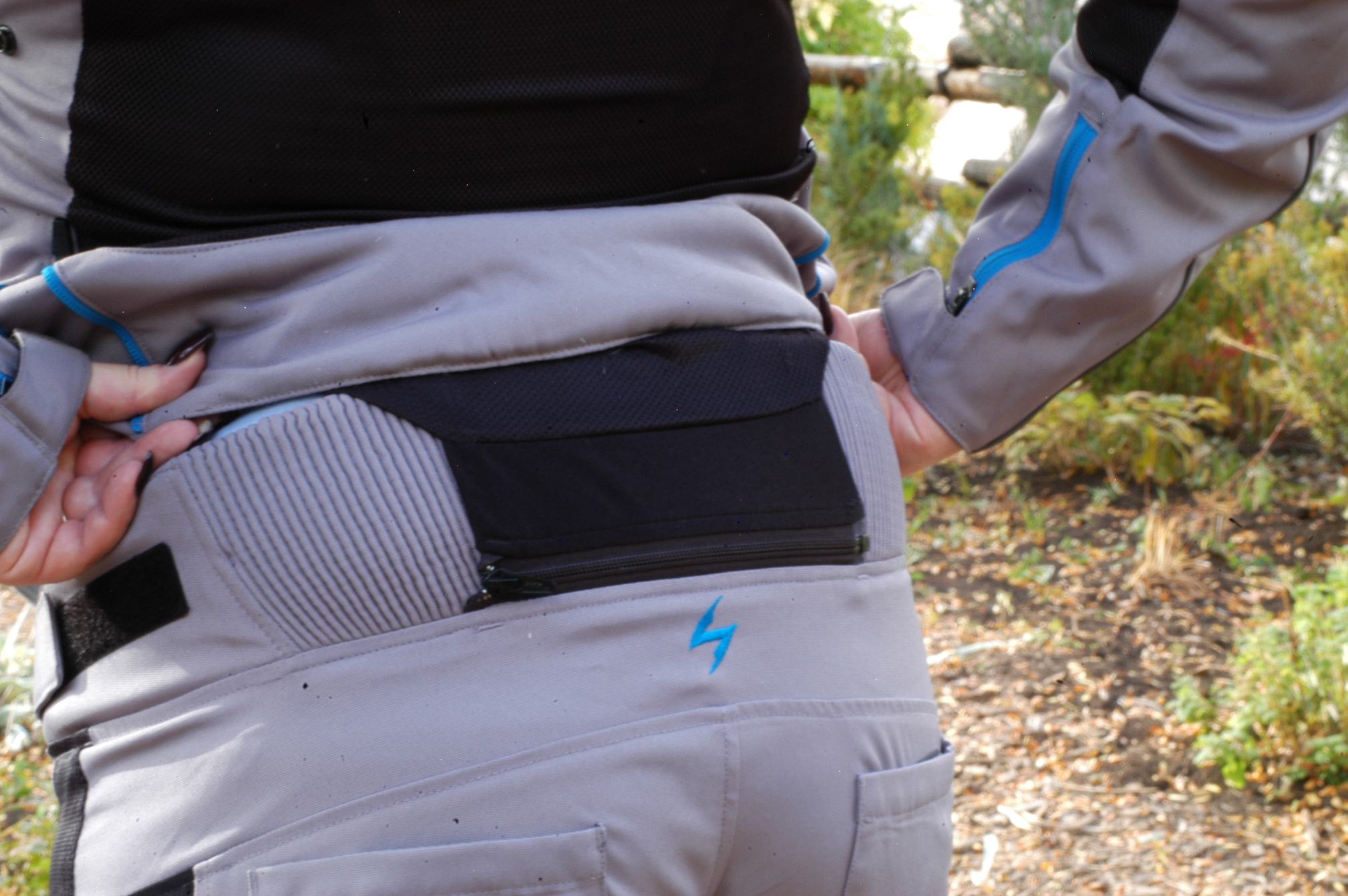 Durability
Under constant use, the Scorpion Maia gear set held up nicely.  All the stitching and seams are in perfect place. The armor pieces have held shape and stayed where they're supposed to. Most importantly, all the zippers have worked smoothly, first time every time.  I was concerned that with constant use, I would pull out the seams or wear out the zipper that attaches the back of the coat to the pants. No need for concern. After the the 4 weeks I was given to intentionally abuse the Maia set, it's still like new.
Scorpion Maia Gear is machine washable.  The care instructions state the body armor may be removed and cleaned with a damp cloth.  I have a lot of riding jackets that could use a good washing. Yet, I have to live with the bug guts because washing just isn't an option. Gentlemen readers please skip to the next paragraph if girl talk makes you uncomfortable. Since this is gear made for girls: My aunt told me once 'It seems like every time we road trip I'm on my period!' it was a funny story at the time. Alas, that curse appears to run in the family. I can't schedule all my motorcycle rides around Aunt Flo's monthly visits. Owning washable riding pants is a wonderful thing.
Notes
Scorpion is a gear manufacturer. To my knowledge they do not run their own marketplace and fulfill orders as they ship their products to various motorcycle shops/motorcycle product shipping warehouses etc.  A motorcycle warehouse a state away processed and shipped my order. My shipment was inaccurate.  The pick ticket in the box stated: 1 Maia Jacket, 1 Maia Pants and 1 Scorpion EXO T-510 helmet. My package included 2 Scorpion Maia jackets and 1 helmet. Once Scorpion was notified the problem was remedied right away. I received a pair of Maia pants within a week and I was provided with a return label for the extra jacket. I dropped the package off at my local UPS Store and it was returned free of charge.
This issue didn't hold me back at the least but if I had ordered gear specifically for a last minute ride or road trip my outfit would have been incomplete. Regardless of which brand of gear you purchase and from whom, always order with enough time to remedy shipping errors in time for your upcoming adventure.
Rating
I'll ride many comfortable miles this Fall and next Spring. In my Maia gear, I will have proper protection from the elements and the event of a fall. All the while looking and feeling like a Maia Goddess of sport riding. Total Motorcycle Awards the Scorpion Maia gear with the Editor's Gold 4 star rating.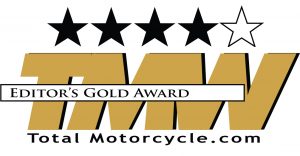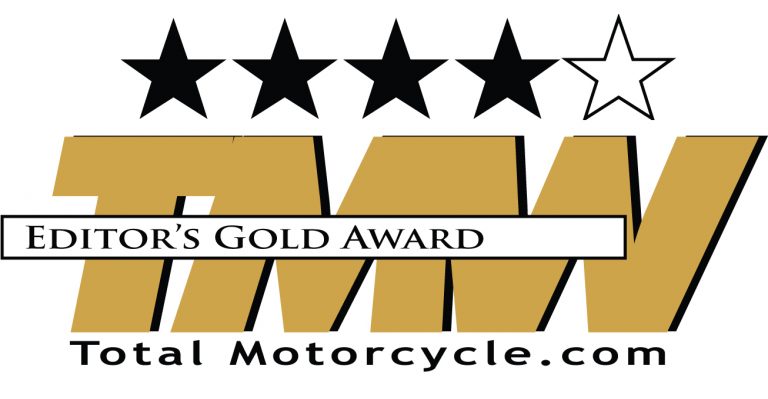 Thank to Scorpion EXO for allowing us this opportunity to review this really beautiful set of ladies sport gear. Please visit Total Motorcycle for my upcoming review of the Gorgeous Scorpion EXO T-510 Azalea helmet.  It's amazing and I can't wait to show it off.
Whatever brand of gear you choose to wear, please wear your gear every time you ride. Wearing well fitting, good quality attire can easily prevent road rash injuries. If you've never experienced road rash you're lucky, and smart!