You are here: Index — 2001 Kawasaki ZR750F
2001 Kawasaki ZR7F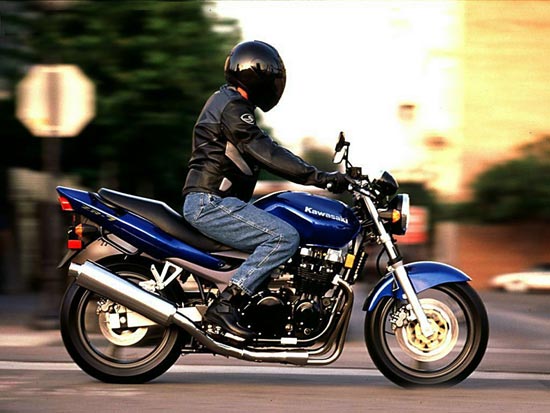 "Blue Streak"
2001 Kawasaki ZR7
1999-2004
738cc Four-stroke, Oil cooled, In-line 4, DOHC, 8-valves
Horse Power: 76 HP @ 9500 RPM
Torque: 46.5 ft lbs @ 7500 RPM
Top Speed: 134mph /..?km/h
1/4 Mile: 12.4 @ 105 mph (X km/h) – 0-60mph: 4.29 sec
Fuel Milage (avg): 45 mpg – Dry Weight: 194kg (427 lbs) – Fuel Tank: 5.8 Gal / 22l

---
My Bike:
Intro: Kawasaki's Official Introduction
History: My bike's history
Reviews: To come

ZR7 Information:
Reviews/Information: Reviews
Parts and Accessories: Lots of stuff
Links: Even more stuff


Photos:
First Photos: When I got the bike
ZR7 Gallery: Photos
---
The ZR-7 comes with a pair of powerful semi-floating front disc brakes, efficient 4-into-1 exhaust system, high-tech UNI-TRAK rear single-shock suspension and slick shifting 5-speed transmission. Powering the ZR-7 is a smooth and responsive 750cc In-Line Four engine that is air-cooled, twin cam four that puts out in the mid-range. This bike can take any paved road, curvy or straight; or any role, from commuting to touring, to hustling down a deserted country road.
Z750 History
1976: Kawasaki Z650 – Smaller version of the Z900
1980: Kawasaki Z750L – Bored-out from the Z650
1982: Kawasaki GPZ750 – A Classic bike. Uni-trak suspension, new cams and carbs
1983: Kawasaki GPZ750 Turbo – Gave a huge boost of the performance. They should have left it on.
1985: Kawasaki GT750 – Shaft-drive roadster. Loved by all, especially couriers.
1999: Kawasaki ZR7F/S – 4th generation Z750. S until 2004. F only 1 year in the USA. 5 gears
2004: Kawasaki ZR7S – 5th Generation. Fuel injected. 6 gears
2007: Kawasaki ZR7S – 6th Generation, current model.

SPECIFICATIONS:
Specifications:
Model
ZR-7
Engine Type
4-stroke, 4-cylinder, DOHC Liquid cooled, 8 valve

Displacement
738 cc.
Bore x Stroke
66.0 x 54.0 mm
Compression Ratio 9.5:1
Compression Pressure 156 psi
Maximum Horsepower 56.0 kW (75.1 HP) @ 9,500 rpm

Maximum Torque 63.0 N-m (46.5 ft-lb) @ 7,500 rpm

Valve System
DOHC, 8 valves
Carburetion
Keihin CVK32 x 4
Ignition
Digital with K-Tric
Starting
Electric
Transmission
5-speed with Positive Neutral Finder
Frame type
Double cradle, high-tensile steel
Rake / Trail
25.5 degrees / 3.7″
Wheelbase
57.3″
Suspension, Front
41 mm. conventional fork
Suspension, Rear
Bottom-Link Uni-Trak with 7-way preload & 4-way rebound damping
Tire Front
120/70-ZR17
Tire Pressure (Cold) Front 36 psi 250 kg/cm²
Tire Rear
160/60-ZR17
Rear 36 psi 250 kg/cm²
Brakes, Front
Dual 300 mm. disc with two-piston calipers
Brakes, Rear
240 mm. disc with two-piston caliper
Seat Height
800 mm (31.5 in)
Fuel Capacity
21.95 L (5.8 gal.)
Dry Weight
445 pounds
Wheelbase 1,455 mm (57.3 in)

Ground Clearance 130 mm (5.1 in)

Max Recommended Load 181.9 kg (401 lbs.)

Brake Size Front 272 mm Effective Diameter

Rear 212 mm Effective Diameter

Wheel Travel Front 130 mm

Rear 130 mm
Fork Oil SAE 10W Capacity 469-477 cc, each
Battery 12 V 10 Ah

Headlight Type Semi-sealed beam

Bulb 12 V 60/55 W (quartz-halogen)
Tail/brake Light 12 V 5/21 W x 2

Alternator Type Three-phase AC

Rated Output 22 A @ 5,000 rpm, 14 V

Voltage Regulator Type Short-circuit


---
May 6th, 2009: Purchased the bike off eBay, sight unseen with 24,818 miles on it. I haven't seen it yet (lol! I'll let you know what I actually got) but it's mine. It was on my "list of bikes to consider" as I always wanted one in Canada when they came out. The F model wasn't available in Canada so it's unique (the S faired version was). Andrea had the 2006 ZR-750S, the successor to this model BTW.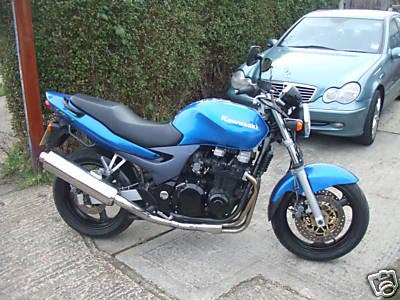 "HERE IS MY KAWASAKI ZR750 F1, NICE BIKE VERY CLEAN, LOTS OF SERVICE HISTORY, BOUGHT ANOTHER BIKE JUST NOT USING IT , AND COULD DO WITH THE SPACE, RECENT NEW BATTERY, TYRES GOOD, IMMOBILIZER, MOT AND TAX,
HAVE ALSO GOT A SCREEN WHICH IS NOT ON THE BIKE IN PICS, WILL GIVE THIS TO WINNER OF AUCTION SELLING BIKE WITH NO KNOWN FAULTS, MORE THAN WELCOME TO VIEW BIKE BEFORE END OF AUCTION, PLEASE PHONE ON XXXXX BEING SOLD WITH NO RESERVE , SO SOMEONE IS GOING TO GET A GOOD BIKE AT A GOOD PRICE"
May 8th, 2009: Purchased insurance for it from www.gocompare.com and the best quote was £97 from Equity Red Star for 3rd Party liability, fire and theft and Andrea could ride it as well so I grabbed that offer. I could also ride other people's bikes and ride in any EU member county including Norway and Switzerland as well. 🙂
May 9th, 2009: Picked up the motorcycle from the seller. A really nice guy, I think he was a self-employed dealer and I didn't mind supporting the little guy. Thankfully the bike was in very good shape and after checking the tonnes of UK paperwork (there is a lot of paperwork here) was in check money was exhanged and the bike was mine. I rode it back the 70 miles home mostly on the M25 and it preformed great. The 5 gears are a little bit of a trade off, quick acceleration with low down grunt but you really want a 6th gear at 75mph… Good riding position, good acceleration to pass and even found you could turn the headlight off (strange to me). Did notice the bike needs a good throttle cable lube job and I would guess it hasn't been run for a bit as it idles a bit rough sometimes.
May 10th, 2009: Detailed Wash and Wax. Well, that took much longer than expected but by taking my time and being detailed I really got to know the exterior of the bike well. It's in really excellent shape, a rock chip here or there, a few small spots of rust on the swing arm or odd screw head and only 1 screw missing (need to replace). After the wash and wax it looks like new!
I did notice a few after market goodies on the bike. Like:
– Renthal handlebars
– Stainless steel braided brake lines, 2 front, 1 rear
– Scott Oiler
– Kawasaki front fender mud guard.
– Aftermarket rear hugger and chain guard
– Bar-end weights
– Nearly new Michelin Pilot Road2 tires.
– Aftermarket windshield and air deflector
– Alarm system and imobilizer
May 11th, 2009: List of things to do:
Oil and Filter Change @ 24,900 miles
Bleed brakes (front and back)
Inspect air filter for cleaning or replacement @ 24,950 miles
Replace all 4 spark plugs @ 24,950 miles
Detailed Wash and Wax @ 24,880 miles
Lube and grease fittings and shock/swingarm nipples. 24,990 miles
Run Redex fuel (carb) cleaner though @ 24,900 miles
Lube all cables (throttle, clutch and brake) 24,970 miles
Replace both throttle cables 24,990 miles

May 18th, 2009: As you can see from the list (May 11th), I've been very busy getting the bike up to like-new condition. I just took it in today (and got it back) from the dealership to replace both throttle cables. I have the know-how to do it myself, I don't have a garge to do so. So the £110 bill was fine. The bike now feels much "newer" to ride. I hope to do the brakes on the weekend with Andrea. Also I have been noticing the bike is using quite a bit of gas and I'll have to see how many litres per 100 miles I'm getting next fill up. Either the bike is gulping the gas (due to my riding style) or the fuel gauge is off.
May 19th, 2009: I've started a Motorcycle Blog here about the bike, my rides with it and experiences on it. Please enjoy reading it: https://www.totalmotorcycle.com/BBS/viewtopic.php?t=32943
---
The ZR-7. By keeping the specifications basic and using an engine that it has had since the early Eighties, Kawasaki has managed to offer a machine that combines rugged good looks matched by sufficient potency and excellent handling. And all at a surprisingly affordable price (US$5,699, Lit 12.000.000 Italy, £4,000 UK).
The ZR-7 is anything but state-of-the-art. The motor is old-fashioned – and it shows. At 75bhp its peak power is low by modern standards, which is pretty low compared to the typical 90+ hp power output of competing 600cc machines. The motor compensates by pumps out hard hitting low and mid range torque, but the throttle response is always quite sluggish, notwithstanding the addition of the K-TRIC (Kawasaki Throttle Responsive Ignition control). At very low revs, such as you'll use riding through city traffic, there's a certain amount of hesitation from the motor, making smooth progress very difficult.
A certain buzziness from the motor is very much in evidence, not so much as any unpleasant vibration, but just a revvy, frantic feel when cruising which has you repeatedly searching for another gear beyond top.
Still, the motor is nothing if not well proven, so reliability won't be a problem, and the new carburetors (KEIHIN CVK32) have at least improved the fuel consumption of what was already a frugal power unit. This and the large, 22 litre (5.8 Us gal) fuel tank will help gentler riders see 400 kilometres (250 miles) between refills.
The frame, too, is traditional (a tubular steel twin-cradle design), but more modern in its performance. The steering is neutral and relaxed across the speed range, stability is exemplary and the suspension works better than you might expect on a machine with such a budget tag. It's too soft to enjoy really serious, fast direction changes, but comfort is good and control at medium speeds just fine.
The ZR-7 is pretty roomy, allowing two-up riding, even over the long distance. The riding position is semi upright, so sustained highway speeds are possible without permanent neck damage. The pillion rider meanwhile is equipped with useful grab handles and a footrest position which isn't too torturously high. However the downwards inclination of the seat makes the pillion slide forward into the front rider seat, making downhill riding and hard braking a little bit uncomfortable for both rider and passenger.
Although weighing in at about 219 kgs (on-the-road with 5 liters of gas) the ZR-7 is surprisingly agile and is pretty easy to handle in city traffic, thanks to a well-designed steel frame. Unlike other similar retro-style maked motorcycles, the ZR-7 lets the rider lean hard (but not too hard!!) into curves with a great sensation of security.
The budget-priced Kawasaki ZR-7 is a competent, useful machine a will appeal to the middle market that is looking for a gentle, touring motorcycle, however riders looking for an exciting track missile should probably look elsewhere…
ZR-7 Super Standard
Minnesota Motorcycle Monthly – review by Larry Mastbaum & Sev Pearman
It's been 16 years since I picked up my first street bike at the Kawasaki dealer a shiny silver GPZ750 that – for all its sporting pretensions – essentially straddled the line between the fast-disappearing "standards" of the time and the emerging high-tech class of liquid cooled sportbikes personified by the Honda Interceptors and Kawasaki's own 900 Ninja.
The revamped GPZ series that hit the streets in 1984 never really got the respect they deserved. Too many Ninjas, Interceptors, FZRs and GSXs out there, I guess. But that whole line nonetheless struck an enviable balance among comfort, power, and corner-carving ability. My favored riding world has always been that of the blue-lined, high-speed sweepers preferably far from home and as deserted as possible. And, Superbike roots aside, that was also the world where my GPZ was most at home, and we completed many journeys, including one especially memorable 7500-jaunt that brought us through the Canadian and U.S. Rockies.
Sparing you the life story and moving to the new millennium, I would have to say things have changed quite a bit in the motorcycling world, but not as much as some moto-marketing types would have you believe. Sure, motorcycles have become ever-more specialized: cruisers, hard-edged sportbikes, sport tourers, dressers so big and plush they require a reverse gear, retro bikes… you know the drill. But, along with this inbreeding of bike lines, the standard is staging a comeback. Oh, sure, now they're called "naked" bikes. I guess the marketing guys found the old term too, um, standard but look closely and you'll see a class of bike that can be virtually whatever their owners desire.
Look real closely at one in particular, the Kawasaki ZR-7 on these pages, and you'll see something else: a lean, flashy, purposeful machine with the soul of my old GPZ. It's no accident the ZR-7's curved gas tank evokes its sporting/standard ancestors. It certainly should. The versatile air-cooled inline four cylinder engine slung beneath it is nearly unchanged, save for updated ignition and fuel system, and though the frame and running gear are vastly improved (both mechanically and geometrically), they share the same basic double-cradle, tubular steel design and UniTrak lineage.
The ZR-7's eight-valve DOHC power-plant sports a 9.5:1 compression ratio and a bank of four Keihin CVK32 carbs, nearly identical to its KZ/ GPZ ancestors, along with a 21st century digital ignition with electronic throttle sensor (dubbed K-TRIC, for Kawasaki Throttle Response Ignition Control) that varies valve timing in response to engine load to improve response and fuel economy, according to company literature. The result is 738 cc's of usable power that, once you clear a fairly wide flat spot at the bottom end of the curve, builds from a mellow rumble to a banshee wail if you let it build to full potential. And that comes on quickly, I don't have a drag strip at my disposal, but 0-to-70 mph comes in roughly five seconds, give or take a tick, even in my untrained hands, and roll-on power is impressive for a bike of this size.
Sure the low-end gagging can be annoying, K-TRIC notwithstanding, but otherwise this bike can cruise the boulevards in comfort if that's your thing; eat some serious interstate with only a slight shudder over expansion joints; or suck you toward its tubular handlebars as you near its 10,000 rpm redline to fight a suddenly light front wheel and the unfaired wind-blast. In other words, the ZR-7 is a jack-of-all-paved-trades, a bona fide albeit naked standard that can trace its lineage clear back to the Jimmy Carter years.
Still, at a moderate 75 horsepower and 445-pound dry weight, according to Kawasaki, the ZR-7 seems happiest when being put through its paces on a fast, curly but, not too tight, section of two-lane. The ZR-7 will happily grab any lean angle you choose with its stock Dunlop 205 series rubber, though it sometimes sits up for just a moment as you enter the turns, especially if you're careless with your right hand on either throttle or brakes. At the same time, its neutral handling courtesy of 17-inch alloy wheels and a 57.3 wheelbase combined with moderate geometry make the ZR-7 a bike you can flick about until your brain starts oozing out your ears and messing up your helmet. Be sure to wear some earplugs!
Wind the ZR-7 up as you approach a pair or more of sweeping, lightly banked esses, hit the clutch for a quick downshift, a dab of brakes, then crank the metallic blue beast over, close your eyes, and indulge your favorite Wayne Rainey fantasies… Well, I guess it's probably best if you keep your eyes open.
Like virtually all branches on the KZ/Z-1 family tree, the ZR-7's bulletproof powerplant has ample room for a bore job and is overbuilt enough to accept other mods, should you feel the need. Relatively minor jetting work would probably net a quick 5-10 additional ponies, and you may not even have to replace the stock exhaust pipe a trick stainless steel 4-into-1 unit with crossovers near the exhaust ports and a huge-yet-relatively-light canister. A decent-sized oil cooler helps keep the ZR-7 from overheating too readily, though as with any air-cooled bike in Minnesota, all bets are off should you find yourself stuck in heavy traffic on the way up north come July.
The suspension is one area where the ZR-7 really shines compared to its ancestors, and to most other modern bikes save the full-tilt sporting models. Its Kayaba monoshock in the rear features a progressive linkage, seven-way adjustable spring preload and four levels of rebound damping. The 41-millimeter Kayaba forks up front are not adjustable, but their stoutness combined with decent stock tires inspires confidence, and the tubes don't seem to flex at all at medium-to-high speeds. Of course, if you plan to engage your hyperdrive and skin some knees in the tight twisties, you will likely exceed the ZR-7's limits in short order, but hey, if that's your scene, you're probably going to be happier on a Hawk, Ninja, FZR, etc. though your spine and knees may not share the sentiment after an hour in the saddle.
When it comes time for a break, the ZR-7's binders will slow you down in a hurry, thanks to twin-piston calipers squeezing a pair of 300-millimeter rotors up front and a single 240-millimeter unit in the rear. It takes just two fingers, and virtually no effort, to engage the front brakes; indeed, after a couple of bikeless summers riding a friend's spare BMW, I found them abrupt until I racked up enough miles to get used to them. The rear brake provides good feedback and is easy to control without locking up in panic-stop situations. I have yet to notice any appreciable fade when giving the brakes a workout. Of course, I have yet to throw a fully loaded ZR-7 around a twisting mountain road in mid-July, though I'll be glad to provide updates if MMM wants to bankroll such a crucial test.
A nearly-but-not-quite upright riding position and 5.8 gallon tank make the ZR-7 a more-than-acceptable long hauler. The comfortable-but-firm seat sits a humane 31.5 inches above the pavement but has a steep step and thin padding in the rear, which means any two-up plans are likely to include frequent "butt breaks" for your passenger.
Instrumentation on the ZR-7 is a step above spartan, including a large tach and speedometer, inset trip odometer, fuel gauge, and all the usual idiot lights. For some reason, though, the backlit tach and speedo are difficult to read once dusk arrives. The clutch and brake levers can be adjustable so that they're closer the handgrips. A nice touch, I suppose, but not something I've ever felt a need for in the past. Kawasaki offers a windscreen (about $90) but no fairing for the ZR-7, an oversight I hope to see remedied soon, though the aftermarket already has some options available.
So far, my gripes about the ZR-7 are relatively minor. Despite an advanced ignition, it tends to hesitate a moment when you crack the throttle at sub-highway speeds, requiring a crisp throttle hand and decisive clutch work. The aforementioned jetting should address this, however. I'd like to see an aluminum swingarm straddling the rear wheel in place of the braced steel box section. While we're at it, how about some of those slick eccentric drive chain adjusters that I remember so well from Kawasakis past and present, such as on the ZRX-11 and various members of the Ninja family? The engine seems overly busy at highway speeds, making me wonder if a taller fifth gear, or better yet a six-speed transmission, might better serve it.
Overall, this is a well-finished bike, but a little extra clearcoat over the sultry metallic blue paint wouldn't hurt, nor would steel or aluminum grab rails. The plastic ones it came with don't exactly inspire trust, and seemingly scratch if you look at them to hard, let alone throw a bungee hook their way.
But these are truly trifling matters when you consider how much bike you're actually getting for the retail price of $5,699. That's right, just $700 more than the Ninja 750 I bought after stupidly selling my old GPZ 750 a decade ago. With a price like that, Kawasaki may be aiming for the less experienced, perhaps even conservative end of the market, but make no mistake, ZR-7 is a whole lot more motorcycle for the money than any other member of the 750 class. It will never be a Ducati Super Sport, a Wide Glide, or a Gold Wing, but for less than a third the cost of any of them, the ZR-7 will cover all the road in between. By Sev Pearman
People who see me think that because of my interest, I probably buy new motorcycles. Nothing could be further from the truth – I live on a steady diet of used hardware. I have never bought a new bike, unless you count that Vespa P200E way back in '82… It doesn't mean that I don't like new bikes, just that they were always a bit out of my reach.
The Kawasaki ZR-7 bears exception. If the beautiful electric-blue paint (Candy Lightning Blue) doesn't grab you, then the $5,699 MSRP will. Folks, this isn't a used CBR600 in the want ads, this is a brand new ride with plenty of goodies.
The Big K has created another of their specialties; an inline 4-cylinder motor that is both powerful and bulletproof. A nephew of the GPZ 750 motor of the early 80's, the ZR-7's motor puts out almost 70 horses @ 9,000 rpm, with a rider-friendly 45 foot-lbs. of torque @ 6,000 rpm. Redline is given at 10,000 rpm! The architecture isn't cutting-edge, but it gets the job done – DOHC, with 2 valves per cylinder, and simple air-cooling. The cases are tastily finished in a Vincent-like, gloss-black. Kawasaki chose to run without liquid-cooling on this model, interesting in this time of ever-tightening noise restrictions, but did hang an oil cooler off the bow, to aid cooling chores.
Our test bike was stinky-new, preventing a thorough, uh…exploration of the powerband. However, at an indicated 70 mph, the motor was yawning at 5,000 rpm, with more than enough oomph to easily propel my large, 5′-10″ frame down the superslab. There was some 4-cylinder secondary vibration felt through the bars and pegs, but nothing too annoying. It would be interesting to do a follow-up ride with a loosened motor, to examine what the upper end of the rev-range feels like. Purely in the interest of reader service, of course.
The gearbox was a delight. A five-speeder with contemporary Japanese precision and robustness, it consistently performed. I was unable to botch a shift, up or down; nor could I find any false neutrals. The clutch has a wide friction zone, and was never grabby. This is an excellent setup for any rider other than Tommy Trapspeed, especially if the ZR-7 is going to spend most of its time on city streets.
Neither do the brakes disappoint. Twin 300mm (almost one foot!) diameter, fully floating discs grace the front, hauled down by matching two-piston calipers. Although they are single-sided, they did not fail to deliver. Repeated hard stops always felt controlled and did not induce fade, despite my 220 lb. bulk. The rear is controlled by 240 mm disc and caliper. Together, they felt adequate, although I'm solidly in the front braking camp, and rarely use my rear.
The exhaust is tastefully quiet, and gorgeously finished in stainless steel. The 4-into-1 headers contain crossovers that aid in horsepower extraction. The exhaust terminates in a beautiful all-stainless canister that sweeps up the right side of the bike. A nice touch are the satin-black finished bag stays, which both prevent bags from melting on the muffler, and keep them from being sucked into the rear wheel.
At this price, a new bike will have compromises, and on the ZR-7, it is in the suspension. The front fork is a nonadjustable damper-rod jobbie, and the rear shock is adjustable for spring preload and rebound dampening. Those who will whine about the lack of full suspension adjustment are probably not considering this model anyway. Perhaps the gentleman would be interested in our Ninja?
Buyers of the ZR-7 may be perfectly content with the fork status quo. You can always buy different springs and experiment with preload spacers, or order yourself up a set of Race Tech's Emulators. At least you get the appropriate C-spanner for the shock in the tool kit!
Comfort-wise, the ZR-7 is a dream. The seat is wide and flat, yet contains dense foam that prevents hot spots. I measured a low 31 inch height, which enabled my 32 inch inseamed legs to easily hold the ground at stops. In addition, the nose of the seat tapers, a further aid to those with shorter or, uh…more generous thighs. What a concept, a factory seat that won't get pitched after the first tankful!
The seating position is simply intuitive. Once perched, the pegs magically appear beneath your feet, as do the handlebars and controls into your gloves. No repli-racer contortions here, just real world comfort. The gauge cluster is equally wonderful. Large, white-faced analog (!) instruments are surrounded by attractive chrome bezels, and are easily read. What's this in the center; yup, a gin-u-wine gas gauge! Coupled with a traditional petcock, you'll have no excuse if you run out of fuel. Capacity is a claimed 5.8 gallons and with early calculations of mileage in the high 30's, a useful range of 200 miles is to be expected. Mileage may increase, as the motor loosens up.
Other practical delights on the ZR-7 include the sorely missed centerstand and 4-way flashers. My first riding partner had hazards on his '84 GPZ. My current riding partner has them on his '92 ZX-11. Why doesn't every bike come with them? What does Kawasaki know that other manufacturers don't? It is a feature that you'll never miss until you ride a bike that has it. The same goes with a centerstand. In the world of hyper-performance, the pounds saved from a second stand equal lower times, higher speeds and increased lean angle. But in the day-to-day world of commuting, small trips and moneysaving maintenance at home, a centerstand is a lifesaver.
Speaking of small trips, the ZR-7 would make an excellent light-tourer. Kawasaki offers a custom fit clear windscreen as well as soft saddlebags; as does the healthy aftermarket. The factory believes so strongly in the touring ability of this model, that they even offer hard bags, ala BMW or their own Concours. Made for Kawasaki by Givi, they are waterproof, integrated and sturdy. Givi bags are known for their quality; as well as their helmet-swallowing ability. I used to think that hard bags were dorky and overpriced until I bought a used bike that had 'em. Why struggle with locked seats and helmet hangers when you can just zip the melon in a bag, and be on your merry way? With the bags off, all that remains is an unobtrusive black mount, which incorporates a handy rear rack for smaller parcels. At about $600, including all hardware, they ain't cheap, but this is a case of definitely getting what you paid for…Besides, your salesman will happily finance them into your loan.
This is what we used to call a standard bike. Fun enough for some scratchin', without the day-to-day literal pain that a full-on sportbike creates; flexible enough for touring, without the Exxon Valdez dimensions and mass that a tourer has. The ZR-7 is small enough to be an excellent urban commando, yet its 738 ccs have more than enough stink to get you where you need to go. Its lack of plastic makes it c-h-e-a-p to insure, too. Its a great time to be bike shopping, and with the new, feature-soaked ZR-7 coming in at $5,699 (under $6400 with hardbags!) you can afford to buy new.
Motorcycle Daily Ride Review: 2000 Kawasaki ZR-7
by Dirck Edge Photos by Evan Edge
I first saw a picture of the 2000 Kawasaki ZR-7 on Kawasaki's Japanese web site in the Fall of 1999. At that point, I didn't know whether the ZR-7 was destined for the United States or not. Frankly, I doubted it, and assumed that it was a Japan-only model, or, at best, destined for Europe, but not the United States.

I assumed the ZR-7 must be an outgrowth of the Japanese home-market fascination with late 70s/early 80s UJMs (or "universal Japanese motorcycles"). Remember the Zephyrs? They were sold in the United States, in both 750cc and 1100cc displacements, several years ago. Featuring air-cooled, in-line four-cylinder motors, and styling reminiscent of the UJMs, the Zephyrs did not sell well in the United States, but they sell well in Japan to this day, along with a host of other bikes of similar design. Here is a photograph of a 1999 Japanese model Zephyr 750.
You're probably wondering why I started this ride review with a discussion of the Japanese market for UJM-styled motorcycles. It goes back to my initial comment, i.e., that the ZR-7 appeared to be an outgrowth of this design. Indeed, the ZR-7, from my perspective, is a modern interpretation of the UJM. Sure, it retains an air-cooled (and oil cooled), two-valve engine fed by carburetors — just like the UJMs of old, but its styling is a modern evolution of the standard motorcycle, and the machine features some modern engineering touches, as well.
Styling is a matter of personal taste, of course, but from my perspective, the ZR-7 is a very pleasing machine to look at. From virtually every angle, the look spells MUSCLE. The blacked-out motor is the centerpiece of a simple, minimalist look. The modern components only enhance the look, again, in my opinion. The single rear shock, for instance, is cleaner than a double shock set up (aside from being more functional). Ditto for the dual front, and single rear disc brakes, which lend the design balance (and the machine ample stopping power). The 17 inch cast wheels are, again, a cleaner, more attractive design than some of the retro spoked wheels (in addition to being more functional and more easily shod with modern rubber — something very difficult to do on the odd sizes, such as 18 inch rims featured on some retros).
Those of you who have read MD for more than a few months know that I am partial to simple, naked bike designs (look at my article on the Borille, for instance). So, as I sit here, I remember vividly the first time I saw the ZR-7 on that Japanese web page roughly nine months ago. An attractive motorcycle design is not something I soon forget — and the ZR-7 was a design I had been waiting for. Forget the blind allegiance to retro designs, and design a naked bike with a single rear shock, disc brakes all around, 17-inch wheels (with sportbike rubber, if possible), and I will be happy (my thoughts at the time). The ZR-7 design delivered.
What about the function of the ZR-7? The bike is beautiful to look at, but how does it perform? Quite well, actually.
Your first impression while riding the ZR-7 is that it carries its weight extremely well, and is a nimble and torquey machine through town. It clearly out performs the Zephyr models from a handling perspective. Indeed, Kawasaki is proud of the stiffness of its frame, and the ZR-7 was designed to be a performer — not just a looker.

The two-valve, air-cooled motor isn't going to challenge the modern, four-valve, liquid-cooled in-line fours for outright performance, but, in this package, the classically designed motor is both beautiful and adequately powerful. With a deep, resonant exhaust note, the motor pulls strongly through the midrange – only running out of steam at high rpm (above 7,500 rpm, actually).
With the addition of Kawasaki's K-TRIC throttle response system, the ZR-7 carburetes quite well throughout the rev range. Its rear wheel horsepower and torque figures reflect Kawasaki's continual development of this motor. With 67 horsepower and roughly 45 foot pounds of torque, the ZR-7 offers more than enough performance for the average rider.
If you want more performance, the aftermarket is already at work on pipes, jetting and air filters for the ZR-7. Yoshimura is one such company worth mentioning, particularly since we "borrowed" their dyno chart for the ZR-7. According to the chart, minor re-jetting, including shimming of the needles, and increasing the main jet size, coupled with the Yosh race slip on yields six additional horsepower and increased torque over a broad range. More importantly, the chart indicates the bike can breathe better on top with a pipe and re-jetting.

The handling of the ZR-7 is predictable and lively, although, of course, it won't set standards among the latest sport bikes (Kawasaki's own ZX6R included). Ridden at a moderate to brisk pace, the ZR-7 responds well to rider commands – far better than any UJM I remember. The stiff frame Kawasaki boasts about combined with modern rubber, suspension and brakes, make for a very competent handling, modern machine.
While you can certainly have fun on a twisty road, don't expect the ZR-7 to hold its composure when pushed as hard as you might comfortably push a modern sport bike. Some frame flex and imprecision (even wallowing) can result in these circumstances. Nevertheless, at this price point, and given the ZR-7's intended purpose as an all-around, multi-purpose motorcycle, it handles quite well and, frankly, better than I had expected. It is a fun ride, with lots of character.
Nice touches include a centrally located fuel gauge, 300mm dual disc brakes in the front (which perform quite well), a polished, stainless steel four-into-one exhaust, and, by anyone's standards, a high level of fit and finish (including lustrous blue paint here in the United States). The cast wheels carry the latest generation Dunlop sport touring radials (D205s). These tires (which I have used on other bikes) are strong performers — offering excellent grip and mileage.
At an MSRP of $5,699, the ZR-7 offers an attractive mix of nostalgia and modern performance. As the owner of a Kawasaki KZ1000 UJM in my youth, the ZR-7 tempts me for a number of reasons. It has that classic lump of motor dominating its style, and is a far better starting point for modification than any flexi-framed, drum-braked, 18 inch tired, retro UJM. To be honest with you, I've been thinking about a ZR-7 with an aftermarket pipe, jetting, air filter, decked cylinder (for higher compression), and a little valve work. With its bargain basement price and modern styling, I could build a killer UJM for the new millenium.
ZR-7 Specifications
Engine type 4-stroke, DOHC, in-line four
Displacement 738cc
Starting Electric
Bore x Stroke 66.0 x 54.0mm
Cooling Air
Carburetion Keihin CVK32 x 4
Ignition Digital with Kawasaki Throttle Responsive Ignition Control (K-TRIC)
Transmission 5-speed
Frame Double cradle tubular steel
Rake/trail N/A
Suspension, front 41mm telescopic fork
Suspension, rear Uni-Trak® single shock system
Wheel travel, front 5.1 in.
Wheel travel, rear 5.1 in.
Tire, front 120/70ZR17
Tire, rear 160/60ZR17
Brakes, front/rear Dual hydraulic discs/Disc
Overall length 82.9 in.
Overall width 29.7 in.
Overall height 42.3 in.
Ground clearance 5.1 in.
Seat height 31.5 in.
Dry weight 445 lbs.
Fuel capacity 5.8 gal.
Wheelbase 57.3 in.
Color Candy Lightning Blue
MSRP $5,699

Kawasaki ZR-7; Kim's Review by Kim Edge
It's been some time since Dirck wrote his review of the Kawasaki ZR-7. I also rode the ZR-7, and would like to give you a novice rider's impression of the bike.
Once again, I was first attracted to the bike because of its good looks — the bike has a powerful bearing and that, coupled with the naked look, immediately caught my eye. The paint was a beautiful blue with a high gloss finish.
The Kawasaki ZR-7 is a bit taller (I'm tip-toeing on this one; remember, I'm 5'3″), and a bit heavier than my regular ride (a Honda Hawk 650GT). Although I had to be a bit careful of where I parked the bike (or be sure to back the bike in where I'd normally park it front first), I immediately liked the feel of the ZR-7. The riding position was terrific — it was one of the things I liked best about the bike. The seat was comfortable; I sat tall and felt totally in control.
The ZR-7 is the first in-line four I've ridden, and it was, obviously, a bit of a change. It was, however, a quick adjustment, and I really liked the bike. The handling was excellent — the bike changed directions quickly, but still felt stuck — not at all squirrelly on the road. The ZR-7 was fast and sounded hot — the engine just screamed as you accelerated down the highway! I rode this motorcycle all over; in town, on the freeway and through the canyons. The more I rode it, the more I liked it. I'm not sure if the ZR-7 has as much power left over when you're revved out on the freeway as the SV650, but I felt confident that the bike could give me all the power I needed.
The gauges were all easily visible, and I really liked the full gas gauge (my Hawk has none). The mirrors were easy to adjust, and gave you a good view of what was behind you.
Was there anything I didn't like about the bike? Not really. I feel that the ZR-7 is a great all around motorcycle — a bike that would be satisfying to ride as my skill level increases.

---
First Photos: When I got the bike
The day I got the bike (below photos)
The following photos are of my actual bike the day I got my new bike. (Wash, wax, polish and shine came later).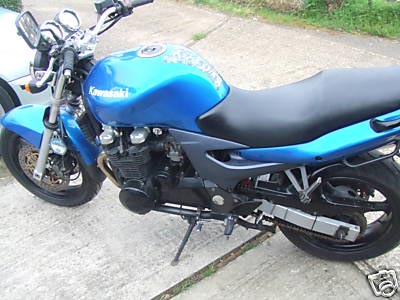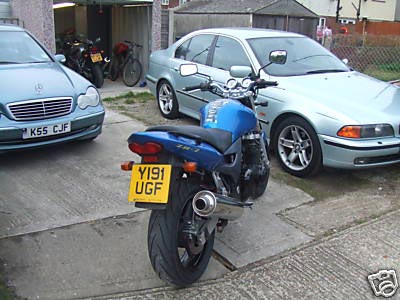 After a detailed wash and wash (below photos)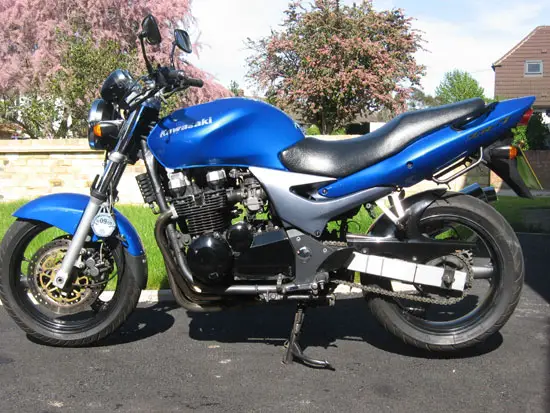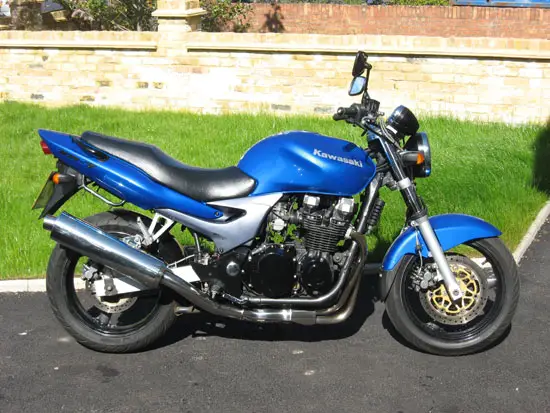 ---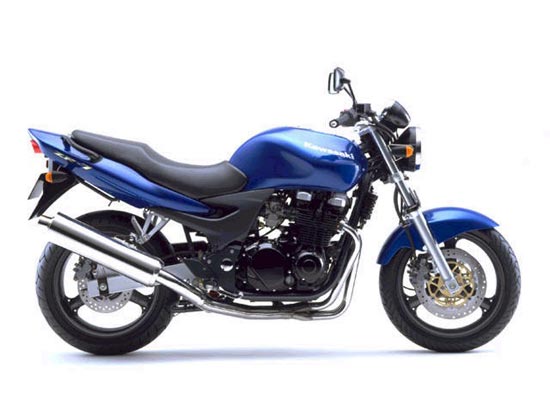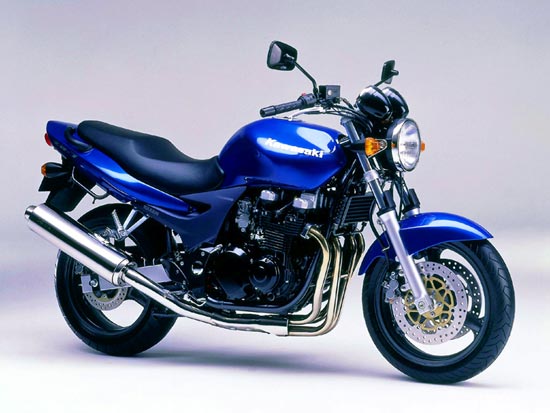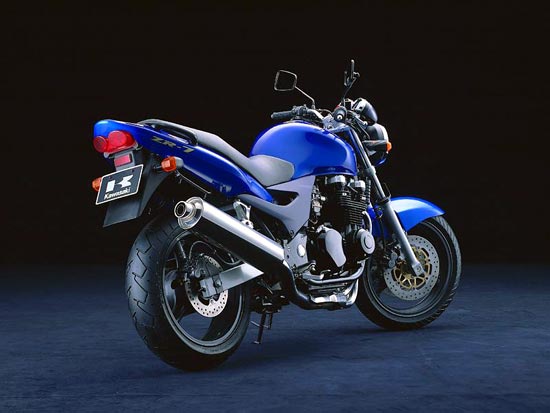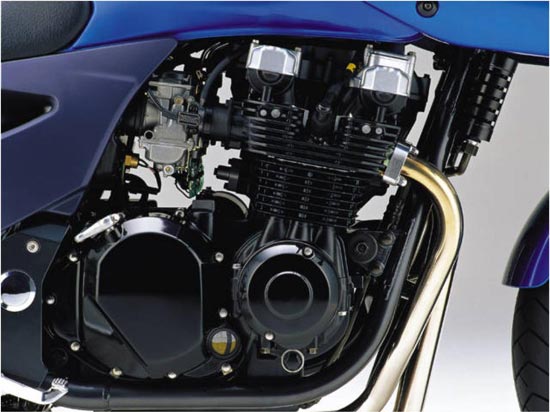 ---
Product Type: Motorcycle Full-Flow Lube Cartridge


Product Height 2.22″
Product I.D. .77″
Product O.D. 3.03″
Style Code 284

AMSOil
AUTO-TUNE E5202
BIG A 92216
BIG A 96941
CANADIAN TIRE 27-5501-X
CARQUEST 85216
CARQUEST 89941
CHAMP P300
CHAMP P7011
DORCY 21-8015
Emgo
Fram CH6012
HASTINGS LF571
K&N
KAWASAKI 16099-003
LUBER-FINER P300
LUBER-FINER P7011
NAPA 1216
NAPA 4941
PUROLATOR ML16812
TRIUMPH MOTORCYCLE 1210031-T0301
TRIUMPH MOTORCYCLE 3990070-T0301
WARNER P7011
WIX 24941 (Application Chart)





NGK SparkPlugs: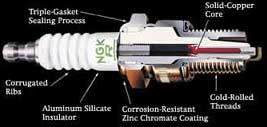 1999-2004 Kawasaki ZR750
Spark Plug ….. Part No. ….. Stock No. ….. Plug Gap
Standard ….. …..DR9EA ….. ….—— ….. ….. …. 0.6-0.7 mm
Iridium . . . . v .. DR9eiX. . . .. ..——.. … ….. …..—–

Tires:
Tires Front: 120/70-ZR17
Tires Rear: 160/60-ZR17

Yuasa Battery Type: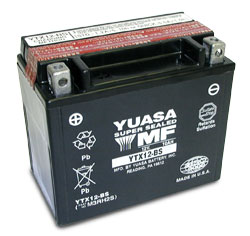 Battery Family: Maintenance Free
Battery Type: YTX12-BS
Voltage: 12
Capacity: 10
Dimensions: 6″ x 3.4375″ x 5.125″
Weight: 7.5 lbs.
Metric Dimensions: 150mm x 87mm x 130mm
Metric Weight: 3.4 kg
Polarity:
Acid Volume: 0.6
Amps: 1.2
C.C.A.: 180


Brake Pads and Shoes:

TBA
Gas milage:
Fuel Milage (avg): 45 mpg
Fuel Tank: 5.8 Gal / 22l


Lighting:
OEM Spec: 12V 60/55W H4
Great the best H4 (also called: 9003) bulbs you can afford. High Performance Headlight Test
Sylvania Silverstar
H4 SilverStar Headlight
High Performance Halogen Headlight – Dual filament for both high beam and low beam – For Motorcycle Use – part number: H4ST
Watts: Low 55; High 60
Lumins: Low 910 +/- 10%; High 1500 +/- 10%
Color Temp: 4000K

Sylvania Halogen Xtravision (review)
9003 XtraVision Headlight
High Performance Halogen Headlight – Dual filament for both high beam and low beam – part number: 9003XV

Watts: Low 55; High 60
Lumins: Low 910 +/- 10%; High 1500 +/- 10%
Color Temp: 3200K


Shocks:
TBA
Engine Motor oil:
ZR7F recommended Engine Oil: API SE, SF, or SG class or API SH or SJ with JASO MA
Viscosity: SAE 10W-40, 1OW-50, 20W-40, or 20W-50 ISAE 10W-40

Capacity:
3.0 L (3.2 US qt) [when filter is not removed]
3.5 L (3.7 US qt) [when filter is removed]
3.6 L (3.8 US qt) [when engine is completely dry]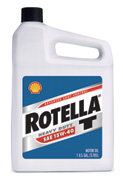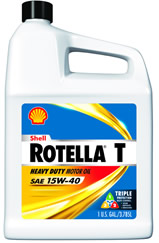 Shell Rotella-T 15w40 and Shell Rotella-T 15w40 with Triple Protection
I've read for years this oil works really well in motorcycles. We have used it with great results in our last two new motorcycles (2007 DL650 and 2006 ZR750s). Worked great, will use again. Even Shell claims it's good for bikes too. "Many gasoline engines, especially the hard-working engines of pickup trucks, sport-utility vehicles (SUVs), minivans and motorcycles"
Motormaster 4-Stoke (Canadian Tire) 20w-50 & 10w-40
Motomaster 4 Stroke Motorcycle Oil – (from Shell Canada) Shell brand oil. Formulated to meet JASO T903 MA quality (a motorcycle spec). As well, since they are formulated for gasoline engines, they also meet API SJ (typically known as a 'car' spec). This is actually unbranded Shell Formula 1 oil (excellent).
Halfords Motorbike 4-Stoke (Halfords) 10w-40 Part Synthic Oil
Halfords Motorbike Engine Oil 10W-40 Part Synthetic 5L is formulated and manufactured to meet the performance and protection standards of leading brands. (Part synthetic high performance motorcycle engine oil – 4 Stroke). This product will meet the requirements of JASO MA.

Grade: 10W/40
Oil Type: Part synthetic

Features and Benefits:
ACEA A3
API SL
JASO MA
Note: This is what I am currently using in the UK as there are not many economic choices out there for oil. This oil was £19.19 on sale (20% off) which makes it the most expensive oil I've ever purchased (vs. Canada) but the lowest priced motorcycle oil I could find (UK).
CLICK to go to our Maintenance Section for much more information
Information
How-To: Changing your Motorcycle's Oil and Oil Fiter yourself
Kelly's Motorcycle Blue Book (motorcycle values)
Red Book (motorcycle values)
Conversions (HP, Torque, fuel, metric, imperial etc)

Parts
Progressive Suspension USA Home Page Application Chart
Wix Oil Filters (HIGHLY recommended) Motorcycle Application Chart
Late Evening Reads
Motorcycle oil filters exposed!
Engine Oil Filter Study
Oil Filter Alternatives – Honda Motorcycles
Winter Maintenance Series-Part One: Winter Preparation
Torque vs. Horsepower (excellent article)
Kawasaki ZR7 fan websites on the 'net