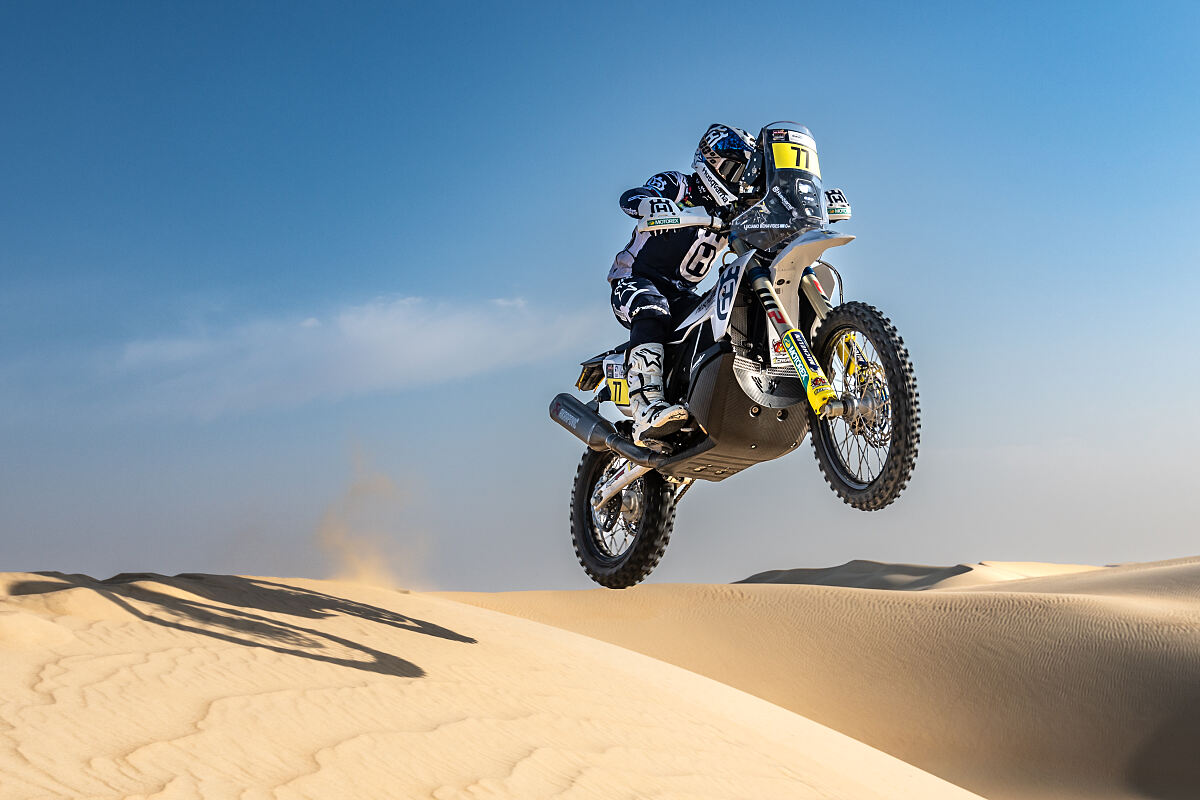 Husqvarna Factory Racing have got their 2023 Abu Dhabi Desert Challenge off to a strong start with both Skyler Howes and Luciano Benavides riding their FR 450 Rally machines to solid top-10 finishes on the rally's first full stage. Setting off second into the timed special, Howes soon found himself opening the stage from where he ultimately secured sixth place. Benavides chased down his teammate while also riding near the front, to claim eighth.
Returning to action following his exceptional ride to third place at the Dakar rally, Skyler Howes placed 11th on the Abu Dhabi Desert Challenge prologue. That result saw the American enter today's 404-kilometre stage one as the second rider, from where he moved out in front to lead the navigation through the dunes after just 10 kilometres.
Continuing to skilfully open the stage, Howes maintained a safe but solid pace from the front to post the sixth-fastest overall time after receiving just over five minutes in bonuses. The result puts the FR 450 Rally rider in eighth place overall and gives him a strong start position for Tuesday's 365-kilometre stage two, which also marks the first half of the rally's marathon stage.
Luciano Benavides also enjoyed a solid day's racing in the Liwa desert, putting in a strong showing to secure eighth place for the stage and seventh place in the overall standings. The Argentinian will also be aiming to make the best use of his later start position tomorrow to chase down his teammate and his rivals ahead.
Skyler Howes: "I opened the majority of the special today, so that was pretty tough, but I have to admit, it was good fun. I set off second, caught Balooshi by around kilometre 10, then when Nacho (Cornejo) caught me at around kilometre 150, we rode together, pushing each other to the finish. The stage was tricky enough that you had to stay focused to make sure you didn't make any huge mistakes over some of the big dunes. As far as opening goes, I think it was a good one as it wasn't too technical out there, but still a good start for the rally. With the bonus time I accumulated it puts me in a good position for the rally and a nice start position for tomorrow. Hopefully I can push on the tracks a little and keep this momentum going."
Luciano Benavides: "Stage one done here at the Abu Dhabi Desert Challenge. It was quite different to last year I think – a new stage for us. A lot of it was quite fast, but the dunes themselves were cut away in places with some big drops. All of that meant it was difficult to find a good rhythm. I struggled a little bit with that and the stage was also very physical, so I was quite tired at the end. The guys at the front did a good job of opening, but I was able to clock up around one minute in bonuses being the third guy through the stage, so that helped a little. In general, I'm happy, because my feeling on the bike is good, so I'm looking forward to giving it full gas for the four remaining stages, starting with the first half of the marathon tomorrow."
2023 Abu Dhabi Desert Challenge – Stage 1 Provisional Classification

1. Pablo Quintanilla (Honda) 3:00:15
2. Adrien Van Beveren (Honda) 3:02:15
3. Ross Branch (Hero) 3:03:27
4. Jose Ignacio Cornejo (Honda) 3:04:31
5. Toby Price (KTM) 3:04:52
6. Skyler Howes (Husqvarna) 3:06:01
…
8. Luciano Benavides (Husqvarna) 3:06:43
2023 Abu Dhabi Desert Challenge – Provisional Overall Classification [After Stage 1]

1. Pablo Quintanilla (Honda) 3:40:15
2. Adrien Van Beveren (Honda) 3:42:31
3. Toby Price (KTM) 3:45:32
4. Ross Branch (Hero) 3:45:35
5. Jose Ignacio Cornejo (Honda) 3:47:51
6. Ricky Brabec (Honda) 3:48:29
…
7. Luciano Benavides (Husqvarna) 3:49:07
8. Skyler Howes (Husqvarna) 3:49:45