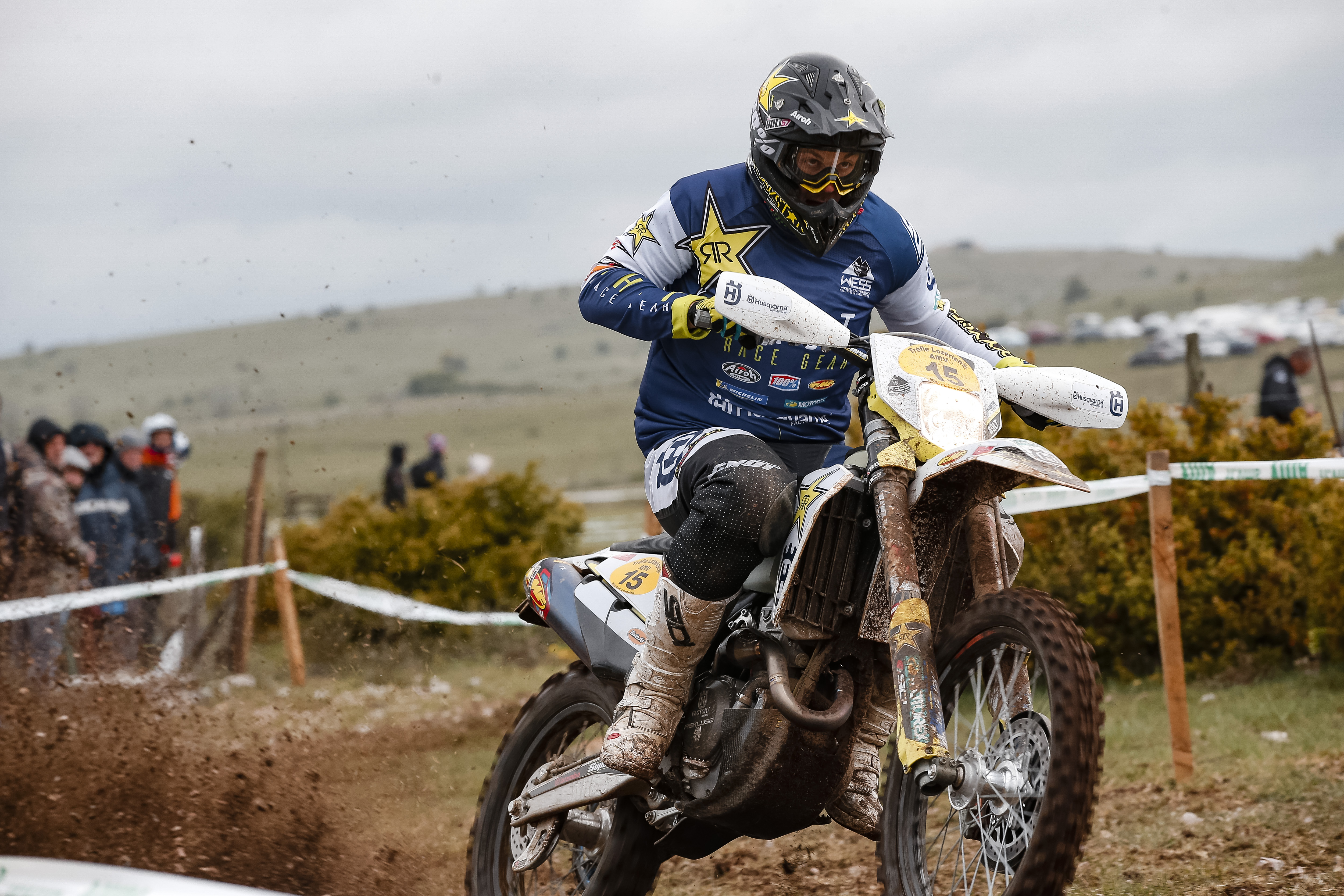 In tough and muddy conditions, Rockstar Energy Husqvarna Factory Racing's Billy Bolt has battled his way to a top-15 result at the second round of the 2019 World Enduro Super Series, in France. Switching gears from Hard Enduro to Classic Enduro, the British rider fought his way through three days of challenging weather to claim a well-earned 15th place at the Trèfle Lozérien AMV. Adapting well to the high-speed special test racing, Bolt's teammate Alfredo Gomez powered his TE 300i to 26th overall.
With no time to spare, the World Enduro Super Series moved from last weekend's Extreme XL Lagares in Portugal to France's most-prestigious classic enduro – Trèfle Lozérien AMV – for round two of the WESS championship. During the three days of racing, competitors covered 719 kilometres of riding and 15 timed special tests – the majority of which only ridden once each. With wet and cold weather throughout the duration of the event, it would prove to be three muddy and challenging days of racing for Bolt and Gomez.
Making a strong start, Bolt was quick to adapt to the grassy special tests. Finding his feet in the slippery conditions, he ended day one in a promising 13th overall. On day two a couple of mistakes hindered his progress and he slipped one position down the order to 14th. Doing his best to regain the lost time and pushing hard to improve on the third and final day, the defending WESS champion went on to end the race in 15th overall.
For Alfredo Gomez, the Trèfle Lozérien AMV was always going to be a challenging event. A rider who very much favours hard enduro over the all-out raw speed of classic enduro, the Spaniard entered the French competition with realistic expectations. Aiming for a top 30 result or better, he acquitted himself well among an entry stacked with many experienced traditional enduro specialists. Ending day one in 30th, Gomez steadily worked away at improving his results. Despite deteriorating weather conditions he finished in an eventual 26th overall.
The World Enduro Super Series continues with round three – the Erzbergrodeo – on May 30-June 2.
Billy Bolt: "I'm reasonably happy with the way I rode on the opening two days, but things haven't worked out so well on the final day. I fell a few times today and that's not helped me. I was up to speed with the conditions at the start of the event, but have slowly dropped back in terms of my times, which is really frustrating. With the tests being fairly short there's not much time to get into a rhythm and any mistakes you do make are difficult to overcome. It's been frustrating but also a learning process, being out of my comfort zone. I don't want to use my foot as an excuse, but I'm certainly feeling the time that I spent off a bike. Although I would have liked stronger results it's another WESS event finished and now it's onto Erzbergrodeo, which I'm really looking forward to."
Alfredo Gomez: "I've really tried my best in this event, but it's not been easy for me. classic enduro is a very different discipline to hard enduro, so for me it's been challenging to adapt to the grassy special tests and to the mud. But that's to say that I haven't enjoyed this race because despite the weather I have. There's always something to learn and I feel like I've made progress during the weekend with how to approach muddy special tests like this. Naturally the French riders and classic enduro specialists are extremely fast in this terrain but I'm not disappointed with how I've preformed. Like I said, I gave it my best and that's the most important thing."

Results – WESS Round 2: Trèfle Lozérien AMV 2019
1. Josep Garcia (KTM) 01:03:07.557; 2. Jaime McCanney (Yamaha) 1:03:49.586; 3. Nathan Watson (KTM) 1:03:55.612; 4. Julien Gauthier (Yamaha) 1:03:57.013; 5. Jeremy Tarroux (Sherco) 1:04:10.136; 6. Theo Espinasse (Sherco) 1:05:04.311; 7. Christophe Nambotin (Gas Gas) 1:05:10.817; 8. Emmanuel Albepart (Yamaha) 1:05:21.908; 9. Jonny Walker (KTM) 1:05:31.888; 10. Joe Wootton (Husqvarna) 1:05:52.828… 15. Billy Bolt (Husqvarna) 1:07:06.851… 26. Alfredo Gomez (Husqvarna) 1:09:54.204…