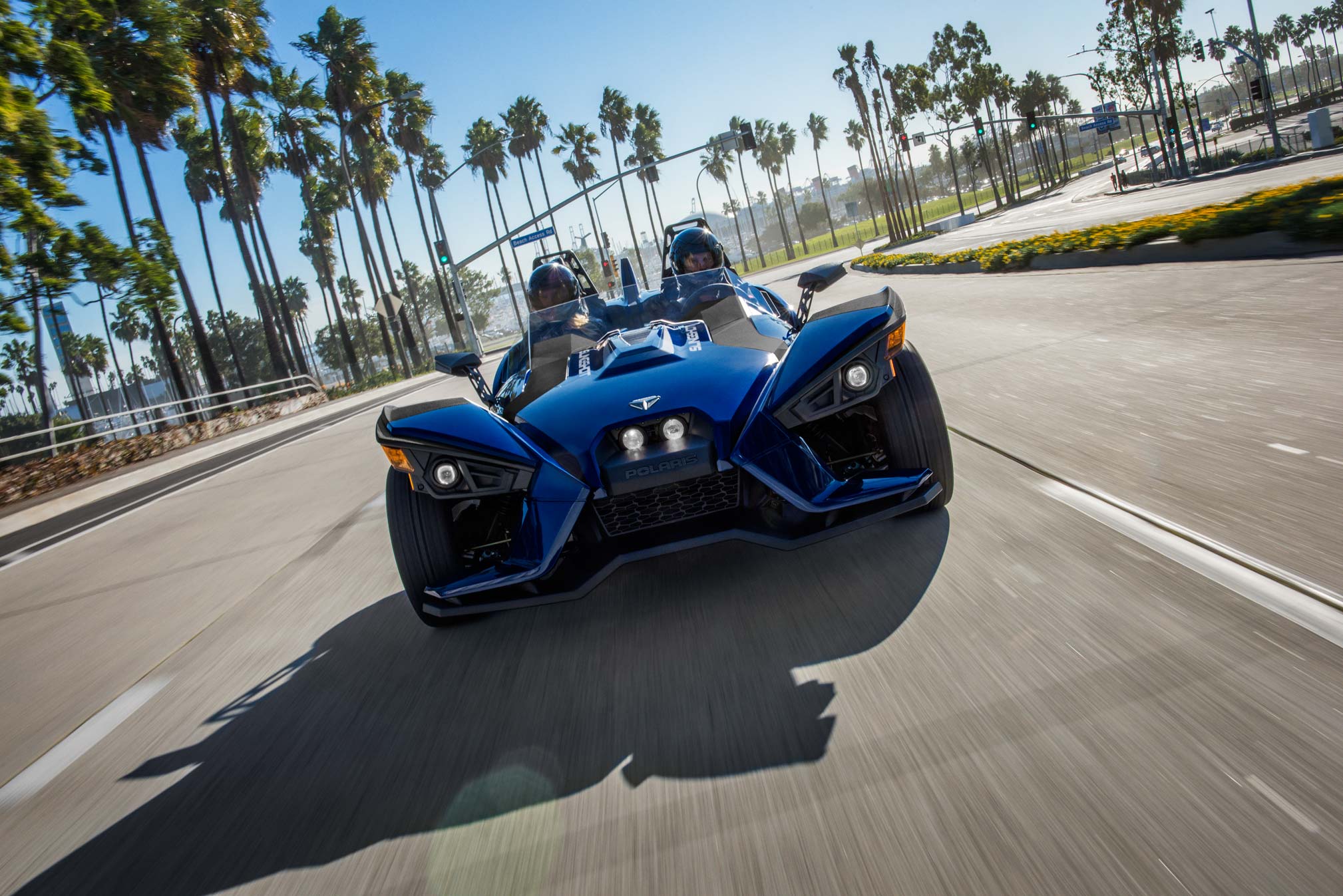 FLORIDA (April 3, 2018) – Slingshot®, the bold three-wheeled, open-air roadster has announced Florida, one of the most popular states for the brand given its unique style and year-round sunshine, is the latest state to reclassify its driving requirements as an "Autocycle." Florida becomes the 43rd state to reclassify its driving requirements, as state residents can now operate a Slingshot with a valid state driver's license rather than the previously-required motorcycle endorsement.  Driving requirements for Florida will officially transition to Autocycle on July 1, 2018. 
The Sunshine State provides endless destinations to fully maximize the three-wheeled, five-speed manual transmission, side-by-side bucket seat roadster. Because Slingshot roadsters unique classification, operating with a steering wheel, and without handlebars or straddle seating, state policymakers recognize operator skills similarly mirror those of a valid state driver's license.
"Since introducing the one-of-a-kind Slingshot in 2014, we have partnered with state officials to properly classify the operating requirements to a standard driver's license," said Josh Fulkerson, Slingshot Sr. Director.  "Our efforts have led to incredible results with 44 states reclassifying three-wheeled vehicles. We continue to work diligently educating policymakers in the remaining states."
Representing the biggest enhancements since its introduction, the 2018 Slingshot lineup takes style, performance and technology to a whole new level. Select 2018 models feature the seven-inch touchscreen RideCommand infotainment system with turn-by-turn navigation, while all Slingshot models are powered by a 2.4L GM engine that creates 173 horsepower and 166 ft-lbs of torque. Slingshot's 2018 lineup includes three models, the S, SL and SLR, and two limited-edition offerings, the Grand Touring LE and SLR LE. Pricing ranges from an entry-level $19,999 (S) to $30,999 (SLR LE).