You are here: Home — Interviews — 2005 Buell Motorcycle Canada Interview
Total Motorcycle Interviews

2005 Buell Motorcycle Canada Interview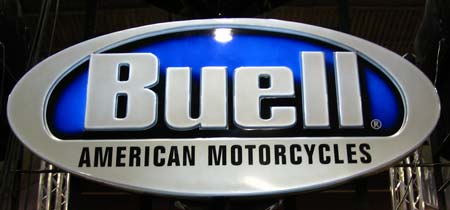 Total Motorcycle's interview with Buell Motorcycle Canada:
by Mike and Andrea Le Pard.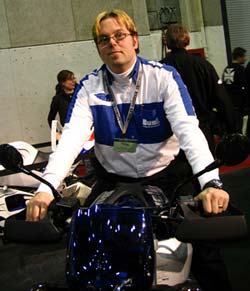 Eric Buell is a man with performance on his mind and racing in his blood who knew he could design a motorcycle that the world wanted. In 1993, with the help of Harley-Davidson, Eric got to bring his dream to life. 12 years later, Eric has shown the world that Buell Motorcycles is still shooting for the stars.

Total Motorcycle interviewed Tom Wild, Assistant General Manager for Calgary Harley-Davidson on January 8th at the 2005 Calgary Motorcycle Show. We interviewed Tom last year about Buell and were pleased to get the opportunity to interview him again this year. Tom is a friendly, happy-go-lucky kind of guy who loves to talk about the Buell product. His good-natured personality, friendly attitude and helpful knowledge are a great example of what Buell is all about.

TMW: Tom, what sets Buell apart for the rest of the competition?

Tom: Buell is a unique motorcycle company focused on two things: power of torque and innovative technologies. First, let's talk about the power of torque. Horsepower is nice but Buell motorcycle engines are all about torque, making it the type of engine you want for street riding. They are a lot of fun to ride and they offer a wide, smooth power band with lots of torque down low which lessens the need for frequent shifting. Second, we focus on innovative technologies. We implement advanced innovative technologies that we call the "trilogy of technology" into every Buell motorcycle. Specifically, that is mass centralization, which is taking everything in the motorcycle and making it as centralized as possible to balance the weight. We also use frame and torsion rigidity; this keeps the bike moving straight, in a predictable manner and with minimal flex. Keeping unsprung weight as light as possible, the bike "clings" to the road with less bounce, keeping its movements more predictable as well.

TMW: What were Buell's most successful models for 2004?

Tom: Our 2004 Buell XB9R Firebolt was the best seller for us in 2004. This bike is our sport bike model that offers the rider a lot of advanced innovative technology for their dollar.
TMW: Out of all Buell's 2005 models, which ones is Buell most excited about and why?

Tom: The brand new 2005 Buell Lightning CityX – XB9SX is the model we are most excited about this year. It is actually pronounced "City Cross" rather than "City X"; Buell designed it to be a mixture of a street bike/motocross that would be best for the city street environment where most riders use their bikes. Buell's goal for designing the XB9SX CityX was to make an urban assault street bike for the city. It features phenomenal handling and a taller seat height which gives the rider a dominating riding position with the feeling of a dirt bike. Another neat feature of the CityX is the very unique translucent body work.
TMW: What is Buell currently focusing on in the market and why?

Tom: Buell is currently focusing on the "Street Fighter" market and crowd. Street Fighter motorcycles offer great handling, cool looks and are very fun to ride. We coined the phrase "Sport Fighter" to better express what our bikes are. They are stripped down, powerful, torque oriented bikes that dominate acceleration and nimble handling, and have minimalist but aggressive looks. The "Sport Fighter" type of motorcycle is designed for real world fun rather than having a huge top speed that is impractical and hardly used by normal street riders.

TMW: What things might we expect to see in the future from Buell?

Tom: I would expect even bigger horsepower for all our models, as well as a new engine for some of our models (see below). We will also be introducing even more technology upgrades to our Buell motorcycles, since that is something that we are constantly focusing on.
TMW: Are there any future models in the works?

Tom: Buell loves advanced innovative technology, so yes there sure are. Buell riders tell us they want more: more horsepower and even more torque. So our challenge is to come up with the perfect engine to give our Buell riders what they want and deserve.
As for secrets, I can let out that we are going to be using the Harley-Davidson V-Rod engine for a Buell model this year, which will be released at Daytona 2005! The Harley-Davidson V-Rod engine will of course go though our research and development departments, which we have done in the past with the other Harley-Davidson type engines, to ensure that the engine is a perfect fit with our new model. What the result will be is a Buell V-Rod derivative that will wow our riders and customers.
TMW: Is there anything else you would like to share with our readers?

Tom: Buells are great bikes that deserve to be tested and ridden because they were designed for the real world. After a test ride, people would feel just how practical our bikes are for everyday road riding. Everyone should have the opportunity to test our bikes so they can understand what we have to offer: loads of torque, handling, and — most importantly — fun, which is what Buell is known for!

This concludes our 2005 Interview with Buell Motorcycles. We would like to thank Buell Canada and Tom Wild for allowing us to interview them and for their time. We look forward to our next interview with them.
---
Unbiased, helpful, personal, friendly and useful motorcycle resource