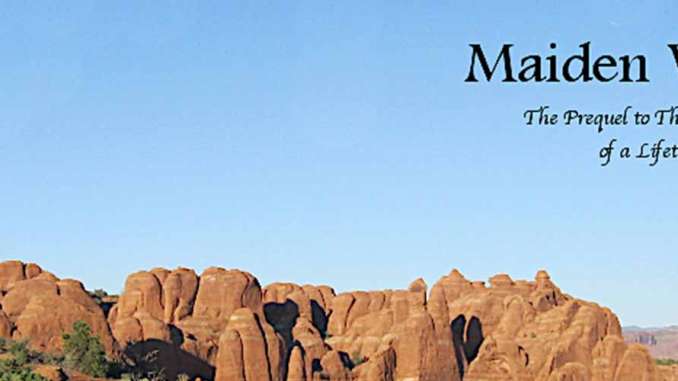 Exclusive Review by Total Motorcycle Reviewer Aaron Heinrich.
Writing a book of any sort is hard work. It's more than just placing words together into sentences, paragraphs and pages. It's doing so in a way that creates an interesting story while giving the reader reasons to stick with the book all the way through to the end.
Tim Notier gives us several reasons to stay with the Maiden Voyage — it's not only a fast read, but you find out about places you may not have visited, and his descriptions of what happens with bad rain gear leaves you wondering how much more rain can this guy take.
Over the course of a 19-day "adventure" vacation Notier and his girlfriend Marisa travel through the American West on a new KTM. They visit the Badlands of the Dakotas, the heart of Yellowstone National Park, and the famous red rock country of Utah. They get cold, they get wet, they meet some interesting people…and (spoiler alert) they get engaged!
Notier's descriptions of the national parks and the roads that go through them are enough to make you want to at least consider visiting them for yourself. For instance, when describing one part of Yellowstone, Notier writes:
"As we pushed southward, the countless places where we could stop and just stare for hours came around every turn in the road. Rivers cutting through green valleys of the rolling slopes made up our field of view. The lumbering buffalo, that I now had new-found respect for, were roaming on the same hills that the river cut through. The sky was fading in and out with the sun and the overcast clouds fighting each other, but each changing tone of light gave way to a new version of the sublime landscape before us."
Later, Notier and Marisa are in Bryce Canyon, Utah. This is an area of dramatic scenery and deserves a description that will do it justice. While Notier's account doesn't quite measure up, it does provide some sense of the diversity of the area:
"The green hills behind covered in pine trees marched all the way up to the very brim of the plateau. Some overflowed onto the side of the canyon like water that burst through a dam. The color of the environment changed from the greens of the trees blanketing the earth behind us, only be overthrown by the now predominant colors of reds and oranges of the barren rock in front of us."
While he had clearly spent a lot of time planning the destinations and his eventual engagement, Notier appears to have put less thought into the importance of having the right gear. For instance, he evidently chose to spend as little as possible on a useful rain suit. Consequently, every rainstorm, and there were several of varying degrees, meant he got wet and uncomfortable. But in his epilogue, he does list "rain gear that actually functioned as a water repellent" as a better choice for the longer trips to come.
When they arrive home, Tim and Marisa realize how much they like traveling by motorcycle, and they vow to find a way to save the money to pursue a three-year adventure riding around the globe. You realize then that the intent of Maiden Voyage is to serve as a prequel for a future book that will either truly describe their "adventure of a lifetime" or a really long vacation.
Other than admitting that his desire for adventure riding came after seeing the Long Way Down, Notier does not make it clear why this trip was so important to him. He does mention how he had visited some of the parks earlier in his childhood, but there was never a deeper sense as to whether or not that influenced his need for adventure or this trip in particular.
It was also unclear as to why he felt compelled to write about this trip and turn it into a book. While he affirmed at the end of Maiden Voyage that this trip was everything he wanted it to be, and it made him and Marisa realize that "our summer breaks would not be enough to satisfy what we now envisioned ourselves capable of," I was still left wanting to know more.
None of this makes Maiden Voyage a bad book. Notier has an easy and simple writing style, which makes it quick to read and digest, but he could have benefited from a skilled editor who would have cleaned up the grammar and broadened his word choices.
Maiden Voyage probably didn't have to be a book. It could have been an interesting first few chapters of what will no doubt be Notier's account of his and Marissa's longer trip to come. Consequently, you might do yourself a favor and wait until he writes that book. But if the thought of seeing some of the key sights of the American West through someone else's eyes or perhaps you want some inspiration for your own long distance, multi-day trip, then Maiden Voyage may be just the ticket to get you started.
Maiden Voyage: The Prequel to The Adventure of a Lifetime
Publisher: Independently published
Copyright Tim Notier, 2016
Author Tim Notier.
ISBN-10: 1521549214
ISBN-13: 978-1521549216
167 pages
$19.99 (as of 02/01/2018, paperback)
About the Reviewer
Aaron Heinrich is an experienced motorcyclist, passionate storyteller and published author. He recently completed a motorcycle trip to the Balkans and now has the overseas travel bug. Aaron is also a product reviewer and correspondent for Total Motorcycle.