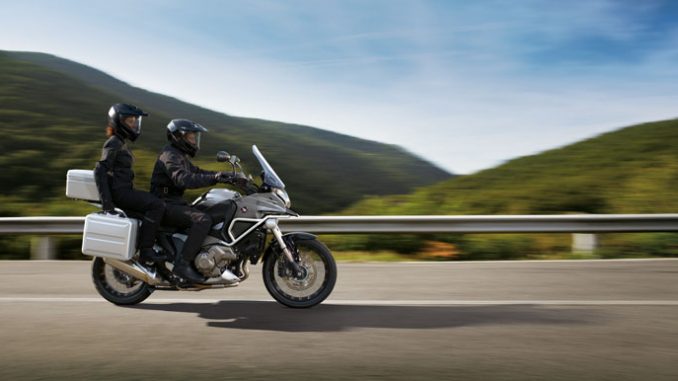 Click photos to enlarge.
They make great desktop images.
– 2012 Honda Crosstourer

2012 Honda Crosstourer Review
Honda is proud to announce the expansion of its state-of-the-art V4 model line-up by introducing the new Crosstourer, first launched as a concept model in 2010 at the Milan EICMA show. The Crosstourer will deliver all the fun and excitement of a sports tourer; with the comfortable upright riding position and manoeuvrability of an adventure machine. This is underpinned by Honda's V4 expertise and Dual Clutch Transmission with new functionalities.
The development team, led by Yosuke Hasegawa (Large Project Leader), wanted to create a motorcycle that gave the rider a sense of challenge and adventure; a perfect travel companion, while also offering a premium and unique design complemented by cutting edge technologies; A motorcycle that could conquer a long distance journey on fast major roads and motorways, or embark on an adventure to a remote destination in the mountains.

The Crosstourer delivers this by combining sports touring features, such as the powerful V4 engine configuration also found in the VFR1200F, with features found on off-road motorcycles such as long travel suspension and an upright riding position. This crossover between two biking genres makes the Crosstourer a unique and versatile package. Long-travel suspension – a feature of off-road machinery – smooths travel over rough terrain or on uneven road surfaces. The rugged suspension system also enhances ride quality and handling. The upright riding position provides comfort and command and outstanding visibility for the rider.
Like the Crossrunner, unveiled at EICMA in 2010, the Crosstourer provides the power of a V4 engine packaged in a crossover motorcycle. Honda's Dual Clutch Transmission system is a perfect fit with the Crosstourer's advanced, pioneering spirit. The twin-clutch transmission offers both manual gear shifting, using buttons on the handlebars, and stress-free fully automatic functionality which can be manually overridden whenever the rider chooses. The machine also comes equipped with a Traction Control System, which increases rider's reassurance on low-friction riding surfaces, ensuring the engine never transmits more power than the rear tyre can handle. Refinements such as Honda's Combined Anti-lock Braking System underline the motorcycle's all-weather, all-road capability – this machine really is ready for anything.
The Crosstourer sets a new standard in full size sport adventure sports touring motorcycles. It offers a unique combination of V4 engine performance with advanced technology for stability and handling – when riding solo or with a pillion – on all types of road surface and for all lengths of journey.

2012 Honda Crosstourer Features and Benefits
Engine
Big-capacity V4 power
The 1237cc V4 engine – installed for the first time in a Honda adventure sports touring motorcycle – has been optimised for stronger low and medium rpm drive, delivering smooth power to make the Crosstourer feel effortless in a rider's hands on long distance rides.
Transmission
Dual Clutch Transmission (optional)
Honda's Dual Clutch Transmission ensures seamless and even smoother gear changes – in any of its three riding modes – making the Crosstourer a supremely versatile motorcycle. Using two electronically controlled clutches, the system offers the choice of manual gear shifting and two fully automatic modes, one for general use (D-mode) and another for high performance riding (S-mode). The Crosstourer's Dual Clutch Transmission also features new software logic with added functionality.
Chassis
Versatile chassis
Chosen for its excellent weight/rigidity balance, the Crosstourer's die-cast aluminium frame mounts long-travel suspension systems front and rear to deliver an engaging riding experience and a comfortable ride on all road surfaces.
Honda Technology
Honda's Traction Control System and Combined Antilock Braking System underline the new machine's any-road, any-weather capability. The two ensure safe, swift running even in low-grip conditions.

Model details
Styling
Inspiring, function-led styling

The Crosstourer's styling suggests great strength allied with a refined sportiness. Recurring design themes like sharp edges accentuate its rugged adventure style; a lack of bulk at the front of the bike gives a feeling of lightness. The headlight configuration consists of a stacked headlight arrangement, with the main beam headlight positioned above the high beam unit. The headlights and effective windscreen are positioned towards the middle of the machine to help centralise mass while also offering great wind protection. Channels in the fairing at the front of the bike reduce frontal area, while ducting cooling air into the radiators. The rear of the machine is highly functional with an integrated luggage carrier and grab rail, to which the optional panniers attach directly. The LED indicators, used for the first time on a large capacity Honda motorcycle, ensure optimum visibility.
Protection from the elements
The Crosstourer features off-road inspired hand-guards to provide welcome wind and weather protection for the rider. The adjustable windscreen has been shaped using computational fluid dynamics analysis for an idealised shape and just enough wind protection. The design lets the rider feel the breeze while keeping fatigue to a minimum.
Multi-function digital instruments
The advanced multi-function instrument panel is both attractively styled and easy to read at a glance. Positioned just below the rider's line of sight to maximise the amount of time spent looking ahead, the display is dominated by a large clear digital speedometer. This is flanked by gauges showing remaining fuel and engine temperature. Across the top of the display is a bar-type tachometer, which runs left to right as engine rpm increases. Also included is the odometer, two trip meters, remaining fuel, fuel consumption (both actual and average), range to empty, gear position indicator, clock and the currently selected Dual Clutch Transmission mode (if applicable). The brightness of the instrument panel is also adjustable.

Ergonomic Design
Comfortable riding position

Key to the appeal of the Crosstourer is the off-road inspired upright riding position, perfect for riding in busy city streets and twisting rural roads alike. The Crosstourer's carefully considered ergonomics package offers both rider and passenger a high degree of freedom. Natural support of the rider's body weight between footpegs, seat and handlebar make the machine comfortable, even on extended rides. The riding position also offers excellent visibility for enhanced riding experience and increased hazard perception. Coupled with the generous steering lock, centralised mass and wide, tapered handlebars, gives great control at lower speeds.
Engine
Big-capacity V4 performance

The Crosstourer is a machine designed to give its rider the feeling that anything is possible. No journey is too long or demanding, no road surface impassable. Contributing significantly to this feeling is the Honda V4 engine, now within a sports adventure touring package that delivers impressive and useable power and torque that is available whenever required.
Compact engine dimensions
The V4 configuration is slim and compact, reducing frontal area and helping realise a mass-centralised chassis for excellent handling. The rear cylinders are set in close proximity, making the engine narrower at the back. The result is a comfortably slim and manageable motorcycle. Contributing to the engine's compact dimensions is Honda's revolutionary Unicam technology, pioneered in Honda's CRF range of single-cylinder off-road machines. This employs a single overhead camshaft configuration to reduce the size and weight of the cylinder heads and optimise combustion chamber shape, benefiting performance.
Smooth engine operation
The Crosstourer's engine uses a combination of a 76° angle between the two banks of cylinders and a crankshaft with 28° phasing between the crankpins to virtually eliminate vibration. Since this obviates the need for a power-sapping balancer shaft, the result is a higher output together with a serene absence of vibration. This is an engine you can use all day, for hundreds of miles, with minimal fatigue.
Optimised engine settings
Based on the engine found in the VFR1200F, the Crosstourer's powerplant has been modified to deliver more satisfying drive, even from very low engine rpm. To increase low and medium rpm drive the design of the camshafts has been revised, as has the valve timing. The result is satisfying drive, even from very low engine rpm.
Refined control
Further contributing to the V4's superb levels of control and user-friendliness is the advanced ride-by-wire system, which precisely meets the rider's demands with just the right amount of easily-controlled performance; no more and no less.
Dual Clutch Transmission (optional)
A product of Honda's ongoing desire to use new technologies to bring fun and convenience to peoples' lives, Dual Clutch Transmission uses automated clutch and gearshift operation to deliver the same riding enjoyment as a manual transmission, with the convenience of an automatic. As the name implies, the system uses two clutches: one for start-up and 1st, 3rd and 5th gears; and another for 2nd, 4th and 6th. By pre-selecting the next gear using the clutch not currently in use, the system can electronically switch clutches when required to deliver swift, smooth and seamless gearshifts. This smoothness is particularly beneficial when carrying a passenger.
A mode for every situation
Three modes of operation are available for flexibility to suit different riding styles and situations. MT mode gives full manual control, allowing the rider to shift gears with the handlebar trigger control buttons. Two fully automatic shift modes are also available. D mode is ideal for city and highway riding, and maintaining fuel efficiency. The ECU monitors several key parameters and can choose between two maps; one for normal conditions, which minimises gear shifts for smooth progress, and a second for high-load use that changes gear more readily for increased acceleration and stronger engine braking. In sporty S mode the transmission lets the engine rev a little higher before shifting up, giving greater performance, and also shifts down sooner when decelerating. In either D or S mode the Dual Clutch Transmission offers immediate manual intervention if required. The rider simply selects the required gear using the MT mode shift button. Changes to the software system now mean that at an appropriate time the system reverts back to the automatic mode.
Reassuring Traction Control System
The Crosstourer is equipped with Honda's Traction Control System (TCS). This system monitors rear wheel speed, looking for fluctuations that could suggest an imminent loss of traction and, subsequently, machine control. If the system believes wheel-spin is imminent, engine power is momentarily reduced, maintaining traction. The system can be switched off in accordance with the rider's preferences.
Chassis
Quartered hollow die-cast aluminium beam frame

The frame of the Crosstourer is a hollow aluminium unit that employs a quartered construction. This technique enables very precise control over the all-important weight/rigidity balance of each part of the frame. The result is superb handling with a reassuring sense of stability, regardless of the road surface.
Wheels
Shock-damping tubeless spoked wheels

Developed especially for this model, the Crosstourer spoked wheels have been designed to absorb the shocks generated by rough road surfaces, working with the machine's suspension systems to deliver a comfortably refined ride quality. Tyre sizes – 110/80-R19 at the front, 150/70-R17 at the rear – have been chosen to balance keen, agile handling with effortless traction.
Suspension
Long-travel suspension systems

Designed to excel on the hugely varied road surfaces of Europe, the front and rear suspension systems both offer generous amounts of controlled, bump-absorbing travel. The rigid 43mm upside-down telescopic forks offer reassuring control with precise steering and stability – even during hard cornering and heavy braking. The Pro-Link rear suspension configuration combines strong traction with ride quality. Both the front forks and rear shock are adjustable for both tension (rebound) and preload, allowing riders to alter chassis characteristics to suit their riding style and intended usage.
Maintenance-free shaft final drive
To ensure it is as easy to maintain as it is to ride, the Crosstourer uses a maintenance-free shaft final drive. The design of this fuss-free transmission has been developed to be both durable and quiet, even during high speed running.
Brakes
Combined Antilock Braking System (C-ABS)

The Combined Antilock Braking System incorporates both the easy control of a Combined Braking System and the extra reassurance of an Anti-lock Braking System. The CBS effectively balances front and rear braking control for smooth operation. At the same time, the Antilock Braking System provides extra reassurance and offers more confidence in braking power in unexpected or extreme situations.
Colours
The Crosstourer will be launched in four colours.
– Digital Silver Metallic
– Pearl Sunbeam White
– Pearl Cosmic Black
– Candy Prominence Red
Model history
To test the validity of a new concept motorcycle – one with the comfort, power and go-anywhere capability to satisfy even the most adventurous individuals – Honda unveiled the V4 Crosstourer concept model at the 2010 Milan EICMA show. Positioned alongside the smaller Crossrunner, the concept explored the possibility of a rugged motorcycle based around the frame and powerful 1237cc V4 engine of the VFR1200F.
This new machine's remit evolved slightly from concept to the mass production version. The concept was an adventure machine with the emphasis on long-distance all-road touring. The production Crosstourer has developed into a more versatile package, as effective in the city on the daily commute as it is on the open highway. To achieve this, the styling has become more streamlined and the dimensions slimmed. The chassis specification has also been altered, with the adoption of upside-down forks for greater on-road control.
The Crosstourer is the perfect platform to emphasize the numerous technical advantages of a V4 engine: high power output with a compact, centralised mass for good handling and a small frontal area for reduced aerodynamic drag. The distinctive growl of the V4 is another essential part of the machine's appeal.

---
2012 Honda Crosstourer – American Specifications
USD MSRP Price – Model may not be available in the USA
May not be available in the USA
---
2012 Honda Crosstourer – Canada Specifications
Candian MSRP Price – Model may not be available in the USA
May not be available in the USA
---
2012 Honda Crosstourer – European Specifications
EU MSRP Price – See dealer for country pricing.
Engine

Type Liquid-cooled 4-stroke Unicam 16-valve 76° V4
Displacement 1,237cm3
Bore x Stroke 81 x 60mm
Compression Ratio 12: 1
Max. Power Output 95kW/7,750min-1 (95/1/EC)
Max. Torque 126Nm/6,500min-1 (95/1/EC)

Fuel System

Carburation PGM-FI electronic fuel injection
Throttle Bore 44mm
Aircleaner Oil-permeated, viscous-type paper filter
Fuel Tank Capacity 21.5litres
Fuel Consumption 16.3km/l (46mpg – Tested in D-Mode WMTC mode**)

Electrical System

Ignition System Computer-controlled digital transistorised with electronic advance
Ignition Timing 8.4° BTDC (idle speed)
Sparkplug Type NGK: IMR8E-9HES – DENSO: VUH24ES
Starter Electric
Battery Capacity 12V/11.2AH (YTZ14S)
Headlight 12V, 55W x 1 (low)/55W x 1 (high)

Drivetrain

Clutch Wet multiplate (* Wet multiplate, hydraulic 2-clutch)
Clutch Operation * D mode/S mode/Manual mode
Transmission Type 6-speed
Primary Reduction 1.738 (73T / 42T)
Gear Ratios 1 2.600 (39T / 15T) – *2.250 (36T / 16T)
2 1.600 (32T / 20T) – *1.700 (34T / 20T)
3 1.260 (29T / 28T) – *1.304 (30T / 23T)
4 1.076 (28T / 26T) – *1.107 (31T / 28T)
5 0.961 (25T / 26T) – *0.967 (29T / 30T)
6 0.897 (35T / 39T) – *0.886 (31T / 35T)
Final Reduction 2.699 (37/39 x 19/17 x 28/11) – * 2.706 (39/41 x 19/17 x 28/11)
Final Drive Enclosed shaft

Frame

Type Diamond; aluminium twin-spar

Chassis

Dimensions (LxWxH) 2,285 x 915 x 1,335mm
Wheelbase 1,595mm
Caster Angle 28°
Trail 107mm
Turning Radius 2.7m
Seat Height 850mm
Ground Clearance 180mm
Kerb Weight 275kg (F: 132kg; R: 143kg), *285kg (F: 138kg; R: 147kg)

Suspension

Type Front 43mm inverted telescopic forks with hydraulic damping, preload and rebound damping adjustment
Rear Pro-Link with gas-charged damper, preload and stepless rebound damping adjustment

Wheels

Type Front Tube less spoked
Rear Tube less spoked
Rim Size Front 19 x MT2.5
Rear 17 x MT4
Tyre Size Front 110/80-R19
Rear 150/70-R17 ()
Tyre Pressure Front 250kPa
Rear 290kPa

Brakes

Type Front Dual 310mm disks, Combined ABS
Rear Single 276mm disk, Combined ABS

* Dual Clutch transmission version
** Please note that the figures provided are results obtained by Honda under standardised testing conditions prescribed by WMTC. Tests are conducted on a rolling road using a standard version of the vehicle with only one rider and no additional optional equipment. Actual fuel consumption may vary depending on how you ride, how you maintain your vehicle, weather, road conditions, tire pressure, installation of accessories, cargo, rider and passenger weight, and other factors.


All specifications are provisional and subject to change without notice.