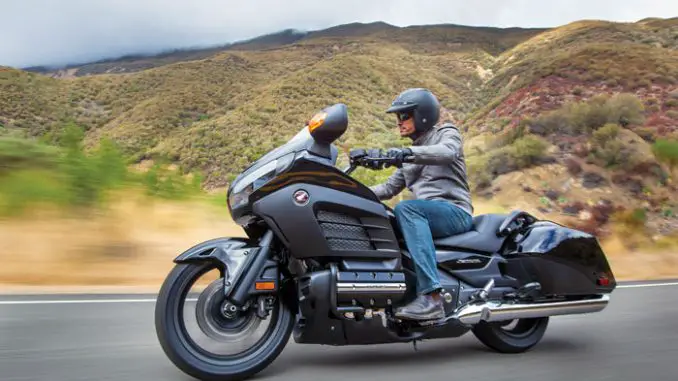 You are here: TMW — 2013 Motorcycle Models — Honda — 2013 Honda Gold Wing F6B Review
Click photos to enlarge. Our big, clean bike pics make great desktop wallpaper.
2013 Honda Gold Wing F6B Review

2013 Honda Gold Wing F6B
A New Way To Go Everywhere.
Think of it as the Gold Wing's bad-boy cousin. The all-new Honda Gold Wing F6B takes the superb six-cylinder engine and advanced chassis of the touring legend, then strips off the rear top box, chops down the windshield, and covers everything in midnight black to create a premium cruiser like nothing else on the road. Long, low, lean and mean, the F6B is built for the boulevard, and built to turn heads. Thanks to its touring-bike underpinnings, it hasn't forgotten how to carry you long distances in ultimate comfort, too. Where the Gold Wing coddles you and your passenger in a luxurious cocoon, the F6B lets the wind and the scenery wash over you. The fairing still protects you from the elements, but the shorty windshield gives you an unobstructed view of the road ahead. The F6B's slimmer design also improves its power-to-weight ratio, which makes the legendary 1,832 cc six-cylinder engine even more impressive when you twist the throttle. And the lighter weight helps the F6B handle with an agility that you really have to experience to believe. Four-speaker sound system with iPod and USB interface, Dual-Combined Braking System with ABS, spacious saddlebags… the Honda Gold Wing F6B leaves other premium cruisers way, way behind.
Whether you have an hour, a weekend or a week to leave it all behind, here's a new bold and blacked-out-styled machine to satisfy that urge to get away from it all-the brand-new Gold Wing F6B. This machine is loaded with all the good looks and key features you want, and it's all set for short hops or weekend trips. It starts with a powerful fuel-injected 1832cc six-cylinder engine that provides an unrivaled level of performance in the class. Honda's unique, horizontally opposed six-cylinder layout also contributes to an exceptionally low center of gravity. That design, along with a large and stout twin-spar aluminum frame plus a sophisticated suspension system, gives the Gold Wing F6B remarkable nimbleness and maneuverability for superior handling. The blacked-out styling treatment with long and low lines gives the Gold Wing F6B an aggressive look, while large-capacity saddlebags, a comfortable gunfighter-style seat, premium audio system and more means there's no need to rough it on the road. Available in standard or deluxe trim and offering a wide assortment of Honda Genuine Accessories and Honda Signature Accessories, the 2013 Gold Wing F6B leaves plenty of room to add your own personal touch.
Honda's new Gold Wing F6B takes the world's greatest touring motorcycle—our own Gold Wing—and puts a whole new spin on it. Lighter, trimmer, leaner. Perfect for around-town, shorter trips, or even a weekend getaway, the Gold Wing F6B still offers plenty of storage capacity and performance, along with many of the Gold Wing's comfort and luxury features. Best of all, it has a clean, fresh look that's all its own.
Features & Options
•1832cc liquid-cooled horizontally opposed six-cylinder engine
•Integrated luggage, low-profile windshield, adjustable suspension, comfortable seat
•Premium surround sound

2013 Honda Gold Wing F6B Key Features
– Innovative appearance with blacked-out styling, plus incredible performance put the Gold Wing F6B in a class of one.
– Blacked-out treatment applied to wheels, engine and frame.
– Shorty windscreen and gunfighter-style seat add to a unique persona.
– Powerful, fuel-injected 1832cc engine features a parallel two-valve cylinder head with direct shim-under-bucket valve actuation for strong and smooth power production plus rugged dependability.
– Programmed Fuel Injection (PGM-FI) incorporates two 40mm throttle bodies and six high-pressure programmed fuel injectors.
– Premium audio system features direct MP3/i-Pod connectivity.
– Multi-information screen features odometer/A&B tripmeters, clock, air temperature, saddlebag open indicator, audio controls and music information.
– Sleek lower cowl adds to the aggressive look.
– Stylish tail section incorporates passenger grabrails.
– Lockable, waterproof saddlebags offer large storage capacity.
– Convenient glovebox.
– Deluxe model includes passenger backrest, centerstand, self-canceling turn signals and heated grips.
– Available in Black or Red on both standard and deluxe models.
Additional Features
– Transferable three-year limited warranty; extended coverage available with a Honda Protection Plan.
Honda Genuine Accessories†
– Heated Grips††, Centerstand††, Color-Matched Passenger Backrest with Pad††, Rear Carrier, Backrest/ Rear Carrier Mounting Brackets††, Passenger Headset Junction, Accessory Socket, Tall Windscreen, LED Foglight Kit, Deluxe Helmet Headset (Full and Open), Saddlebag Cooler, Chrome Front Fender Rail, Chrome Front Fender Extension, Chrome Sidestand, Chrome Front Disc Cover, Chrome Bar Ends
Honda Signature Accessories†
– Saddlebag Liners, Saddlebag Lid Organizer, License Plate Frame, Saddlebag Mat Set

2013 Honda Gold Wing F6B Features and Benefits

Low-Profile Windscreen
Part of the Gold Wing F6B's new look is its low-profile windscreen. Just enough coverage to offer wind protection, but not too much to isolate you from the ride. It's a perfect touch!
Heated Grips
Heated grips with adjustable heat levels keep the hands warmer on those colder riding days. (Deluxe Model)
Audio System with Surround Sound
When using the speakers (SRS CS Auto*), the audio image is enhanced along with deep low tones, producing a powerful surround sound. When using the headsets (SRS Headphone**), you'll hear a three-dimensional sound field brimming with realistic sound.
Aggressive New Styling
There's no mistaking the new F6B's sleek new look: The bodywork is super streamlined, a new rear cowl dresses up the rear, and blacked-out styling touches means this new bike looks as good as it performs.
Glovebox
A center-mounted lockable glovebox is standard for added convenience and storage.
Blacked-out Styling
Innovative appearance with blacked-out styling applied to wheels, engine and frame.
1832cc Liquid-cooled, Fuel-injected Engine
The Gold Wing F6B's fuel-injected, horizontally opposed six-cylinder engine is exceptionally smooth and incredibly powerful. This time-tested powerplant delivers plenty of useable power, using regular unleaded fuel. And to eliminate crankshaft-induced torque reaction at the chassis, the gearbox spins opposite the crank's rotation.
Comfortable Seat
You won't want the ride to end on a new Gold Wing F6B—the seat is contoured and comfortable, so you and your passenger can enjoy the trip.
Adjustable Suspension
Rear Pro Arm single-side swingarm with Pro-Link single shock features remote-controlled spring preload adjustment.
Backrest
Integrated with overall design, the passenger backrest provides additional comfort and support. (Deluxe Model)
iPod® Connectivity
Now you can connect a compatible Apple® iPod® player or other USB mass storage devices, such as flash drives that contain MP3, WMA6 or AAC music files, and control them through the Gold Wing's audio controls. The connector is located in the lockable trunk, where devices can be conveniently carried and discreetly stored.
Spacious Storage
Using the Gold Wing-style saddlebags means the new Gold Wing F6B offers 22 liters of lockable, weather-resistant storage.
Self-cancelling Turn Signals
Offers the convenience of having the turn signals automatically turn off after completing a detectable right or left turn. (Deluxe Model)
Integrated Luggage.

With lockable twin saddlebags, the new Gold Wing F6B gives you plenty of room to carry what you need, or to secure any purchases you make along the way.
Learn More .

Six-Cylinder Engine.

Based on the Gold Wing's 1832cc powerplant, the Gold Wing F6B's engine features the same smooth power. And since the Gold Wing F6B is lighter, it's going to feel even more powerful.

Low-profile Windshield.

The Gold Wing F6B's lower windshield really opens up the cockpit, and puts you in touch with the environment. While it still offers excellent wind and weather protection, you're going to find it's a lot of fun to ride behind.

Two Feature-Packed Versions.

The Gold Wing F6B comes stacked with good things, but for those who want even more, there's the F6B Deluxe: everything in the standard F6B, plus a center stand, self-cancelling turn signals, a backrest, and heated grips. And just like the standard F6B, it comes in either Black or Red

Engine/Drivetrain
Powerful fuel-injected 1,832 cc six-cylinder engine produces smooth, effortless power while surpassing the California Air Resources Board (CARB) 2008 emissions standards..

Low, forward engine placement and solid engine-mounting produce excellent road handling characteristics and impressive low-speed manoeuvrability..

Nickalloy crankshaft bearing caps provide quiet operation throughout the engine's operating temperature range..

Parallel two-valve cylinder-head design utilizes direct shim-under-bucket valve actuation and requires no 1,000 km service..

Silent-type camshaft chains with automatic adjusters provide reliable, maintenance-free operation..

Two 40 mm-diameter throttle bodies deliver air to six specially designed Keihin 50-psi high-pressure programmed fuel injectors (PGM-FI). Fuel is delivered through four nozzle tips in each injector, producing an atomized fuel mixture that is highly combustible for optimum efficiency and power..

Electronic control unit (ECU) provides two digital 3-D fuel injection maps for each cylinder and one digital 3-D ignition map for each cylinder, creating ideal fuel mixture and spark advance settings for superb rideability. Unique knock-control sensors monitor ignition advance to improve performance throughout the entire rpm range..

ECU-controlled closed-loop emission control system utilizes two oxygen sensors to constantly deliver a precise air/fuel mixture, while two exhaust catalytic converters further reduce emissions of carbon monoxide, hydrocarbons and nitrogen oxides..

Rotary Air Control Valve (RACV) maintains precise idle control under widely varying engine loads and operating temperatures..

Compact water pump is mounted behind the engine and is driven directly by the crankshaft, contributing to quicker engine warm-up..

Engine cooling system features a series-flow coolant flow pattern that offers cold-start rideability and provides rapid engine warm-up..

Two side-mounted radiators enhance cooling efficiency and use low-air-pressure areas created by side cowls to draw cooling air through the radiators and beyond the rider at highway speeds..

Sturdy eight-plate clutch with maintenance-free hydraulic-assist..

Efficient stainless steel six-into-two exhaust system produces a pleasing, powerful sound..

Powerful 1,300-watt alternator uses a fluid-damper (viscous coupling) system to minimize alternator noise..

Precise-shifting five-speed transmission includes overdrive fifth..
Chassis/Suspension
Beautiful multi-box-section aluminum dual-spar frame and Pro-Arm single-sided cast aluminum swingarm set new class standards for handling..

The innovative aluminum frame is specifically engineered for optimum rigidity with tuned flex. This combination of rigidity and flexibility produces excellent handling, superb riding comfort and wonderful road feel..

Inherently smooth flat-six-cylinder engine also serves as a tuned stressed frame member. The solid engine-mounting system utilizes specially designed hangers and carefully matched mounting bolts to provide both excellent road feel and minimal engine vibration..

The Gold Wing rigid Pro-Arm single-sided cast aluminum swingarm provides simplified servicing of the rear wheel and tire, while assuring optimum handling..

Dual full-floating 296 mm front discs with Dual-Combined Braking System three-piston calipers and a single ventilated 316 mm rear disc with one Dual-Combined Braking System three-piston caliper provide excellent braking power..

Honda's Dual-Combined Braking System features a second master cylinder and a three-stage proportional control valve (PCV) to couple the three-piston calipers of the dual front and single rear brake discs. Using the front brake lever activates the outer two pistons of the front right-side caliper and the centre piston of the front left-side caliper and, acting through the secondary master cylinder and an inline proportioning valve, the outer two pistons of the rear caliper. The rear brake pedal operates the centre piston of the rear brake caliper, the centre piston of the front right-side brake caliper and the outer two pistons of the front left-side caliper.
A delay valve sensitive to the rider's pedal pressure smoothes front brake engagement..

Anti-lock Braking System (ABS) features an electric-motor-driven modulator that provides rapid and precise braking-pressure adjustments, resulting in smooth ABS operation. The system incorporates an integrated ECU, self-diagnostics with an interactive
ECU test function, and automatic protection against system failure..

Massive 45 mm front fork houses a cartridge damper in the right leg with 122 mm (4.8 inches) of travel for a smooth yet superb ride in all road conditions..

Anti-dive system minimizes front fork dive when braking. The system utilizes brake fluid pressure generated in the secondary Dual-
Combined Braking System master cylinder mounted on the left fork leg and is activated by input from either the front brake lever or the rear brake pedal. This application of anti-dive and Dual-Combined Braking System produces enhanced stability when manoeuvring at both low speeds and highway speeds..

Pro-Link-mounted rear shock provides 104 mm (4.1 inches) of plush travel for relaxed touring or sport riding..

Computer-controlled adjustable hydraulic rear suspension preload is easily set by the rider with push-button controls and features a two-position memory..

Unique driveshaft-damping system utilizes a double-pipe structure, with a rubber-bonded coating applied to the inner pipe to absorb road shock and engine torque. The long-life design simplifies rear wheel maintenance..

Final gearcase assembly design in the Pro-Arm eliminates wheel alignment splines and assures accurate alignment of the rear wheel after servicing..

Cast aluminum 18 x 3.5-inch front wheel and 16 x 5.0-inch rear wheel are lightweight and strong. Radial touring tires are specifically engineered for the Gold Wing, providing a combination of excellent traction, cornering grip and long tire life..
Additional Features
The parallel two-valve cylinder head design, together with side-mounted radiators, allows optimum ergonomics, with excellent rider foot room and a large passenger area..

The Gold Wing aerodynamic bodywork is functional as well as beautiful, providing excellent rider wind protection while reducing the aerodynamic drag coefficient..

Shorty windshield provides protection from the elements while also giving the rider a clear view of the road ahead..

Wide, well-padded seat provides excellent comfort for both rider and passenger, and a low seat height adds confidence during low-speed manoeuvring..

Motorized headlight aiming system is operated by a dial switch and provides 2.5 degrees of adjustment from level..

Large 25-litre fuel tank houses the PGM-FI fuel pump and provides excellent long-distance cruising range..

Headlight system features two 55-watt H7 low-beam and two 55-watt H7 high-beam bulbs with computer-designed multi-reflectors. In high-beam operation, all four bulbs produce a distinctive front lighting signature..

Engine and saddlebag guards help protect the bodywork in case of a tip-over..

Handsome two-piece aluminum handlebars are lightweight and strong..

Adjustable brake and clutch levers..

Extensive tool kit..

Dual electric spiral horns trumpet a distinctive note..

20-amp YTX maintenance-free battery..

Dual helmet locks..

Easy-to-use centrestand..

Convenient ignition switch/fork lock for added security..

3 year, unlimited mileage, freely transferable warranty; extended coverage available with Honda Plus

---
2013 Honda Gold Wing F6B – USA Specifications/Technical Details
US MSRP Price: $19,999 USD
Model: GL1800B
Engine Type: 1832cc liquid-cooled horizontally opposed six-cylinder
Bore and Stroke: 74.0mm x 71.0mm
Compression ratio: 9.8:1
Valve Train: SOHC; two valves per cylinder
Induction: PGM-FI
Ignition: Computer-controlled digital with 3-D mapping
Transmission: Five-speed including Overdrive
Final Drive: Shaft
Suspension
Front: 45mm cartridge fork with anti-dive system; 4.8 inches travel
Rear: Pro Arm single-side swingarm with Pro-Link single shock with remote-controlled spring preload adjustment; 4.1 inches travel
Brakes
Front: Dual full-floating 296mm discs with CBS three-piston calipers
Rear: Single ventilated 316mm disc with CBS three-piston caliper
Tires
Front: 130/70R-18
Rear: 180/60R-16
Wheelbase: 66.5 inches
Rake (Caster angle): 29.15°
Trail: 109mm (4.3 inches)
Seat Height: 29.1 inches
Fuel Capacity: 6.7 gallons
Estimated Fuel Economy**: TBD
Colors: Black, Red
Curb Weight*: 842 pounds
**Miles per gallon values are calculated estimates of fuel consumed during laboratory exhaust emissions tests specified by the EPA, not during on-road riding. Use for comparison purposes only. Your actual mileage will vary depending on how you ride and maintain your vehicle, weather, road conditions, tire pressure, cargo and accessories, rider and passenger weight, and other factors.
*Includes all standard equipment, required fluids and full tank of fuel-ready to ride.
Meets current CARB and EPA standards.
Specifications subject to change.

---
2013 Honda Gold Wing F6B – Canadian Specifications/Technical Details
Canada MSRP Price: See dealer for pricing in CDN
Displacement 1,832 cc
Bore & Stroke 74 mm x 71 mm
Compression Ratio 9.8:1
Valve Train Chain-driven SOHC, 2 valves per cylinder
Fuel Delivery PGM-FI electronic fuel injection
Transmission Five-speed including overdrive, plus electric reverse
Final Drive Shaft
Front Suspension 45 mm cartridge fork with anti-dive system; 122 mm (4.8 in.) travel
Rear Suspension Pro-Arm single-sided swingarm with Pro-Link single shock with computer-controlled preload adjustment and two memory presets; 104 mm (4.1 in.) travel
Tires 130/70R – 18 radial front; 180/60R – 16 radial rear
Brakes Front dual 296 mm discs with triple-piston calipers; rear 316 mm disc with triple-piston caliper. Dual-Combined Braking System with ABS
Seat Height 725 mm 28.5 in.)
Wheelbase 1,690 mm (66.5 in.)
Curb Weight 385 kg 849 lb) including required fluids and full tank of gas – ready to ride
Fuel Capacity 25 litres
Colour Graphite Black
Warranty 3 year, unlimited mileage, freely transferable warranty; extended coverage available with Honda Plus.
---
2013 Honda Gold Wing F6B – UK Specifications/Technical Details
UK RRP: £TBA (Prices are recommended and inclusive of VAT @ 20% and delivery)
TBA

---
2013 Honda Gold Wing F6B – Australia Specifications/Technical Details
Australia MSRP Price: $TBA AU
TBA