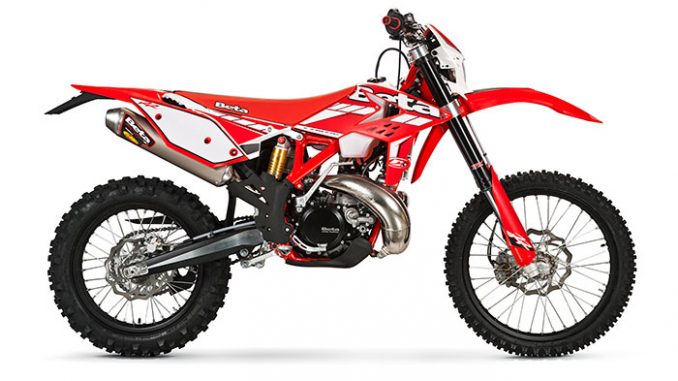 Click photos to enlarge. Our big, clean bike pics make great desktop wallpaper.
2015 Beta 250RR 2-Stroke Review

2015 Beta 250RR 2-Stroke on Totalmotorcycle.com
The perfect displacements….
The main objectives during development were to make the bike lighter, easier to control, and improve overall handling making it more enjoyable and easier to ride and, above all, more effective. The engine's center cases and internal components have been made lighter and redesigned to reduce the rotating mass, and the engine sizes have been reduced to make handling easier and minimize weight. Compared with the larger capacity of the previous model, the absolute power and torque figures remain unchanged thanks to a new camshaft profile and a new exhaust system; in addition, a better distribution of the torque curve has been obtained to get more out of the engines. With these new engines, the engineering team promises continued "Beta Magic" power delivery.
Since 1904 the Beta engineers have strived to provide innovative products that inspire, excite, and perform. 2015 is no different in that they continue to provide their customers with new models that continue to advance in both quality and features.

If you already own a Beta, we would like to say Thank You for your business! If you are looking into owning a Beta and are unsure of our history, simply ask a current Beta owner about the Beta experience. We are sure you will be impressed.
2015 Beta 250RR 2-Stroke www.Totalmotorcycle.com Key Features

•Dirt Rider magazine Bike of the Year
•Engine from the 2014 Race Edition
•Updated power valve for more linear power delivery under all conditions
•New CDI mapping to match new engine
•New front fork compression piston to improve oil flow and reduce harshness
•New rear shock piston to reduce heat
•Handlebar pad from Race Edition
•New design seat foam that is softer
•New graphics and color scheme
Full-Function Meter with Adjustable Trip Meter
Built-In Grab Handles
Push-Button Seat Release
Beta-Built 2-Stroke with Electric Start
Plastic Skid Plate
FMF Exhaust and Muffler
Complete Light Package
Back-Up Kick Starter
Rear Suspension Linkage
Strongest Wheels in the Industry
2.5 Gallon See-Thru Tank
Quick-Change Clutch
Adjustable Power Valve
Advanced Cylinder and Head Design for a Strong Yet Linear Power Delivery
Gearbox Oil Check Plug
Back-Up Kick Starter
Easy-To-Service Top End Design
6-Speed Wide Ratio Transmission
Easy-Pull Hydraulic Clutch
Available in a 250 and 300cc
6-Speed Wide Ratio Transmission
Electric/Kick Starter
Built-In Rear Grab Handles
36.6" Seat Height
Storage for Tool Kit
6-Month Limited Warranty
Quick-Access Air Filter
Rider Support Program Available

2015 Beta 250RR 2-Stroke Totalmotorcycle.com Features and Benefits
Electronic Injection System:
The main innovation of the 2015 RR Enduro 4-stroke range is the introduction of electronic fuel injection system to the 350 RR. The system was developed together with Synerject and has a 42 mm-diameter throttle body. Electronic fuel injection ensures precise throttle control under all usage conditions and offers automatic changes to the air-fuel mixture for different altitude and temperature changes. The engine offers immediate and smooth response with any riding style. Also, thanks to the adoption of a stepper motor mounted on the throttle body, an accurate minimum rotation speed is always guaranteed, reducing engine braking considerably.

Engines
The Beta engineering team has created what they call "The perfect displacements" through many hours of testing different engine bore and stroke combinations. They arrived with four sizes, all with different power characteristics for different riders. The 350's optimal size remains the same while the 400 has been reduced to a 390cc. The 450 and 498 engines have also been reduced to 430cc and 480cc to provide the same horsepower and torque as the 2014 models yet with more "useable" power for the rider.
The entire range is equipped with engines that have been completely renewed, both in terms of looks and performance. The total weight has been reduced by 1kg (2.2 lbs.) on the 430 and 480 engines, compared with the previous 2014 models, and by as much as 1.5kg (3.3 lbs.) for the 350 (derived directly from the 2014 factory model) and the 390.
The engine main cases have been completely redesigned, made lighter thanks to new die-castings, and modified internally to house a new oil pump drive system, which is simpler and more effective thanks to elimination of a drive gear. The crankcase chamber has been redesigned in order to minimize pumping losses, and the entire shape has been reworked thanks to the introduction of ribs that stiffen the engine cases while offering a more compact design.
The clutch and flywheel covers have also been modified with a goal to reduce weight and at the same time, increasing the rigidity.
The crankshafts have new shoulders and are lighter to reduce inertia, making the bike quicker to deliver power and more agile thanks to a reduction of the gyroscopic effect.
The connecting rods are shorter, lighter, and feature a new design. The redesign is aimed at reducing the rotating masses and the overall size of the engines. The 390-430-480 cc engines, in fact, have the entire combustion unit positioned lower down compared to the previous models. This means that masses are more compact and closer to the center of gravity, significantly improving the bike's agility.
The piston is lighter and more robust, thanks to a structure derived from Formula 1 called "box-in-box", which enables a reduction in vibrations and an increase in performance.
The piston pin is coated with a Diamond-Like-Carbon (DLC) treatment to minimize friction and wear.
The camshafts were developed with a new profile to boost performance, especially at low speeds, and to provide an improved power delivery.
The cylinder features a new design for the water jackets to improve the removal of heat and increase the efficiency of the whole cooling system.
The head has been completely redesigned both in terms of the ports and combustion chamber shape, in relation to the needs of the new engine sizes and is also more compact externally.
The starter motor has been significantly improved and is more powerful and lighter compared to the previous models.
The balancer shaft has been redesigned to work in harmony with the new crankshaft as well as to reduce weight.
The intake tract has been redesigned for the new engine sizes to guarantee better fuel supply and to improve fuel atomization, particularly at low speeds.
Exhaust:
The silencer has been redesigned with new internal passages and a larger diameter of the manifold connection hose. The new design is matched with the new engine displacements to provide optimum power while retaining its quietness. USA models will contain a spark arrestor as well.
Chassis
Fork:
The Sachs USD 48mm fork has been further developed in close collaboration between Beta and Sach's engineers and feature numerous important innovations: a new design of the compression piston with "three slot" geometry in order to improve the oil flow and make it more direct so as to absorb violent shocks more progressively. To improve the general smoothness of the fork, particularly on initial impacts, a spring-support release system has been included to eliminate rotational friction, the design of the sleeves and bushings has been modified increasing the distance between the slider and the bushings, also reducing their height. Finally, the spring profile has been redesigned to guarantee better insertion inside the sleeve. Valving has been improved to increasing precision.
Rear Shock:
A new internal piston with oil passages that have been redesigned to improve its flow and reduce overheating during operation. This means that the shock absorber offers more stable performance, precise and reliable even under very intense use.
Handlebar Pad:
Ideal for the most extreme off-road riding and compliant with the standards required by FIM and AMA regulations.
Seat:
The padding has been redesigned with softer foam
Graphics:
The renewed look streamlines and adds character, maintaining the classical Beta colors.

---
2015 Beta 250RR 2-Stroke – www.Totalmotorcycle.com International Specifications/Technical Details
MSRP Price: $TBD USD

Engine
Type: Beta-Built single cylinder, 2-stroke, liquid cooled, with BPV power valve system and electric start with back up kick starter.
Bore: 66.4mm
Stroke: 72mm
Displacement: 249cc
Compression Ratio: 12.8:1
Exhaust Valve: Beta Progressive Valve (BPV)
Ignition: AC-CDI Kokusan.
Spark Plug: NGK BR7ES
Lubrication: Premium premix
Carburetor: Keihin PXK 36mm
Clutch: Wet multi-disc
Transmission: 6-speed
Final Drive: O-ring chain
Chassis
Frame: Molybdenum steel/double cradle w/quick air filter access.
Wheelbase: 58.3"
Seat Height: 36.6"
Ground Clearance: 12.6"
Footrest Height: 16"
Steering Rake/Offset: 27 degree rake/20mm Offset
Dry Weight: 223 lbs.
Fuel Tank Capacity: 2.5 US gallons
Front Suspension: 48 mm Sachs USD fork, adjustable compression and rebound, TFX technology.
Rear Suspension: Aluminum Body Sachs shock w/adjustable rebound and hi/low speed compression
Front Wheel Travel: 11.4"
Rear Wheel Travel: 11.4"
Front Brake: 260mm floating rotor
Rear Brake: 240mm rotor
Front/Rear Rim: 21" (Front) 18" (Rear)
Front/Rear Tire: Michelin Enduro Competition
Warranty:6 month Limited Warranty
Specifications and appearance are subject to change without prior notice.