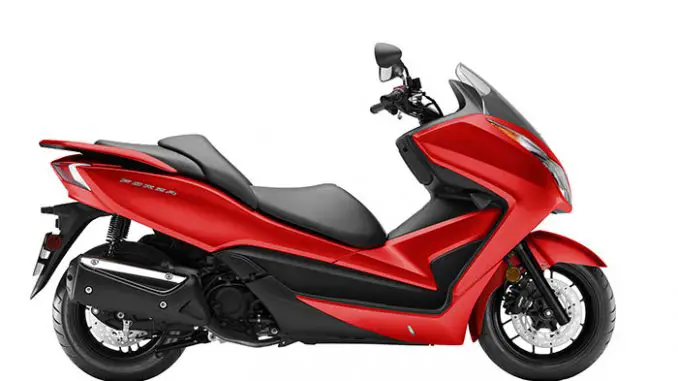 Click photos to enlarge. Our big, clean bike pics make great desktop wallpaper.
2015 Honda Forza Review

2015 Honda Forza on www.Totalmotorcycle.com
The Perfect Way to Get Around…
Honda's Forza™ is a scooter that's way more than what you think a scooter can be. With the power to carry you and a passenger on the highway thanks to a smooth, powerful engine, integral storage (enough for two helmets) and even a power outlet for your accessories, the Forza bridges the gaps between fun, practical, and luxurious. Whether you use it for commuting, around-town, errand running, or just a way to get out and have fun, the Forza is a great transportation option that just about anyone can enjoy.

Forza – wherever you ride.
High function scooter or lightweight sport tourer it's hard to say for sure. The convenient step through styling and the ease of operation that comes with a sophisticated automatic transmission suggest the Forza is a scooter, but the high-performance linked ABS disc brakes, full coverage fairing and generous storage capacity imply sport tourer. Similarly the narrow overall design, low seat height and the lightweight single cylinder engine seem to add up to scooter like urban agility while roomy two up seating, comprehensive instrumentation and fuel range of over 350km insinuate highway burner. High tech fuel injection, efficient exhaust catalyzer, oversize wheels with radial tires and a rigid aluminum swingarm only add to the confusion. So which is it? …Both. Ride it wherever you want, you won't be disappointed.
The new Forza 125 is designed for those European customers who demand more from a 125cc scooter: more performance, more agility and more usability. They are motivated by style, quality and performance; they expect a lot out of life and aim to extract the most from every experience.
The machine they ride has to offer the very maximum a 125cc scooter can give, and look good while it does it. And it has to combine the best of two worlds: the highway ability and comfort of larger capacity 'GT' style (Grand Touring) scooters and the traffic-beating, sporty acceleration and easy-to-park utility of smaller, lighter machines.
For 2015, Honda's new Forza 125 does just that, creating a new choice for those that want the very best that a 125cc scooter can offer.
Mr. Nagura, Large Project Leader Forza 125:
"The team's aim with the Forza 125 was to make the ultimate 125cc scooter, with the very best of everything. It offers both great highway performance for a fun, easy commute, and class-leading acceleration for the city. All with classy, premium styling, and a very strong focus on practicality and comfort."
Brand new from front to back, the Forza 125's slim exterior exudes an aggressive, sporting attitude and a dynamic, modern design and layout. Inviting ergonomics offer a perfect fit for both rider and pillion while the windshield is height adjustable to suit both highway and city riding. There's plenty of storage room (48 litres – enough for two full-face helmets) beneath the seat plus a 12V power socket in the glove box and – underlining its premium credentials – LED head and taillight.
The new 125cc liquid-cooled engine is a four-valve unit with an intake and exhaust system designed for strong mid-range and top end power. It offers swift pick-up from standstill, class-leading rolling acceleration from 90km/h and strong high speed performance. A host of low-friction technologies mean that this is combined with impressive fuel economy of approximately 43.5km/l (WMTC mode).
To deftly manage city streets and cruise open highways, the steel frame – with carefully optimised wheelbase and steering geometry – employs supple 33mm telescopic forks and twin rear shock absorbers. A 15-inch front wheel provides stability and confidence, backed up by the 14-inch rear. Large diameter single discs front and rear come with the option of ABS.
A range of purpose-built accessories is ready to tailor the Forza 125 perfectly to its owner's lifestyle and includes heated grips, rear carrier and 35L colour-matched top box.
2015 Honda Forza www.Totalmotorcycle.com Key Features

•Liquid-cooled fuel-injected four-stroke 279cc
•Under-seat storage compartment
•12-volt power socket

Plenty of Power
With its liquid-cooled, fuel-injected engine, the Honda Forza offers lots of user-friendly power—enough that this great scooter is legal for highway use.

No Shifting—Ever!
The Forza features a Continuously Variable Transmission (CVT). That means there's no shifting, not even into neutral or park—just start it up and go. It also means you won't feel any bumps between changing gears—it's as smooth as can be.

Underseat Storage
It doesn't get any easier than this: Just pop a latch and the Forza's seat tips up, revealing a huge storage compartment big enough for two full-face helmets or a bunch of groceries. It's secure and weather-resistant, too.
A brand new high performance 125cc scooter designed to offer more than the others: more all-round, class-leading performance from its 4-valve engine and lightweight chassis designed for the perfect balance of highway performance and around-town agility; more visual appeal from its cutting edge style and premium full LED lights; and more practicality, with comfort for two, adjustable screen and massive storage capacity. Plus a low friction engine with Idling Stop for fuel efficiency, and optional ABS.

2015 Honda Forza www.Totalmotorcycle.com Features and Benefits
Combined ABS (Optional)
The Forza offers powerful front and rear brakes. Want even more peace of mind? Forza offers an optional Combined Anti-Lock Brake Package.

Convenient Power Outlet
Need to charge your cell phone or other devices while you ride? No worries—the Forza's convenient 12-volt power outlet makes it easy.

Electric Start
Reliable electric start, combined with the Forza's fuel injection (no choke to fiddle with), ensures hassle-free starting with push-button ease, even on cold mornings.

Lower Floating Link
A low-mounted engine featuring a unique lower link minimizes engine vibration and dampens jarring bumps from the road.

V-Matic Transmission
With the Honda V-Matic automatic transmission, riding couldn't be easier. Just start the engine, twist the gas, and go. The V-Matic means no shifting, ever— so you concentrate on the road ahead and simply enjoy the ride! The V-matic is a continuously variable design, so all you'll feel is a smooth transition of power.

Low Center of Gravity Engine Placement
Mounting the engine low keeps the Forza's center of gravity low as well. That helps with the Forza's nimble and capable handling.

PGM-FI Engine
With plenty of power to carry you and a passenger too, the Forza features liquid cooling and Programmed Fuel Injection (PGM-FI) for great performance. Plus Forza gets an estimated 68 MPG*!

Convenient Storage
Flip the seat open and you have room for two full face helmets or enough groceries for Thanksgiving dinner. There's also a convenient helmet holder underneath the seat that allows you to secure your helmet while away from your scoot. There's even a second compartment in the dash for your mobile phone, wallet, or MP3 player.

Rider Comfort
That long, plush seat does more than just look comfortable—it's probably nicer than that sofa in your living room. The stepped passenger section gives your copilot a better view. Besides great style, Forza's bodywork is all about function to help protect you from the wind and the elements.
Styling & Equipment
Easy mobility underpins the Forza 125's look and functionality – it's a contemporary design enabling life in and out of the city. The exterior's trapezoidal proportions highlight the original 'forward mass balance and performance strength' concept of the styling team, and give the rider protection from wind while presenting a light and sporty appearance.
The sit-in riding position cups the rider securely and the screen easily adjusts through six positions and a total of 120mm for use at higher speeds and city traffic, to suit all types of riders. There is plenty of room for two adults on the carefully profiled seat, which opens to reveal storage space to match: two full-face helmets fit beneath it. The glove box up front contains a 12V socket for charging electrical accessories on the go and also easily holds a plastic water bottle. Seat height is a comfortable 780mm.
Premium LED technology has been adopted; underscoring the dual LED headlights are LED position lights that lend a crisp edge and unique identity to the Forza 125 's frontal signature. Indicators are mounted high in the mirror bodies and stereoscopic LED taillights are matched by LED number plate illumination.
The stereoscopic theme extends to the instruments. Mounted high for ease of viewing and lit with a reverse LCD display and deep colour tone, the speedo and rev-counter are defined by elegantly flowing curves. A central LCD block features a clock (with large display), fuel gauge, average fuel economy meter, section fuel economy meter, A & B trip meters, odometer and coolant temperature.
The Forza 125 will be available in five colour options:
Matt Cynos Grey Metallic
Matt Pearl Cool White with Black
Moondust Silver Metallic with Matt Cynos Grey Metallic
Matt Pearl Cool White with Matt Pearl Pacific Blue
Pearl Nightstar Black with Castagna Brown
Chassis
The steel frame that's the focus of the Forza 125's chassis provides the necessary rigidity and strength for the mix of riding conditions it will face. Sturdy 33mm telescopic forks are matched by twin rear shock absorbers – adjustable through 7-stage spring preload – working through a 1-piece aluminium swingarm.
The light weight of 162kg (with ABS) not only aids performance but also makes the Forza 125 easy to manage at walking speeds, and easy to park. The dynamics of the chassis ensure composure on the highway and agility in traffic. A wheelbase of 1,490mm provides stability; the steering geometry – 26.5° rake and 89mm trail – delivers nimble steering.
The cast aluminium 15-inch front wheel is fitted with a 120/70-15 tyre while the 14-inch rear uses a 140/70-14, offering maximum traction and ride comfort. A large 256mm single disc performs stopping duties up front, mated to a 240mm rear – both have the benefit of optional ABS for extra braking control on slippery surfaces.
Engine
The Forza 125's new four-valve water-cooled SOHC powerplant delivers 10.5kW @ 8,750rpm, with peak torque of 12Nm @ 8,250rpm. Bore and stroke is set at 52.4 x 57.9mm; compression ratio is 11.5:1. From a standing start it accelerates rapidly, while sharper mid-range makes for reactive roll-on performance in the typical 40-60km/h around-town speed range. At speeds over 90km/h its top-end strength delivers class-leading acceleration.
The engine is packed with Honda's eSP low-friction technologies; clever packaging of items like the fuel pump (which is built in to the crankcase) help to further ensure efficiency. A compact combustion chamber and PGM-FI fuel injection – fed by a redesigned 4.7-litre airbox and 28mm diameter inlet duct – optimise burning velocity and cooling performance. A new triple chamber exhaust muffler contains a 400-cell catalyser to clean up exhaust gases.
An offset cylinder reduces friction caused by contact between piston and bore, efficiently transmitting combustion energy to the crankshaft. A 'spiny' cast-iron sleeve – with tiny surface extensions – keeps in check any distortion of the inner bore diameter. This design lowers tension in the piston ring, reducing friction.
A compact high-efficiency radiator – integrated into the exterior of the right-side crankcase – employs a small, light fan reducing frictional losses and lowering drag. Rolling resistance within the transmission unit is reduced by the use of three low-friction main bearings, all designed to deal with the loads they individually receive. The drive pulley features a fin design that lowers air resistance and the follower pulley reduces pressure on the drive belt, cutting transmission losses.
The electronically controlled brushless ACG starter is an integrated component mounted directly on the end of the crankshaft, serving as starter motor and alternator. It spins the engine directly, eliminating any noise from gear engagement or meshing.
Idling Stop automatically stops the engine running after three seconds at idle when the scooter is stationary and the brakes applied, and re-starts it instantly the throttle grip is twisted. It's seamless in use thanks to ACG and the swing-back system that returns the crank to its position before air intake, and a decompression mechanism that negates cranking resistance from compression. It has the functionality to 'read' the battery charge and turns itself off to avoid excessive drain. The battery is a long-life YTZ8V unit.
One of the aims of the development team working on the Forza 125 is that the trip to the fuel station should happen just once a week for the average user; achieved thanks to the engine's fuel efficiency of approximately 43.5km/l (WMTC mode) and 11.5 litre tank.
Accessories
The following genuine Honda accessories will be available for the Forza 125:
Rear carrier
35L colour-matched top box
Heated grip kit
Colour-matched cosmetic adornments
Inner bag
Alarm kit
Outdoor cove
U-lock

---
2015 Honda Forza – www.Totalmotorcycle.com USA Specifications/Technical Details
US MSRP Price: $5599 USD

ENGINE
Engine Type 279cc liquid-cooled single cylinder four-stroke
Bore And Stroke 72.0mm x 68.6mm
Compression Ratio 10.5:1
Induction PGM-FI with automatic enrichment
Ignition Full transistorized
Valve Train SOHC; four-valve

DRIVE TRAIN
Transmission Honda V-Matic belt-converter continuously variable automatic transmission

CHASSIS / SUSPENSION / BRAKES
Front Suspension 35mm telescopic fork; 3.7 inches travel
Rear Suspension Twin shock; 3.8 inches travel
Front Brake Single 256mm disc with twin-piston caliper with CBS (third front brake piston is activated upon application of rear brake)
Rear Brake Single 240mm disc with single-piston caliper with CBS (one front brake piston is activated upon application of rear brake)
Front Tire 120/70-14
Rear Tire 140/70-13

DIMENSIONS
Rake 27° 0´
Trail 89mm (3.5 inches)
Wheelbase 60.9 inches
Seat Height 28.2 inches
Fuel Capacity 3.0 gallons
Mpg 68 MPG*
Curb Weight 422 Pounds (Includes all standard equipment, required fluids and full tank of fuel – ready to ride)

OTHER
Available Colors Pearl Red
Model Id NSS300
Note *Miles per gallon values are calculated estimates of fuel consumed during laboratory exhaust emissions tests specified by the EPA, not during on-road riding. Use for comparison purposes only. Your actual mileage will vary depending on how you ride and maintain your vehicle, weather, road conditions, tire pressure, cargo and accessories, rider and passenger weight, and other factors.

FACTORY WARRANTY INFORMATION
One Year Unlimited-mileage limited warranty; extended coverage available with a Honda Protection Plan.
---
2015 Honda Forza – www.Totalmotorcycle.com Canadian Specifications/Technical Details
Canada MSRP Price: $ CDN

Engine Type
Liquid-cooled single-cylinder four-stroke
Displacement
279 cc
Bore & Stroke
72 mm x 68.5 mm
Compression Ratio
10.5:1
Valve Train
SOHC, 4 valves
Fuel Delivery
PGM-FI electronic fuel injection
Transmission
Automatic V-Matic
Final Drive
Belt
Front Suspension
35 mm fork; travel 94 mm
Rear Suspension
Twin shocks; travel 96 mm
Tires
120/70 – 14 front; 140/70 – 13 rear
Brakes
Front 256 mm disc with dual-piston caliper; rear 240 mm disc with single-piston caliper. Combined Braking System with ABS
Seat Height
716 mm (28.2 in.)
Wheelbase
1,546 mm (60.9 in.)
Curb Weight
194 kg (428 lb) including required fluids and full tank of gas – ready to ride
Fuel Capacity
11.6 litres
Colour
Pure Red, Seal Silver Metallic

---
2015 Honda Forza – www.Totalmotorcycle.com European/UK Specifications/Technical Details
UK/European MSRP Price: £ GBP (On The Road).
ENGINE
Type Liquid-cooled 4-stroke 4-Valve SOHC single
Displacement 124.9 cm3
Bore x Stroke 52.4mm & 57.9mm
Compression Ratio 11:5 : 1
Max. Power Output 10.5kW @ 8,750rpm
Max. Torque 12Nm @ 8,250rpm
Oil Capacity 0.9L
FUEL SYSTEM
Carburation PGM-FI electronic fuel injection
Fuel Tank Capacity 11.5L
Fuel Consumption ~43.5 km/l (WMTC)
ELECTRICAL SYSTEM
Starter ACG Self-starter
Battery Capacity 12V-7AH
ACG Output 290W
DRIVETRAIN
Clutch Type Dry, internal expanding, deadweight
Transmission Type CVT
Final Drive V-belt
FRAME
Type Tubular steel underbone
CHASSIS
Dimensions (LxWxH) 2134mm x 748mm x 1452mm
Wheelbase 1490mm
Caster Angle 26°5
Trail 89mm
Seat Height 780mm
Ground Clearance 148mm
Kerb Weight 161kg / 162kg (ABS)
SUSPENSION
Type Front Telescopic
Type Rear Twin
WHEELS
Type Front Aluminium casting
Type Rear Aluminium casting
Rim Size Front 15M/CXMT3.50
Rim Size Rear 14M/CXMT4.00
Tyres Front 120/70-15
Tyres Rear 140/70-14
BRAKES
ABS System Type ABS as option (2-channel)
Type Front 256mm disk
Type Rear 240mm disk
INSTRUMENTS & ELECTRICS
Instruments Fuel meter, Water temperature gauge, Odometer, Trip A and B, Average fuel consumption, Section fuel consumption
Headlight Transverse, LED 3-light (Hi: 2, Lo: 4)
Taillight Combined type, LED (ST: 4, TL: 4)

All specifications are provisional and subject to change without notice.

# Please note that the figures provided are results obtained by Honda under standardised testing conditions prescribed by WMTC. Tests are conducted on a rolling road using a standard version of the vehicle with only one rider and no additional optional equipment. Actual fuel consumption may vary depending on how you ride, how you maintain your vehicle, weather, road conditions, tire pressure, installation of accessories, cargo, rider and passenger weight, and other factors.