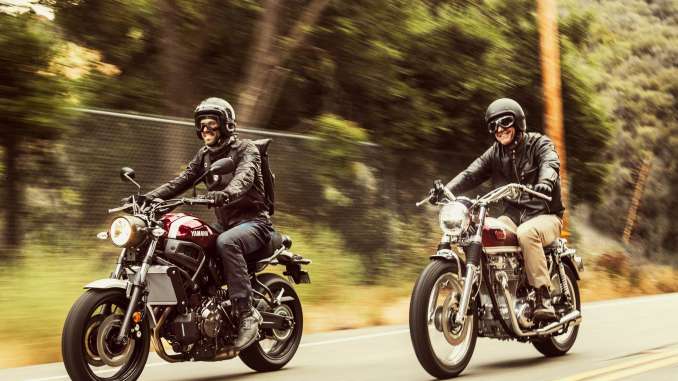 INSPIRED FROM THE PAST, BUILT FOR THE FUTURE.
ALL-NEW, the XSR700 combines timeless styling with cutting-edge crossplane concept technology for thrilling performance at an incredible value.
Some revel in the past. Others live for tomorrow. The XSR700 lets you do both, with its iconic styling and modern technology, delivering incredible performance and great value.
Based on the popular FZ-07, the XSR700 is a beautiful blend of twin cylinder performance and eye catching "authentic sports" styling. The XSR incorporates most of the FZ-07's key features including ABS equipped brakes. A natural riding position offers solid riding comfort while the short swingarm and lightweight design highlights the more serious sports side of the XSR. Tasty, timeless styling combined with plenty of Yamaha's latest technologies, the XSR is guaranteed to provide a fun, exciting ride.
The XSR700 makes a serious statement. Designed to take a timeless feel built on historical icons, matched with tomorrow's technology for a pure, entertaining riding experience. With deep torque and a super agile chassis, it's for those who appreciate heritage and love to ride.
The cutting edge 689cc inline 2-cylinder engine features our special 'crossplane philosophy' enabling it to develop linear torque for outstanding acceleration. The retro styled XSR700 also benefits from a tight and lightweight chassis for outstanding agility and handling.
The XSR700 takes the best of design from Yamaha's history in homage to the past but is very much the motorcycle of tomorrow.
2018 New colours XSR700 and XSR900
Yamaha's Faster Sons
Inspired by some of the most memorable and iconic models from our past, Yamaha's Sport Heritage range is proving to be a major success with those riders who appreciate their unique formula that blends timeless style with a very special character and sophisticated engine and chassis technology.
By harnessing the retro appeal of Yamaha models from a previous generation – and at the same time creating minimalist, contemporary high-tech motorcycles that deliver linear torque with agile handling for a connected and emotional riding experience – we're enabling today's Yamaha customers to discover the true essence of motorcycling.
We call it our Faster Sons philosophy, and this refreshing approach to motorcycle design has attracted riders of all ages and backgrounds to the Sport Heritage line. Yamaha's Faster Sons design philosophy has struck a chord with many thousands of riders who appreciate not only the timeless design of our Sport Heritage models, but also their ability to put every rider in touch with their surroundings, and make every single ride so enjoyable.
Capturing the hearts of riders in Europe and the USA
This ability to re-connect today's riders with the essential joys of motorcycling is a key characteristic of every Yamaha Sport Heritage model, and the latest European sales figures show just how many riders have been inspired by the XSR700 and XSR900.
Between 2015 and 2017 over 11,000 riders became proud owners of a new XSR700, making it one of the most successful models in its category. With its outstanding linear torque, agile handling, attractive looks and remarkable economy and value, the XSR700 is the definitive mid sized naked retro. Its remarkable success within Europe has created massive interest amongst the press and public in the USA, and for 2018 the XSR700 will be launched in the United States – where it looks like it's going to be one of Yamaha's best selling models.
Introduced in 2016 – one year after its smaller brother – the remarkable XSR900 has also enjoyed considerable success. In just two years this 3-cylinder Sport Heritage bike has sold over 7500 units in Europe, and has been widely praised for its special combination of strong linear torque, sporty handling and timeless good looks. The XSR900 has also been a major success in the USA, where it has won over a whole new generation of riders who are looking for authentic retro design together with thrilling performance and cutting edge electronics such as TCS, YCC-T and D-MODE.
Paying tribute to the past, with an eye on the future
For 2018 the best selling XSR700 acknowledges its roots with a bold new colour scheme that pays tribute to the iconic XS650 – the bike that started Yamaha's 4-stroke revolution, and one of the most important and iconic models in Yamaha's history.
Introduced back in 1968 – before many of today's XSR700 riders were born – the XS650 has huge significance as Yamaha's first 4-stroke motorcycle. With its advanced 654cc SOHC parallel twin design, class-leading reliability and high power output, the XS650 gained a loyal following in Europe and the USA – and there are still many dedicated XS owners clubs in existence today.
Marketed variously as the XS650, XS1, XS2 and XS650 Special during its 17-year production run, it established Yamaha as a major brand in the 4-stroke sector – at a time when the company was predominantly seen a 2-stroke manufacturer.
As well as its immense popularity with street riders, the XS650 also made a great impression in the racing world. The XS650 engine powered Kenny Roberts to the 1973 AMA Grand National Dirt Track Championship in the USA – and it was also the dominant force in Sidecarcross, winning four consecutive World Championships between 1980 and 1984.
Iconic new XSR colours for 2018
New Brilliant Red XSR700
From January 2018 the XSR700 will be available in a new Brilliant Red colour option that pays homage to the 1972 XS2.
Just like the original XS650 model, the XSR700 features a parallel twin engine that delivers strong linear torque for outstanding riding enjoyment. Some 46 years after Yamaha first used this this evocative colour scheme, the Brilliant Red XSR700 recaptures the true spirit of our original parallel twin 4-stroke. An excellent example of our Faster Sons philosophy in action!
New Racing Red XSR900
From November the XSR900 will be available with a new Racing Red colour option that's reminiscent of the colour scheme used on the original XS850 back in the 1980s.
Genuine Accessories
Inspired by the Yard Built motorcycles that Yamaha has created in cooperation with world famous motorcycle customizers over the last few years, Yamaha has developed a range of high quality Sport Heritage Genuine Accessories for the XSR700 and XSR900, enabling every customer to build their very own Yamaha Yard Built motorcycle.
The extensive line up features many performance parts including high and low levelAkrapovičexhaust systems, as well as Öhlins rear shocks and fork springs for enhanced handling. XSR owners looking for the ultimate in riding comfort can choose from a selection of seats and screens, and a range of stylistic bolt on accessories such as seat cowls and billet covers are also available.
There's a diverse selection of soft luggage that looks great and increases the XSR's carrying capacity – and the Genuine Accessories line up also includes many lightweight billet components and other items that are designed to enhance the style of these charismatic Sport Heritage models.
Using the My Garage app, XSR owners and potential customers can create their dream bike online with our easy to use 3D configurator. Just click and customize, and see what works best for you!
Yamaha Lifestyle – Faster Sons
We've developed a range of cool casual wear designed for XSR owners. Legendary bike builder Roland Sands is responsible for the design of many of these shirts, jackets and caps.
The range also includes open face helmet with a cool retro look, as well as riding jackets, gloves and more. Available in a wide range of sizes, male and female.
2018 XSR700 & XSR900 Overview
XSR700 – Born tomorrow
* New Brilliant Red version with Matt Silver front and rear fenders
* Built for optimum riding enjoymentVintage inspired headlight and rear light unit
* Two-texture leather vintage style seat unit
* Pirelli Phantom tyres with authentic tread pattern
* Outstanding fuel efficiency
* Aluminium fuel tank unit
* Liquid-cooled 689cc inline 2-cylinder 4-stroke
* Mass-forward design with sculpted bodywork
* Crossplane philosophy design with 270-degree crank
* Deep and powerful linear torque output
* Dual 282mm front discs with 4-pot calipers
XSR900 – Born to rule
* NewRacing Redcolour option
* Liquid-cooled, 850cc, in-line 3-cylinder, 4-stroke
* Aluminium fuel tank covers
* Traction Control System
* Assist & Slipper Clutch
* Vintage inspired headlight and rear lightCrossplane Concept engine design
* Lightweight frame with aluminium parts
* Adjustable front and rear suspension
* Retro cool, powerful sports heritage
* Stitched two-level seat
* Powerful torque, incredible acceleration
* Easy to customise
Yamaha Sport Heritage 2018 Colours
XSR900
* NEW: Racing Red
* Garage Metal
* Midnight Black
XSR700
* NEW: Brilliant Red
* Garage Metal
* Tech Black
XV950R
* Tech Graphite
SCR950
* Vivid Red
* Yamaha Black
•689 cc, DOHC, 4-valve / cylinder, liquid-cooled, inline-twin powerplant
•Offset, ceramic composite plated cylinder with lightweight forged pistons
•CP2 crankshaft design with high tech "fracture split" connecting rods
•Compact 6 speed transmission with overdrive 6th gear
•Tapered handlebar
•Low 835 mm (32.9″) seat height
•ABS brakes
•Neo-retro "authentic sports" body design
///Power
Liquid-cooled, 689cc in-line twin cylinder fuel-injected engine with a downdraft intake. The engine has been tuned to provide solid low to mid-range torque with linear throttle response.
///Styling
You won't find a lot of plastic parts on the XSR700. The "authentic sports" styling highlights Yamaha's long racing heritage, but don't be fooled, there is plenty of cutting edge technology under the aluminum shrouded fuel tank.
///Instrumentation
Multifunction, digital instrument displays all the info discerning sport riders demand. From a bar style tach to gear position indicator, to instant & average fuel economy, this classic round design liquid crystal instrument adds function and style.
2018 Yamaha XSR700 Totalmotorcycle.com Features and Benefits
///ENGINE
• Slim, compact, 689cc, DOHC, 4-valve, liquid-cooled, 20 degree inclined, inline twin cylinder engine.
The engine has been tuned to provide plenty of low & mid-range torque with very linear throttle response. This engine has an incredible reliability record and is designed to maximize riding fun in the real world. • 4-valve, downdraft style combustion chamber with 11.5:1 compression ratio.
• excellent torque output… especially in the low to mid rpm range
• 4-valve design maximizes flow into & out of combustion chamber
• 31.5 mm intake & 26.5 mm exhaust valves
• stainless steel valves feature an Isonite surface treatment & carburized tips for excellent durability & wear resistance
• Valve adjustment intervals are every 42,000 kms.
• Lightweight hollow camshafts.
•cam profiles are designed to accentuate low to mid-range torque & power in the most commonly used rpm range (3,000 to 6,500 rpm).
• excellent "ride-ability"
• 270 degree "CrossPlane Concept" crankshaft with an "uneven" firing order provides a strong feeling of acceleration & great traction.
• design reduces inertia torque while emphasizing linear torque
• design has been optimized to achieve strong torque over a broad rpm range
• CP Concept offers "ride ability that allows the rider to control the machine at will."
• engine design allows a whole new level of "rider – machine communication"
• Lightweight gear driven "coupling force balancer" reduces engine vibration for excellent comfort.
• High tech, "fracture split" connecting rods feature a "nut less" design.
• lower end "cap" of the rod is made from the same piece of material as the upper portion; the 2 pieces are "split" apart using a special fracturing process & then machined
• design aids in establishing true big end roundness & greater precision in con rod dimensions for excellent durability despite the high horsepower loads
• design aids in fast engine response & reduces mechanical vibration
• excellent durability
• Direct ceramic composite plated cylinder uses "liner less" bores.
• ceramic coating sprayed directly on the aluminum block, eliminating the liner & reducing weight
• excellent heat dissipation for consistent power delivery
• coating enhances the thin film of oil between the cylinder & piston, reducing friction & increasing power
• Offset cylinder design.
• cylinder is "offset" relative to the crank (toward exhaust side)
• reduces frictional losses between the pistons & cylinder wall during the power stroke for improved power output & excellent fuel economy
• One-piece cylinder and upper crankcase assembly.
• superior engine & chassis rigidity (engine is a stressed member)
• reduces weight
• engine is a stressed member for increased chassis rigidity
• "Closed loop" 38 mm Mikuni throttle body fuel injection system.
•system uses throttle position sensor (TPS) & idle speed controller (ISC)
• 12 hole injectors for optimum fuel atomization
•system is "tuned" to provide excellent "ride ability" & "linear" throttle control.
• "closed loop system" uses an oxygen sensor to "sniff" spent exhaust & automatically adjust the fuel / air ratio for reduced emissions
• fuel injection benefits include choke-free starting, steady idling during warm up, excellent fuel economy & reduced emissions
• Compact Electronic Control Unit (ECU).
• utilizes a powerful 32-bit processor for fast control of the injection & ignition processes
•compact design reduces weight.
• Air box design features dual intakes.
•reduces intake noise
•viscous paper type air filter is utilized
• Compact, 6-speed transmission.
• Tri-axis design "stacks" input/output shafts centralizing mass
• overall engine size is shorter front to back allowing the engineers the freedom to place the engine in the frame for optimum front to rear weight balance
• transmission ratios are designed to suit the character (torque & power) of the engine
•specially chosen gear ratios means fewer gear changes
• 6th gear is an over drive gear reducing engine rpms at highway speeds for a comfortable ride
• Compact, clutch design with light clutch lever pull.
• Stylish, compact, low mounted, 2 into 1 exhaust system.
• triple expansion muffler design with 3-way honeycomb catalyzer reduces exhaust emissions
• low mounted design centralizes mass for excellent handling & a light weight feeling
• Lightweight, vertical flow flat radiator with ring type cooling fan.
• ring type cooling fan pulls more air than a normal non-ring type fan
•stylish aluminum rad covers & protective mess front grill are standard
• Liquid-cooled oil cooler maintains stable lubricant temperatures for extended engine life.
• Convenient spin-on type oil filter & easy access drain plug for fast, easy oil changes.
• Convenient oil level sight glass.
• Maintenance-free transistor controlled ignition (TCI).
• produces a strong spark for fast starts
• provides precise ignition timing / mapping for optimum engine performance at all rpms
• High performance direct ignition coils (ignition coil is built into the spark plug caps).
• reduces weight & complexity
• AC Magneto produces 410 watts of power @ 5,000rpm.
• Air Injection System (AIS… not ram air) injects fresh air into exhaust ports to fully burn any unburnt fuel, further reducing exhaust emissions.
///CHASSIS
• Diamond-type, high tensile steel backbone type frame.
• optimized rigidity balance for light, agile handling & excellent stability
• engine is a stressed member of the chassis, allowing a lighter, more compact main frame
• compact wheelbase & light weight chassis design provide a responsive & engaging ride
• Upright, comfortable riding position is a key feature of the XSR700.
• excellent rider comfort
• Key chassis geometry figures include:
• 1405mm (55.3″) wheelbase
• 25 degrees of rake & 90mm of trail
• chassis dimensions & design centralizes mass & lowers centre of gravity for light, agile handling
• Short design, high tensile steel "gull wing" style swingarm.
• 530 mm short design swingarm enhances the connection between rider & machine
• lightweight design reduces unsprung weight for superior suspension performance
• excellent rear wheel traction & control
• 41mm conventional style fork.
• 130 mm (5.1″) of wheel travel
• Lightweight, aluminum upper and lower triple clamps.
• Adjustable link-type Monocross rear suspension.
• 130 mm (5.1″) of wheel travel
• horizontally mounted rear shock can be adjusted for spring pre-load
• adjustment allows the rider to tailor pre-load settings to match rider weight or load
• ABS equipped dual 282mm floating wave-style front discs & ultra-rigid 4-piston monoblock calipers.
• excellent stopping power & control with good lever feedback
• ABS equipped 245mm wave-style rear disc is squeezed by a lightweight single piston slide-type Nissin caliper.
• Anti-lock braking system front & rear (ABS).
•controlling ECU & hydraulic unit are combined into a single compact unit to reduce weight & centralize mass
• when ABS system senses impending wheel lock-up (via active type wheel sensors) it regulates hydraulic braking pressure to the point just before the wheel or wheels lock-up
• ABS benefits include; excellent control under hard braking or when braking on wet, slippery or loose surfaces
• Lightweight, cast-aluminum 10-spoke wheels.
•lightweight design reduces unsprung weight for excellent suspension & handling characteristics
• front rim size is MT3.50-17 fitted with a 120/70R17 tubeless tire
• rear rim size is MT5.50-17 fitted with a 180/55R17 tubeless tire
• Conventional, tapered handlebar.
•lightweight & strong
•offers a comfortable, upright riding position for excellent riding comfort
•traditional design allows easy replacement to a different "bend" if desired
• 14-litre fuel tank with replaceable aluminum tank covers.
•slim design with great knee grip
•slim design combines with low seat height for a light, agile feel & increased rider confidence
•reserve portion of the tank is 2.7 litres (low fuel light illuminates)
•steel tank is covered by three easy to replace aluminum panels, significantly reducing costs in the event of damage
• Stylish, textured 1 piece rider & passenger seat. Rider seat height is 835 mm (32.9″).
• offer excellent comfort
•narrow design rider seat makes it easier to touch feet flat on the ground
• Traditional / retro round design, liquid crystal digital meter.
• functions (all digital) include bar-style tachometer, digital speedometer, odometer, dual trip meters, fuel gauge, fuel reserve trip meter (counts kilometres since fuel went on reserve), clock, gear indicator, instant & average fuel consumption, ECO indicator & more
• full range of warning & indicator lights
• background illumination is adjustable
• Compact handlebar switch gear.
• starting function is integrated into the engine kill switch
• passing flash button is provided
• Neo-retro style 60/55 watt halogen headlight with retro style aluminum headlight brackets / stays.
•highlights the XSR700's "neo-retro authentic sports styling"
• Vintage style 19 LED rear tail light.
• Neo-retro "authentic sports" body design.
•front fender with aluminum stays, aluminum side covers & rear fender highlight the XSR's retro styling roots
///Additional Features
•lightweight aluminum footrest mounting brackets & heel guards
• 5-position adjustable front brake lever
• fold out under seat bungee cord fastener straps
• brilliant LED rear tail light with unique running / brake light display
• lockable steering
• durable "O" ring drive chain
• 1 piece chain guard & inner rear fender
• excessive lean angle engine kill switch (if unit is on its side the engine will shut down)
• low-maintenance sealed battery (battery should be charged during winter storage)
• Yamaha diagnostic tool connector can significantly reduce diagnostic time in the event of a problem
2018 Yamaha XSR700 – Totalmotorcycle.com USA Specifications/Technical Details
US MSRP Price: $8,499 USD
Engine Type 689cc liquid-cooled DOHC inline twin cylinder; 8 valves
Bore x Stroke 80.0mm x 68.6mm
Compression Ratio 11.5:1
Fuel Delivery Fuel injection
Ignition TCI: Transistor Controlled Ignition
Transmission Constant mesh 6-speed; multiplate wet clutch
Final Drive Chain
Suspension / Front 41mm telescopic fork; 5.1-in travel
Suspension / Rear Single shock, adjustable preload; 5.1-in travel
Brakes / Front Dual hydraulic disc, 282mm; ABS
Brakes / Rear Hydraulic disc, 245mm; ABS
Tires / Front 120/70ZR17 Pirelli® Phantom Sportcomp
Tires / Rear 180/55ZR17 Pirelli® Phantom Sportcomp
L x W x H 81.7 in x 32.3 in x 44.5 in
Seat Height 32.1 in
Wheelbase 55.3 in
Rake (Caster Angle) 25.0°
Trail 3.5 in
Maximum Ground
Clearance
5.5 in
Fuel Capacity 3.7 gal
Fuel Economy 58 mpg
Wet Weight 410 lb
Warranty 1 Year (Limited Factory Warranty)
Color Matte Gray/Aluminum; Raspberry Metallic
2018 Yamaha XSR700 – Totalmotorcycle.com Canadian Specifications/Technical Details
Canada MSRP Price: $9,599 CDN
///Engine
Engine
Liquid-cooled, DOHC, 8-valves (4-valves/cylinder), inline twin cylinder
Displacement
689cc
Bore and Stroke
80 x 68.6 mm
Compression Ratio
11.5:1
Maximum Torque
6.9 kg-m (50 ft-lbs.) @ 6,500 rpm
Fuel Delivery
Mikuni 38 mm dual bore throttle body F.I.
Estimated Fuel Consumption±
24.5 kpl / 69.2 mpg (Imp.)
Lubrication
Wet sump
Ignition / Starting
TCI / Electric
Transmission
6-speed
Final Drive
"O"-ring chain
///Chassis
Suspension (Front)
41 mm fork / 130mm (5.1″) wheel travel
Suspension (Rear)
Adjustable link Monocross / 130 mm (5.1″) wheel travel
Brakes (Front)
Dual 282 mm discs / 4-piston calipers
Brakes (Rear)
245 mm disc / single piston caliper
Tires (Front)
120/70ZR17
Tires (Rear)
180/55ZR17
///Critical Data
Length
2,075mm (81.7″)
Width
820 mm (32.3″)
Height
1,130 mm (44.5″)
Wheelbase
1,405 mm (55.3″)
Rake / Trail
25° / 90 mm
Ground Clearance
140 mm (5.5″)
Seat Height
835 mm (32.9″)
Fuel Capacity
14 litres (3.1 imp. gallons)
Wet Weight
186 kg (410 lb.)
Colour(s)
Metallic Red
Matte Metallic Gray
2018 Yamaha XSR700 – Totalmotorcycle.com European Specifications/Technical Details
Europe/UK MSRP Price: £ See Dealer for pricing in GBP (On The Road inc 20% Vat)
Engine
Engine type
2-cylinder, 4-stroke, liquid-cooled, DOHC, 4-valves
Displacement
689 cm³
Bore x stroke
80.0 mm x 68.6 mm
Compression ratio
11.5 : 1
Maximum power
55.0 kW (74.8PS) @ 9,000 rpm
Limited power version
35.0 kW
Maximum torque
68.0 Nm (6.9 kg-m) @ 6,500 rpm
Lubrication system
Wet sump
Clutch type
Wet, Multiple Disc
Fuel system
Fuel Injection
Ignition system
TCI
Starter system
Electric
Transmission system
Constant Mesh, 6-speed
Final transmission
Chain
Fuel consumption
4.3 l/100km
CO2 emission
100 g/km
Chassis
Frame
Diamond
Front suspension system
Telescopic forks
Front travel
130 mm
Caster angle
24º 50
Trail
90 mm
Rear suspension system
Swingarm, (Link type suspension)
Rear travel
130 mm
Front brake
Hydraulic dual disc, Ø 282 mm
Rear brake
Hydraulic single disc, Ø 245 mm
Front tyre
120/70 ZR 17M/C(58V) (Tubeless)
Rear tyre
180/55 ZR 17M/C(73V) (Tubeless)
Remark
EU4 compliant
Dimensions
Overall length
2,075 mm
Overall width
820 mm
Overall height
1,130 mm
Seat height
815 mm
Wheel base
1,405 mm
Minimum ground clearance
140 mm
Wet weight (including full oil and fuel tank)
186 kg ABS
Fuel tank capacity
14 L
Oil tank capacity
2.7 L
Manufacturer Specifications and appearance are subject to change without prior notice on Total Motorcycle (TMW).