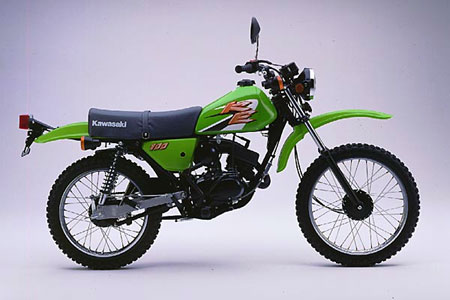 Back to 2001 Kawasaki Motorcycle Index Page
Click photo to enlarge.
It makes a great desktop image.

 
– 2001 Kawasaki KE100
.
As one of Kawasaki's best selling and enduring models, the KE100 has remained true to its simple mission of providing basic, enjoyable all-around transportation on the street or dirt.
2001 KAWASAKI KE100
Little Machine Proves to be a Big Seller
The Kawasaki KE100 has remained true to its simple mission of providing basic, enjoyable all-around transportation on the street or dirt. Its light weight and nimble handling inspire confidence in novice riders, and its longevity in the Kawasaki lineup has made this venerable dual purpose machine one of Kawasaki's best selling models of all time.
The KE100 is powered by a simple 99cc air-cooled, two-stroke engine with hi-tech features such as Kawasaki's exclusive Electrofusion cylinder that offers efficient heat dissipation and abrasion resistance, and a maintenance-free capacitor discharge ignition (CDI) system. Kawasaki's Superlube oil injection system eliminates premixing fuel and oil, a common procedure with many two-stroke engines, and delivers the precise amount of lubrication to the engine for greater reliability.
The frame is made of high tensile steel and has a steel engine guard for off-road protection. A U.S. Forest Service-approved spark arrester assures the KE100 access to many wilderness roads designated for licensed vehicles.
At 187 pounds, the KE100's light weight and seat height of less than 32 inches make it simple to ride and helps give new riders confidence. The light weight also makes it easy to haul and has made it a favorite camping companion.
As has been proven over the years, the light weight and nimble handling, combined with a simple, durable design has made the Kawasaki KE100 a great dual-purpose companion for countless Kawasaki customers.
2001 KE100 FEATURES
2-Stroke, Single Cylinder Engine
Thick piston crown for durability
Simple, powerful and reliable, a proven design that delivers hassle-free operation
Electrofusion Cylinder
Dissipates heat better and runs cooler than steel or iron lined cylinders
Allows closer engine tolerances for more power and quieter operation
It's hard and porous to resist wear and retain lubrication
Rotary Valve Induction
A simple and effective system, only one moving part
Allows very accurate intake timing for good power and fuel economy
The whole system, including the carburetor is enclosed, assuring maximum protection and cleanliness
Superlube Oil Injection
Eliminates the hassle of pre-mixing your oil and fuel
Oil delivery to the engine is precisely metered for greater reliability
Capacitor Discharge Ignition
Produces the extremely hot spark needed to ignite the air/fuel/oil mixture of a 2-stroke engine
Easy starting and reliability under extreme conditions
Requires no adjustment
Combined Voltage Regulator/Rectifier
Automatic voltage regulator protects the battery from over charging
Increases electrical system reliability and light bulb life
Universal Tires
Provide good traction on or off the road
Semi-Double Cradle Frame
Made of hi-tech, round section high tensile steel, strong yet light-in-weight metal used in our world-class motocross bikes
Steel Engine Guard
So you don't have to worry about the engine when the going gets interesting
Lighting and U.S.F.S. Approved Spark Arrester
Street-legal lighting with turn indicators so you don't have to be home by dark
Forestry-approved spark arrester keeps Smokey happy
Light Weight
Only 187 pounds, its nimble handling is terrific in traffic and wonderful in the woods
Ignition Switch Steering Lock
Very easy and convenient to lock and unlock the front forks
The Best of Both Worlds
The best of both worlds: You want a bike that's good in the dirt, and you want it to be street legal for running into town or down the highway, too. Kawasaki has the answer with do-it-all dual-purpose bikes that come packed with exclusive features for you to explore new heights of on- and off-highway riding and exploration.

The KE100 is one of the most enduring and best selling models offered from Kawasaki. Its rugged two-stroke engine is perfect for simple around town transportation or doing a little off-highway adventuring.
The all-new Super Sherpa™ redefines the dual purpose motorcycle. Not only is it built to tackle a wide range of terrain, but it is engineered to appeal to a broad spectrum of riders.
If you are looking for a lightweight four-stroke 250, then you'll be delighted with the KLR250. It's got the goods for on and off highway excursions, like plush long travel suspension and high ground clearance.
Or the KLR650. It takes you wherever, whenever in smooth, torquey comfort. And with its huge 6.1 gallon fuel tank, the journey continues long after the others stop. So make your own world perfect. On one of Kawasaki's impressive dual-purpose machines.
Specifications:

Model
KE100-B20

Engine Type
2-stroke, air-cooled Single

Displacement
99 cc.

Bore x Stroke
49.5 x 51.8 mm.

Compression Ratio
6.9:1

Valve System
Rotary disc valve

Carburetion
Mikuni VM19SC

Ignition
Electronic CDI

Starting
Kick

Transmission
5-speed

Frame type
Double-cradle high-tensile steel

Wheelbase
50.6″

Suspension, Front
30 mm. center-axle hydraulic fork

Suspension, Rear
Dual hydraulic shocks with 5-way preload

Tire Front
2.75-19

Tire Rear
3.00-17

Brakes, Front
Drum

Brakes, Rear
Drum

Seat Height
31.7″

Fuel Capacity
2.4 gallons

Dry Weight
187 pounds


Specifications are subject to change without notice, in accordance with national regulation and legislations.