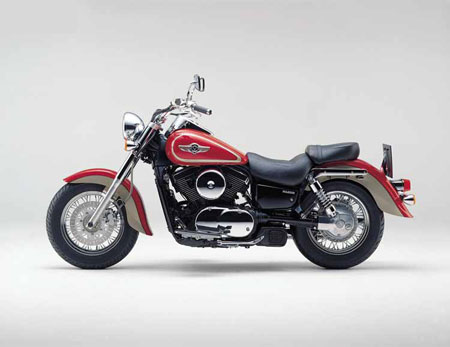 Back to 2001 Kawasaki Motorcycle Index Page
Click photo to enlarge.
It makes a great desktop image.


2001 Kawasaki Vulcan 1500 Classic


2001 Kawasaki Vulcan 1500 Classic


2001 Kawasaki Vulcan 1500 Classic

 
– 2001 Kawasaki Vulcan 1500 Classic
.
The Kawasaki Vulcan™ 1500 Classic combines the feel, sound and look of a 1950s-era cruiser motorcycle with its deeply valanced fenders, rich paint and multitude of chrome and billet pieces. As a result, the 1500 Classic is also one of Kawasaki's best sellers. You can also explore the nearly unlimited customization potential of this perfect platform for accessory bolt-ons.


2001 KAWASAKI VULCAN™ 1500 CLASSIC
Classic Custom Cruiser
By combining the feel, sound and timeless look of a 1950s-era cruiser motorcycle with a great price, the Kawasaki Vulcan™ 1500 Classic quickly became the company's number-one selling motorcycle when it was first released in 1996. Extending this heritage, the 2001 model allows buyers to enter the heavyweight cruiser market with money to spare for exploring its nearly unlimited customization potential to express their personalities.
With a big V-twin engine displacing 90 cubic inches, the Vulcan 1500 Classic powerplant commands attention for its looks, technical features and power characteristics. Each cylinder has elegantly sculpted and polished cooling fins that contrast with the black cast-style engine to catch the eye. The fins are a functional air cooling system; in addition to a large radiator that's hidden between the frame downtubes, they help keep the engine operating at an optimum temperature.
Other design features include a large airbox crossover tube located between the cylinders that helps improve midrange torque and increases airflow to the 40mm Keihin carburetor featuring the Kawasaki Throttle Responsive Ignition Control (K-TRIC) system. A throttle position sensor is connected to the electronic ignition to vary ignition timing according to throttle setting and engine rpm. The result is better engine response and lower fuel consumption.
Each of this big V-twin's cylinders has four valves actuated by a single overhead cam. Two valve springs are used on all valves to ensure tight valve closure, while hydraulic valve lash adjusters automatically maintain valve clearance for smooth engine performance, reduced noise and no maintenance. Automatic cam chain tensioners keep cam timing accurate and provide greater reliability with no upkeep.
The right-side crankcase and clutch cover are designed to make it easy to check the engine's oil level and to perform regularly-scheduled maintenance. And a large alternator provides enough output to power electrical accessories.

A gear-driven engine counterbalancer and rubber engine mounts reduce handlebar and floorboard vibration, yet the engine retains its distinctive V-twin rumble. The engine produces more than 83 foot-pounds of torque at 3,000 rpm so that a crack of the throttle punches out smooth acceleration.
Overall engine performance is enhanced by a five-speed transmission with gears precisely spaced to facilitate acceleration. The top gear provides a relaxed engine speed on the highway. Spring dampers in the hydraulically-actuated clutch provide progressive torque absorption to ensure smooth power delivery to the reliable and quiet shaft drive that requires minimal maintenance.
The chassis is long and low for that classic cruiser look, and the suspension provides a comfortable ride down the boulevard or on the highway. An extra-low 27.6-inch seat height, wide handlebar and forward-mounted floorboards put the Vulcan Classic rider in a comfortable cruiser position. There's nothing to obstruct the rider's view of the road over the large-diameter chrome halogen headlight. The speedometer, fuel gauge and warning lamps are located on a center console on top of the wide 4.2-gallon fuel tank.
Kawasaki recognizes that customizing is a very big part of the cruiser experience and offers a wide range of genuine FIRE & STEEL™ accessories for the Vulcan 1500 Classic. Among the choices are custom-painted tank and fenders from Kawasaki or ready-to-paint gray-primered fuel tanks and fenders so that owners can determine their own custom paint scheme. There are also many chrome pieces, leather bags and trim, backrests, lights, racks and windshields available at Kawasaki dealerships. The full line of Fire & Steel accessories can also be purchased on the Internet at buykawasaki.com.
With its great price, timeless appearance and customization potential, the Kawasaki Vulcan 1500 Classic motorcycle is an excellent way to enter the heavyweight cruiser market.
2001 VULCAN™ 1500 CLASSIC FEATURES
1,470cc OHC V-Twin
83 foot-pounds of torque at 3000 rpm
Dual valve springs on all valves
Liquid Cooling
More even running temperatures mean no "power fade" on hot days and longer engine life
Includes warning light
Auxiliary fan keeps things cool, even in traffic
Four Valves per Cylinder
Compact combustion chamber for increased compression ratio without detonation on today's gasolines
Boosts low end torque
Provides maximum valve area for optimum flow
Hydraulic Valve Lash Adjusters
Keep valves quiet with no maintenance, no adjustment required
Kawasaki Throttle Responsive Ignition Control (K-TRIC)
K-TRIC has a throttle position sensor to monitor engine load and control ignition advance for best power, fuel economy and detonation resistance
Single 40mm CVK Side-Draft Carburetor
Equipped with an accelerator pump for quick throttle response
Precise fuel metering provides uniform power delivery at all engine speeds
Dual Plug Digital Ignition
Microprocessor controlled timing, never needs adjustment
Two spark plugs in each combustion chamber cut detonation for extra durability
Gear-Driven Engine Balancer
Counter-rotates at engine speed to cancel vibration
Allows use of single-pin crankshaft without the heavy vibration
Rubber-Mounted Engine
All but eliminates engine vibration at all speeds
Five-Speed Transmission
Five-speed transmission combines great around-town acceleration with relaxed highway cruising
Positive Neutral Finder
Just lift the shift pedal from first at a stop to find neutral easily, every time
A Kawasaki exclusive
Shaft Drive
A reliable and quiet, low-maintenance system
Hydraulic Clutch Release
Easy to operate
Easy to maintain
Large Diameter Halogen Headlight
Brighter for the same power usage
Light does not "yellow" with age
Chrome-Plated Wire Spoke Wheels
Fat tires front and rear on sparkling chrome 16-inch wheels make a classic styling statement

New for 2001:
Luminous Vintage Red / Pearl Luster Beige
Metallic Dark Bronze / Metallic Champagne Gold

Specifications:

Model
VN1500-E4
Vulcan 1500 Classic

Engine Type
4-stroke V-Twin

Displacement
1470cc

Bore x Stroke
102 x 90 mm.

Compression Ratio
8.6:1

Valve System
SOHC, 8 valves

Carburetion
Keihin CVK40

Ignition
Dual Plug Digital Ignition, Kawasaki Thottle Responsive Ignition with K-Tric

Starting
Electric

Transmission
5-speed

Rake
32 degrees

Wheelbase
65.4″

Suspension, Front
41 mm. hydraulic telescopic fork

Suspension, Rear
Dual hydraulic shocks with 5-way preload adjustment

Tire Front
130/90-16

Tire Rear
150/80-16

Brakes, Front
Disc

Brakes, Rear
Disc

Seat Height
27.6″

Fuel Capacity
4.2 gallons

Dry Weight
644 pounds


Specifications are subject to change without notice, in accordance with national regulation and legislations.