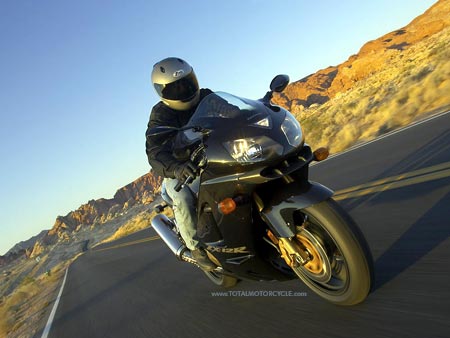 You are here: Home — New Models — 2005 Kawasaki Motorcycle Models
2005 Kawasaski Ninja ZX-12R
Back to 2005 Kawasaki Motorcycle Index Page

Click to Enlarge for Desktop Sized Photo
– 2005 Kawasaki Ninja ZX-12R

To truly appreciate an open class sportbike, a rider must possess a heightened sense of passion – passion for mind-boggling power and confidence-inspiring handling. These are the very attributes that describe the Kawasaki NINJA® ZX-12R motorcycle, and only the most serious rider need apply.
As Cycle World magazine wrote of the NINJA ZX-12R: "Kawasaki's open-class sportbike combines brute muscle with a responsive, solid-handling chassis. Whether you're staring down a dragstrip or carving along a twisty mountain road, the big Ninja's tractable power and raw acceleration can blur the landscape like few other machines can."
The ZX-12R's 16-valve, DOHC, 1199cc inline-four engine produces ample horsepower at all rpm range, and includes a Nippondenso electronic fuel-injection system to smooth its power delivery. The ZX-12R system utilizes 46mm throttle bodies with injector tips spraying fuel directly at the intake valves, however, sudden changes in throttle opening can sometimes cause hesitation and inconsistent throttle response. The sub throttles are placed high in the intake tract and are controlled by the electronic Engine Control Unit (ECU), which automatically adjusts air intake to more precisely match engine demand. The result is a smooth flow of power at all throttle positions, similar to that of constant velocity carburetor designs, with the efficiency of modern fuel injection.
Compact stick-style ignition coils help generate the electrical current to fire the twin-electrode, long-lasting platinum spark plugs. Burned gasses are expelled through a four-into-two-into-one exhaust system featuring stainless steel head pipes and a lightweight, all-titanium muffler.
A Ram Air duct not only improves the bike's overall aerodynamics, it also flaunts a distinct-looking, streamlined nosepiece that allows plenty of intake area. Ribbing within the ducts improves the ram-air effect at the sides, and offsets wind shear from cross breezes. Meanwhile, quiet dual-radiator fans keep the ZX-12R cool at low speeds.
For smooth and more precise shifting, the ZX-12R's six-speed transmission incorporates tight clearances between the gear dogs, while a clutch damper helps reduce driveline lash. Clutch durability is aided by holes in the clutch pull rod and within the clutch hub itself. The holes help increase oil flow and contribute to an easy clutch pull.
The ZX-12R is supported by an aluminum monocoque frame with a cast steering head welded to pressed plates, then welded to a cast midsection that incorporates the battery case as a stressed member. The ZX-12R's light steering and planted feel is due to a steep steering-head angle.
A 43mm inverted cartridge fork with adjustable preload, compression and rebound damping also contribute to the ZX-12R's superb turning characteristics. Adjustability of the fork comes from a stepless damping adjuster, which incorporates a check valve for improved damping performance.
Kawasaki's patented UNI-TRAK? rear suspension uses a linkage system to progressively increase the damping and spring rate as the suspension is compressed. Like the fork, the shock uses a stepless compression and rebound damping adjuster.
Both ends of the ZX-12R wear 17-inch wheels with hexagonal tri-spokes. The six inch-wide rear rim is fitted with an ultra-wide 200/50 tire for excellent traction – a must for a bike as powerful as the ZX-12R.
Braking is accomplished with radial-mounted, opposed four-piston calipers gripping large 320mm diameter dual front disc brakes and a single 230mm rear disc brake. The radial front brake design utilizes mounting points at both the top and bottom of the caliper, with the mounting bolts inserted through the rear of the caliper instead of the side or front as on conventional designs. This racing-inspired setup makes the caliper more rigid to improve brake feel over a wider range of operation.
Features and Benefits
Four-Cylinder 1,199cc Engine
– Compact and light weight
– Aluminum cylinders with chrome composite plated bores reduce weight, resist wear and offer superior heat dispersion
– Balancer shaft for smooth running at all rpm
Fuel Injection With Sub Throttles
– Digital fuel injection features sub throttles to smooth power delivery at all rpm
Six-Speed Transmission
– Minimal clearance between gear dogs for better gear engagement
– Clutch damper helps reduce driveline lash
Digital Ignition
– Independent timing control for each cylinder based on data from several engine and atmospheric sensors
– Stick-type ignition coils are compact and lightweight
Fuel Pump/Oil Pump
– Fuel pump regulator mounts on the pump body, eliminating a return line for easier maintenance
Ram Air Intake
– Incorporates ribs to improve Ram Air effect at the sides and offset wind shear from cross breezes
Aerodynamic Cowling
– Wide design and high bubble screen provide extra rider wind protection
– Small, triangular mirrors are mounted low to help improve aerodynamics
– Cover near the front brake lever reduces turbulence behind the windscreen
43mm Inverted Front Fork
– Fully adjustable spring preload, compression and rebound damping
– Stiff settings to prevent front-end dive under braking
– Stepless damping adjusters
Bottom-Link UNI-TRAK® Rear Suspension
– Fully adjustable shock valved for a variety of conditions
– Stepless damping adjusters
– Swingarm pivot positioned low to weight the front wheel
– Swingarm equipped with extruded-aluminum cross brace resulting in added strength
Radial-Mounted Front Disc Brakes
– Mounting points at top and bottom of caliper with bolts inserted through rear of the caliper instead of the side is more rigid, improving brake feel over a wider range of operation
Details
– Handlebars positioned low for a more planted feel
– Friction-reducing sealant on the front brake caliper pistons improves brake feel
– Three-piece lower fairing with solid center insert improves aesthetics

Specifications
Engine: Four-stroke, DOHC, inline four
Displacement: 1,198cc
Starting: Electric
Bore x stroke: 83.0 x 55.4mm
Compression ratio: 12.2:1
Cooling: Liquid
Carburetion: Fuel injection with 46mm throttle bodies and sub throttles
Ignition: Digital
Transmission: Six-speed
Frame: Aluminum monocoque
Rake / trail: 23.5° / 3.9 in.
Suspension, front: 43mm inverted hydraulic telescopic fork with adjustable compression and rebound damping, adjustable spring preload
Suspension, rear: UNI-TRAK® system with single shock, adjustable compression and rebound damping, adjustable ride height, and adjustable preload
Wheel travel, front: 4.7 in.
Wheel travel, rear: 5.5 in.
Tire, front: 120/70 x 17 tubeless
Tire, rear: 200/50 x 17 tubeless
Front brake: 320mm dual hydraulic discs
Rear brake: 230 single hydraulic disc
Overall length: 82.1 in.
Overall width: 29.1 in.
Overall height: 47.2 in.
Ground clearance: 4.7 in.
Seat height: 32.3 in.
Dry weight: 463 lbs.
Fuel capacity: 5.0 gal.
Wheelbase: 57.1 in.
Colors: Metallic Spark Black
* Price and specifications subject to change