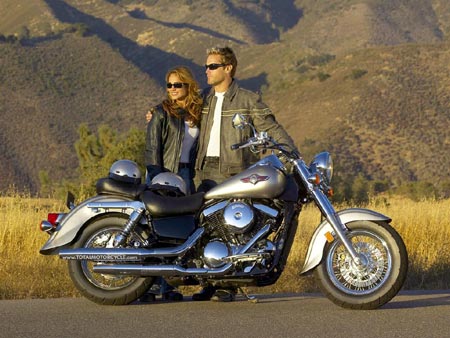 You are here: Home — New Models — 2005 Kawasaki Motorcycle Models
2005 Kawasaski Vulcan 1500 Classic
Back to 2005 Kawasaki Motorcycle Index Page

Click to Enlarge for Desktop Sized Photo
– 2005 Kawasaki Vulcan 1500 Classic

Timeless style, the torque of a big V-twin engine and customizing potential make the Vulcan® 1500 Classic one of Kawasaki's most popular cruisers. Combined with optional Kawasaki's Fire & Steel™ accessories, the 1500 Classic owner has the ability to create a motorcycle that is truly unique to his or her personality.
Beginning with its V-twin engine, the 1500 Classic produces incredible low-rpm torque that's perfect for city streets or open highways. This advanced, liquid cooled, SOHC design displaces 90 cubic inches and shines with elegantly sculpted cylinders and polished cooling fins, while the large radiators are tucked from view between the frame downtubes.
Other engine features include a large airbox crossover tube that helps improve mid-range torque and increases airflow to the 40mm Keihin carburetor with Kawasaki Throttle Responsive Ignition Control (K-TRIC) system. A throttle position sensor is connected to the electronic ignition to vary ignition timing according to throttle setting and engine rpm. The result is better engine response and lower fuel consumption.
Both of the big V-twin's cylinders have four valves actuated by a single overhead cam. Hydraulic valve lash adjusters automatically maintain valve clearance for smooth
engine performance, reduced noise and no maintenance while automatic cam chain tensioners keep cam timing accurate.
The Vulcan 1500 Classic's five-speed transmission takes advantage of the engine's generous torque by utilizing precisely spaced gears to provide smooth, quiet shifting for seamless acceleration. The top gear provides a relaxed engine speed on the highway. The hydraulically actuated clutch provides progressive torque absorption to help ensure smooth and precise power delivery to a reliable, quiet shaft drive that requires minimal maintenance.
A gear-driven engine counterbalancer and rubber engine mounts reduce handlebar and floorboard vibration. The engine produces a distinct V-twin rumble and more than 83 foot-pounds of torque at 3,000 rpm. A crack of the throttle punches out smooth acceleration while a large alternator provides enough output to power electrical accessories.
The classic cruiser look is long and low, which is exactly how the Vulcan 1500 Classic's chassis is designed. An extra-low 27.6-inch seat height, wide handlebar, forward-mounted floorboards and plush suspension system make the 1500 Classic a comfortable ride. The speedometer, fuel gauge and warning lamps are located on a center console on top of the wide 4.2-gallon fuel tank. A large-diameter, chrome halogen headlight not only illuminates the open road, it gives the Classic a distinctive appearance
Features and Benefits
1,470cc OHC, 50-degree V-Twin
– 83 foot-pounds of torque at 3000 rpm
Liquid Cooling
– Maintains consistent engine temperatures for long engine life and sustained power during hard use
– Includes warning light
– Auxiliary fan keeps things cool, even in traffic
Four Valves per Cylinder
– Compact combustion chamber decreases detonation with today's gasolines
– Boosts low-end torque
– Provides maximum valve area for optimum flow
Hydraulic Valve Lash Adjusters
– Keep valves quiet with no adjustment required
Kawasaki Throttle Responsive Ignition Control (K-TRIC)
– K-TRIC has a throttle position sensor to monitor engine load and control ignition advance for best power, fuel economy and detonation resistance
Single 40mm CVK Side-Draft Carburetor
– Equipped with an accelerator pump for quick throttle response
– Precise fuel metering provides uniform power delivery at all engine speeds
Dual Plug Digital Ignition
– Microprocessor-controlled timing
– Two spark plugs in each combustion chamber cut detonation for extra durability
Gear-Driven Engine Balancer & Rubber-Mounted Engine
– Counter-rotates at engine speed to cancel vibration
– Allows use of single-pin crankshaft without the heavy vibration
– Engine is rubber-mounted to all but eliminate vibration at all speeds
Five-Speed Transmission
– Five-speed transmission combines great around-town acceleration with relaxed highway cruising
Positive Neutral Finder
– Just lift the shift pedal from first at a stop to find neutral easily, every time
– A Kawasaki exclusive
Shaft Drive
– Reliable, quiet and low-maintenance
Hydraulic Clutch Release
– Easy to operate and maintain
Large-Diameter Halogen Headlight
– Brighter for the same power usage
Chrome-Plated Wire Spoke Wheels
– Wide front and rear tires on sparkling chrome 16-inch wheels

Specifications
Engine: Four-stroke, 50-degree V-Twin, SOHC, 8 valves
Displacement: 1,470cc
Bore x stroke: 102.0 x 90.0mm
Compression ratio: 8.6:1
Cooling: Liquid
Carburetion: Keihin CVK40
Ignition: Digital with Throttle Responsive Ignition Control (K-TRIC)
Transmission: Five-speed
Frame: High tensile steel, double cradle
Rake / trail: 32° / 4.8 in.
Suspension type, front: 41mm hydraulic fork
Suspension type, rear: Dual hydraulic shocks
Suspension adjustments, rear: 5-way preload
Wheel travel, front: 5.9 in.
Wheel travel, rear: 3.4 in.
Tire, front: 130/90 x 16
Tire, rear: 150/80 x 16
Brakes, front / rear: Single hydraulic disc / Disc
Overall length: 98.4 in.
Overall width: 38.0 in.
Overall height: 43.3 in.
Ground clearance: 4.9 in.
Seat height: 27.6 in.
Dry weight: 644 lbs.
Fuel capacity: 4.2 gal.
Colors: TBA
* Price and specifications subject to change